Between corsets, sequins, and sculptural silhouettes up to morphsuits, fringes and majestic drapes, here are the best trends from the Spring/Summer 2022 shows.
For the Spring/Summer 2022 season, creative directors and stylists returned to present their collections. New proposals, great returns, and unexpected feminine trends, the women's fashion collections presented during the fashion weeks have determined the new trends for the next hot season. Fashion houses have reinterpreted the basic garments of the wardrobe, while some brands have continued their interest in graphics and floral patterns. Fringes and corsets also returned, and silhouettes are becoming architectural, taking the appearance of sculptural forms.


Updated Corset

There are those who love them and those who hate them. During the Spring/Summer 2022 fashion shows, designers presented many corsets and bustiers, starting from the experimental interpretation of the corset by Acne Studios to the more abstract and futuristic one by Loewe. For the Prada fashion show, the corset's lacing and bustier's boning are taken up again, elements that appear on dresses, shirts, and tops. Less literal are the interpretations of Ludovic De Saint Sernin, and Matthew M. Williams for Givenchy.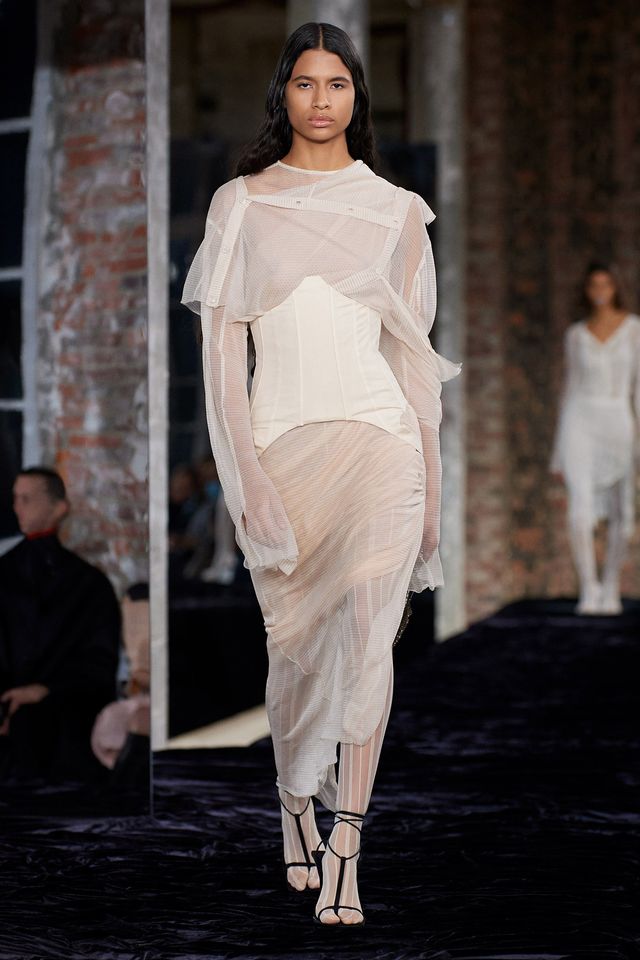 Eden of Flowers

Floral patterns, floral graphics, all-over flowers, or three-dimensional applications are a great classic for every Spring/Summer season. During Paris Fashion Week, Maria Grazia Chiuri presented Dior looks with fringes made up of three-dimensional daisies. Floral prints take the stage in Valentino, Versace, MSGM, and Marni while Lanvin interprets the floral pattern with bright sequins.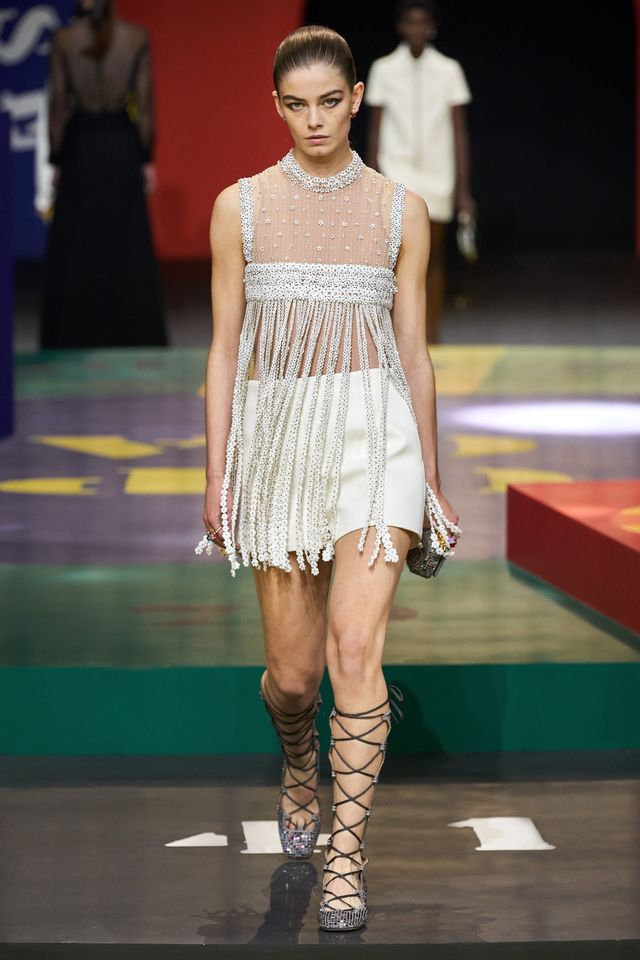 Drippin' Mania

There is a return to classicism, feminine beauty, and the essential dynamism of drapery. Jonathan Anderson for Loewe is inspired by the Renaissance works of the painter Potorno and redirected a study on the notions of drapery made with light fabrics. The opposite is interpreted by Pierpaolo Piccioli, who brings materials such as taffeta to the catwalk. Valentino proposed more structured drapes while Saint Laurent celebrated the glamor of Paloma Picasso with draperies recreated with dynamic and volumetric knots.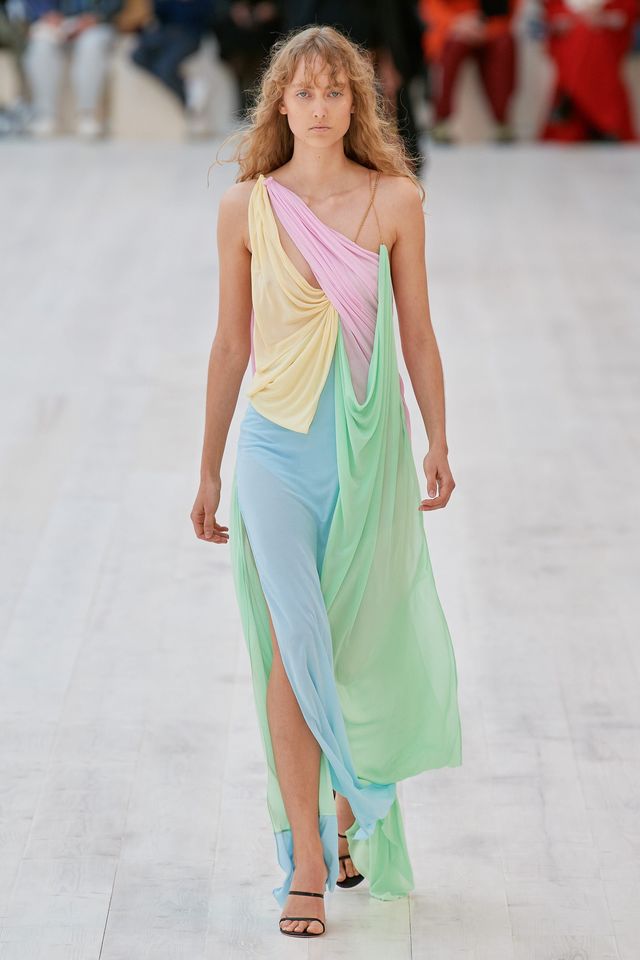 Morphesuit and Catsuit

Among the reappearing trends came playsuits, tight jumpsuits, catsuits, and morphesuits. After Kim Kardashian's appearance at the Met Gala, Balenciaga re-proposed a version of the black morphesuit jumpsuit for the Spring/Summer 2022 collection. Whether they are knitted like Acne Studios or in a jersey like Saint Laurent, the skintight jumpsuits are necessary to women's wardrobe.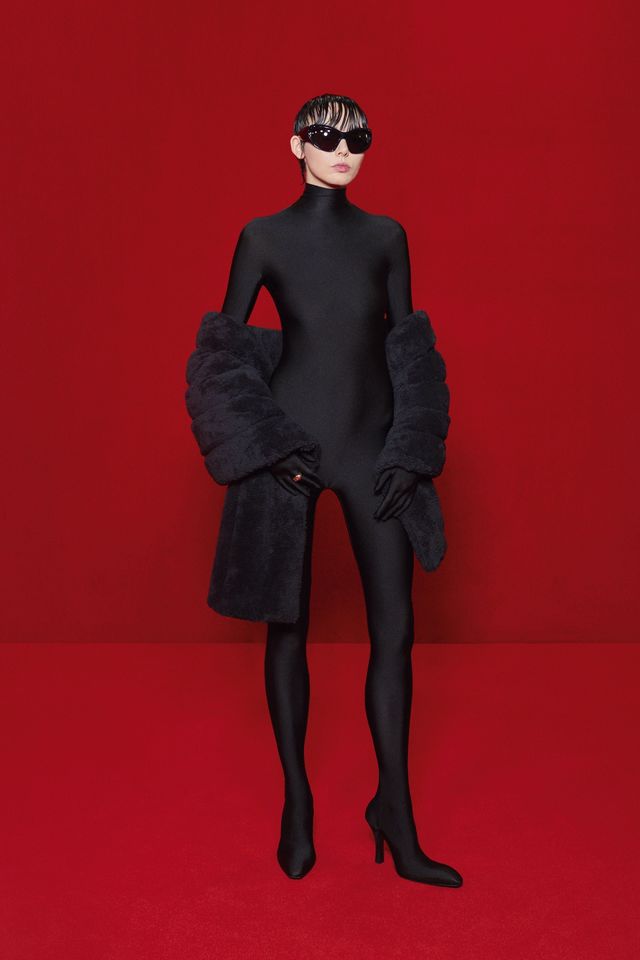 Bling Bling

From the total shimmering look of Ludovic de Saint Sernin to the metal mesh of Versace worn by Dua Lipa during Milan Fashion Week, "bling bling" is the onomatopoeic sound of brilliant sequins, sequined applications, sparkling crystals, and on-trend chains.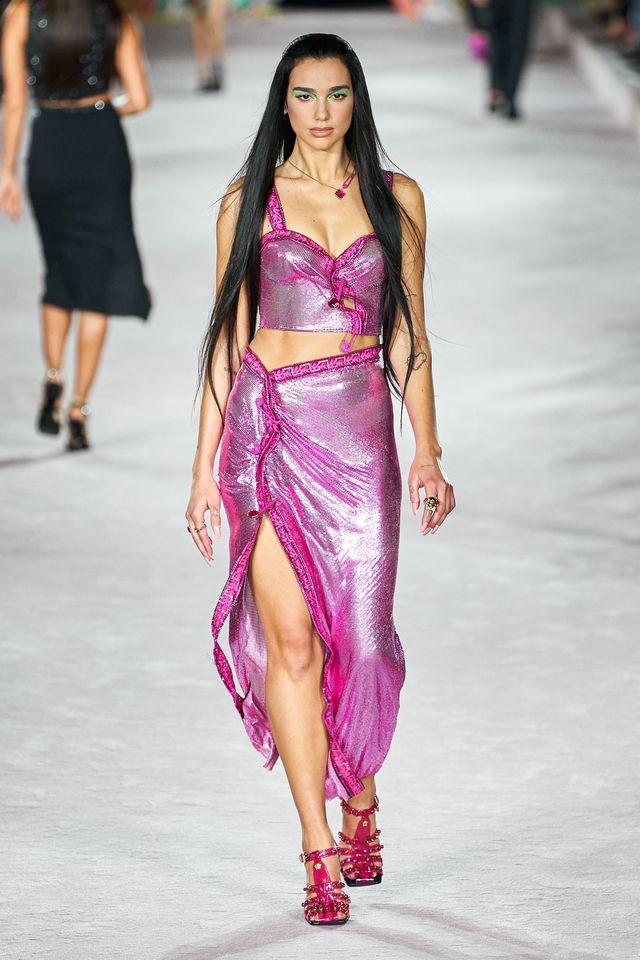 Sculptural Silhouettes

Silhouettes adrift, a passion for dress architecture also emerged from the Spring/Summer 2022 fashion shows. Nicolas Ghesquière for Louis Vuitton reinterpreted the crinolines with three-dimensional dresses that resell the volumes of the silhouettes. A different story for Jonathan Anderson, who focused on shapes and analyzed the space between the dress and body. Vivienne Westwood presented dresses with imposing constructions with a show.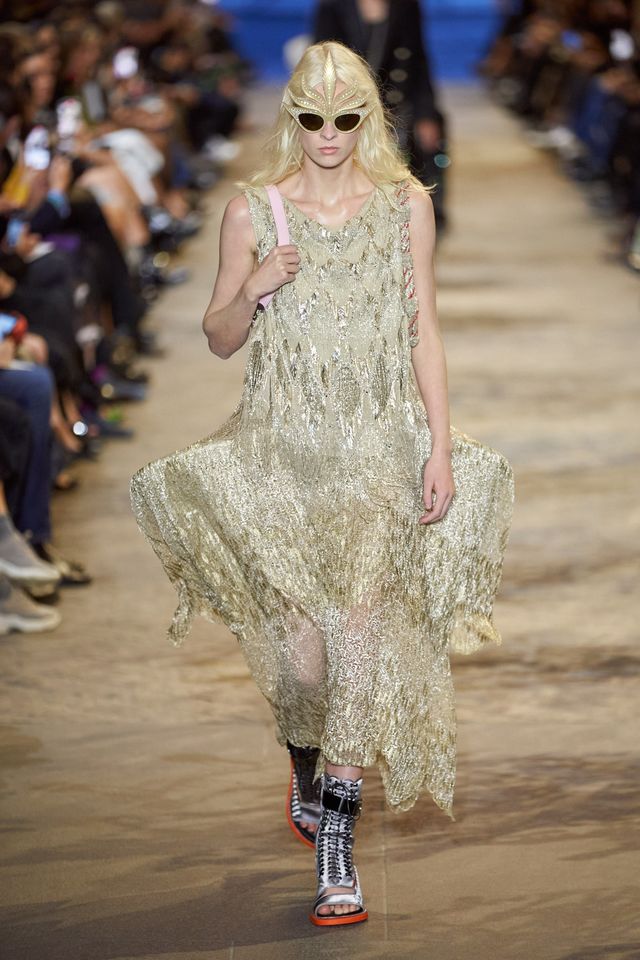 Hood & Cape

Courtly and elegant, among the trends proposed by fashion designers this season, there is no shortage of capes and caplets. Voluminous capes thrived in Louis Vuitton, Lanvin, and Valentino, but were also light and fluctuating in Chanel.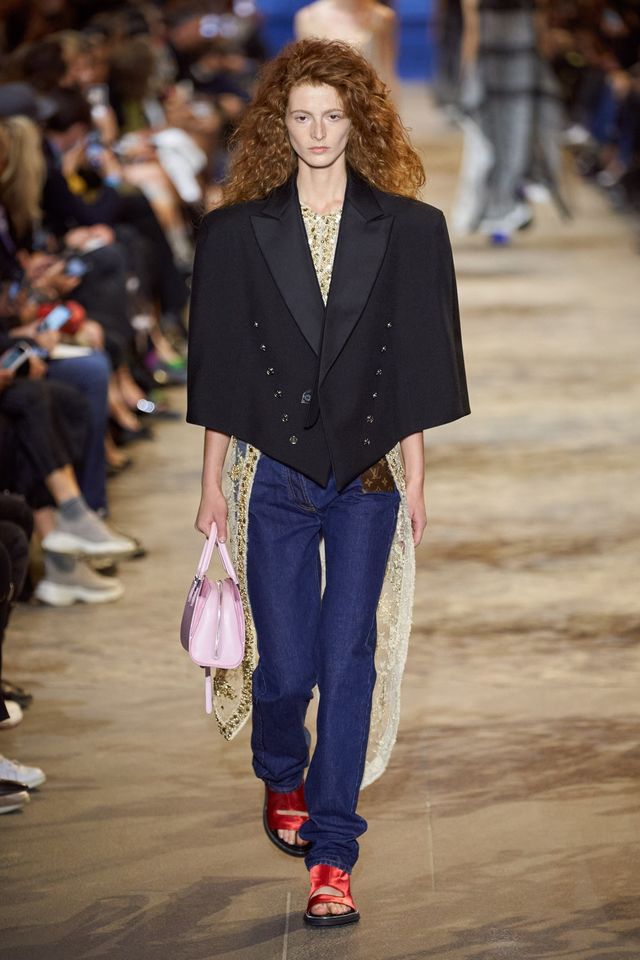 Short is the New Long

Miuccia Prada started from the basic garments of the women's wardrobe for Miu Miu elaborated drastic cuts on trousers with pleats, transforming them into very short miniskirts. For Prada, she presented a bold and sexy version of mini-skirts. The short mini skirt was worn with crop tops or a bra, revealing the body during Balmain, Missoni, and Versace.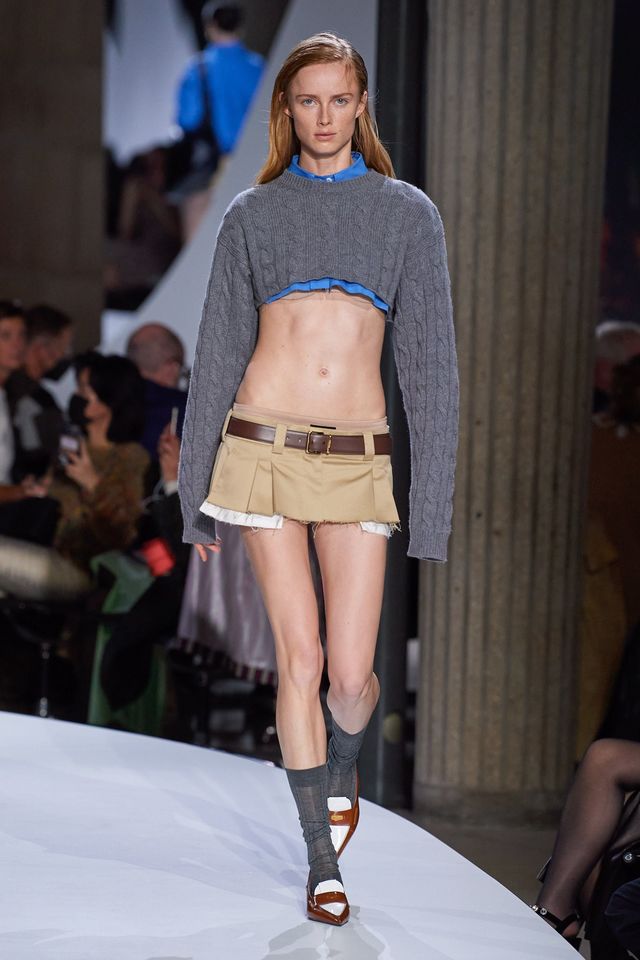 Knitwear Passion

Designers and creative directors returned to present summer dresses, crochet dresses, and knitwear. Missoni, the absolute master of knitwear, presented patchwork dresses in which patterns and colors blended freely. Jil Sander presented cotton crochet garments, while Rick Owens and Jonny Johansson interpreted an experimental concept of thin, stretched, transparent, tight knitwear with wide stitches.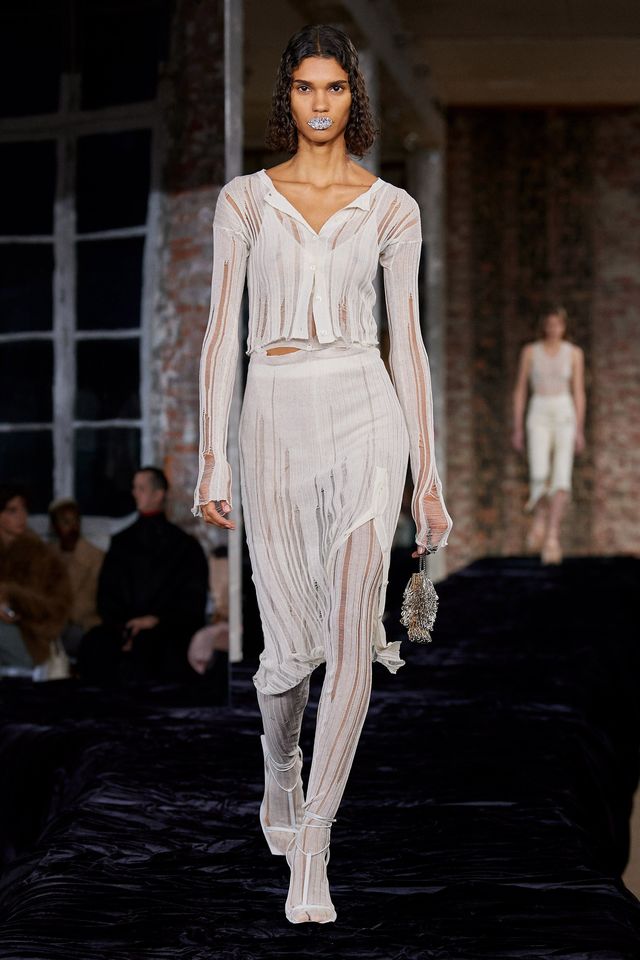 Fringe

Clothes move with the body. To emphasize the movement of the garments, lace, fettuccine, and fringes dominated the floor. Kim Jones worked with the Fendi family to present bold looks with furs made with fringe. Gabriela Hearst inserted fettuccine and laces on dresses and summer garments for Chloè, which was also seen in the Ann Demeulemeester fashion show. Salvatore Ferragamo adopted a sophisticated, versatile, and effortless version at Milan Fashion Week.