As the world entered its second full year of the coronavirus pandemic, masks became a ubiquitous sight, from sports stadiums to the highest political offices.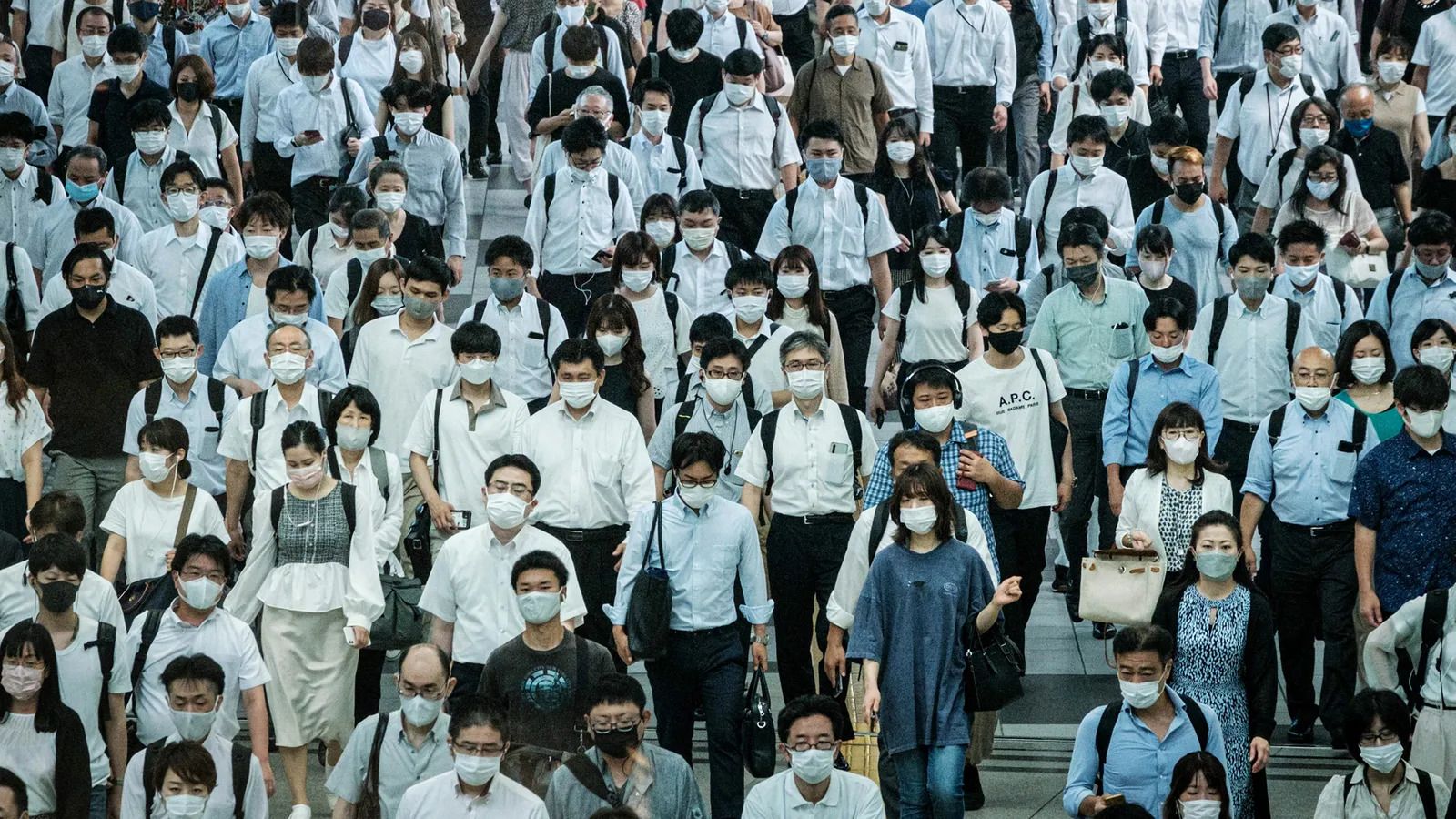 Crowd of Tokyo train commuters in masks
A world concealed

December 2021 marks two years since the first concerning cases of a new respiratory disease began to emerge in Wuhan, China. Within weeks, the virus – Sars-CoV-2 – had spread across the world and ushered in a frightening new disease for the 21st Century: Covid-19.

Health agencies across the world realised quickly that even relatively humble disposable masks, if worn correctly over the mouth and nose, went a long way to preventing the spread of the virus. In 2021, as the world entered its second full year of the Covid-19 pandemic, masks were a ubiquitous reminder of the health emergency the world was grappling with.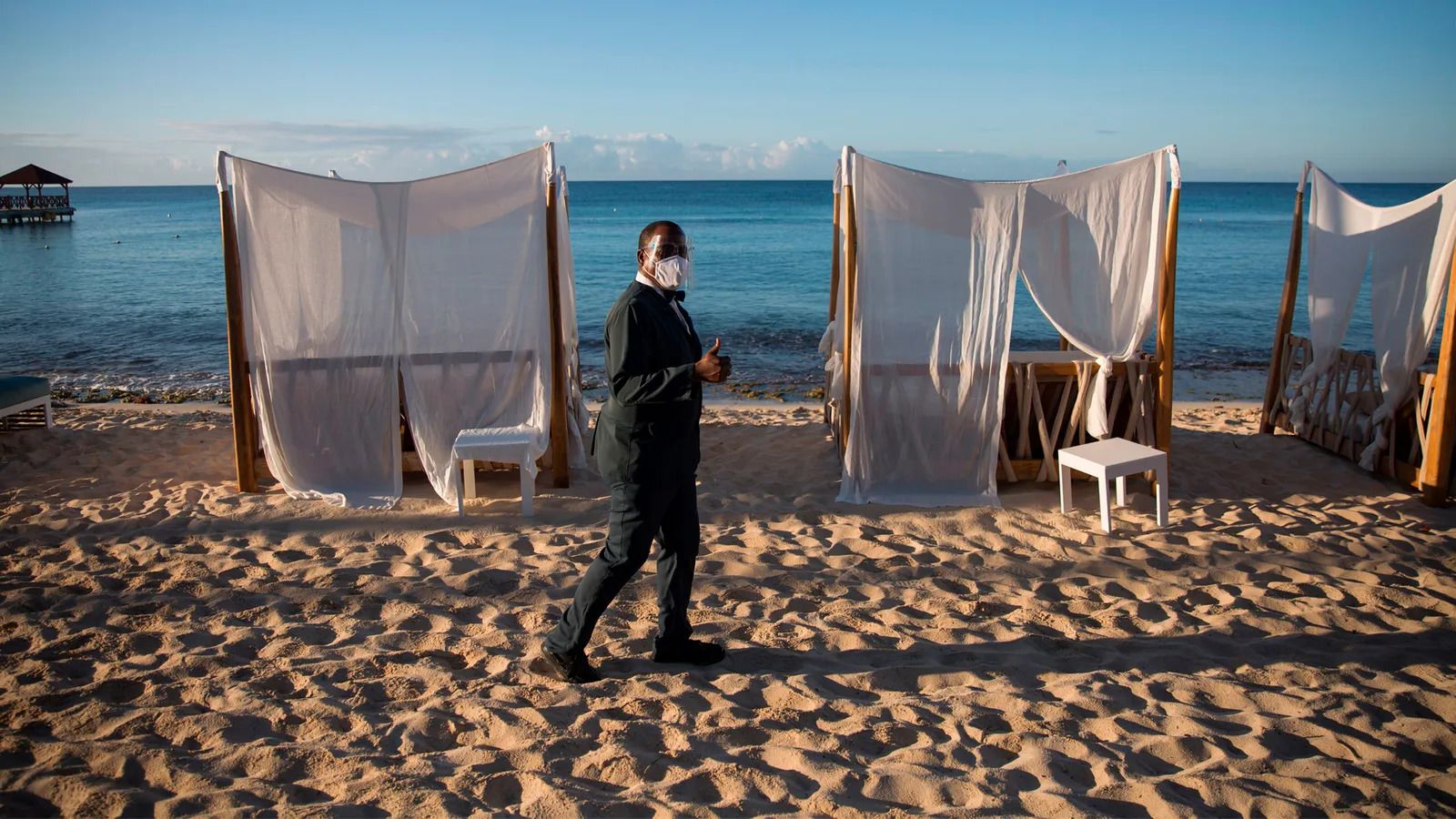 Masked worker in deserted beach resort
Vacated

The world's tourism hotspots were largely deserted as the world welcomed 2021, partly due to the rise in the Delta variant, a highly transmissible mutation of the virus which was first observed in October 2020.

All-inclusive resorts like this one in the Dominican Republic reopened after many months, but tourists were in many cases wary of holidaying in the midst of the pandemic.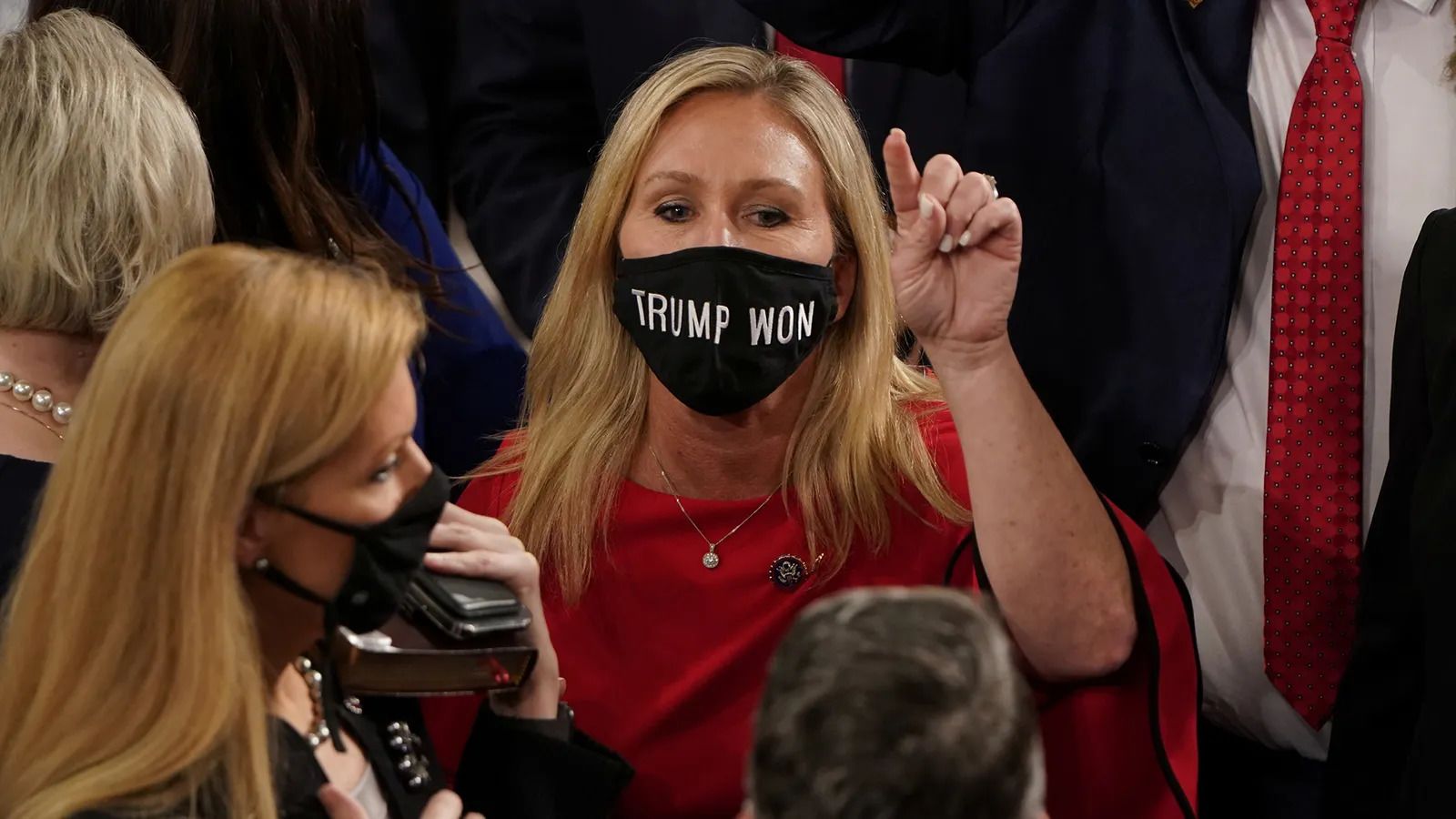 Marjorie Taylor Greene with pro-Trump mask
Political cover

Masks became a new form of advertising and a vehicle for viral messaging, especially for those in the political realm. Here, Republican representative Marjorie Taylor Greene sports a facemask emblazoned with the slogan "Trump won", referencing the unfounded belief that the Democratic Party's victory in the 2020 presidential election was unlawful.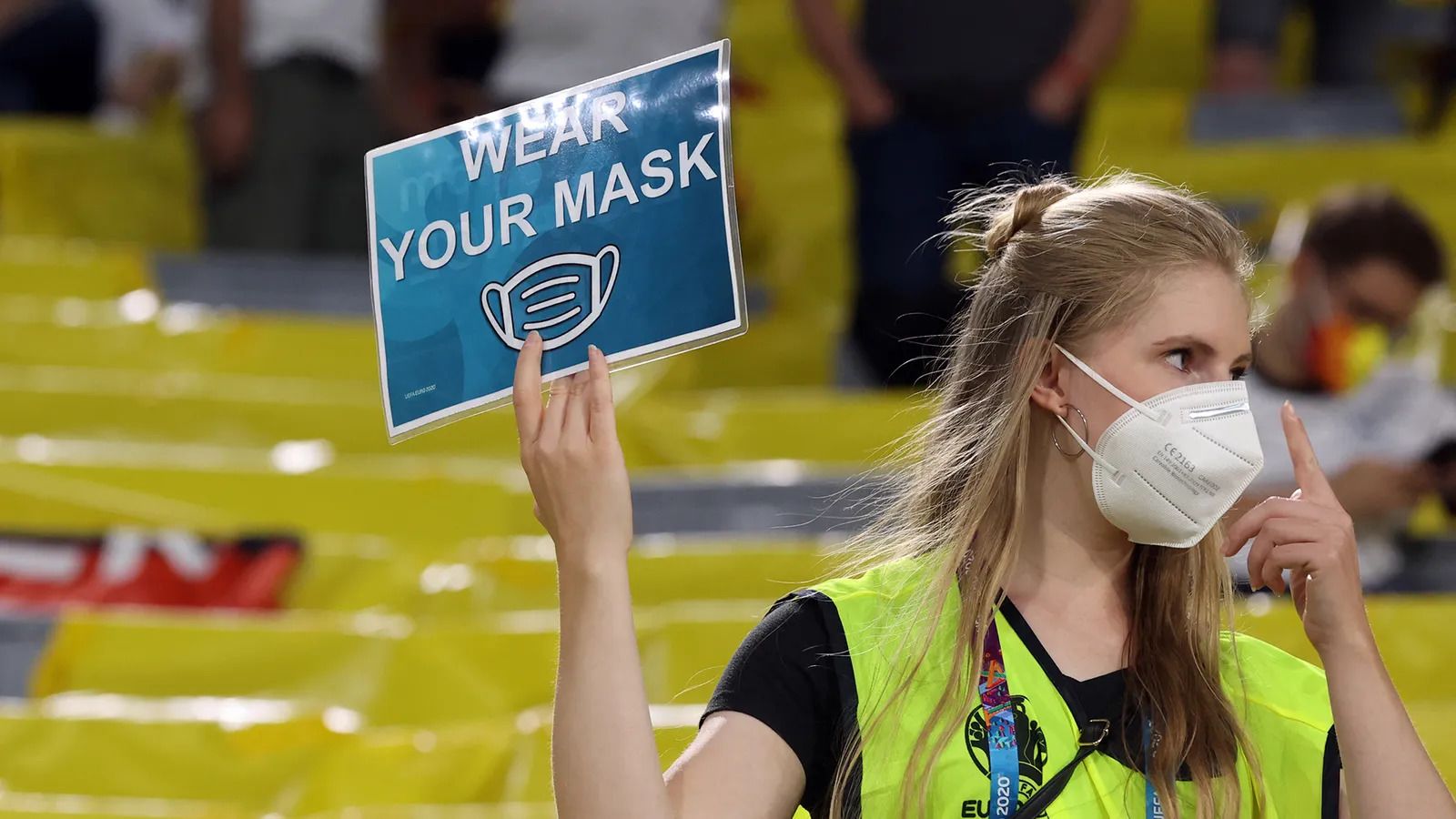 Female steward raising mask sign
Defensive measures

Two major sporting events due to take place in the summer of 2020 finally took place in 2021 instead. One of them was the pan-European Euro 2020 football championships, which took place in cities ranging from the Seville in Spain to Baku in Azerbaijan.

Despite being held in open-air stadiums, the championships brought serious infection implications due to the massive movement of fans from airports to hotels and transport hubs to stadiums. Even players had to adhere to rules, wearing masks when not on the playing field.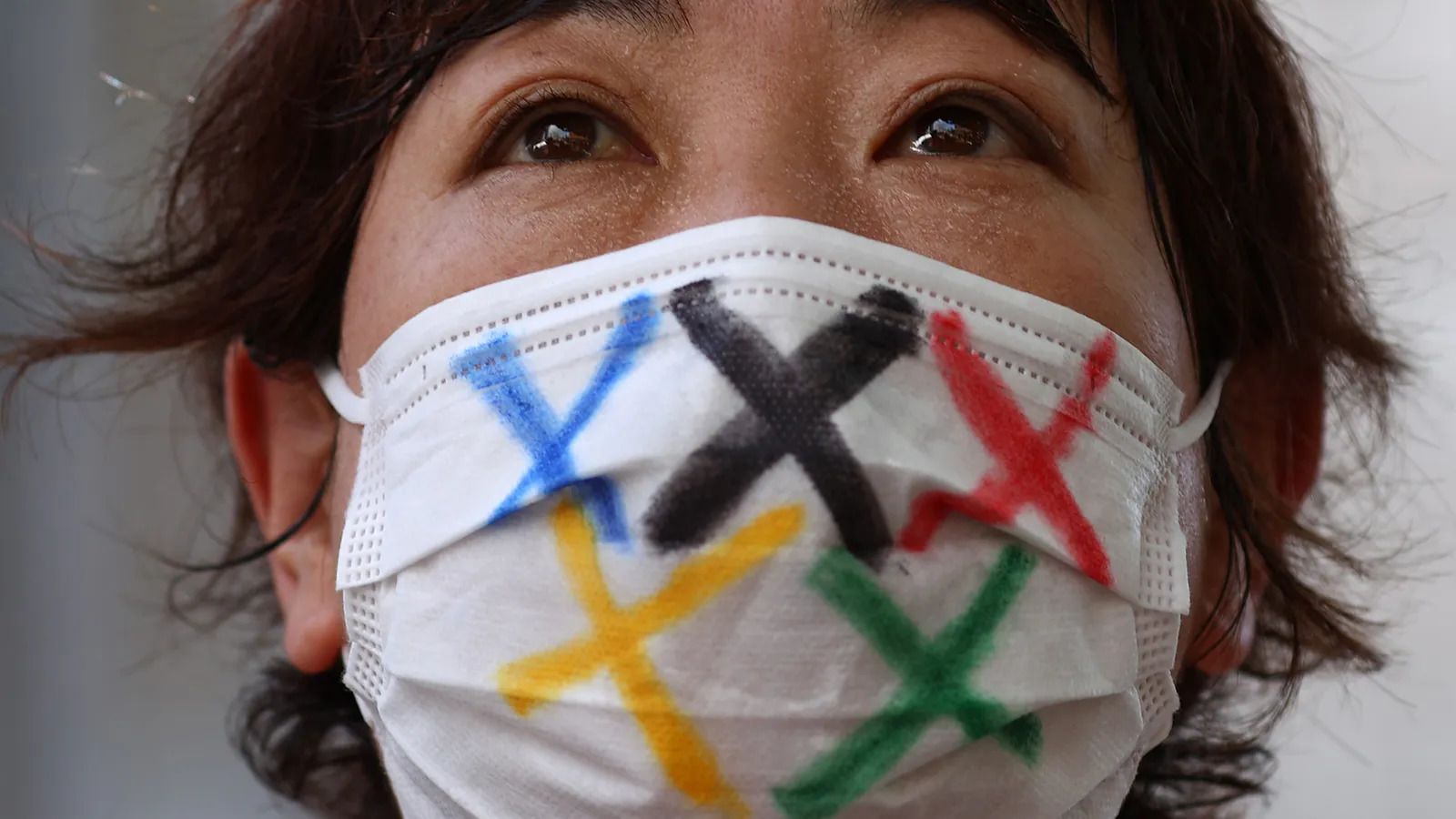 Fan wearing mask with Olympic logo
Golden rule

An even bigger spectacle took place later that summer, with the Tokyo Summer Olympics taking place in late July and early August. The games had also been postponed from the summer of 2020 – with a vaccination campaign in full swing, it was hoped that the event would be much safer with a year's delay. Athletes were required to wear their masks at all Olympics venues – even on the medal podium.

There were fears that the games might have to be played to empty venues – that is in fact what Japan's chief scientist recommended. In the end, however, fans were allowed, though capacity at venues was reduced to help social distancing. And there was one other rule that was rather more difficult to adhere to: no cheering.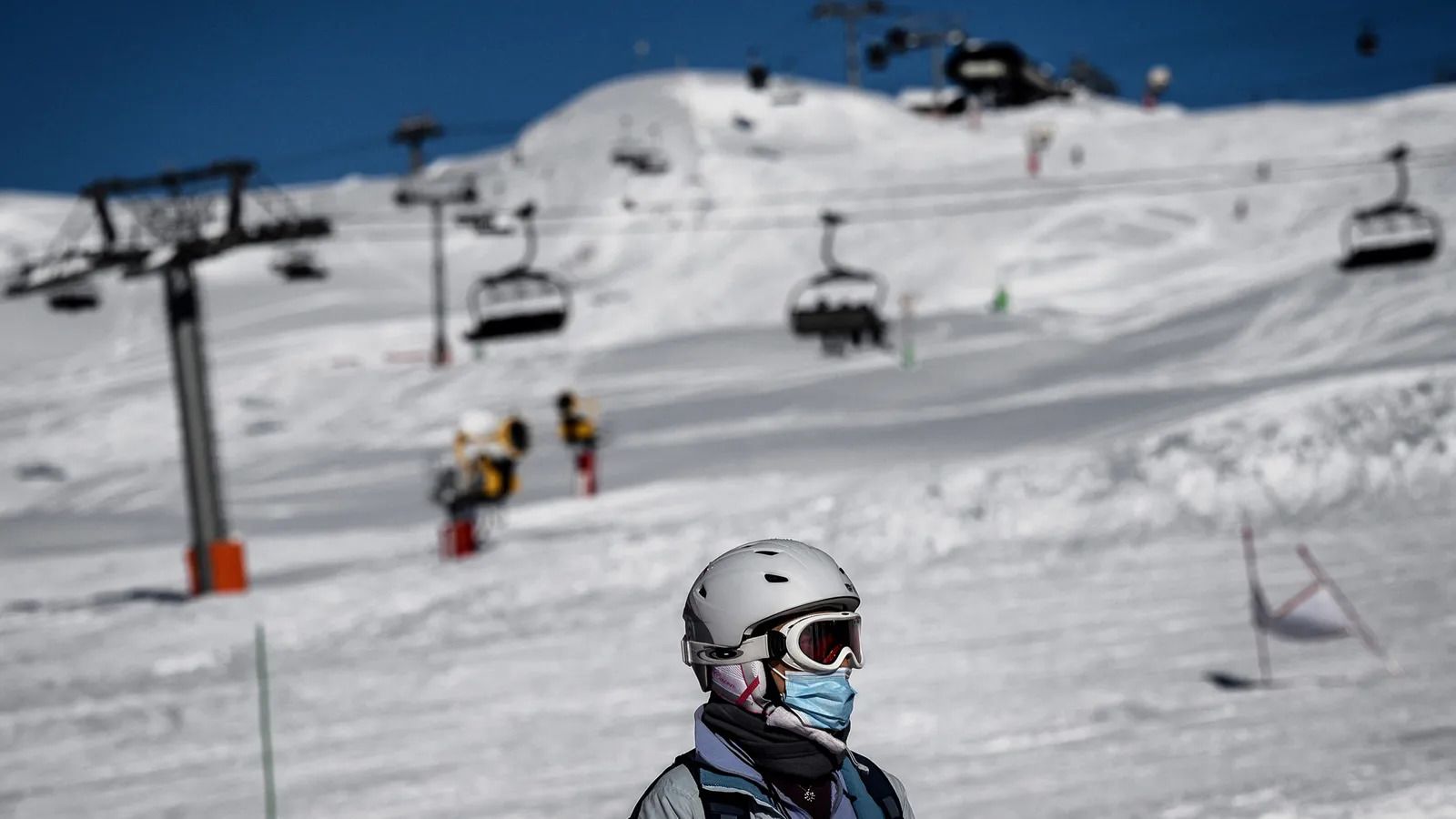 Skiier with mask on French slope
Cold comfort

Away from the glitz and spectacle of international sport, Covid-19 also made itself felt in everyday physical activity. This skier near a lift at the Alpe d'Huez ski resort was obliged to wear a mask. In the UK, the chief medical officer Chris Whitty said there was no need for joggers to wear masks in the open air, though other medical experts weren't quite so sure.

In March, scientists in Italy found that masks were safe to wear even when carrying out high-intensity exercise, offering only a 10% reduction in oxygen intake but making the spread of the virus in gyms much less likely.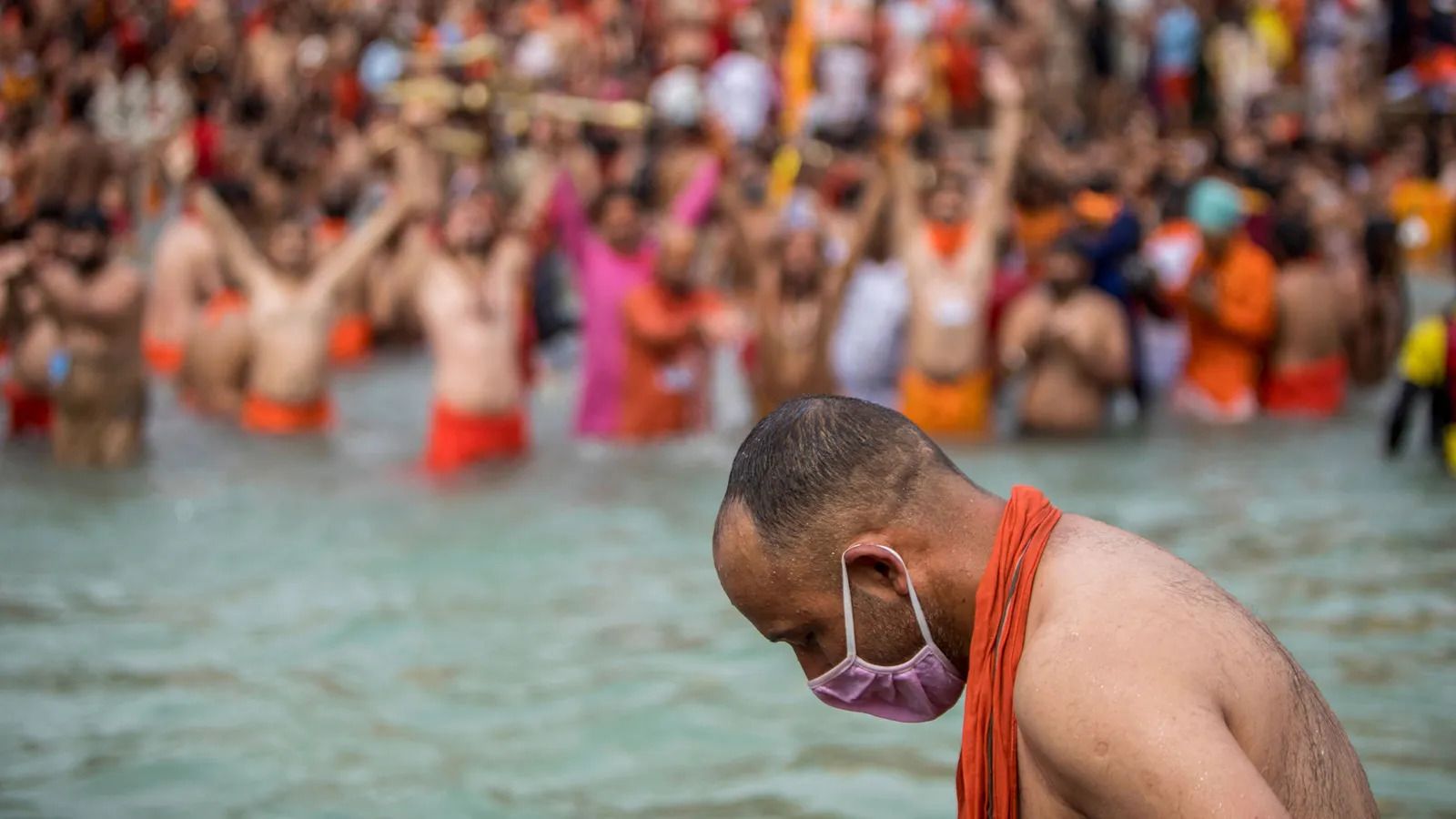 Man wearing mask entering Ganges River
Constant companion

Masks soon became as vital a part of everyday journeys as wallets and mobile phones for many – the ritual of a doorway search for a mask as common as that for house keys. The need for masks was even more urgent in crowded cities and communities, such as parts of India, which in the spring and summer suffered terrible loss as the Delta variant swept across the country.

Here, an Indian sadhu, or holy man, wears a mask as he bathes in the Ganges River during the Kumbh Mela festival in April in the city of Haridwar.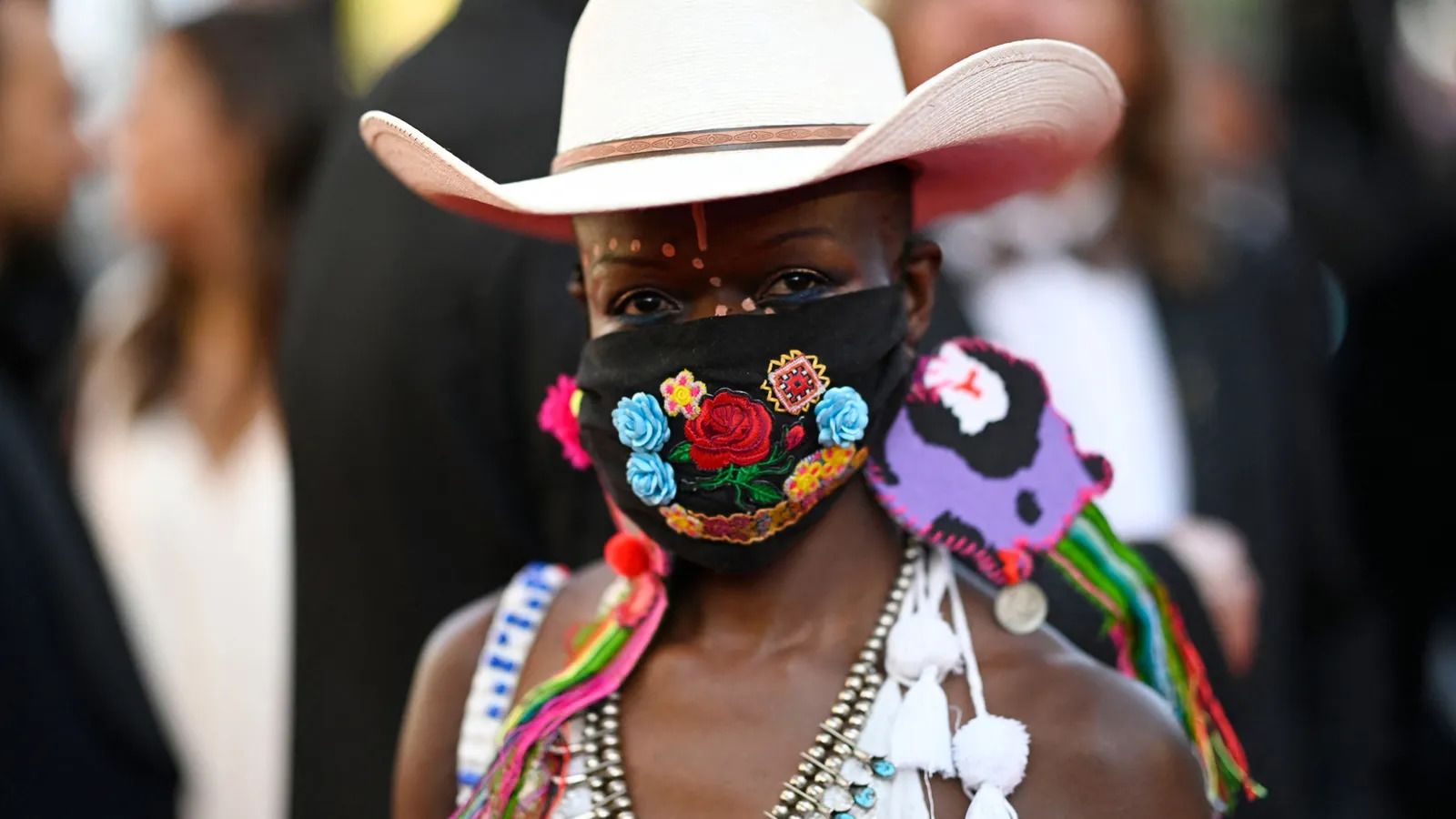 Female guest in cowboy hat and mask
Cultural shift

Masks were even seen on the most exclusive of red carpets, such as the Cannes Film Festival in France in May.

Many of these events had been postponed or moved online in 2020 due to the pandemic, and the masks were a visible sign the world was still far from back to normal. The movie industry spent much of the year in relative lockdown, with some of the biggest releases – such as the James Bond film No Time to Die – delayed again and again as lockdown restrictions continued.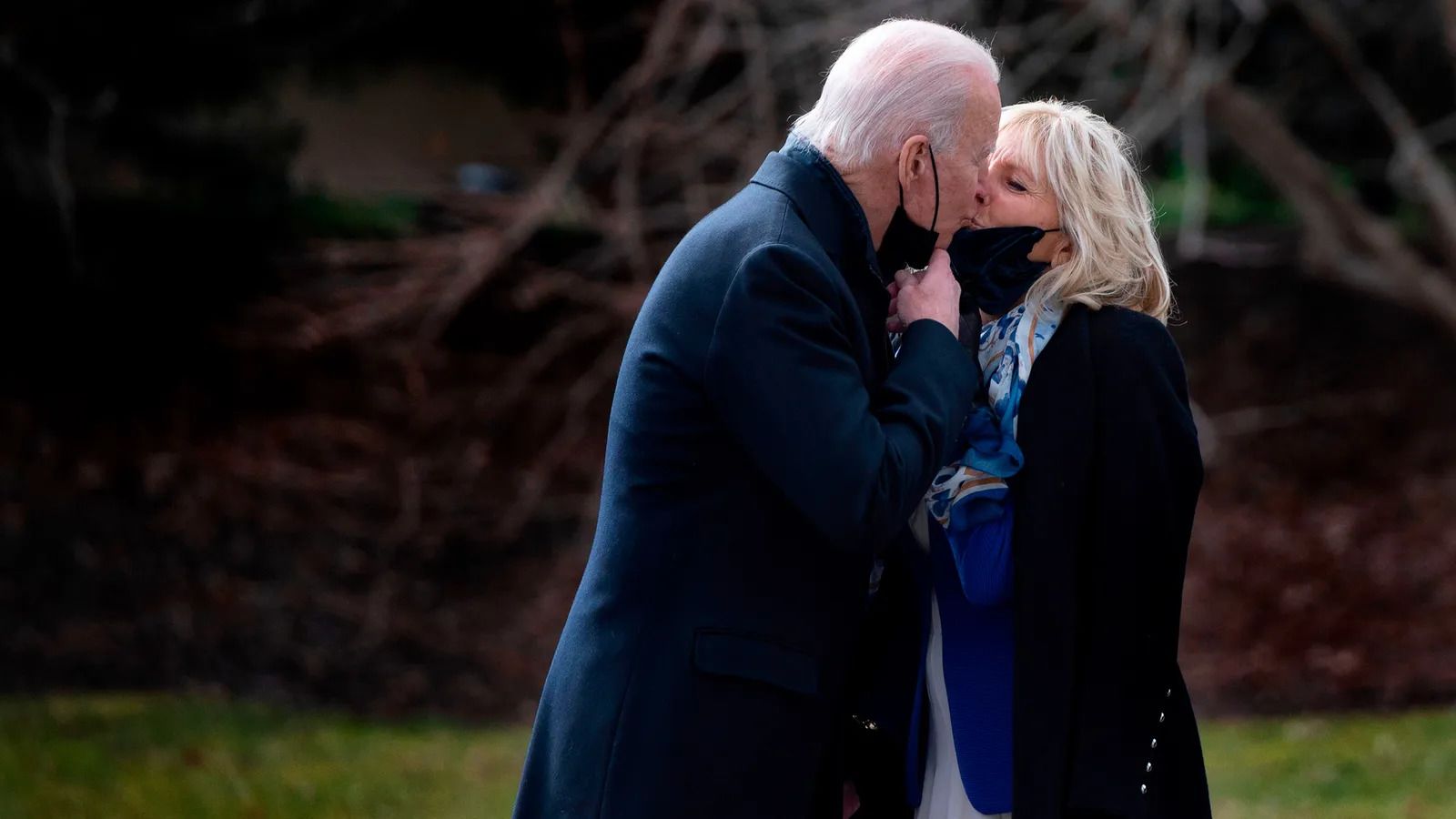 Joe and Jill Biden kiss outside White House
A moment unmasked

For many political leaders, masks had to be worn at every public event, reinforcing their effectiveness to those watching. In stark contrast to his predecessor Donald Trump, who went without a mask even while holding political rallies in the run-up to the 2020 election, President Joe Biden consistently donned a mask. In the summer, he urged Americans to wear masks indoors as the death toll of the disease climbed.

Here, he is seen kissing his wife Jill Biden on the lawn of the White House in January ahead of a trip to a military hospital.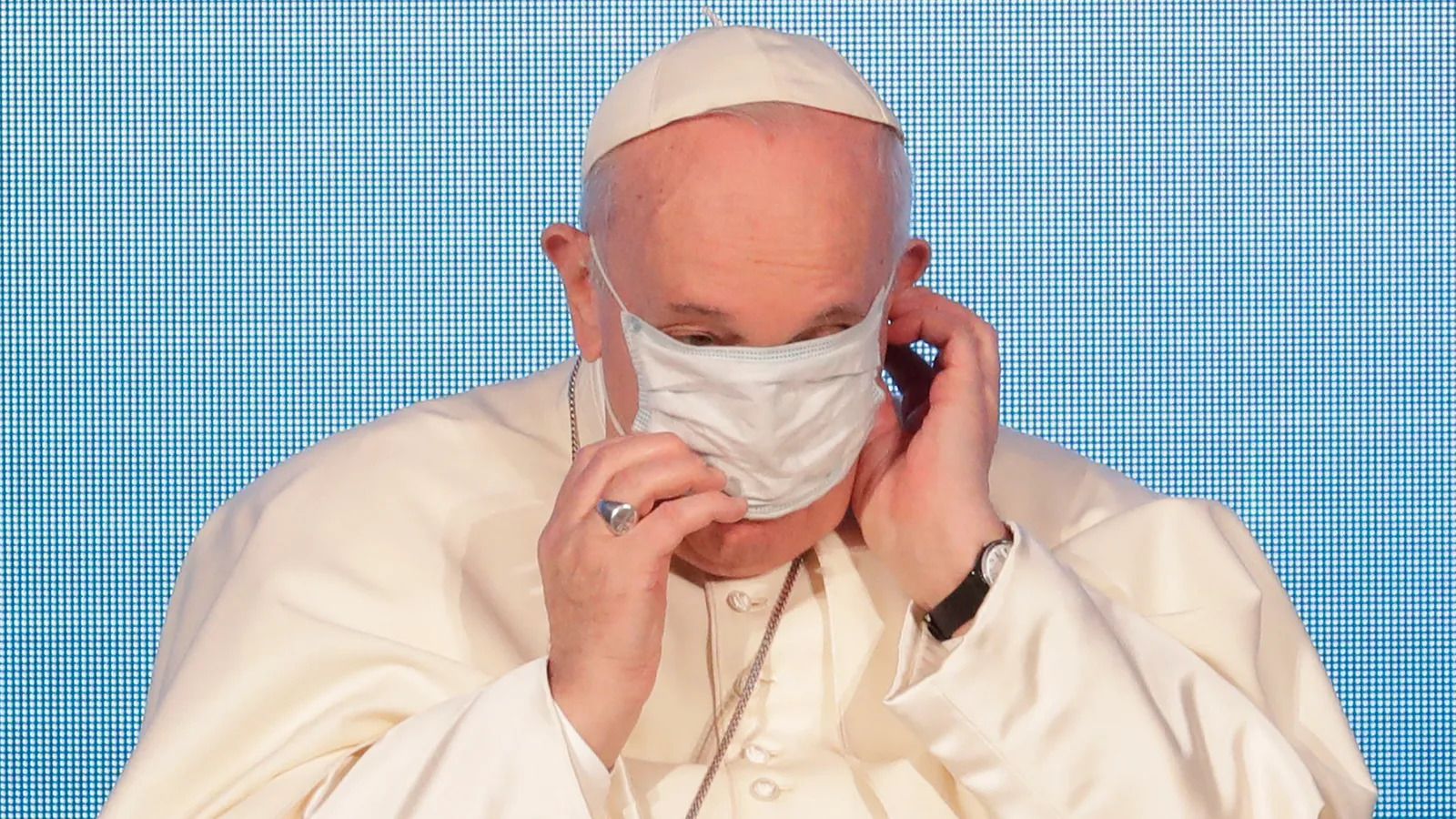 Pope Francis putting on mask
An ecumenical question?

In November 2020 Pope Francis, the leader of the world's 1.3 billion Catholics, called those who refused to wear masks "selfish". The pontiff was criticised by some last year for not wearing masks enough in public settings, and appeared to have taken that criticism to heart. During 2021, he regularly appeared in a mask at the weekly general audiences held at The Vatican.

In the US, some churches urged their congregation to wear masks to help curb the spread of the disease, while others resisted it – some even offering "religious exemptions" to get around mask and vaccine mandates in the workplace.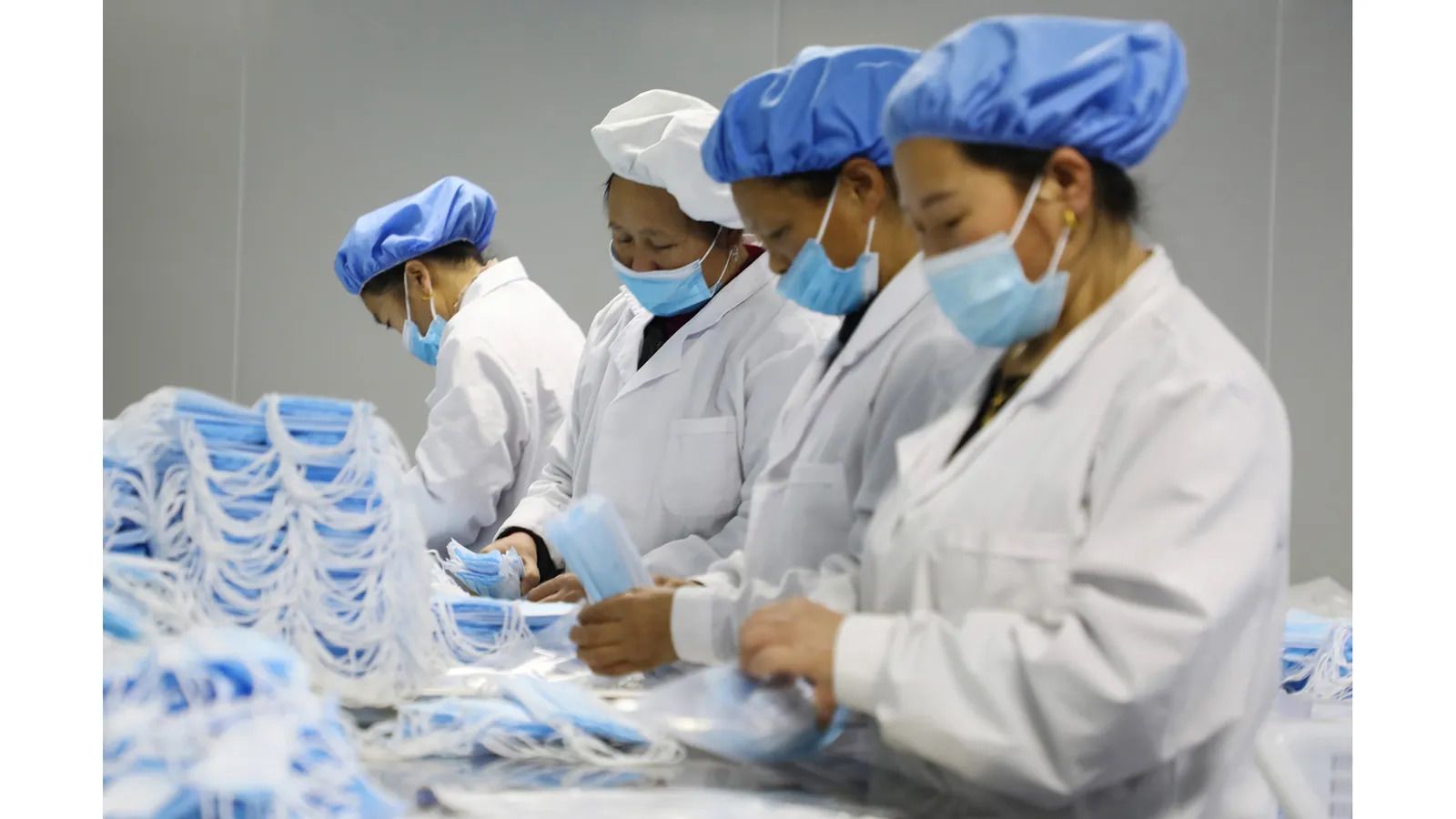 Chinese workers making masks
Behind the masks

A world in pandemic mode needs a mountain of masks. Just one company – the giant US conglomerate 3M – alone produced some 2.5 billion in 2021. This was four times the number produced in pre-pandemic 2019, and a sign of the immense effort going into mask production across the world.

It was reported that many smaller US companies that had pivoted to make masks in 2020 as the pandemic took hold were left with massive stocks of unsold masks as Chinese companies mobilised and produced numbers at cheap prices.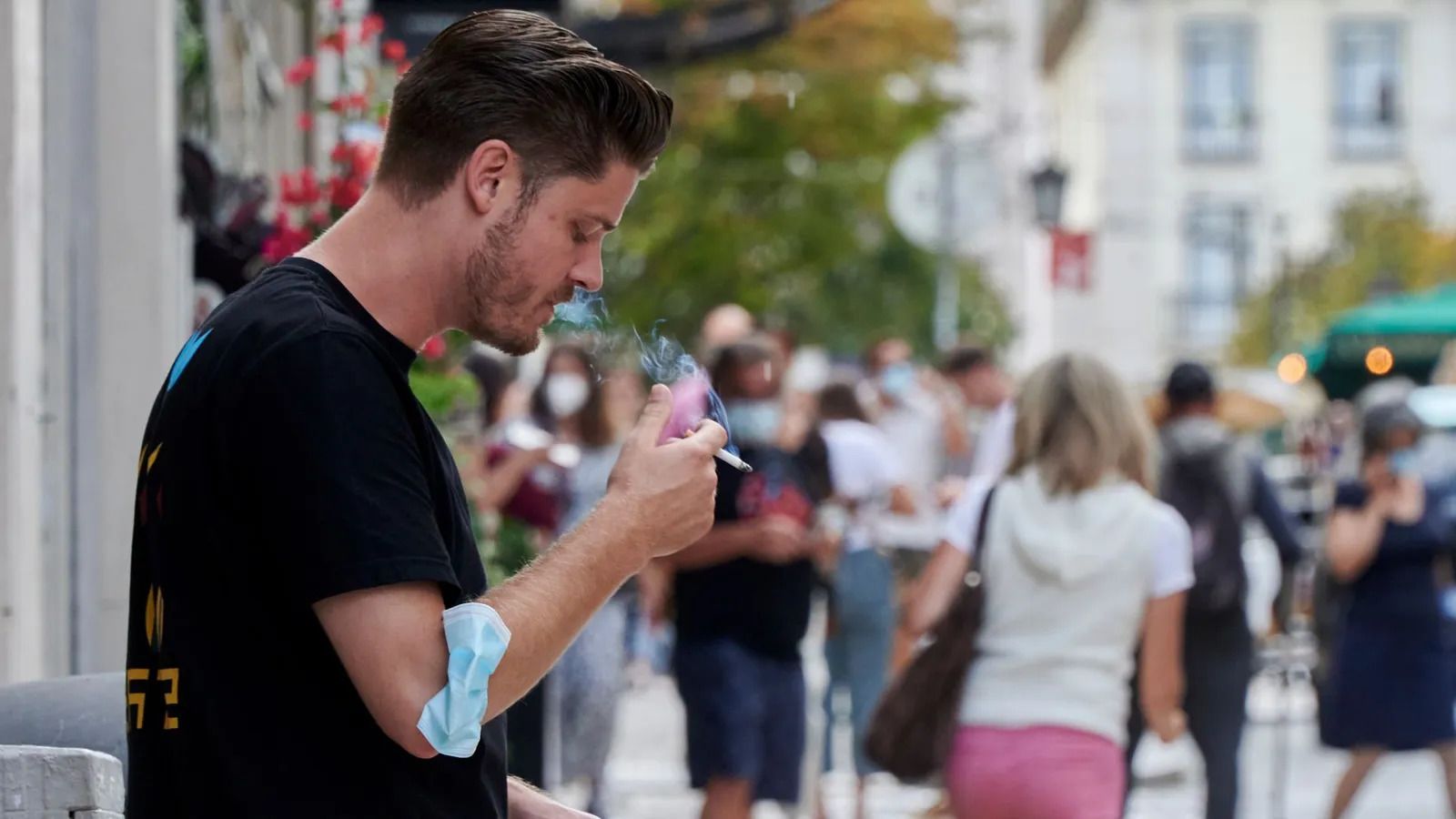 Man with mask on elbow
About face

Public health agencies had urged people to wear masks and wear them correctly – covering both mouth and nose when they were being worn. But what about when they weren't being worn? Was it safer to hang an unused mask off your arm or stuff it in your pocket or bag?

Well, the US Center for Disease Control and Prevention is clear on this: don't dangle an unused mask off your arm or around your neck, lest it get further contaminated. Though according to 3M's own guidance on mask wearing, neither should you keep one in a bag or pocket between uses. For those of us relying on washable masks, are we cleaning them as regularly as we should?

The pandemic shows no sign of abating, at least for the near future – and it looks like masks will continue to be one of our most visible weapons in the battle to defeat it.