In keeping with the latest trends, check out our favorite balletcore wedding dresses hand-selected from our FYP.
If you haven't heard, there is a new trend that has emerged in the bridal world: balletcore. We can accredit the sudden rise of ballet-inspired wedding dresses not only to designers, but also to the influence of TikTok. Scroll through your FYP and you will likely see more than one video explaining the meaning of balletcore, while also citing ballerinas as inspiration for wedding dresses this season.

So what does this so-called 'balletcore' trend entail? The term refers to soft silhouettes, dramatic tulle designs, and neutral colors. If you break it down, it's not too far off from a traditional bridal look, and bridal and runway designers are finding plenty of ways to interpret this popular style.

For example, Zimmermann's Spring '22 collection incorporates balletcore into its pieces by looking at the duality between strength and fluidity. This means soft ruffles and neutral colors but with structured elements. On the other hand, Simone Rocha took an edgier approach through deconstructed ballet-inspired silhouettes.

To help you visualize this trend for your upcoming nuptials, we've rounded up 21 of our favorite ballet-inspired wedding dresses for every style and budget.


Most Romantic: BCBG Oly Tiered Ruffle Tulle Evening Gown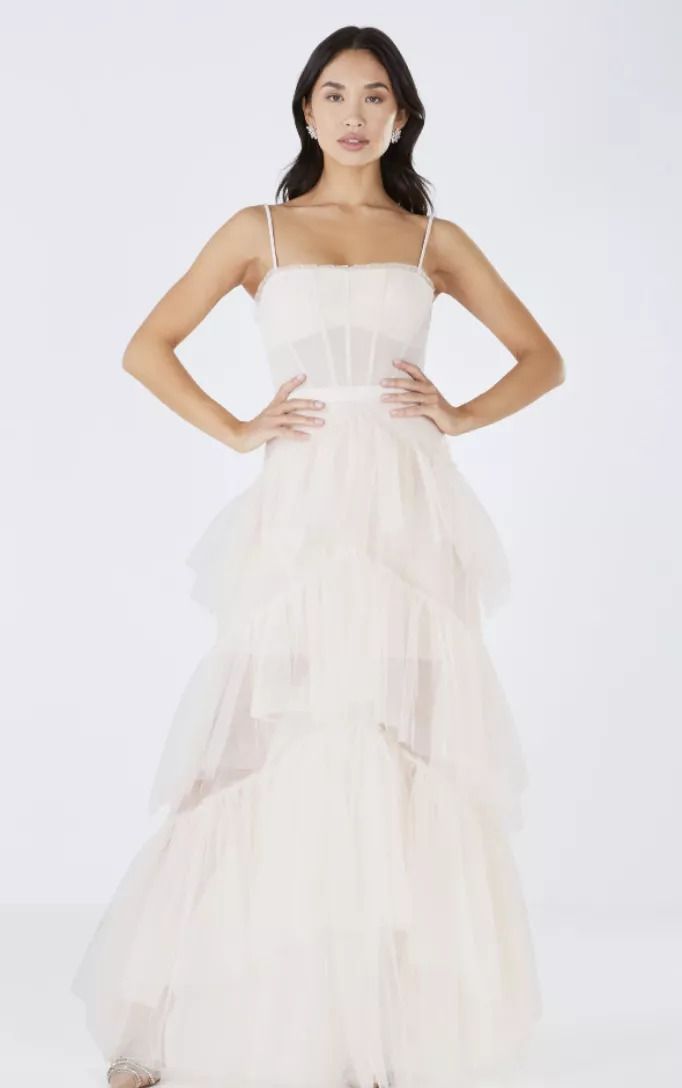 What says ballet more than a blush-toned tulle gown? This dreamy option from BCBG stands out with a tiered ruffle skirt and a structured bodice.


Most Chic: The Bar Henri Gown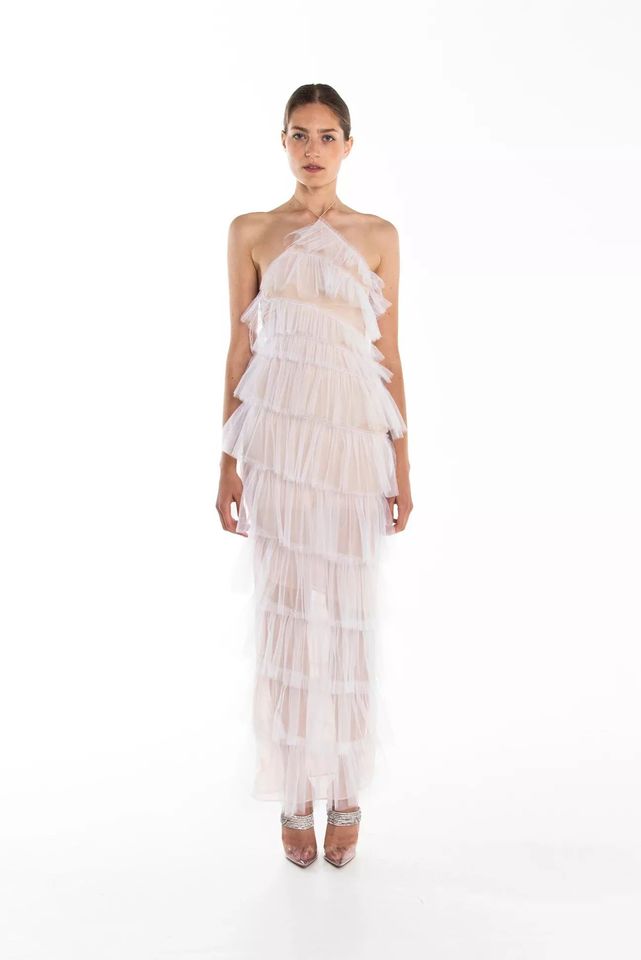 Fashion-forward brides will love this stylish tulle and silk chiffon gown from The Bar. Opt for the classic white color, or go for a more unique look with one of the three pastel hue options.


Best Wrap Style: Reformation Rya Dress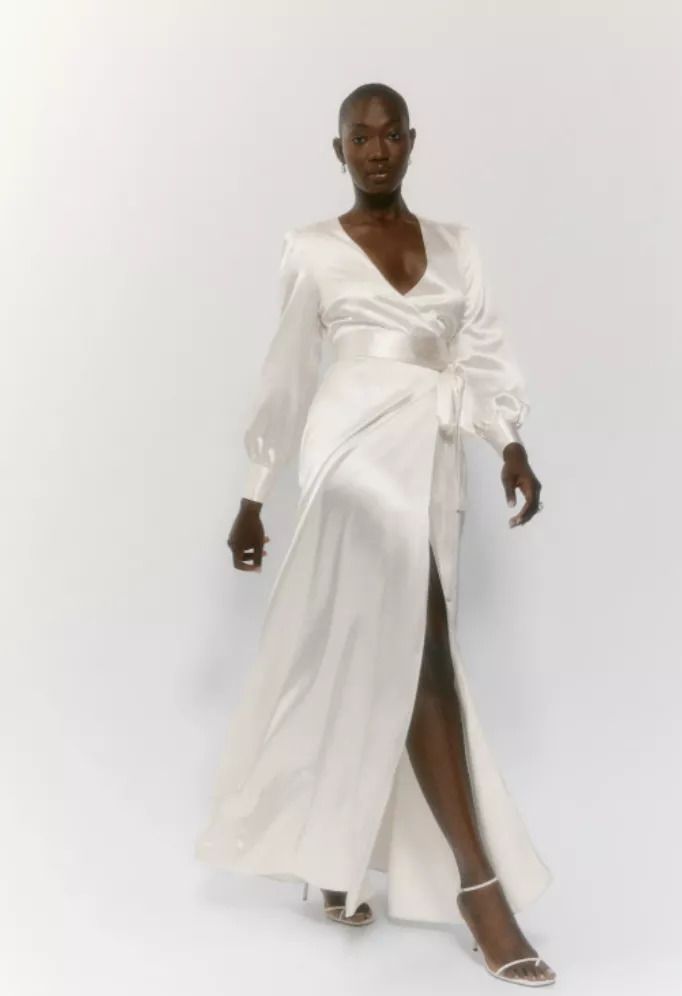 For a classic, ballet-inspired bridal look, we suggest this elegant wrap dress with a V-neckline. The puffed sleeves add a trendy element to this timeless piece.


Best Mini: Rasario Silk-Satin Mini Dress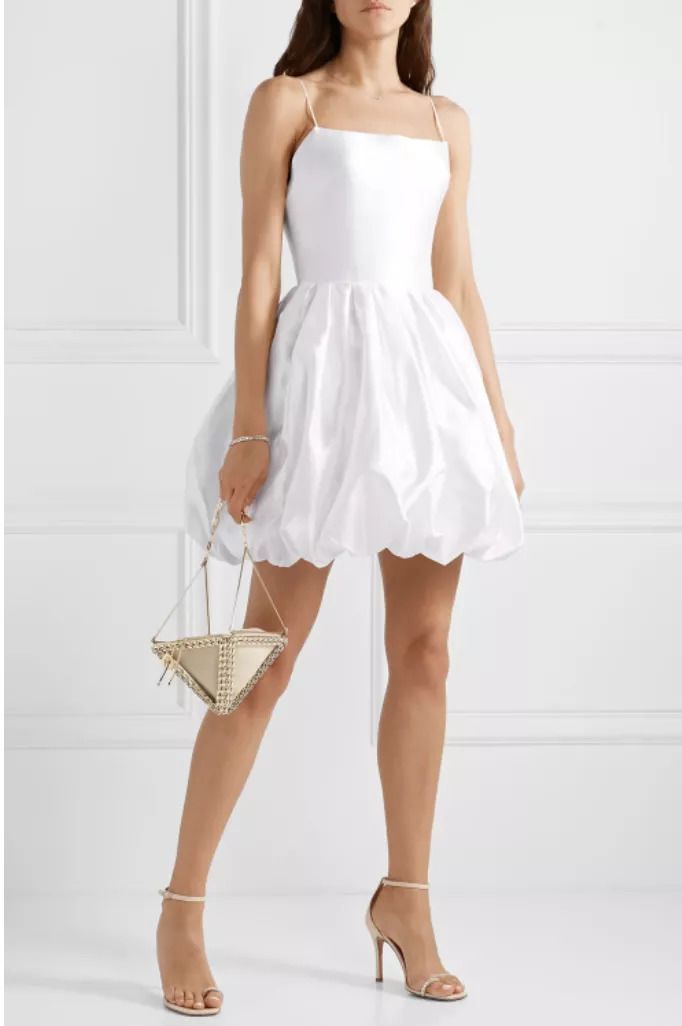 Whether it's an outfit change or your main look, a mini dress for your big day is always a good idea. This luxe, silk-satin mini features a puffball style skirt that subtly hints at the balletcore trend.


Best Ruffles: Zimmermann Dancer Ruffled Glittered Tulle Gown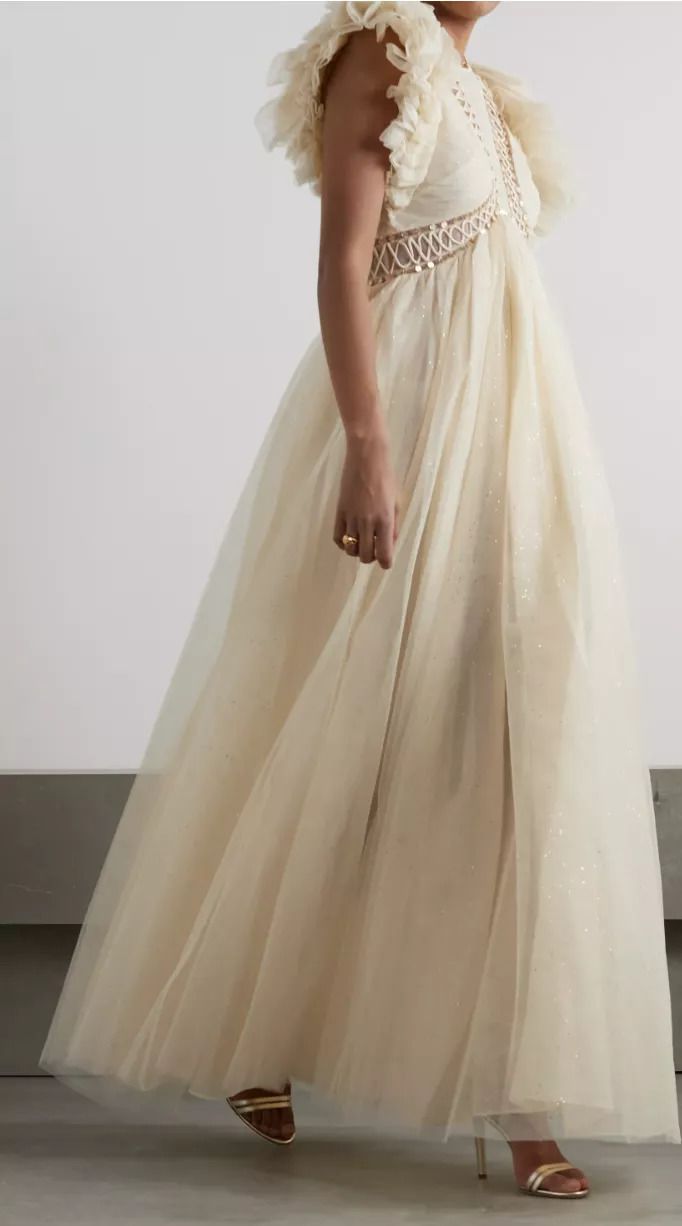 Zimmermann's Spring 2022 collection was inspired by the grace and fluidity of ballerinas. This piece from the collection makes for a one-of-a-kind bridal look through the crystal-embellished lacing and the glittering tulle fabric.


Most Unique: Zimmermann Dancer Cutout Linen Blend Asymmetrical Midi Dress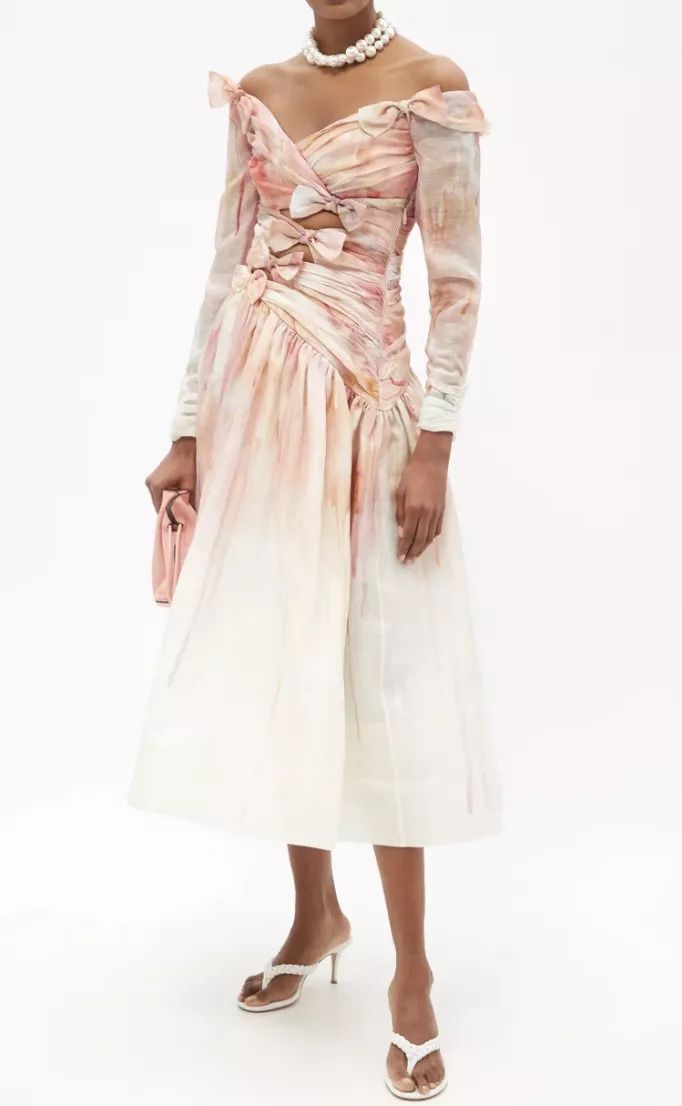 Another Zimmermann piece from the Spring 2022 collection, this unconventional bridal look encapsulates balletcore. From the feminine bows to the pink watercolor pattern, we can't get enough of this elegant midi.


For the Edgy Bride: Zimmermann Rhythmic Fluted Mini Dress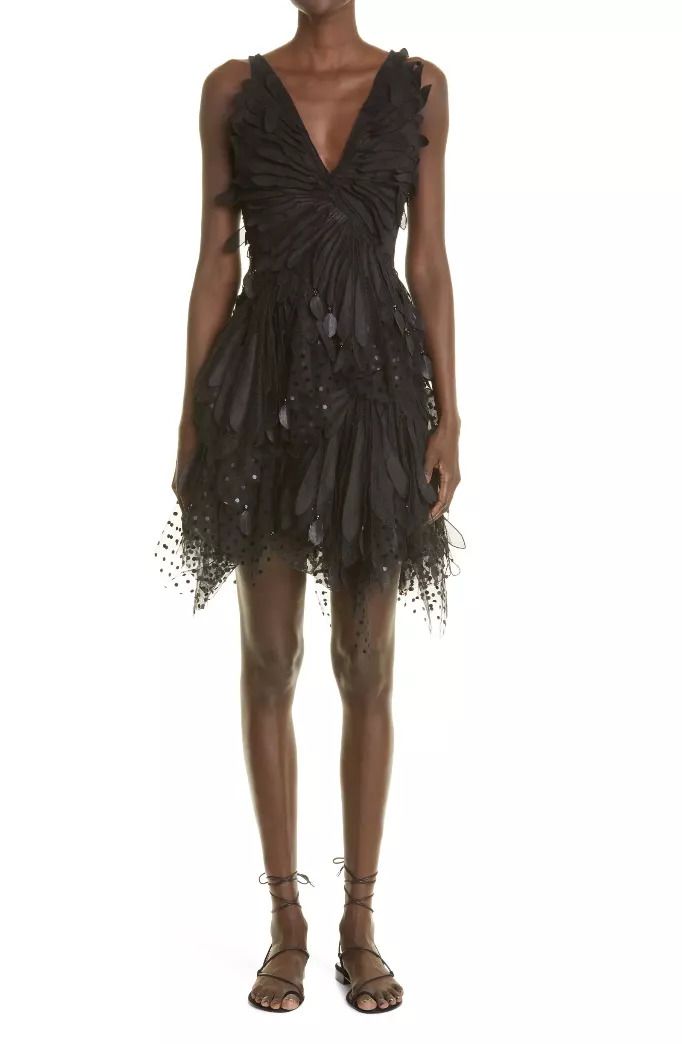 Ballet isn't always just about blush tones and romantic tulling. This punk-glam mini brings to life the edgy side of this trend, à la black swan.


Most Unexpected: Jonathan Simkhai Harlow Lace Poplin Bustier Midi Dress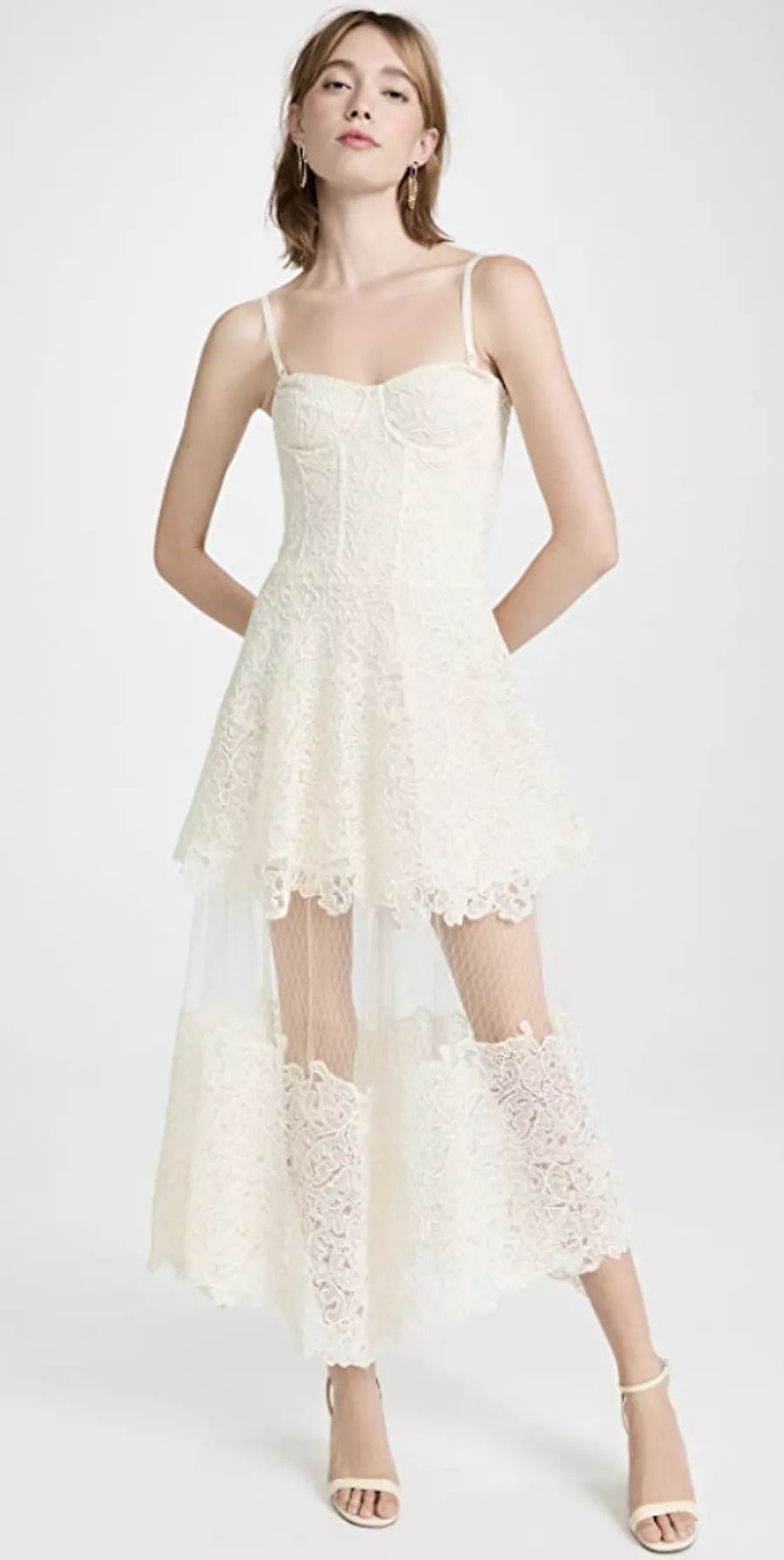 We can't help but fall for this vintage-inspired midi dress from Jonatan Simkhai. The corset bodice is paired with a tiered, scalloped edged skirt with a sheer panel.


Most Statement-Making: Kim Kassas Couture Prima Ballerina Collection Look 80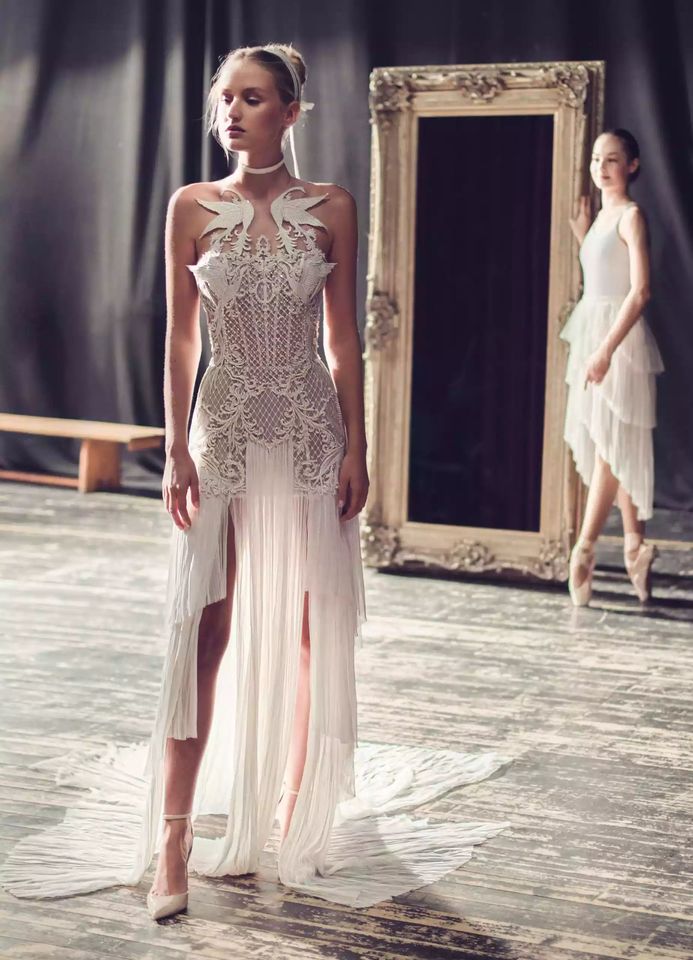 There is nothing understated about this gown from Kim Kassas. The swan embroidery at the neckline, pearl beaded bodice, and geometrically draped skirt all cast an alternative twist on the ballet-inspired trend.


Best Strapless: Kim Kassas Couture Prima Ballerina Collection Look 85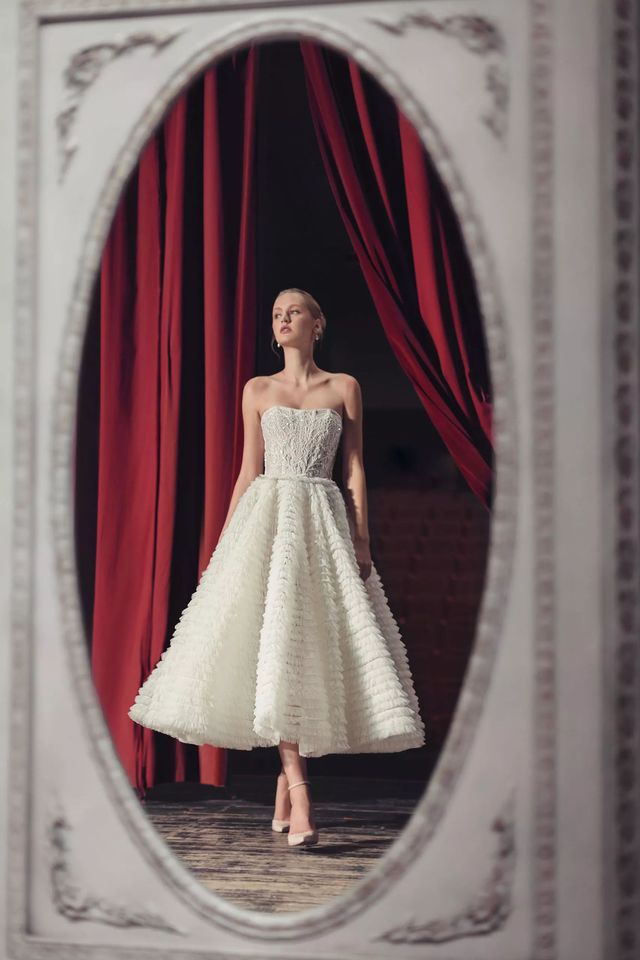 From the layered tulle skirt to the intricately embroidered corset bodice, this midi dress is truly a delicate masterpiece. Style with a slicked-back bun to amplify the ballet vibe.


For the Minimalist Bride: Sachin & Babi Audra Tea-Length Gown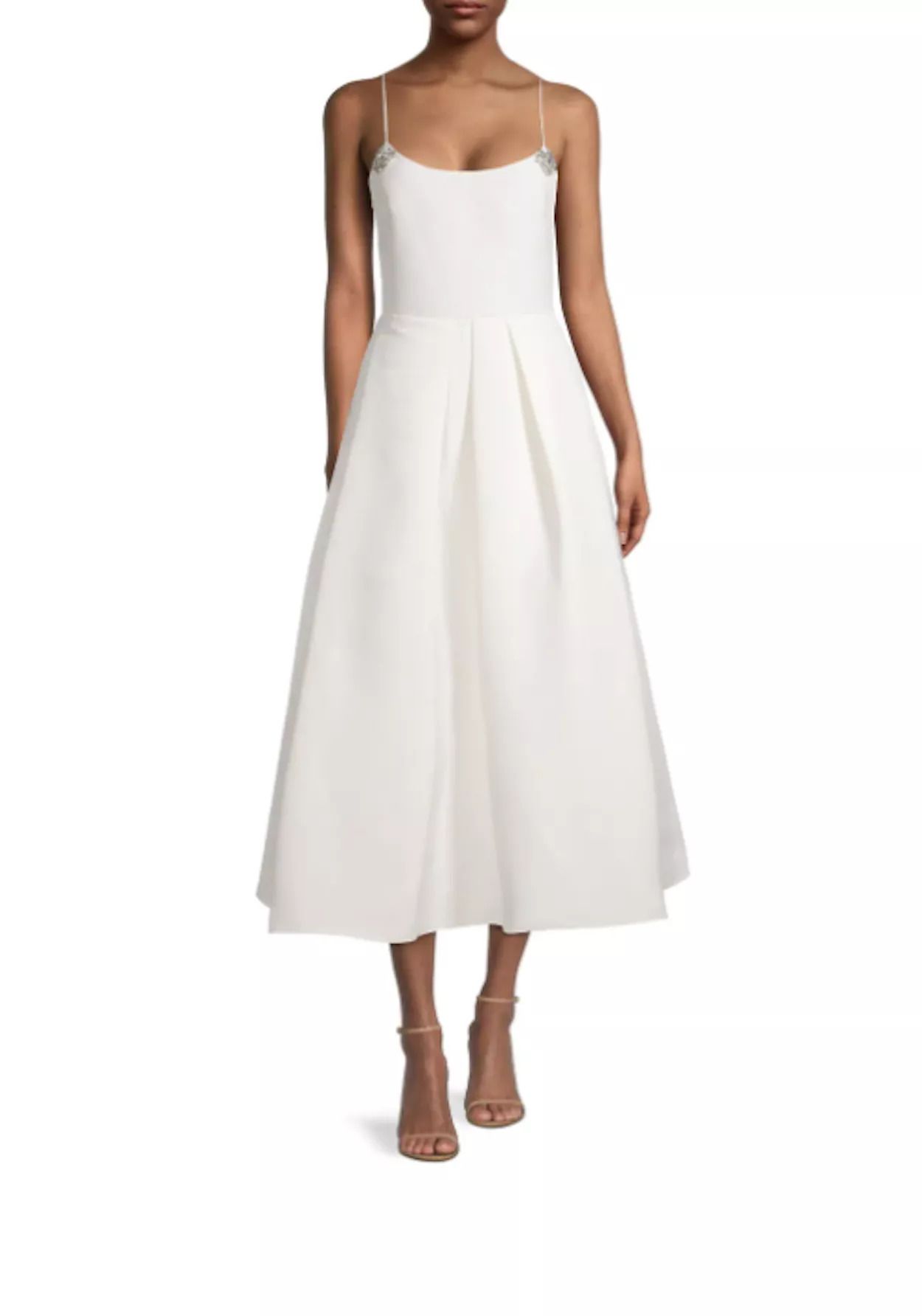 This simple midi dress from Sachin & Babi illuminates the basics of balletcore. The full skirt and classic spaghetti strap scoop neckline is effortlessly timeless.


Best Runway Style: Simone Rocha Open-Back Embellished Midi Dress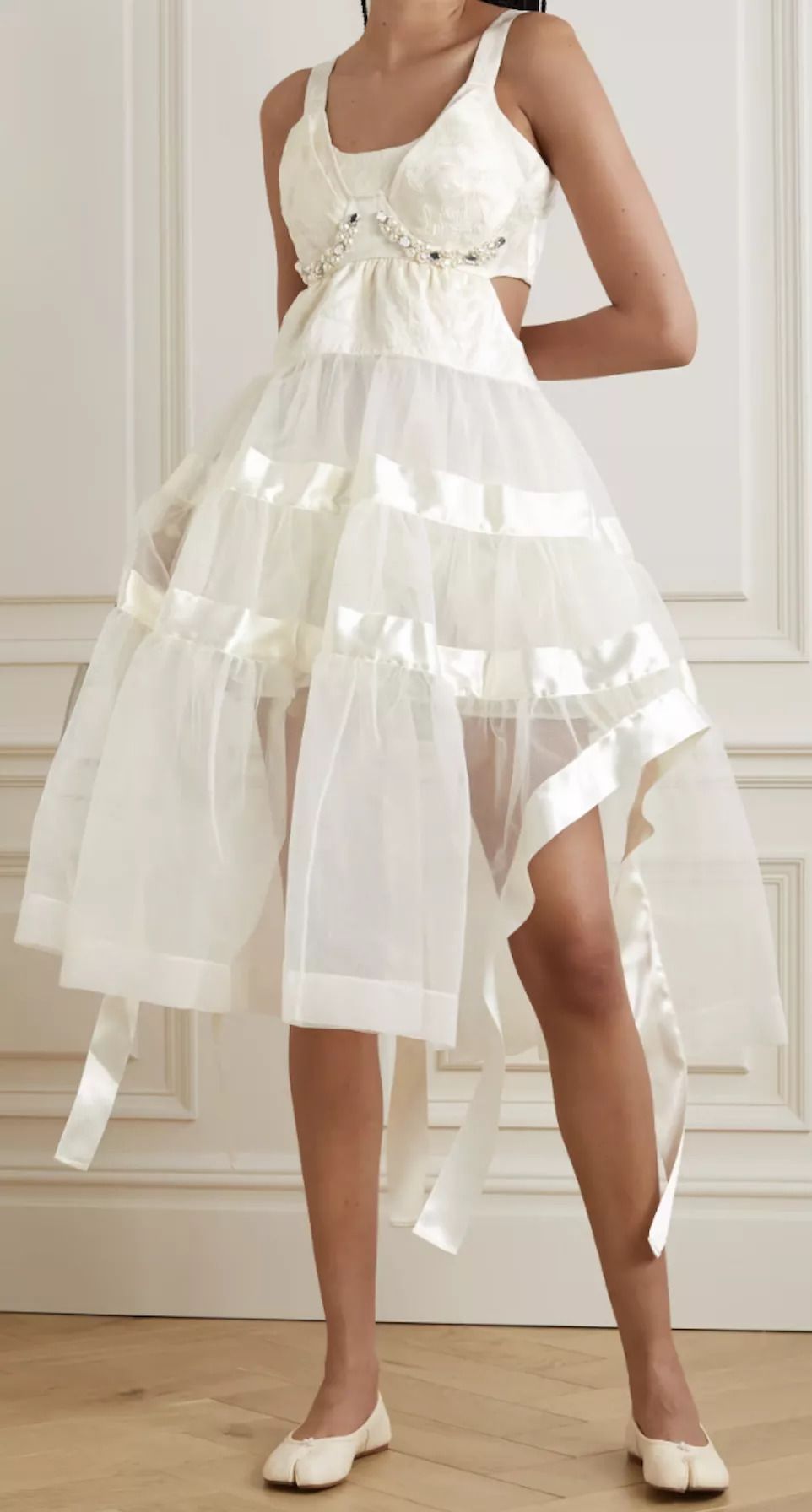 Bridal or runway? This high-fashion, avant-garde dress from Simone Rocha is a deconstructed take on the soft elegance of balletcore. We especially love the sparkling embellished detailing at the bust of the dress.


Best Convertible Dress: Galia Lahav Ballerina Gown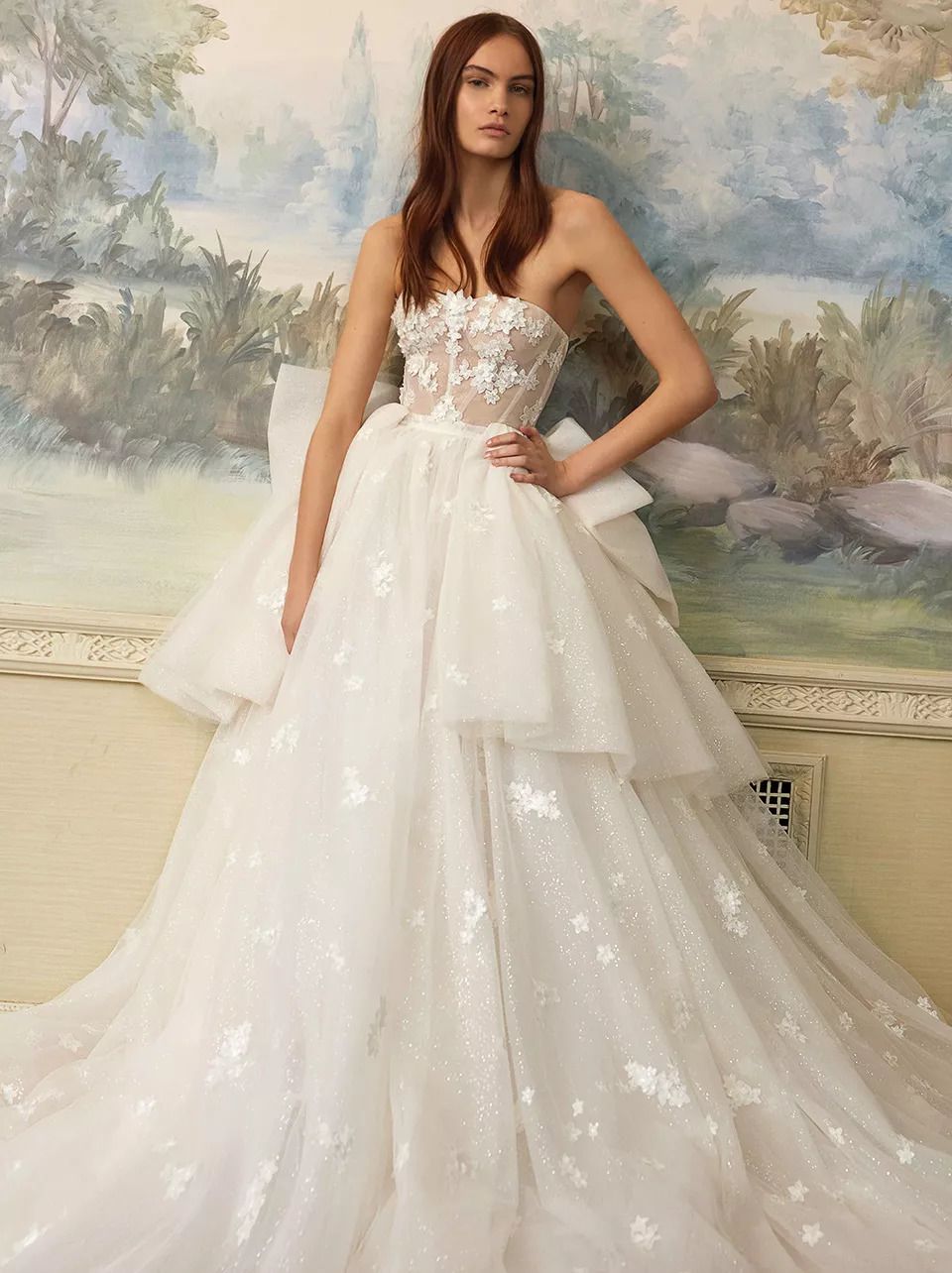 The name says it all. This ballerina-inspired gown is the perfect way to incorporate the trend into your bridal look. The best part about this gown is that it's convertible, so it can take you from ceremony to reception just by removing the tutu skirt.


Most Casual: Sea Patrizia Midi Dress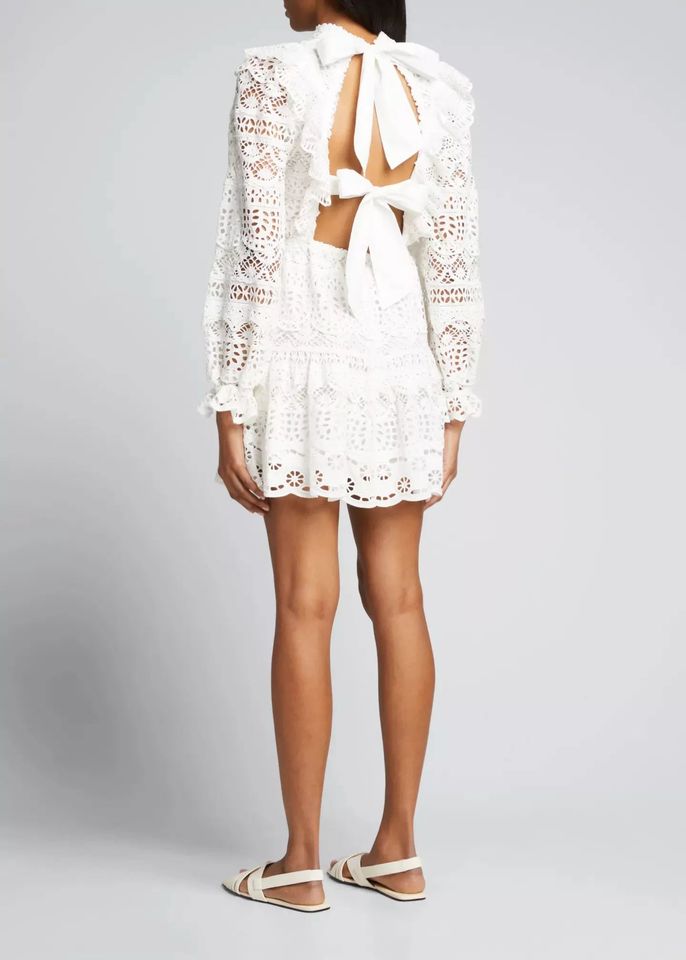 For a backyard wedding, consider this laid-back mini dress from Sea. The bow-detailing in the back and the ruffles bring to life balletcore. Style with bridal ballet flats for an added dose of the trend.


For the After Party: Danielle Frankel Estelle Pearl Dress
Dance the night away in this fun and flirty mini dress from Danielle Frankel. Style with satin crystal-encrusted heels and a statement clutch.


For the Daring Bride: Rosario White Fringed Lace Mini Dress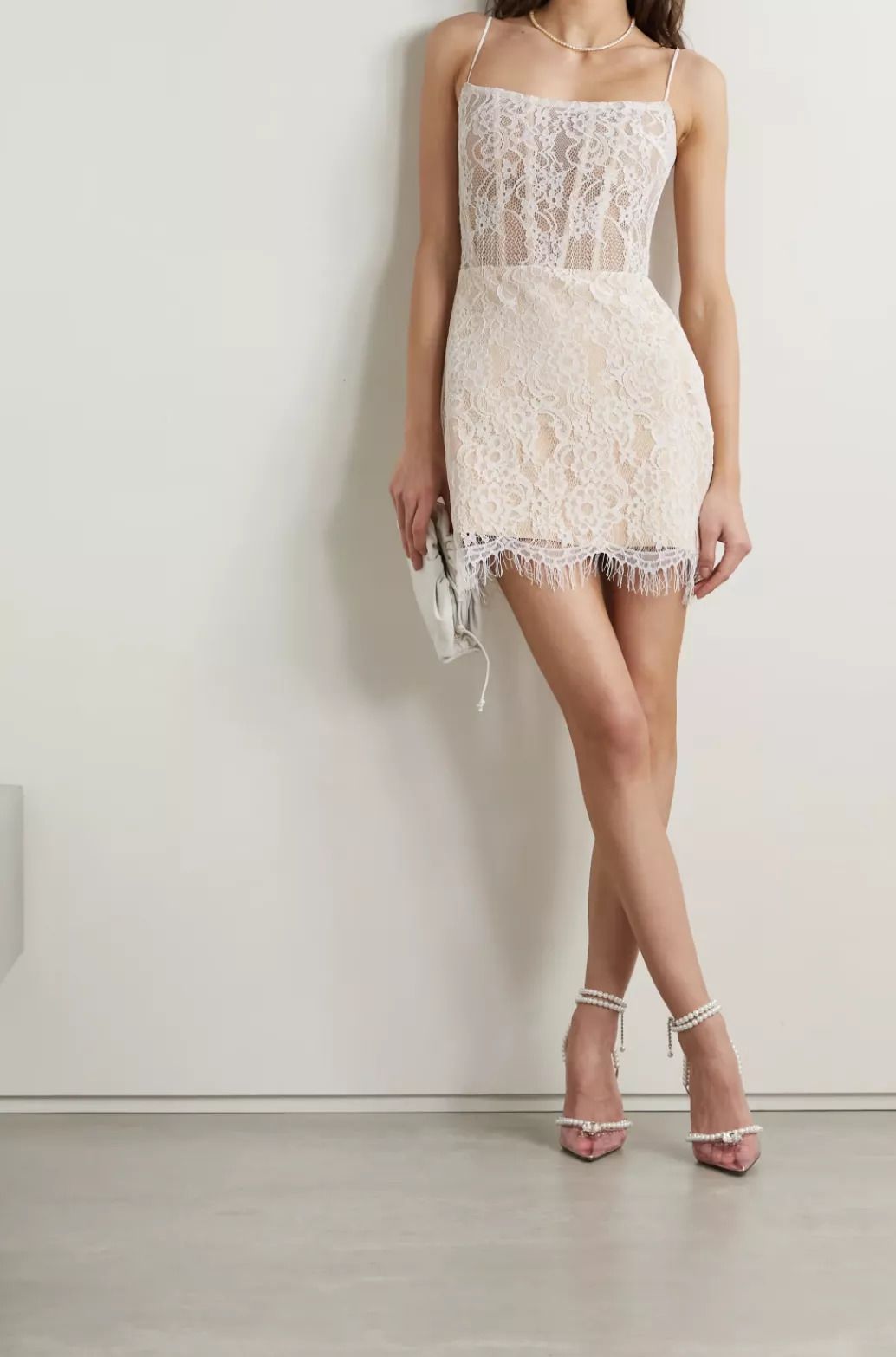 This spunky mini dress is perfect for any bridal celebration, from bachelorette to wedding reception. The square neckline and corset bodice call to mind a leotard-esque style.


Best Sleeves: For Love & Lemons x Revolve Eve Gown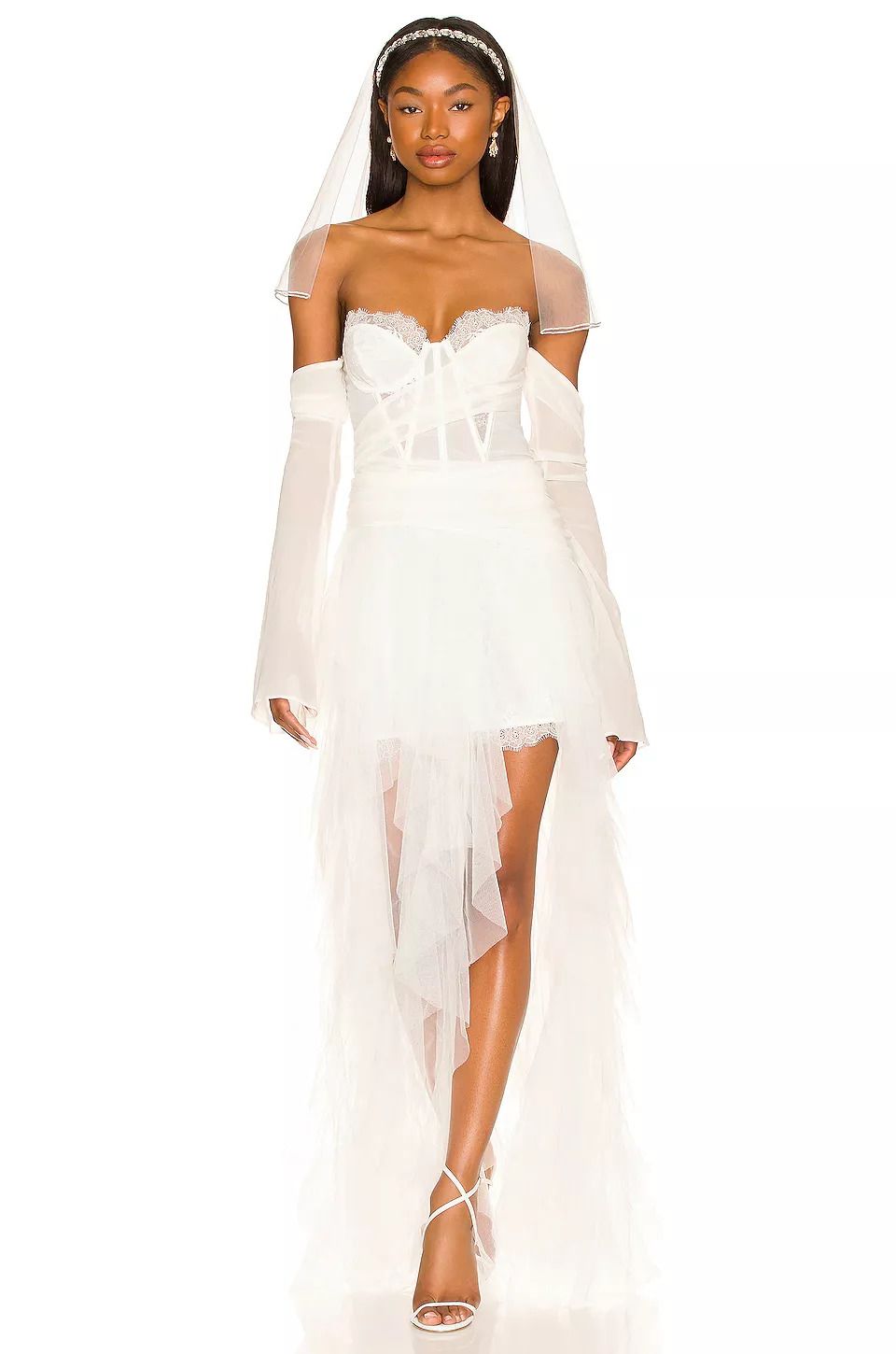 Elegant and edgy, this gown is for the bride who isn't afraid to take fashion risks. With so many unique details it's hard to pick a favorite, but we have to say we love the sheer sleeves.


For a Courthouse Wedding: By Watters Moran Dress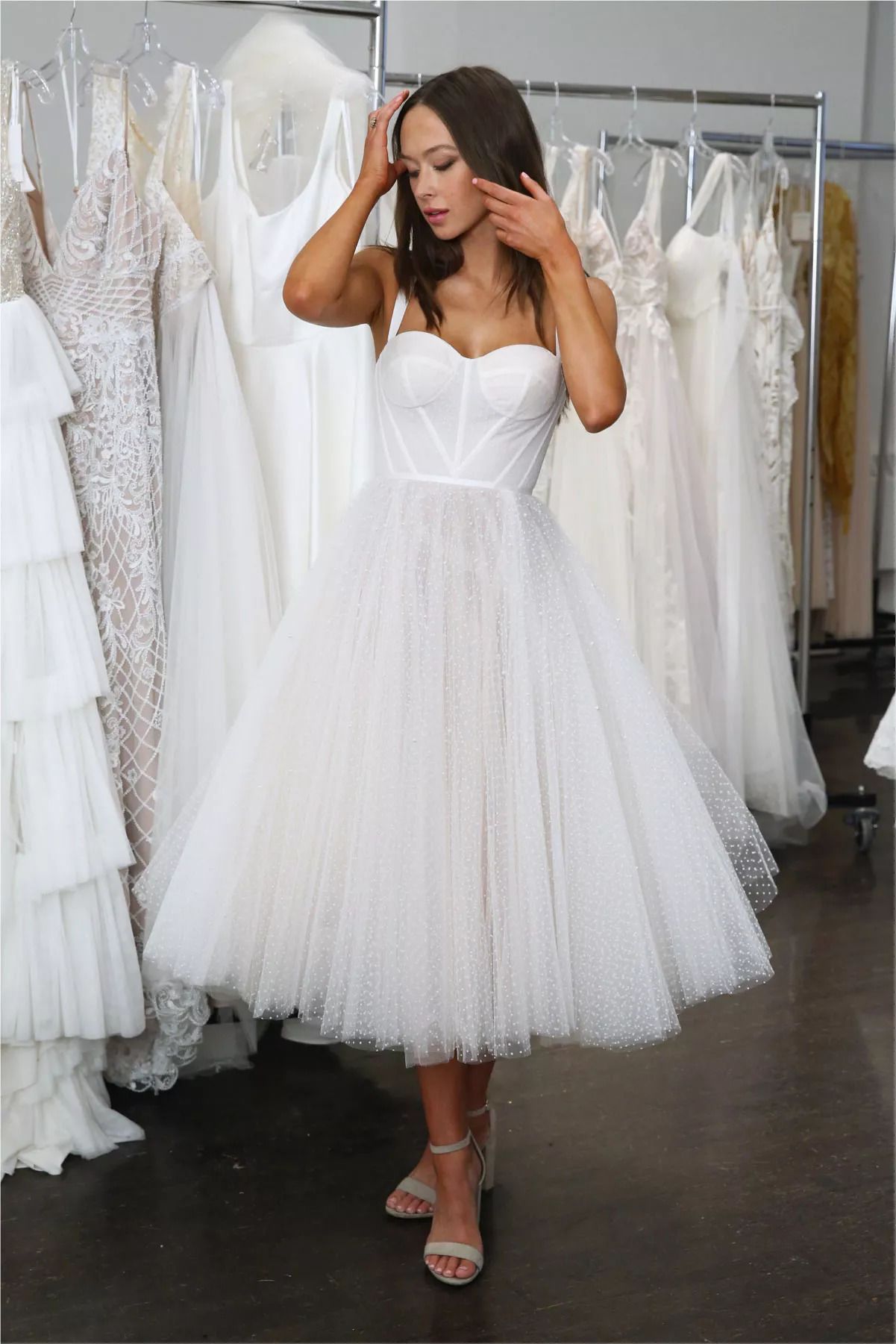 Looking for a courthouse wedding dress? We've got you covered. This tea-length A-line gown features a sweetheart neckline and whimsical flocked dot material.


For a Fairytale Wedding: Needle & Thread Pearl Rose Cami Bridal Gown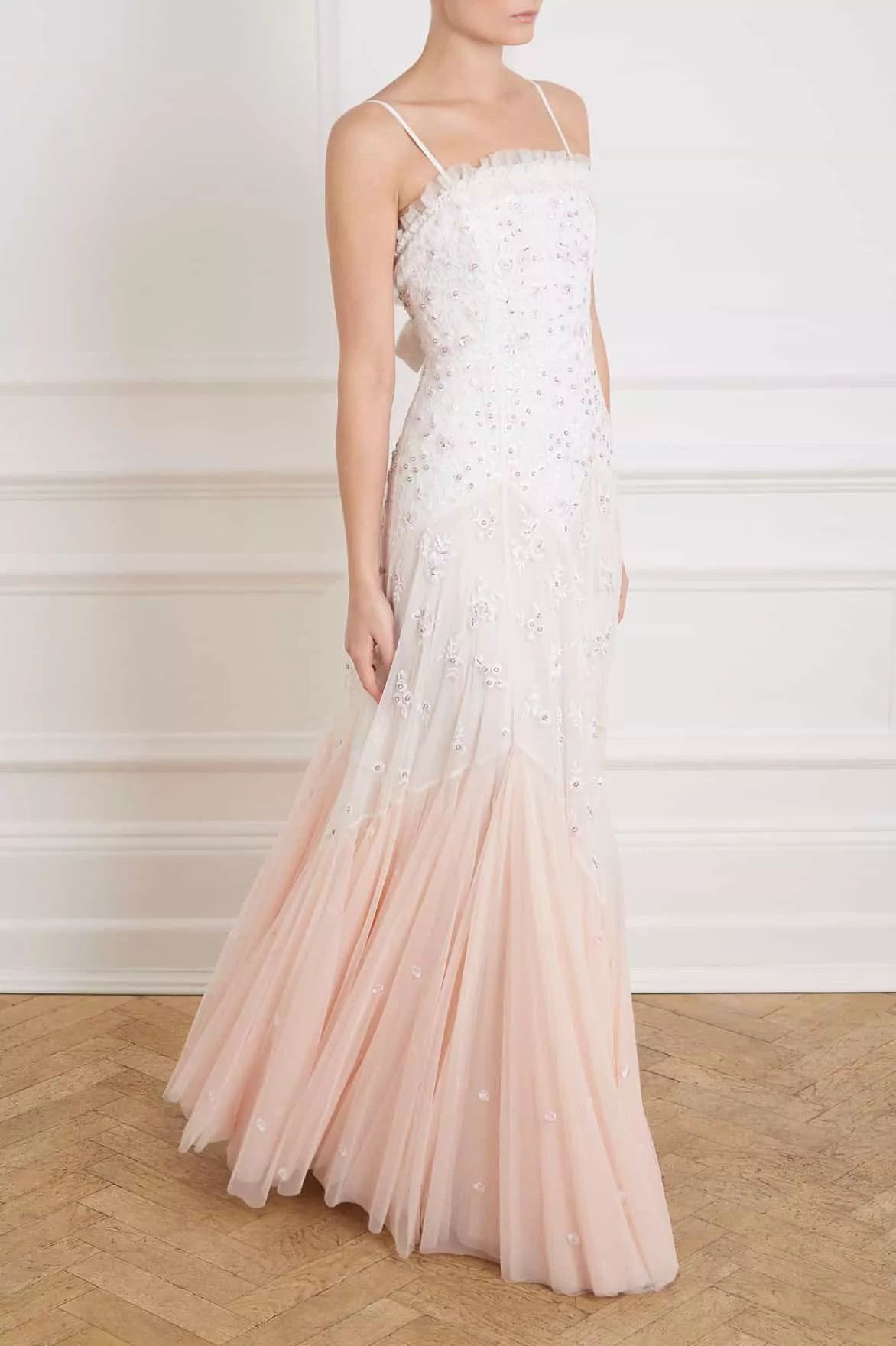 This pink-dipped gown from Needle & Thread is truly fit for a princess. The gown is sprinkled with sequin flowers and unique beadwork throughout.

Best Bridal Skirt: DB Studio Tulle Wedding Separates Midi Skirt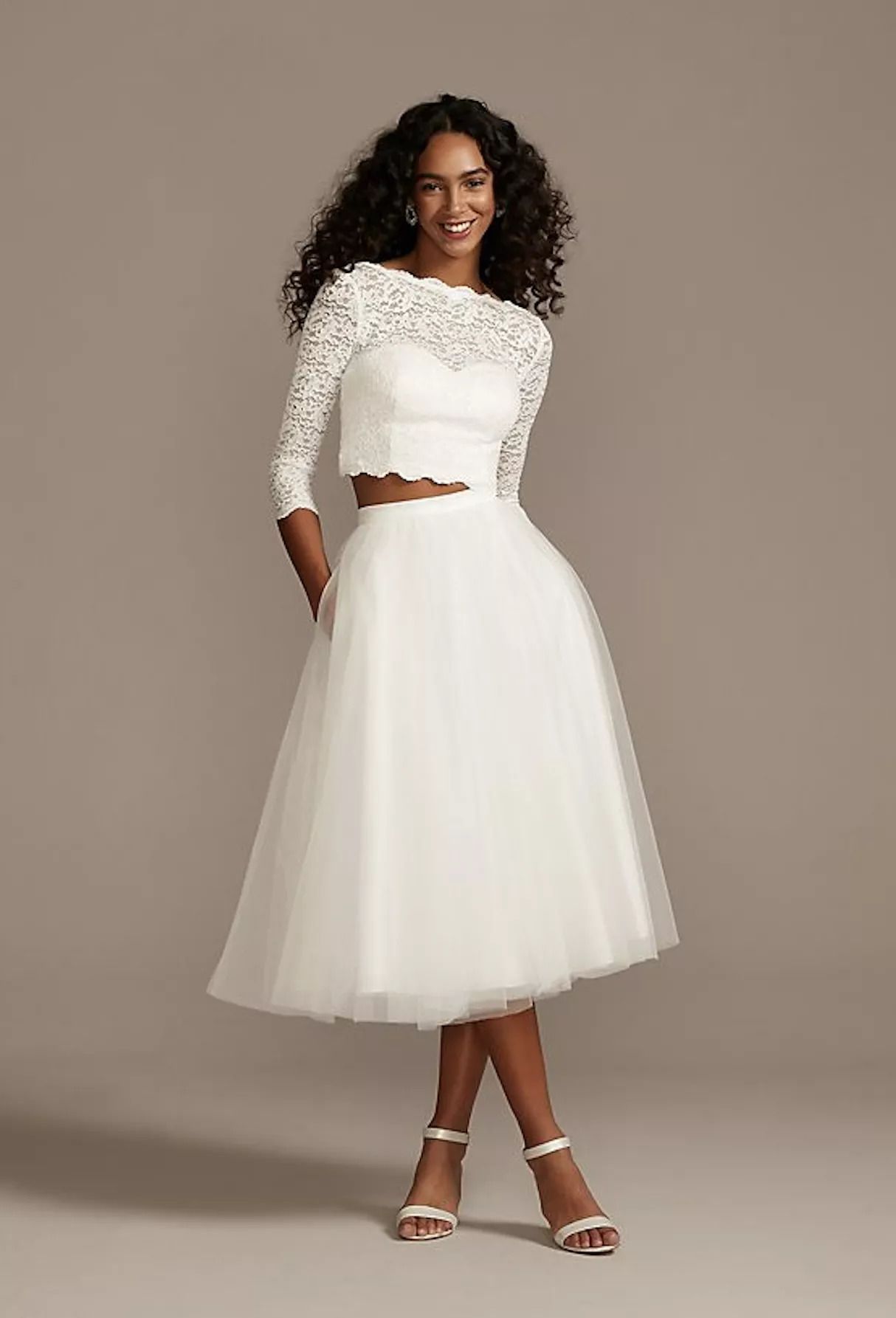 While it may not necessarily be a dress, we love this ballet-esque bridal skirt from David's Bridal. Mix and match with their separate tops for a bridal look that fits your personal style.


Most Show-Stopping: Dana Harel Liel Gown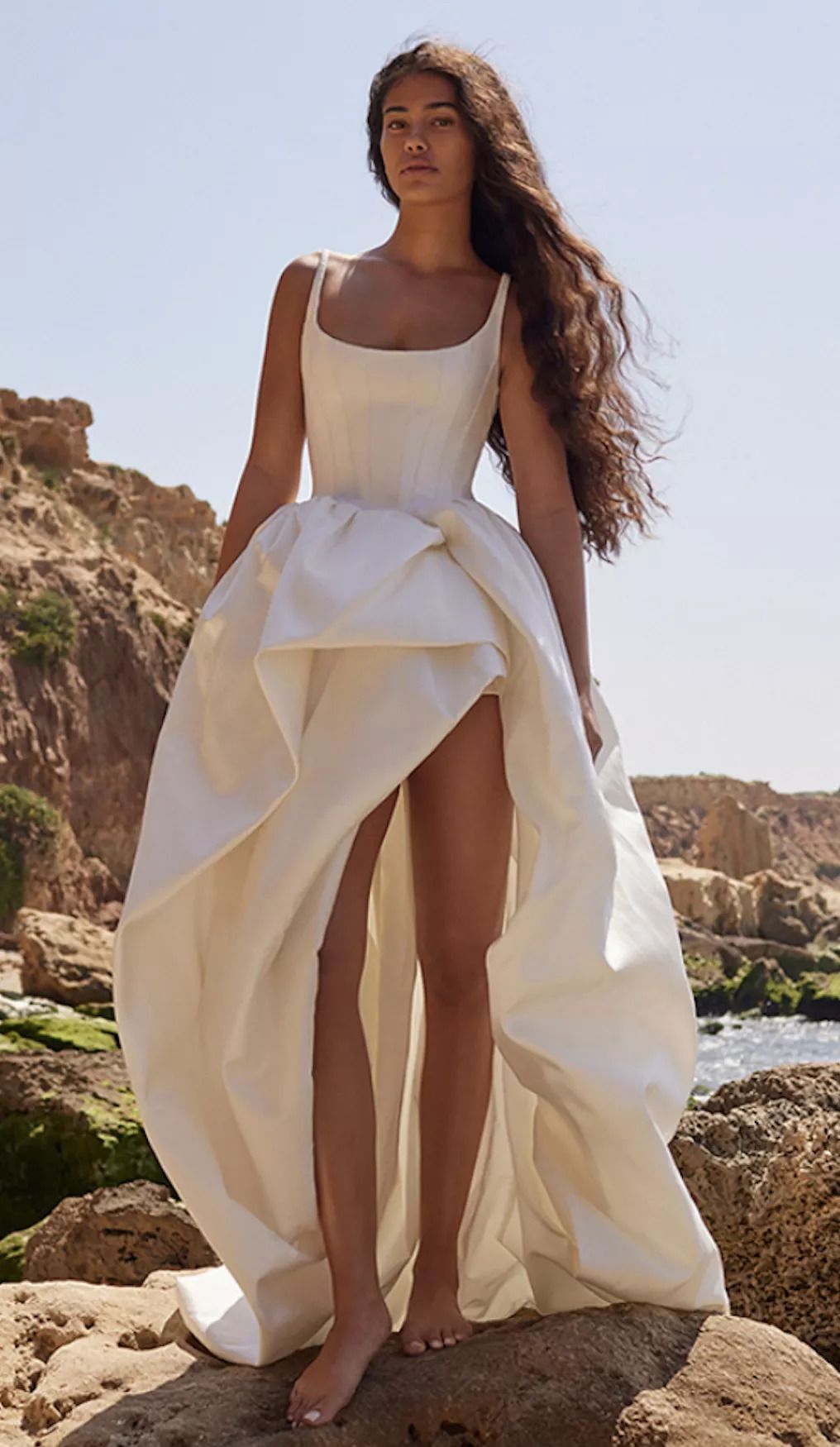 This ballgown from Dana Harel is undoubtedly eye-catching. The deep U-shaped neckline and dramatic slit make this gown stand out from the rest.


What to Look for in a Ballet-Inspired Wedding Dress
While most dresses don't explicitly fall into this trend, there are plenty of elements to look out for when searching for a ballet-inspired ensemble. Remember, balletcore is all about soft neutral colors and silhouettes with movement. Color-wise, don't feel like you have to strictly stick to bridal white as beige, nude, ivory, and blush pink are all hues that fit into this aesthetic perfectly. Voluminous tulle skirts with a structured corset bodice are also popular styles that align; and be sure to select gowns with details like bows, ribbons, and intricate beadwork. If you are looking to interpret the trend in a more subtle way, consider a wrap dress or a square or U-shaped neckline.


FAQ
Is balletcore timeless?

While this style of dress is a current trend, the elements that make up the look are truly timeless such as romantic tulle skirts and structured bodices. We have a feeling this aesthetic is one that will stick around for years to come.


Where can I shop for this style of dress?

Many brands have elements of balletcore in their bridal collections, including Zimmermann, Danielle Frankel, and Kim Kassas, just to name a few. Needle & Thread and Reformation are also good places to look for this aesthetic.


How should I style my ballet-inspired wedding dress?

If you are looking to amplify your balletcore bridal look, styling can definitely help. A slicked-back bun and soft makeup both add to this aesthetic. Also, consider switching out your bridal heels for a pair of ballet flats to dance the night away in.