With cooler weather on your side, winter weddings are a great opportunity to go big and bold with a statement bridal hairstyle.
Winter weddings are exceptionally dreamy. A white wedding dress pairs perfectly with freshly fallen white snow, while faux fur coats and warm cocktails add to the chic, cozy vibe. Brides who choose to have a winter wedding are in luck when it comes to deciding on their bridal hairstyle; the cooler weather helps extend the life of your style, so you can go from ceremony to send-off without your hair falling flat.

With the weather on your side, winter weddings are a great opportunity to go big and bold with a statement bridal hairstyle. Nothing is off the table: Old Hollywood waves, intricate updos, or chic low buns will stay smooth and styled all night long.
Ready to get inspired for your winter wedding? Here are some of our brides' favorite winter wedding hairstyles.


A Classic, Polished Bun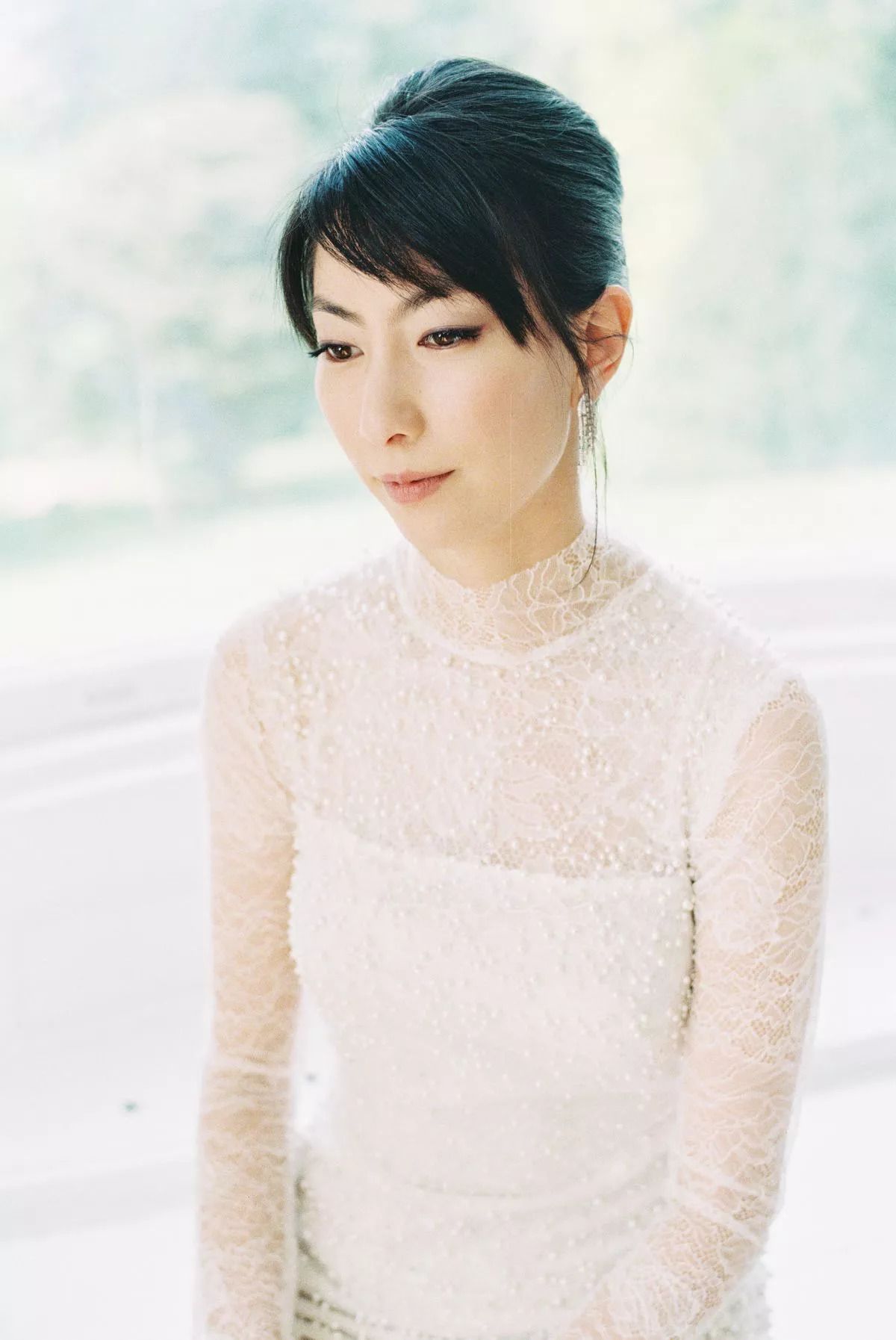 A chic bun looks positively regal atop a long-sleeve wedding dress. Keep it clean and classy by leaving your bangs or a few face-framing layers out in the front, but none in the back. Fit for a princess, this bridal hairstyle is the picture of elegance.


Sophisticated Style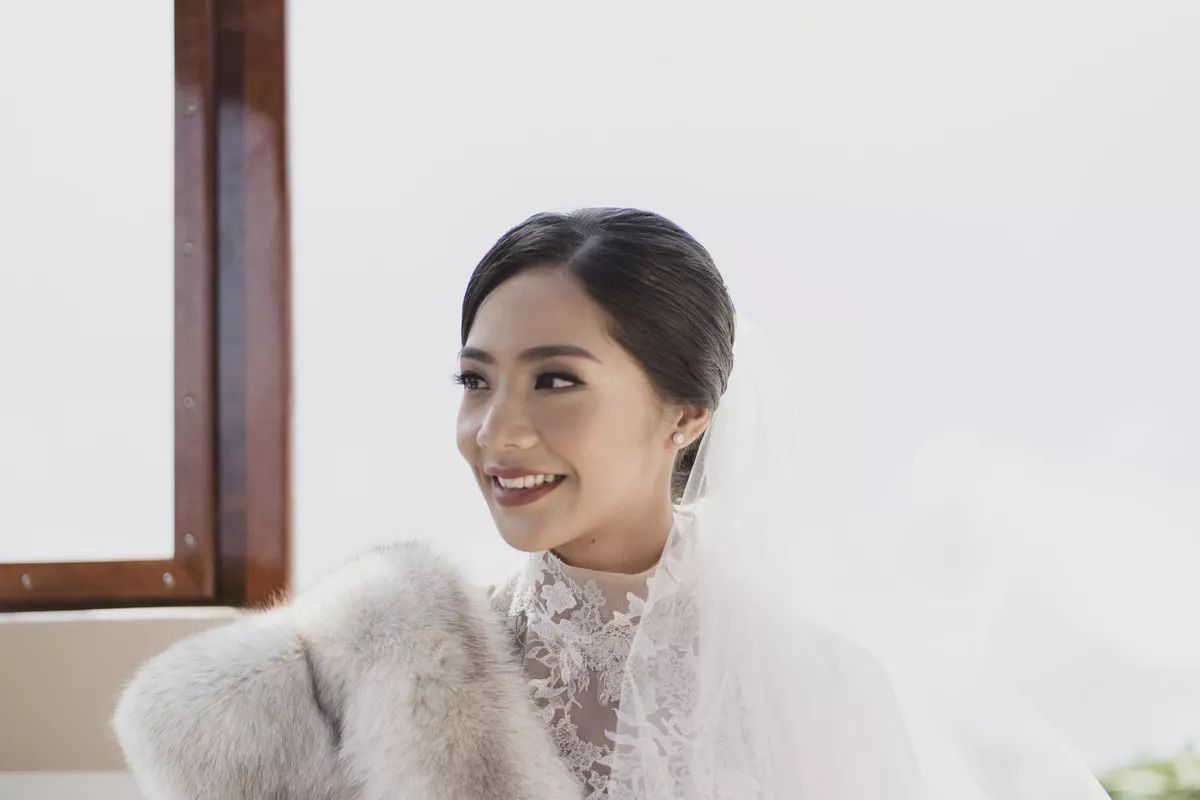 Updos are a popular bridal hairstyle year-round, but winter brides, in particular, prefer the style because you can wear a coat without ruining your hair. While boho-inspired updos are big in the summertime, we suggest going with a cleaner, classic updo once cold weather strikes.


Beautiful Blow Out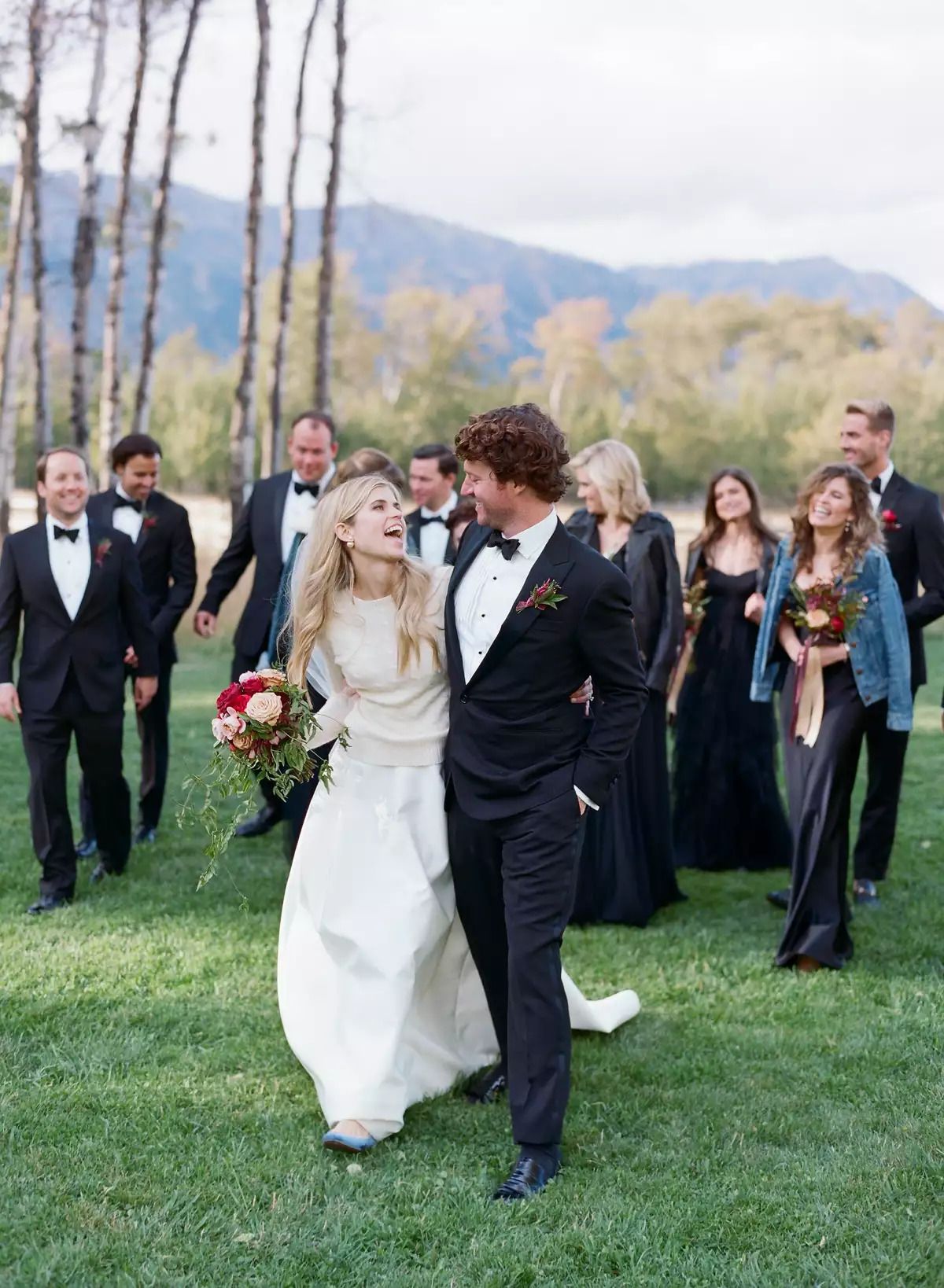 Live your long-haired princess fantasy by leaving your hair all the way down for your winter wedding. Start with a blow-dry to add volume and then add some loose waves with a large barrel curling iron. The colder weather will help set the curls and hold them in place through all the sleigh rides and reindeer games.


Braided Bun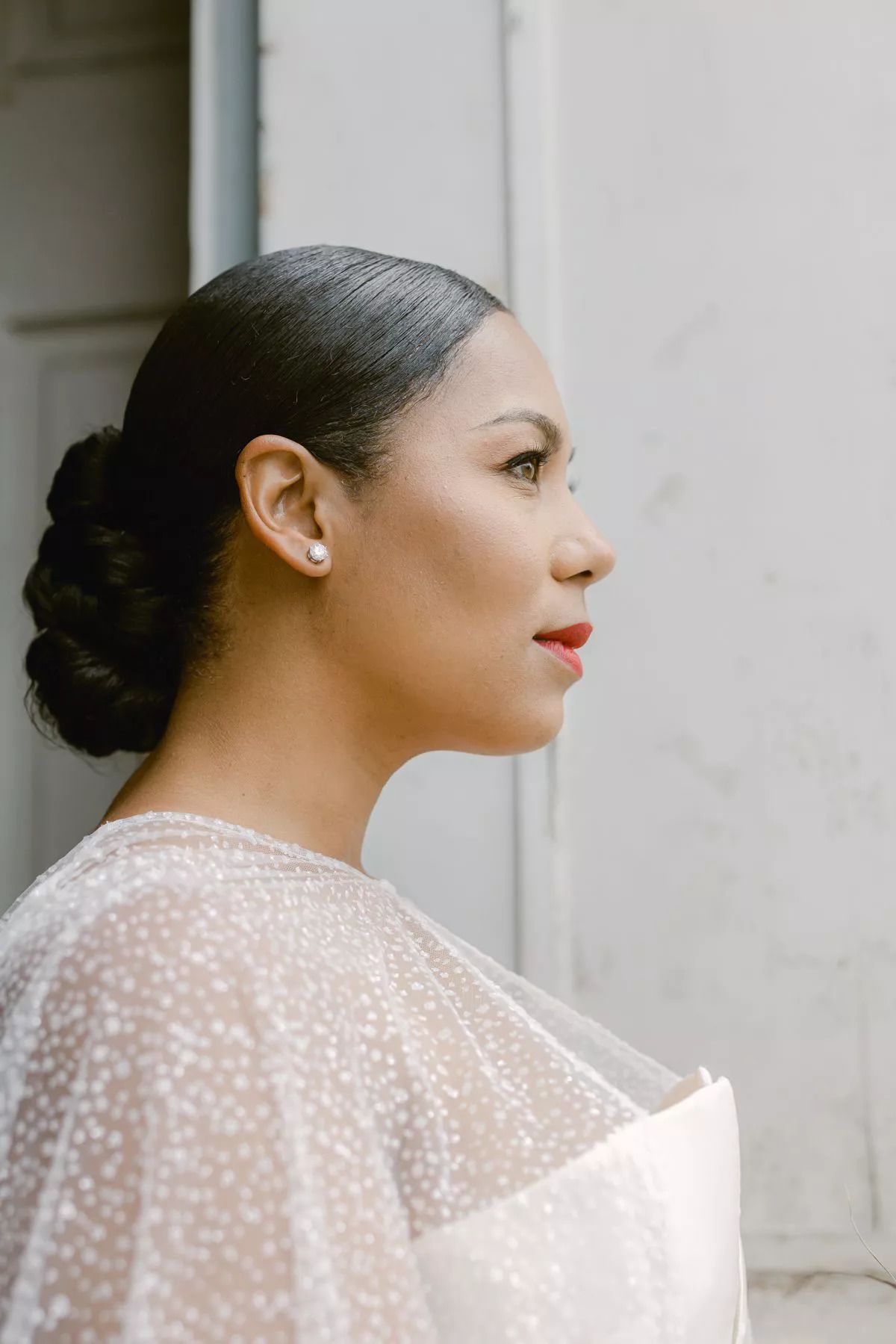 Simplicity speaks volumes, as seen here. This New Orleans bride requested a low maintenance low bun for her bridal beauty hair, inspired by Tracee Ellis Ross' red carpet look. "I wanted to feel comfortable on my wedding day and not worry about my hair," she says of her elegant braided bun. For a super sleek and shiny style, use a high-hold hairspray like Got2Be Glued Blasting Freeze Spray to tame flyaways.


Sleek and Chic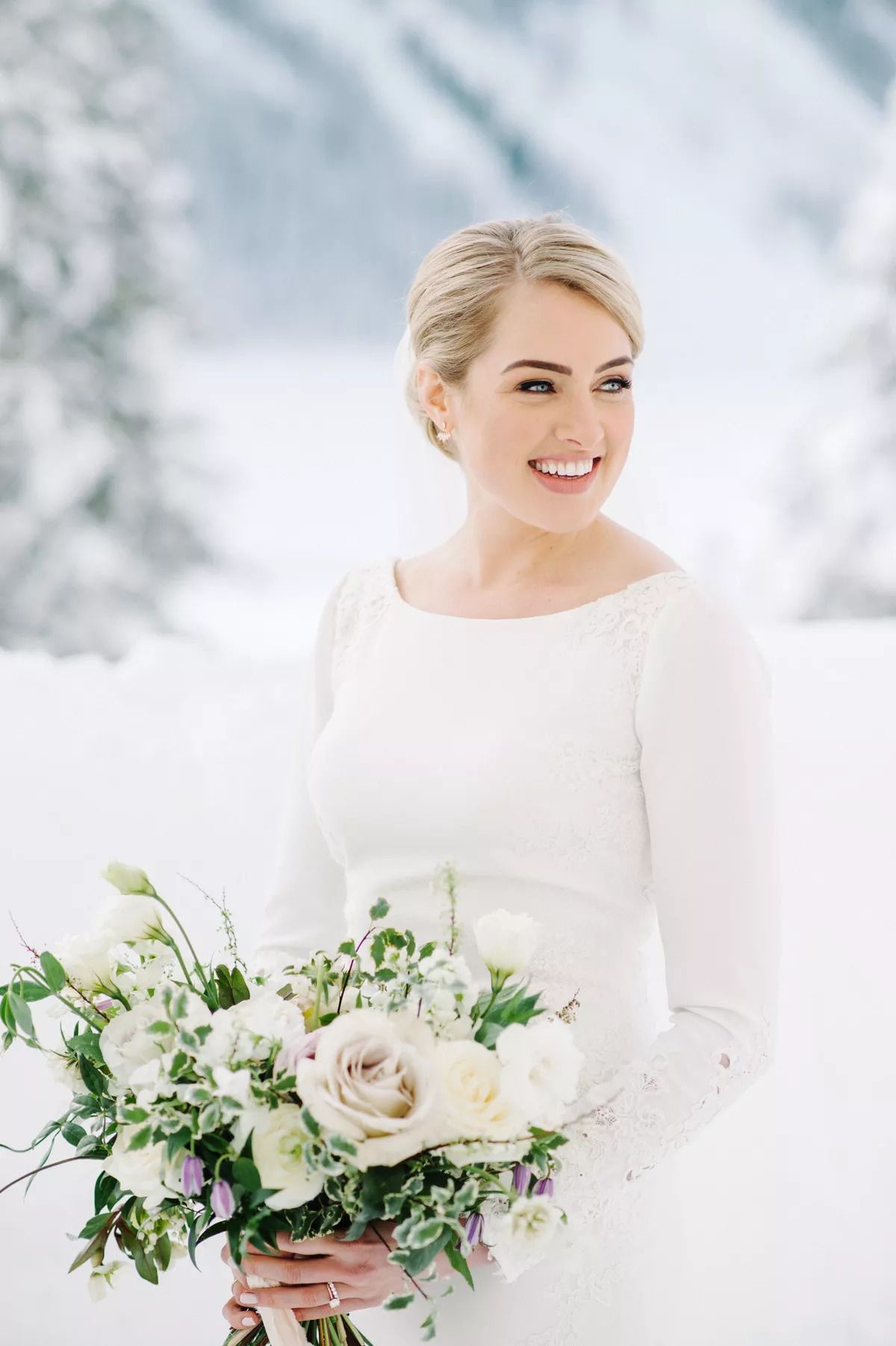 This low bun is perfectly at home in a snowy, winter wonderland. Accessorize with vintage barrettes, seasonal blooms, or a glitzy tiara to add to the whimsical winter vibe.


A Polished Pony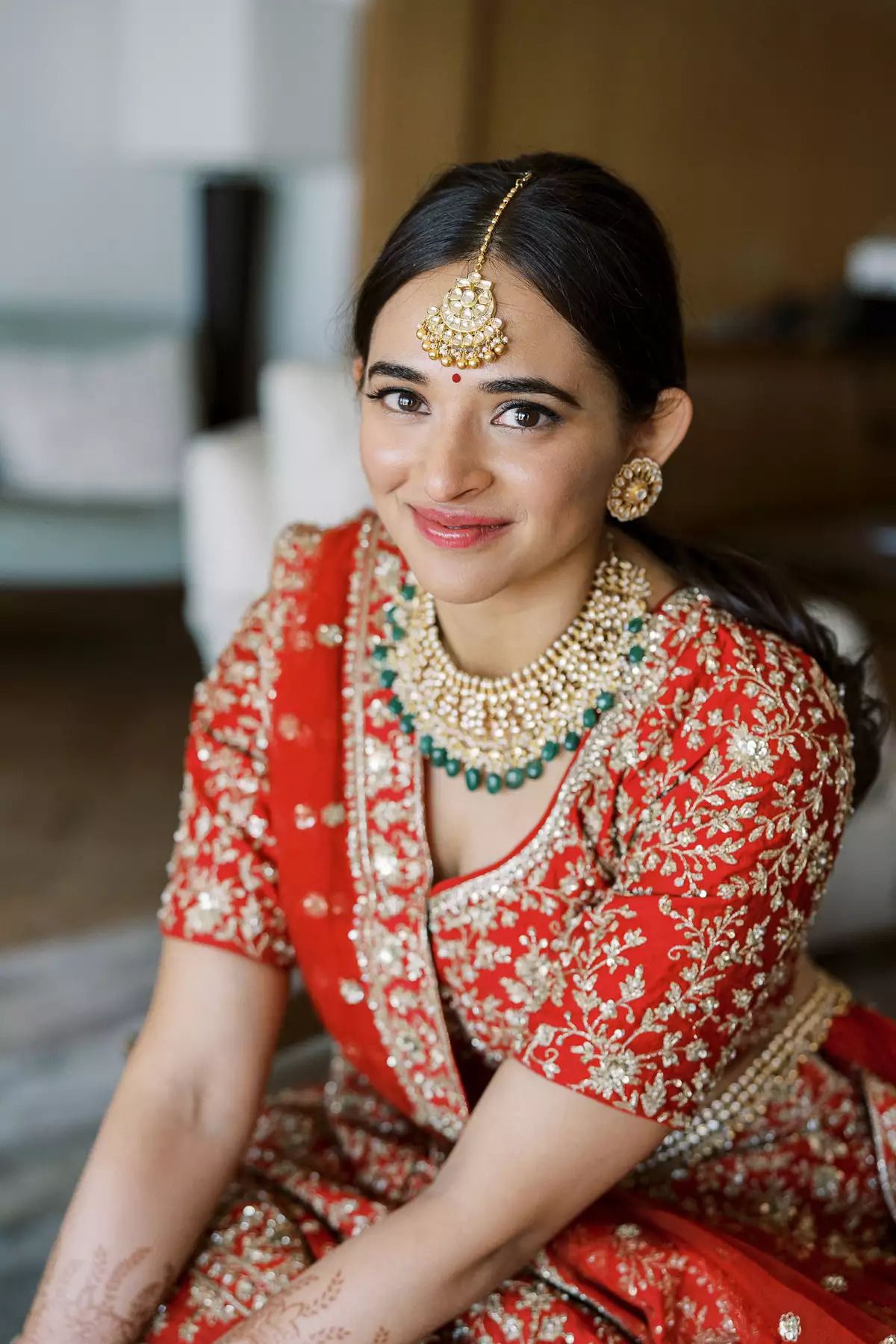 We love the simple and elegant updo that this bride chose to accompany her red and gold lehenga. With such a stunning gown, a polished pony is the way to go, especially for an outdoor ceremony where weather and wind can be unpredictable. The deep center part beautifully displays her custom tikka—a traditional Indian headpiece—that matched her jewelry.


A Lovely Loose Low Bun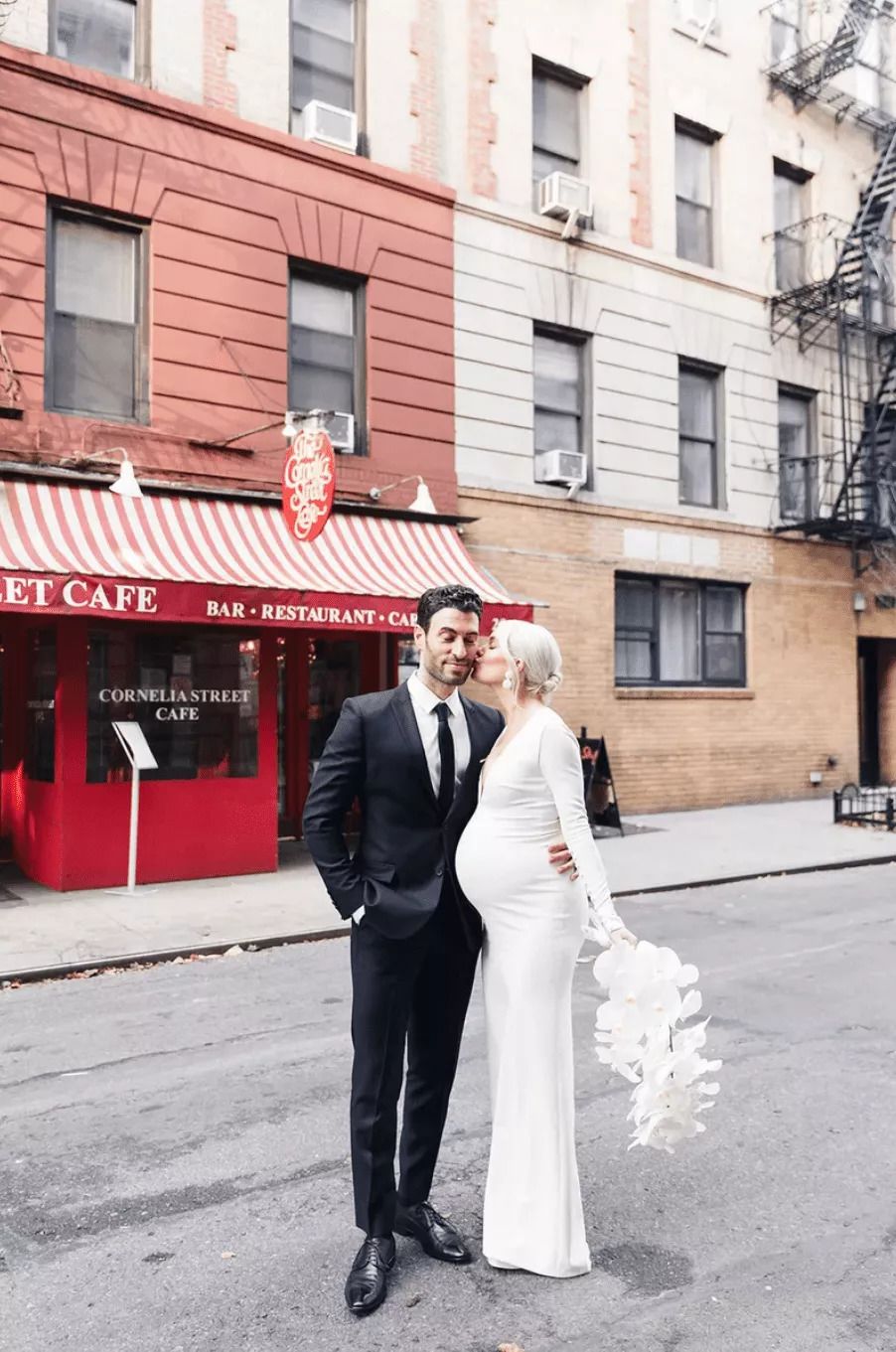 This soft and chic low bun is simply stunning. The face-framing pieces in the front add some body and movement to the bridal look, accentuated by a bouquet of cascading orchids. For extra drama, reach for accessories like studded or pearl clips.


Big, Bouncy Curls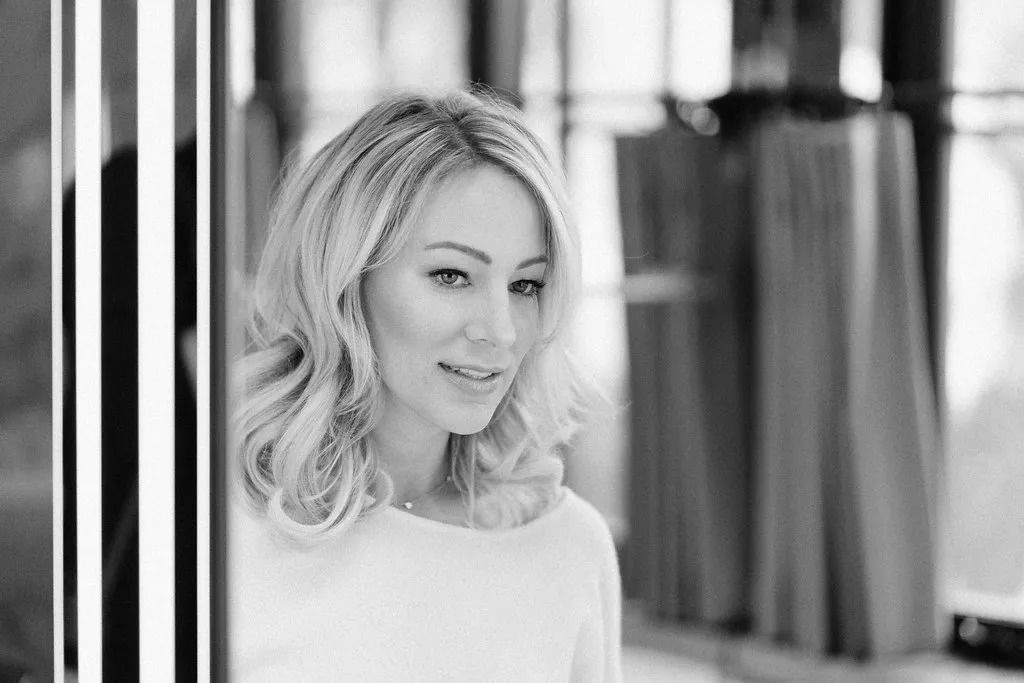 Shoulder-length hair looks polished and sophisticated in this all-the-way-down style. Go for glamorous curls over beachy waves by running the curling iron all the way through the ends of your hair.


A Crown of Curls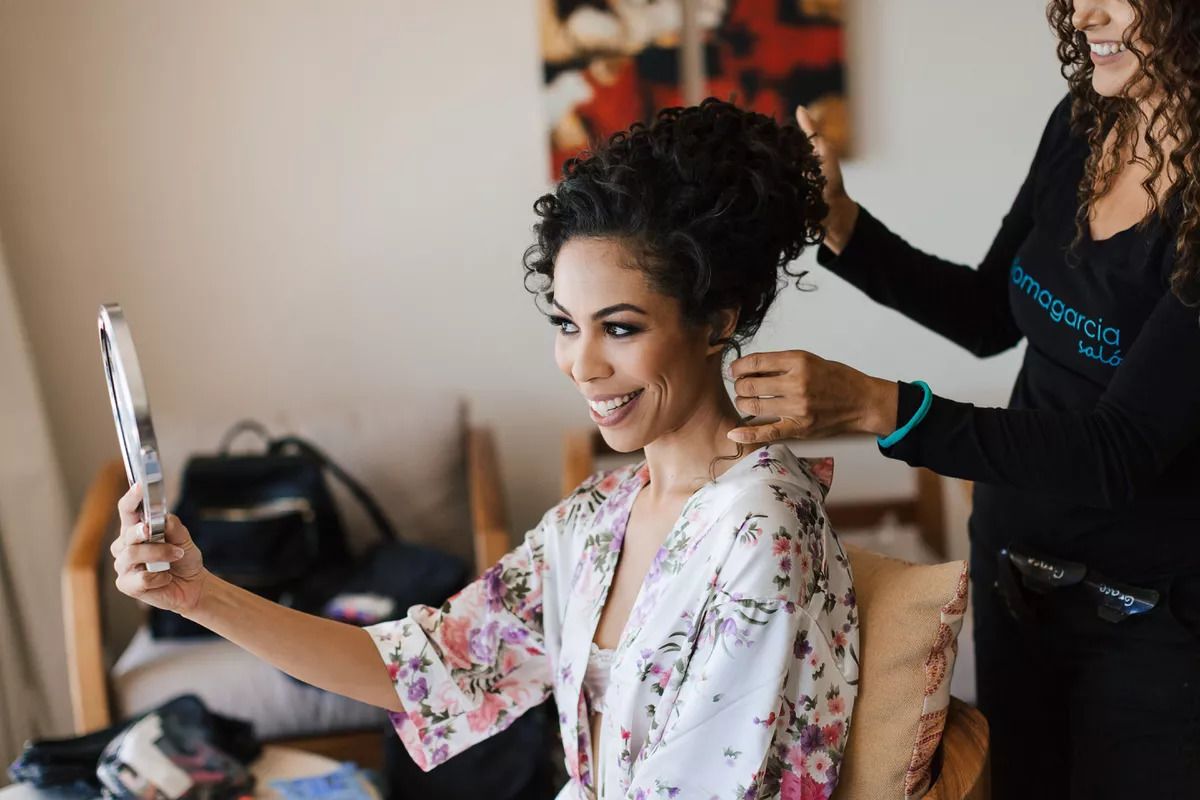 Go all out for your winter wonderland-themed wedding with a show-stopping curly updo. Channel your inner ice princess with this regal bridal hairstyle, complete with icicle-like individual curls falling from the front of the updo.


A Blooming Low Bun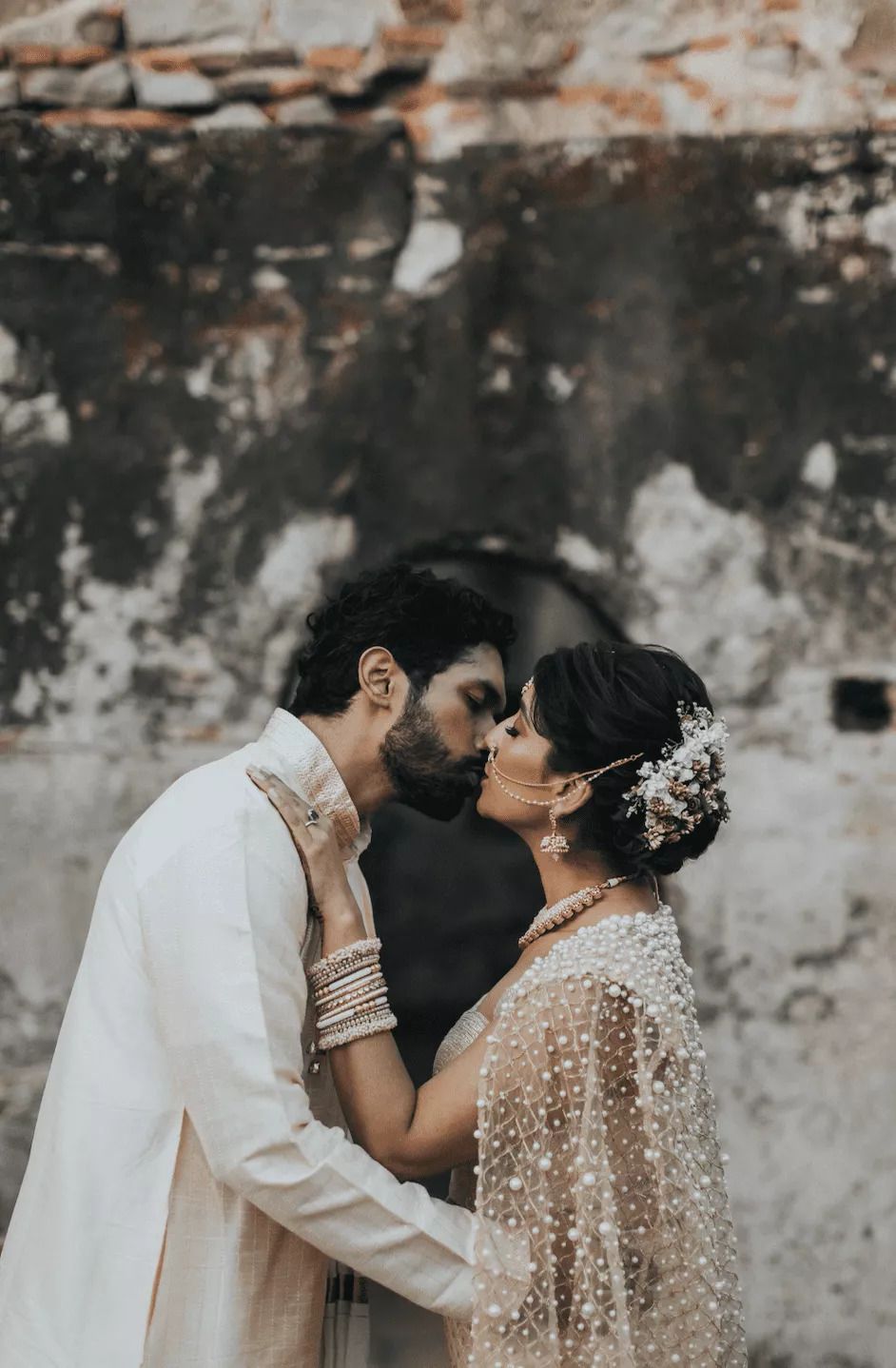 This wispy, romantic low bun looks soft and pretty adorned with blooms from the bride's floral arrangement. The contrast of the dainty flowers in her hair against the understated glamour of the pearl-drenched cape is striking.


Bejeweled Low Bun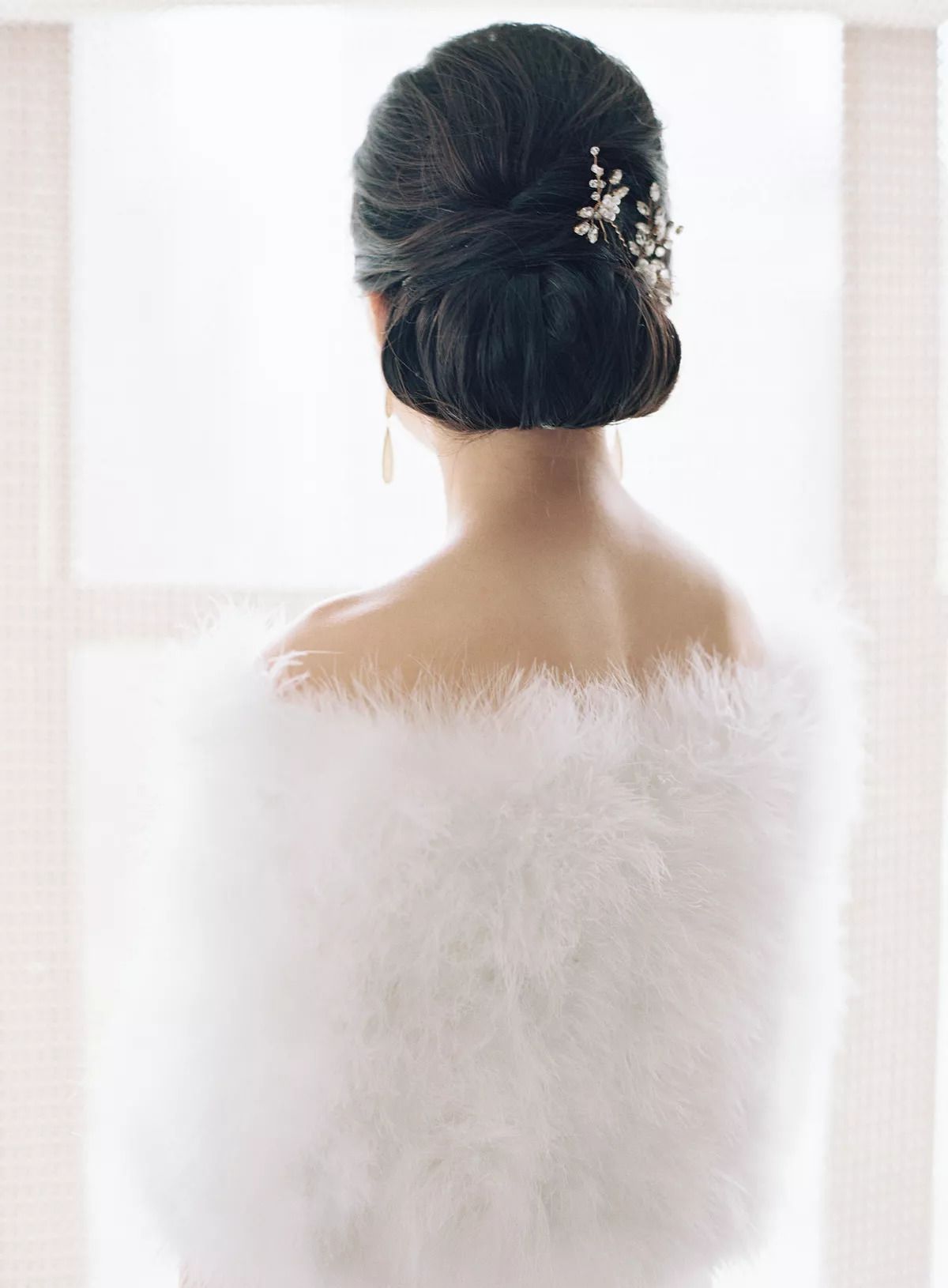 Leaning into the whimsical winter theme, this bride added a hairpiece adorned with a delicate dusting of snow-white crystals to her clean and chic low bun. Tuck into any updo to add some sparkle to an otherwise simple style.


A Matching Moment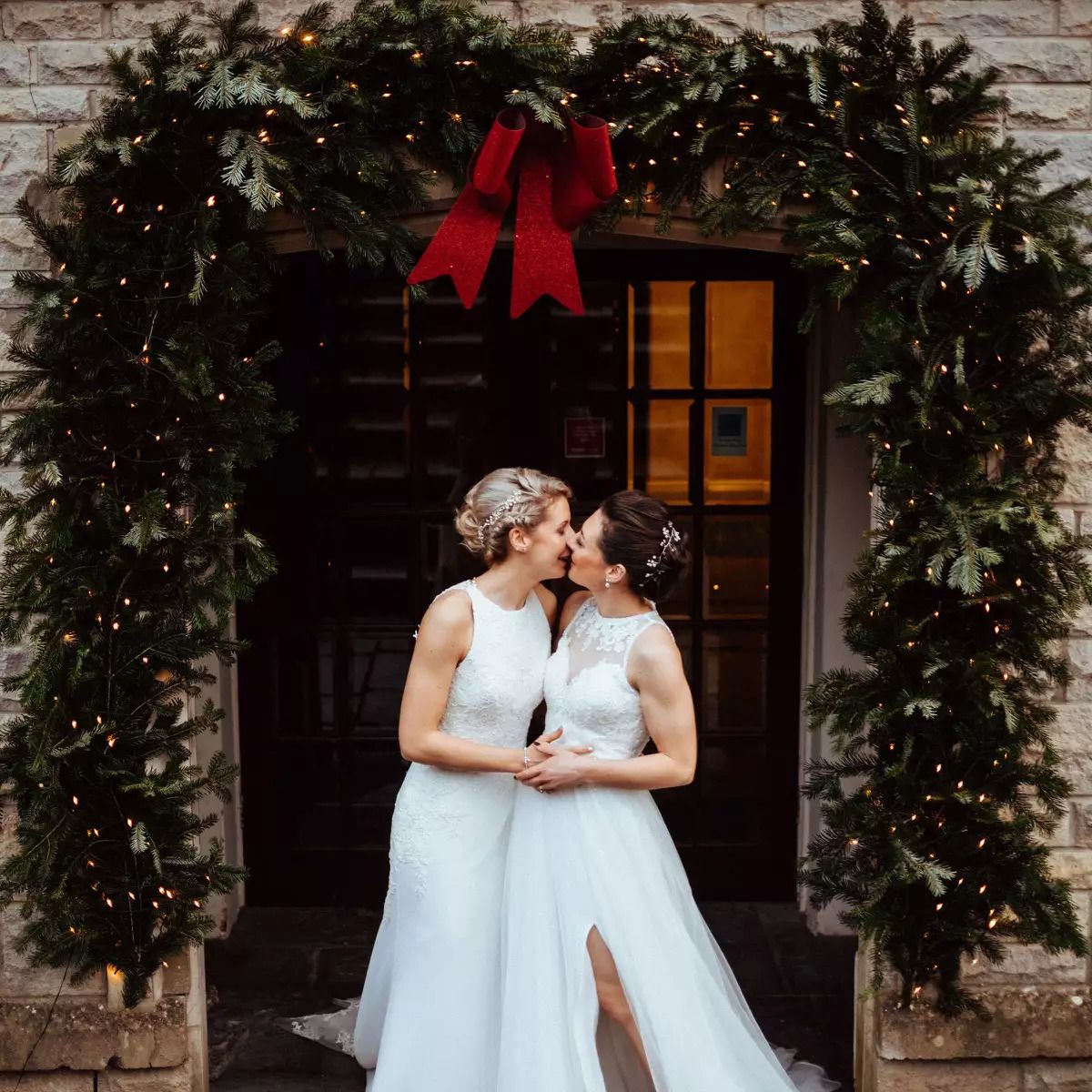 'Tis the season for double bridal buns! These brides chose complementary crystal accessories to accentuate their updos. On the right, a twinkling halo wraps the bride's bun in a cool embrace, while the bride on the left rocks a delicate arrangement of marquis crystals placed just above the ear.


Princess-Inspired Half-Up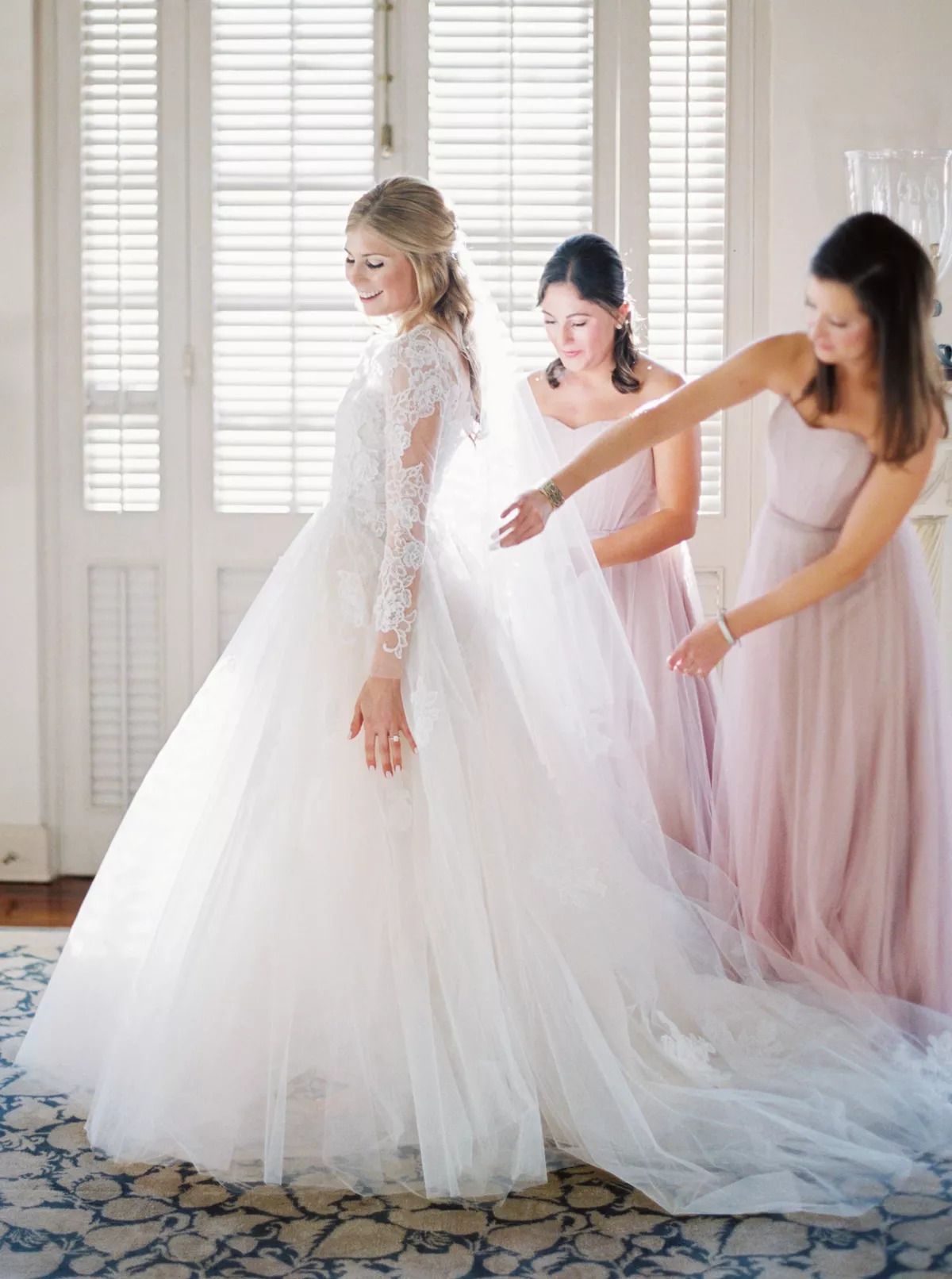 Can't decide between a sleek updo or cascading curls? Meet in the middle with a half-up, half-down 'do. Great for brides with thick hair, this style shows off your natural texture while securing the bulk of the weight back and out of sight. Incorporate twists, braids, or accessories to elevate this storybook-inspired style.


Her Majesty's High Bun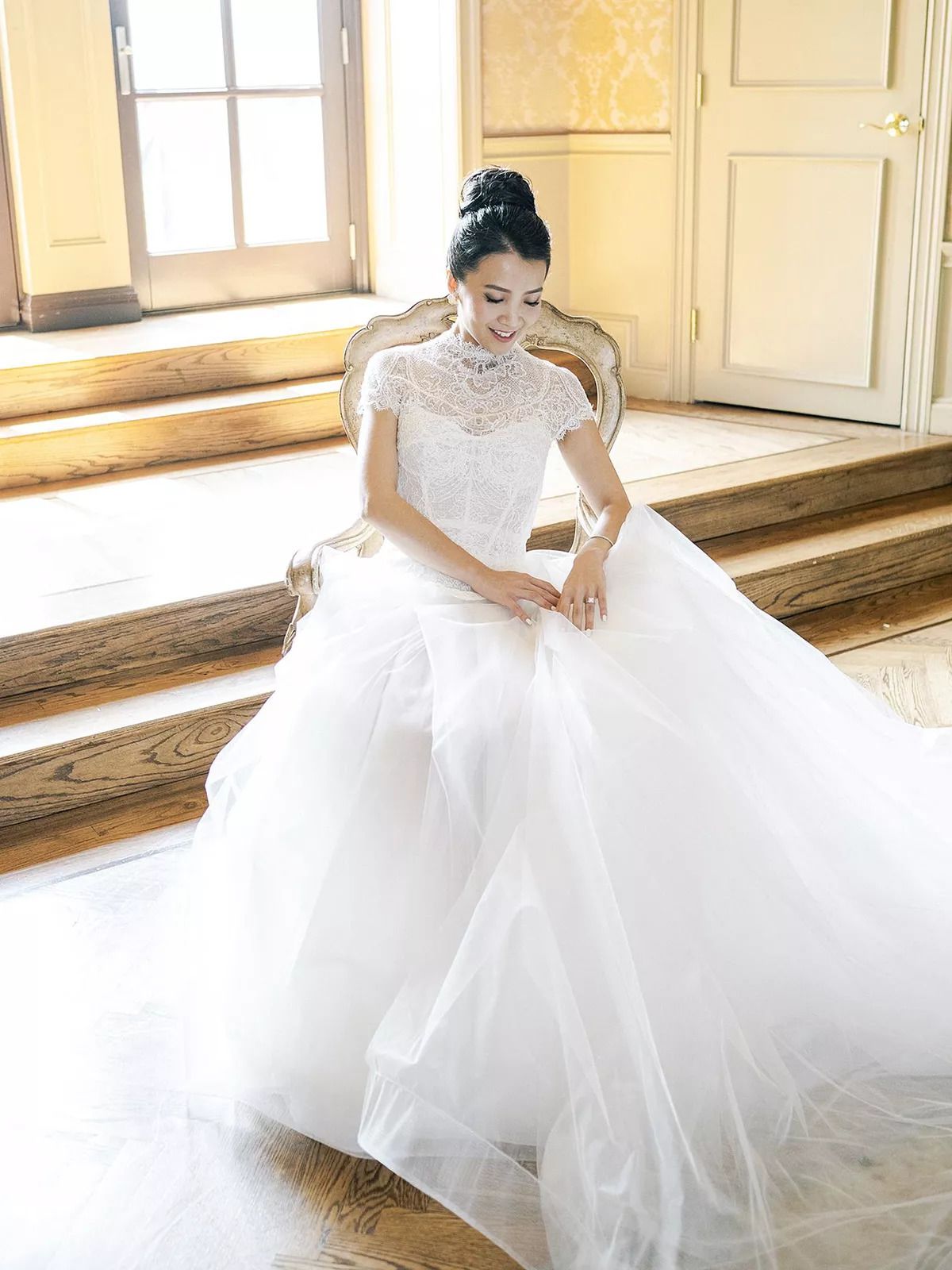 A regal updo pairs perfectly with a wedding dress featuring a high neckline. The elegance of the macramé lace is echoed in this beautiful voluminous bun with a slightly off-center part.


Soft, Shiny Waves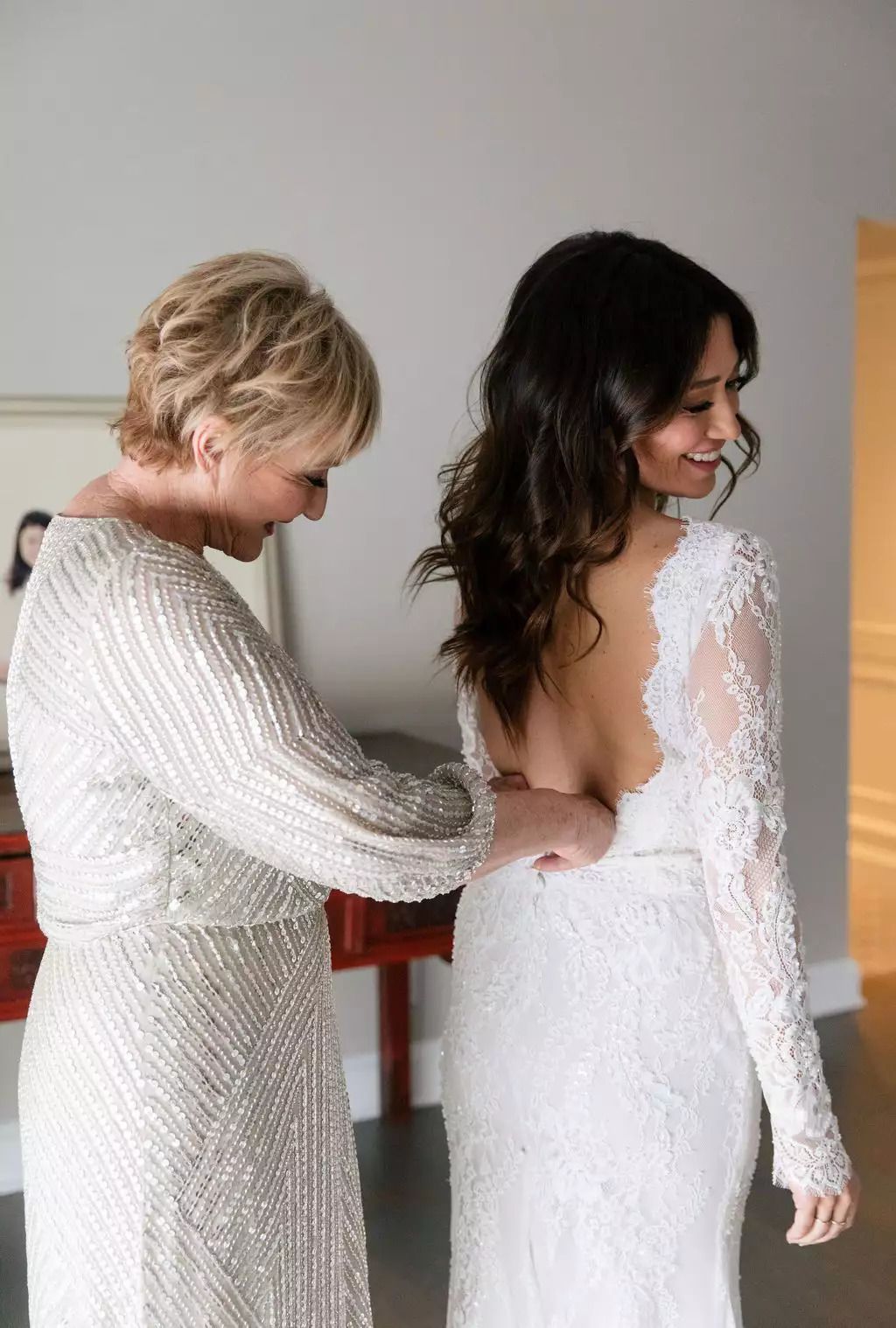 If loose waves are your signature style, update it for the winter season by ensuring the texture is glossy (over beachy), and set it with a strong hold, shine-boosting hairspray. The best part? This low-key, stress-free style only gets better as the night goes on and the waves relax.


Snow-Capped Braids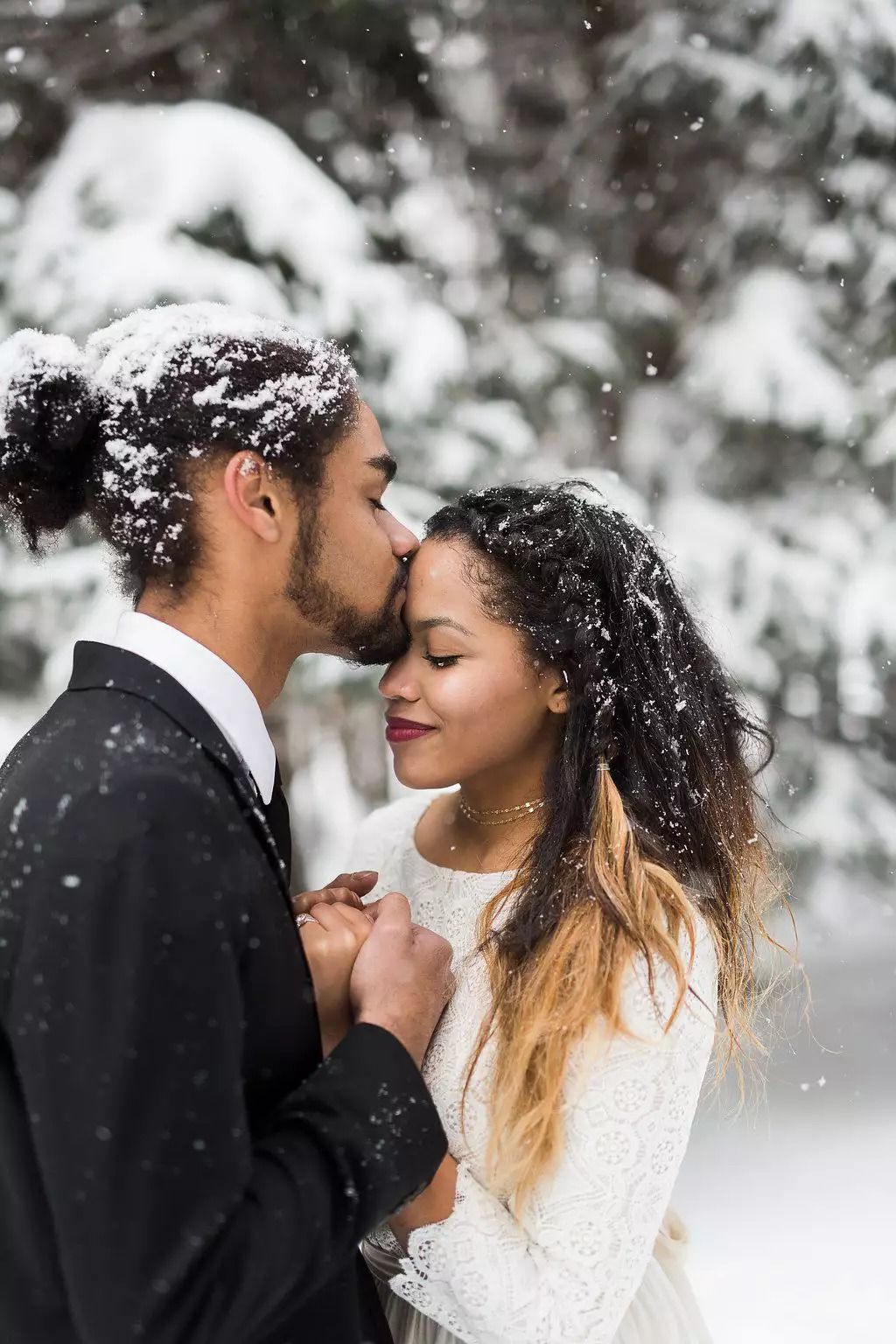 The hottest winter accessory? Flakes of freshly fallen snow. Instead of fighting Mother Nature, embrace it. A sprinkling of snow on your wedding day will have your hair looking as magical as the memories made.


Modern Matching Buns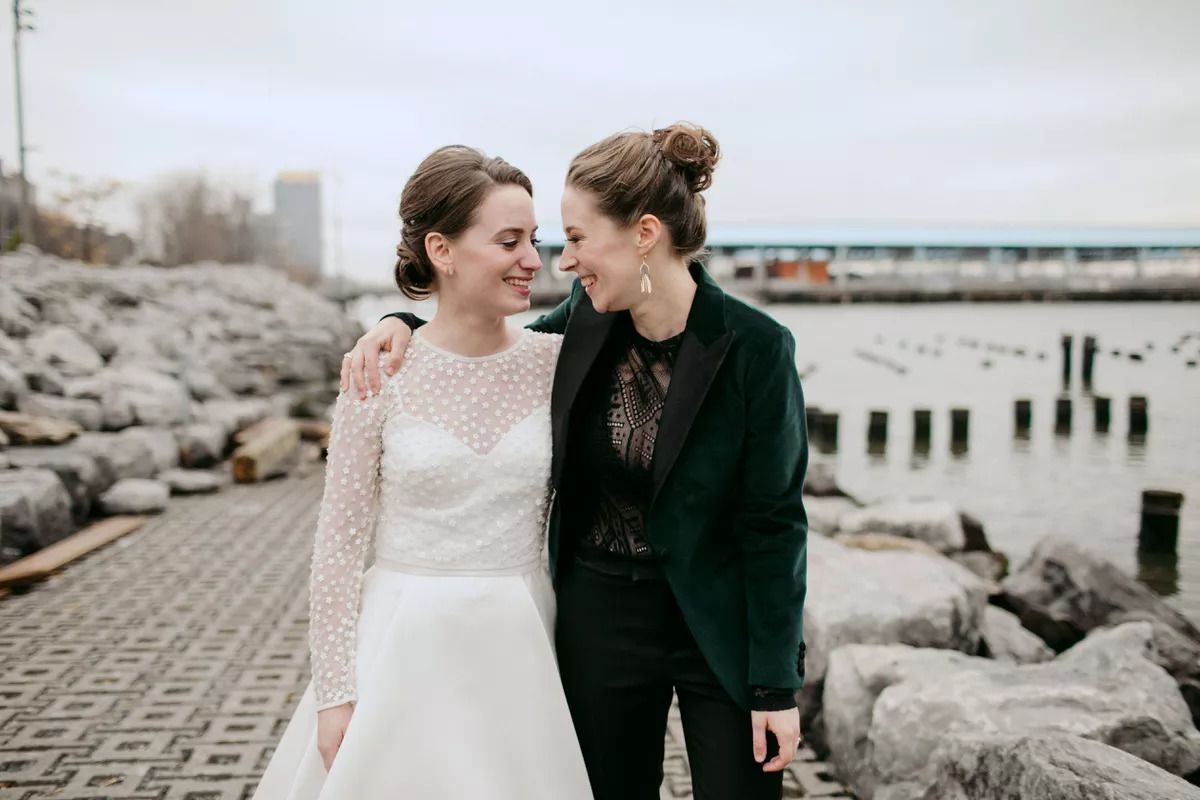 These impossibly pretty updos go together like cocoa and marshmallows. The bride on the left is wearing a more classic and romantic version of the classic bridal bun, while the one on the right is a little more twisted and messy in the most gorgeous way. Both styles keep their hair out of their faces and photograph beautifully from every angle.


Add a Center Part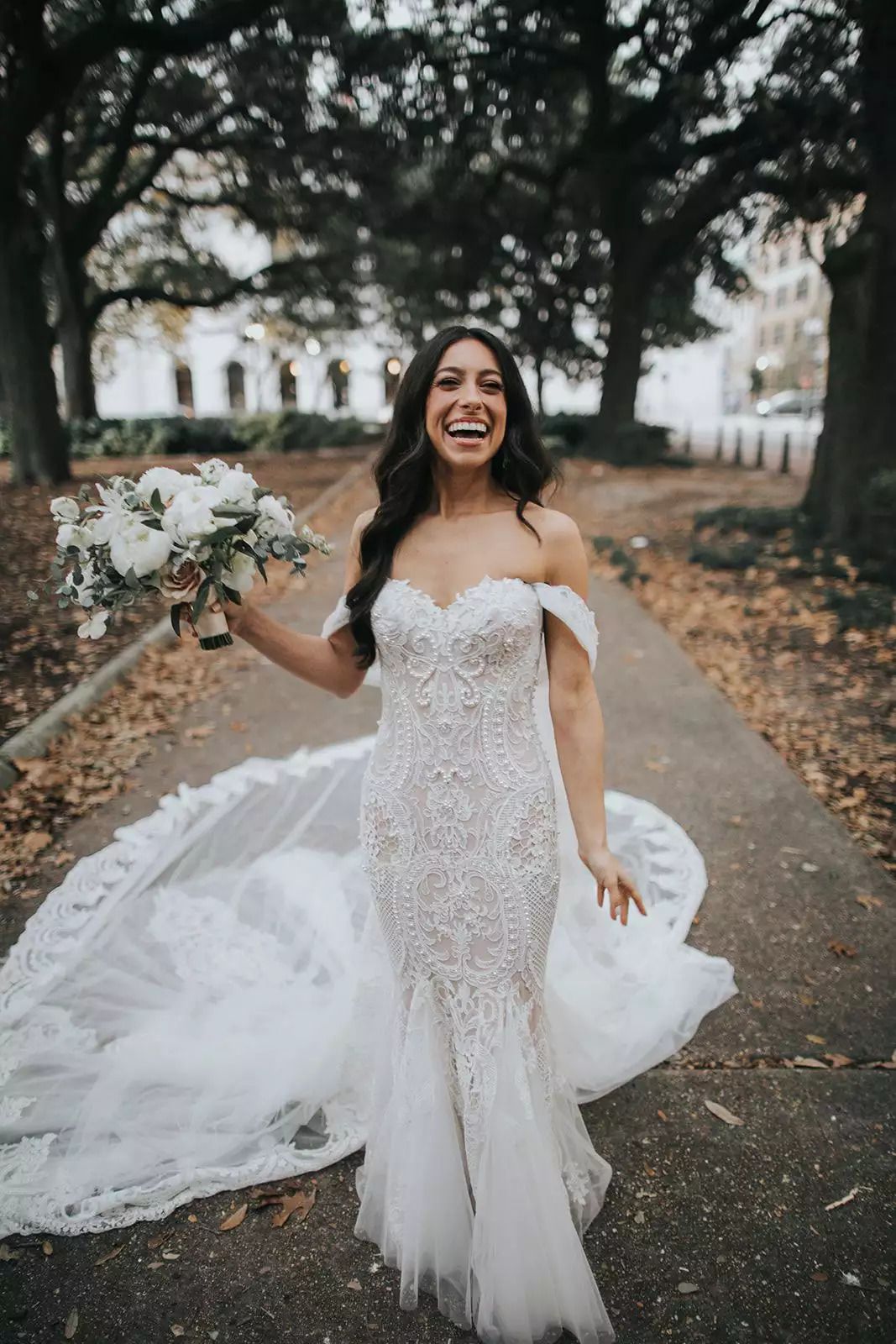 There's something about long, tousled waves with a middle part that looks ultra-chic. Add balance to an intricately beaded dress with this simple style that makes it look like you just stepped out of a fairytale.


Natural Volume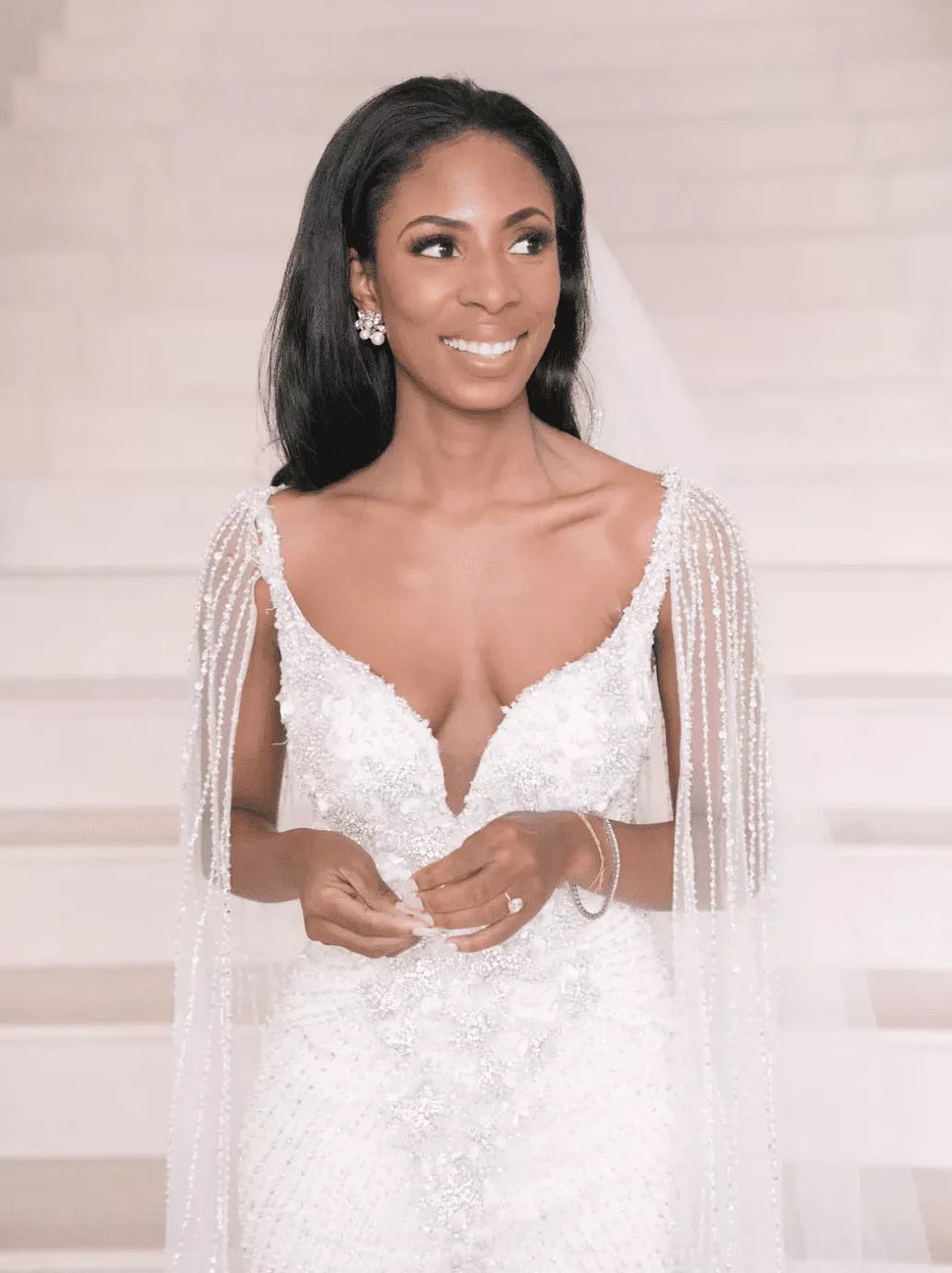 A good blow dry gives the hair an added dose of volume (pro tip: use velcro rollers!), which is always important for the longevity of your wedding day hairstyle. To achieve this look, prep the hair with a volume-enhancing blow dry mist before setting it in rollers for at least an hour. Undo the rollers and finish off by curling individual sections with a 1 ½ or 2-inch curling iron.


Always Accessorize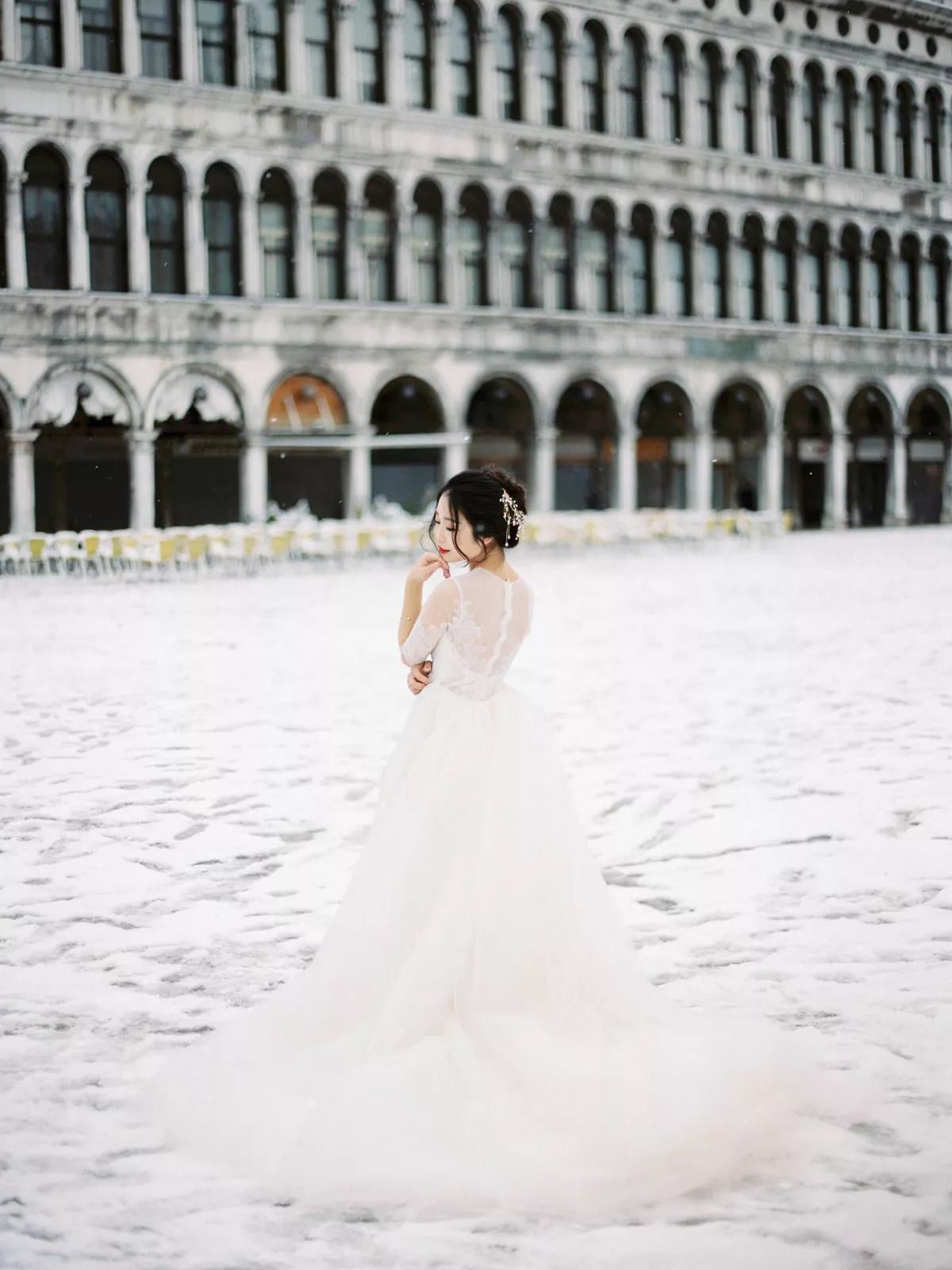 Glistening gems spice up a wintry wedding look. Add a little magic to your loose and lovely updo with a twinkly tiara or ice crystal-like hairpins.

Tie a Ribbon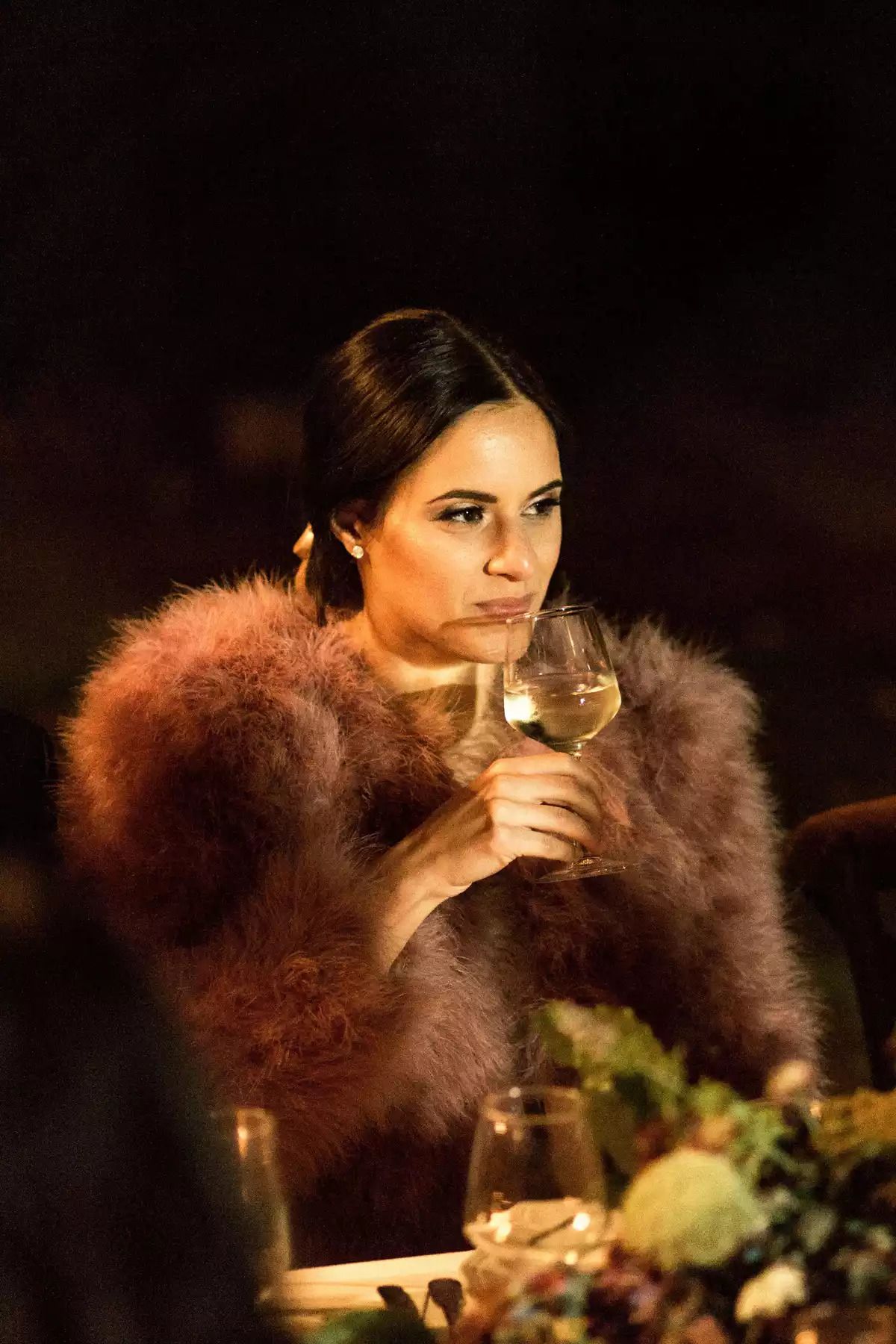 This bride wore a dark-colored fur over her wedding dress and kept her hairstyle smooth, sleek, and simple. Want to add a little something extra to a basic bun or pony? Try adding a ribbon of velvet in the hair, woven around a roll, or securing a braid.


Smooth and Sleek Bun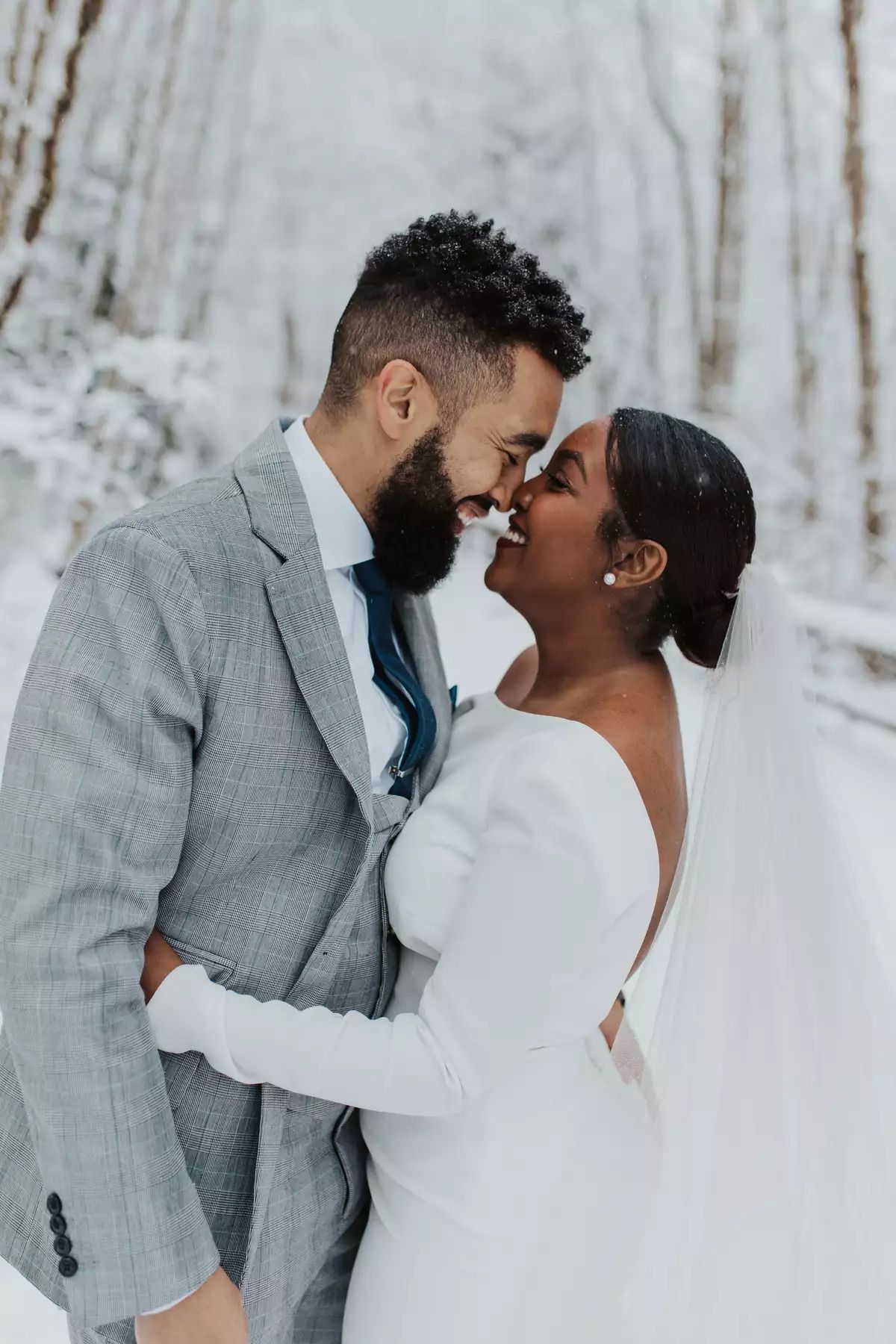 With a winter wonderland as your backdrop, why would you want to distract from such an awe-inspiring view with an over-the-top hairstyle? This bride's crisp, minimalist long-sleeved wedding dress pops when paired with a smooth and sleek low bun. Pearl studs and a floor-length veil complete the fresh frosty vision.


FAQ
What hair accessories work best for winter wedding hairstyles?

While you can wear practically any hair accessory at your winter wedding, we prefer sparkly headbands and hairpins, velvet ribbons, and crystal barrettes.


Should I wear my hair up or down at my winter wedding?

Updos or down styles are great options for your winter wedding and it really depends on the type of celebration you are hosting. Updos tend to be a more formal style while wearing your hair down is on the casual side.