Following the protestor at the latest Louis Vuitton show, here are seven times runway crashers have made a scene on the catwalk. 
Runway crashers are not as rare as we might think. Throughout fashion history, there have been multiple instances of individuals disrupting shows, whether to make a statement or just to make a scene.

The latest runway crasher occurred last week during the Louis Vuitton show in Paris. As the models were walking, one protestor from environmental organization Extinction Rebellion made her way onto the runway and posed for the cameras whilst holding a poster that read "Overconsumption = Extinction." Multiple security guards pulled the disruptor off the catwalk while the show continued. Outside the Louvre, about 30 activists from three separate environmentalist groups staged a separate show while wearing gas masks. Nicolas Ghesquière closed out the show while escorted by security due to these protests.

Fashion week shows aren't often open to the public, but uninvited guests have been crashing the shows of even the largest designers. From brands like Dior, Chanel, and Nina Ricci, L'OFFICIEL takes a look at seven times runway crashers have disrupted shows during fashion week.


Climate Change activists at Dior's Spring/Summer 2021 show.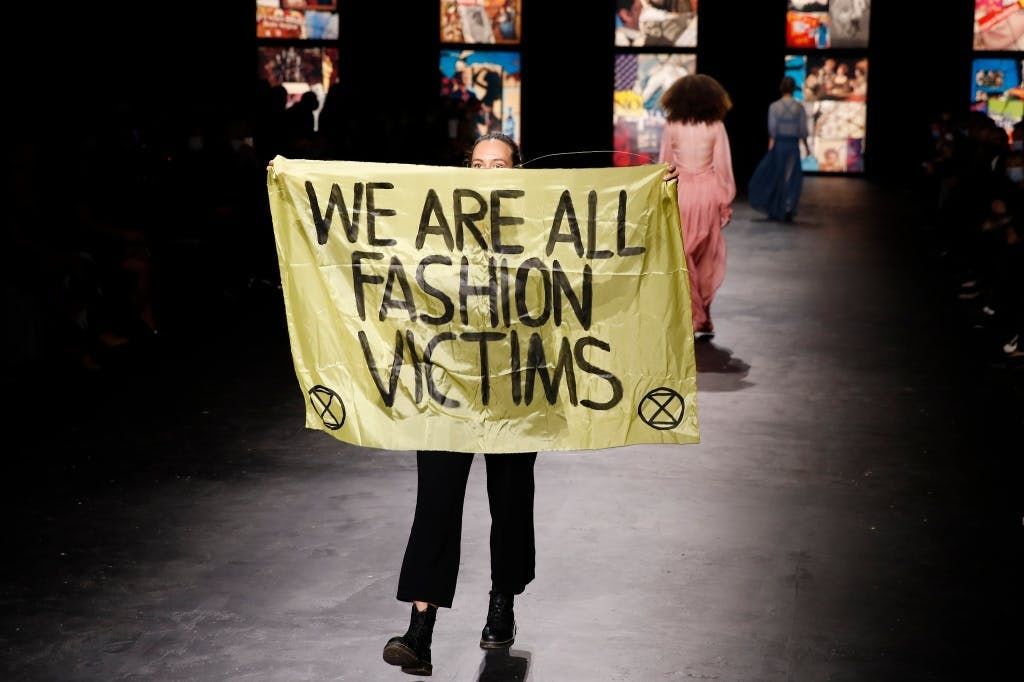 The Louis Vuitton runway crasher wasn't the only time Extinction Rebellion made its way on the catwalk. During Dior's Spring/Summer 2021 show, a woman got up at the end of the show and walked the runway while carrying a yellow banner that read, "We Are All Fashion Victims." The protest was confusing for both guests and top level executives in the fashion industry, who couldn't tell whether or not the statement was done on purpose to convey a message.


Gigi Hadid escorts French comedian off Chanel's Spring/Summer 2020 show.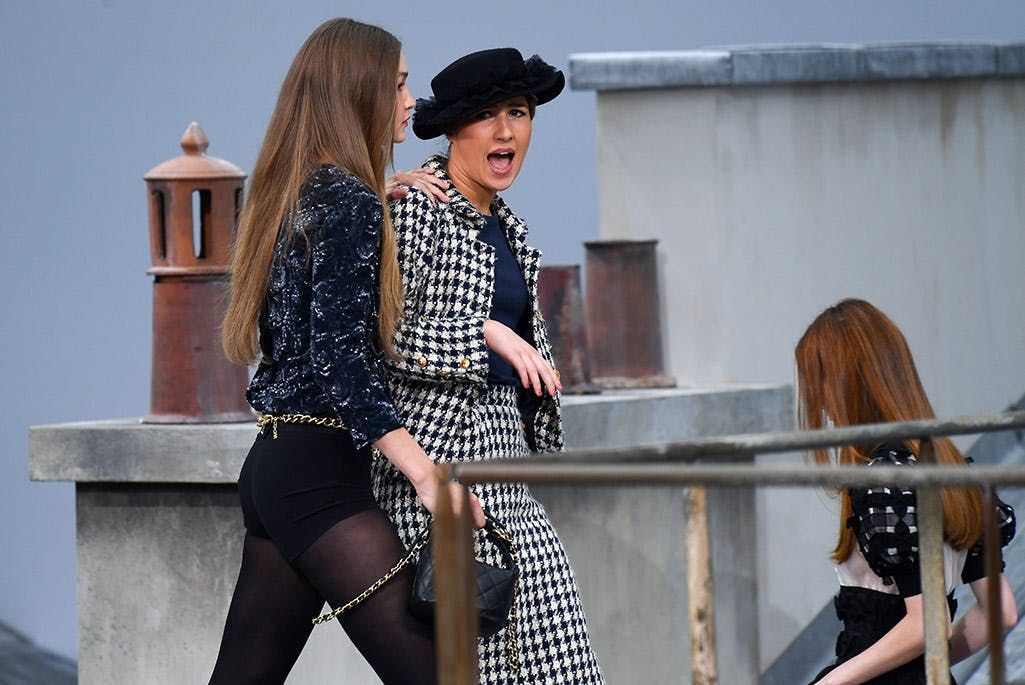 During the finale of the Chanel Spring/Summer 2020 show, a spectator in the crowd made a decision to insert herself amidst the model lineup. Before security guards could make a move, Gigi Hadid took matters into her own hands as she escorted the crasher off the catwalk.

The crasher ended up being French comedian Marie S'infiltre, who posted about the incident on her Instagram page. She is known for disrupting runways as a prank, as she crashed the Etam runway previously that week.


Ukrainian Feminist activist group runs down the catwalk during Nina Ricci's Spring/Summer 2014 show.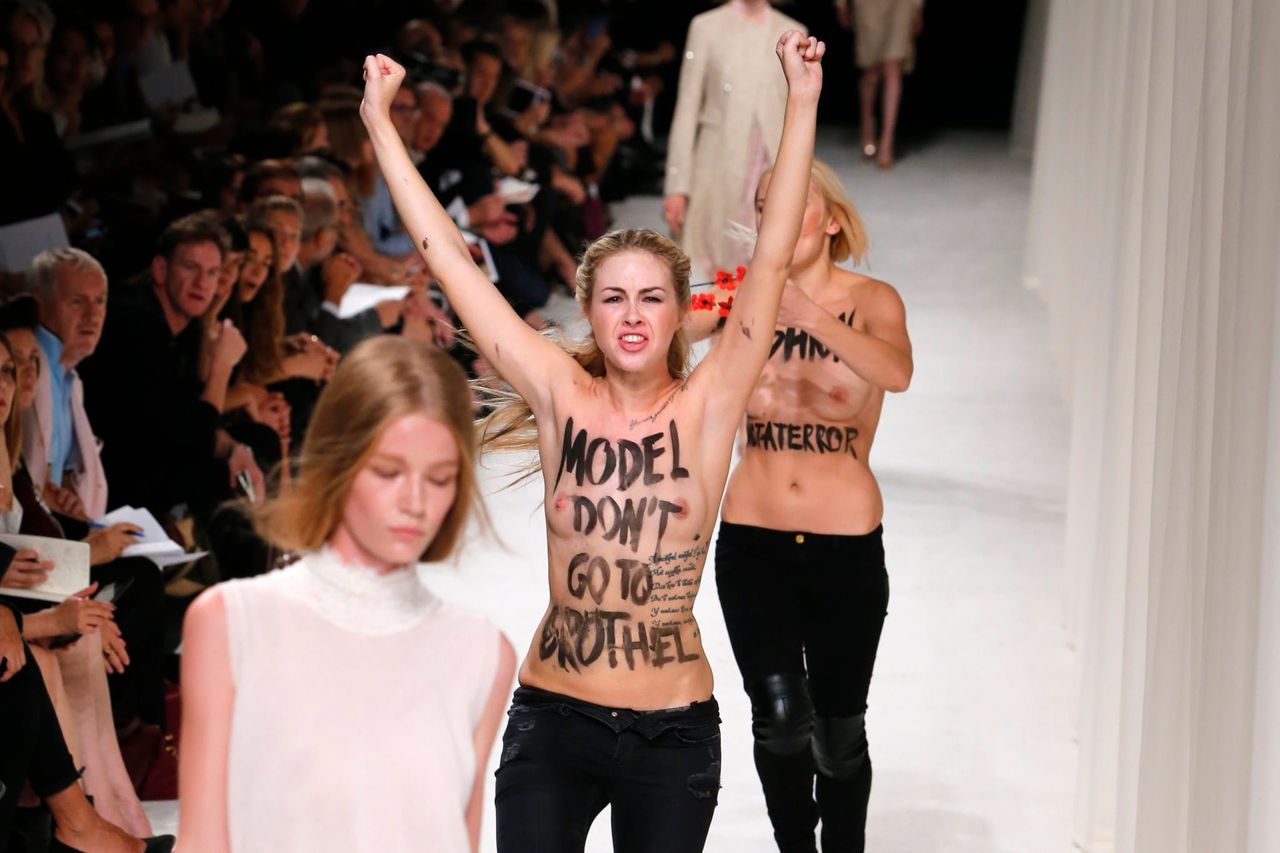 Two topless women ran on stage at Nina Ricci's Spring/Summer 2014 show in Paris as part of a protest from a Ukranian feminist activist group called Femen. The women had the words "models don't go to brothels" and "fashion dictaterror" written on their bodies. Femen regularly organized topless protests for women's rights, even protesting fashion events such as Versace's Fall/Winter 2013 show and a live taping of Germany's Next Top Model.


Streaker crashes Prabal Gurung's Fall/Winter 2014 show.


During the Prabal Gurung show, a streaker interrupted the show as he ran onto the runway wearing an open black trench coat and leopard print thong. While streakers are often seen as amusing at sports games and rallies, this scene in particular was not met with the same response. The man was chased by security and eventually arrested for trespassing.

The streaker was later identified as Vitalii Sediuk, a Ukranian reporter who has pulled similarly ridiculous stunts such as crashing Adele's Grammy speech and kissing Will Smith on the red carpet.


Sacha Baron Cohen dresses as Bruno on multiple runways.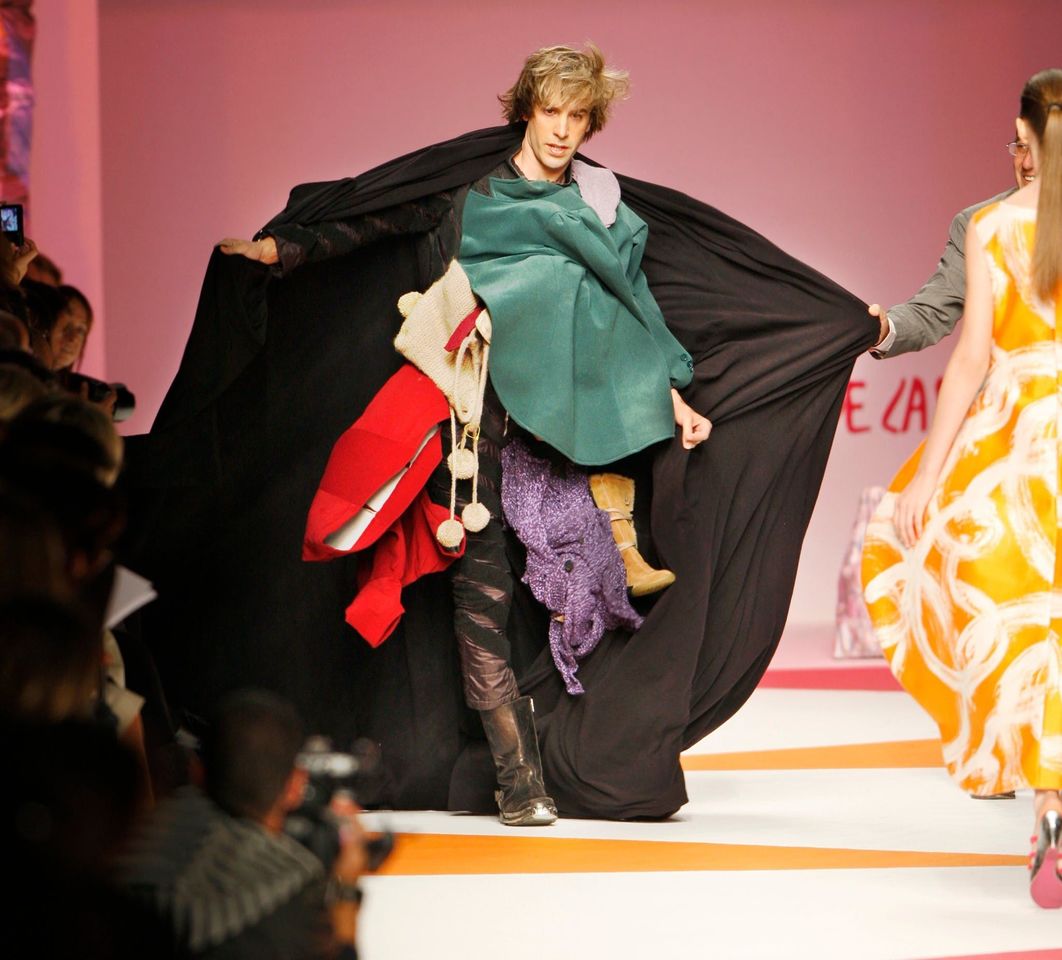 Oddly enough, it isn't just the work of activist groups and rowdy individuals who crash fashion week events, but even actors. Sacha Baron Cohen, best known for his eccentric character Borat, crashed multiple runway shows as his character of Austrian model Bruno.

His first runway disruption was seen at the Ágatha Ruiz de la Prada's Spring/Summer 2009 show, where he wore a Velcro suit with several items attached to his body. He was later escorted off the runway and arrested. The following week, the actor made a second appearance at Stella McCartney's show as he sat in the audience with a leather jacket, jeans, and red thong.


PETA protests at Dior's Fall/Winter 2003 show.


Throughout fashion week history, PETA has made several protests over the fashion industry's usage of fur. During Dior's Fall/Winter 2003 show, a protestor holding a "FUR SHAME" sign jumped onto the stage and was quickly yanked off by security. Unfortunately for PETA, the model right after was donning a giant lilac fur coat.


Literal cats make their way onto the catwalk.
While catwalks aren't made for literal cats, that didn't stop stray felines from stepping foot onto the runway named after them. During Istanbul Fashion Week in 2018, a literal cat was seen innocently minding its business on stage as models walked around it.

A similar instance occured during Dior's resort show in Morocco, when a stray cat joined models on the runway during the finale walk, walking in the opposite direction amidst fiery candles and braziers before finally ending up in the audience.