Overlay Office turns an 1899 building in South Slope into bright, two-bedroom units that have plenty of graphic flair.
Walking along a row of turn-of-the-century townhouses on Seventh Avenue in South Slope, Brooklyn, you might think: One of these homes is not like the others.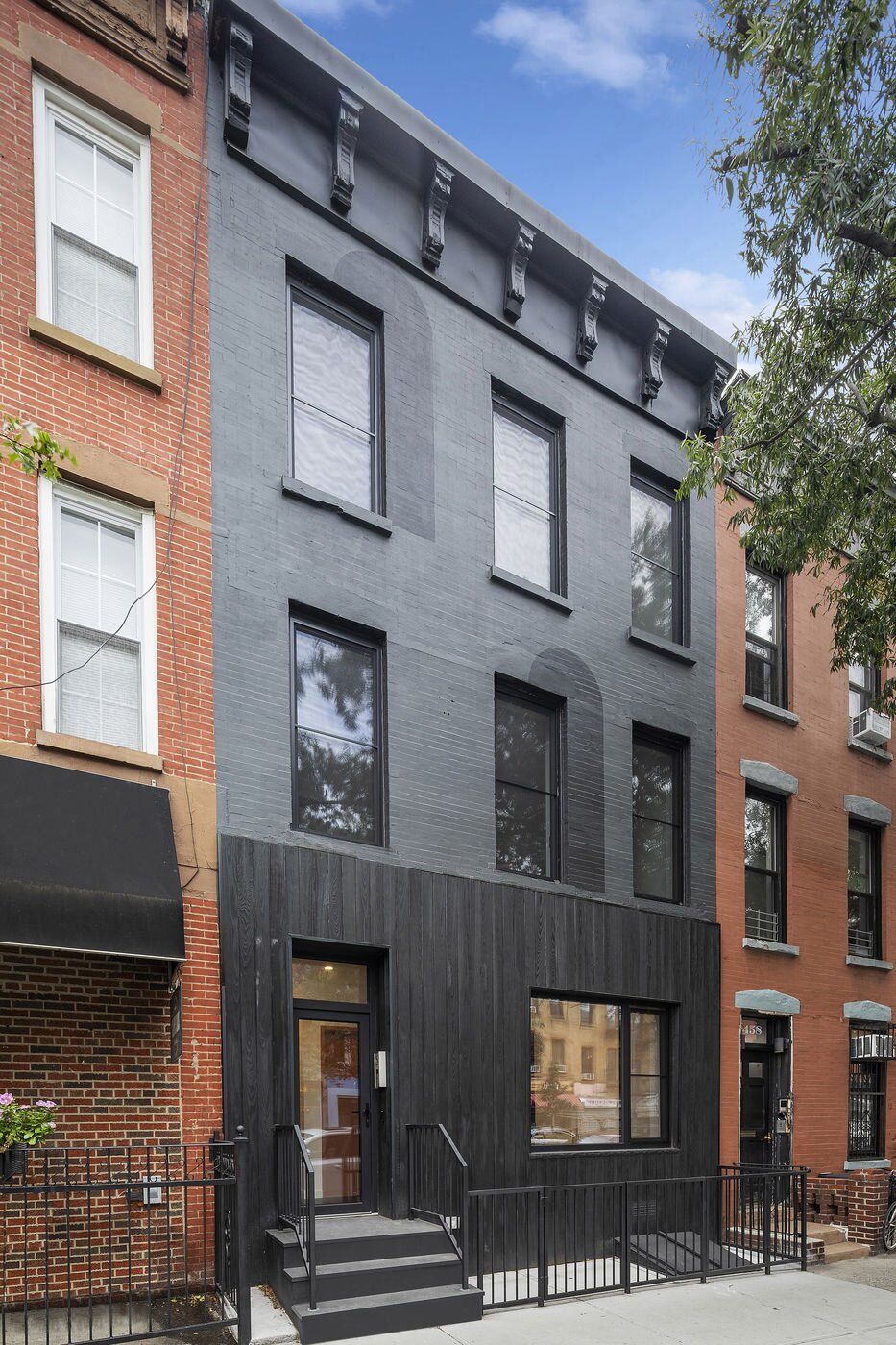 The ground floor of 460 Seventh Avenue, previously altered by a past owner to make room for a restaurant, is clad in charred wood siding. On the upper two floors, painted arches reference the arched roofs of the nearby Park Slope Armory-and the building's previous renovations.

Completed in 1899, the four-story building is a playful take on tradition. While the brick-clad residence is plainer than the nearby Italianate-style brownstones for which the borough is famous, its architecture is not without decorative touches-such as the carved stone corbels at the edge of its rooftop cornice.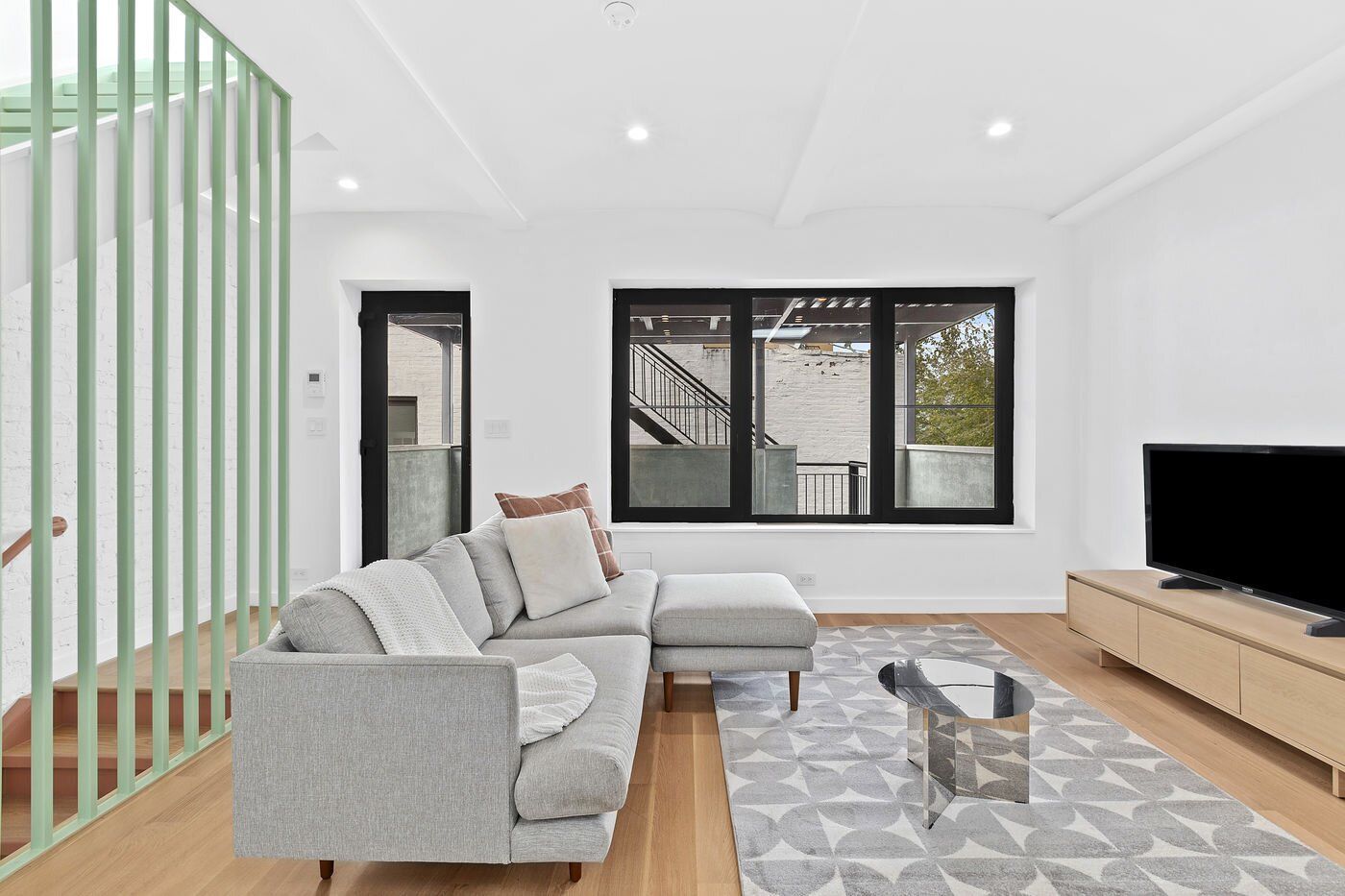 Each of the three units comes with its own outdoor space, including this covered deck on the second floor.

The building at 460 Seventh Avenue has its masonry painted dark gray, and on the ground floor, its brick facade gives way to shou sugi ban timber cladding. The townhouse's symmetrical trios of windows have also been interrupted: On the ground floor, there's a larger expanse of storefront glass, and on the upper two floors, painted arches are deliberately offset from the grid-hence the project's new name: House Offset.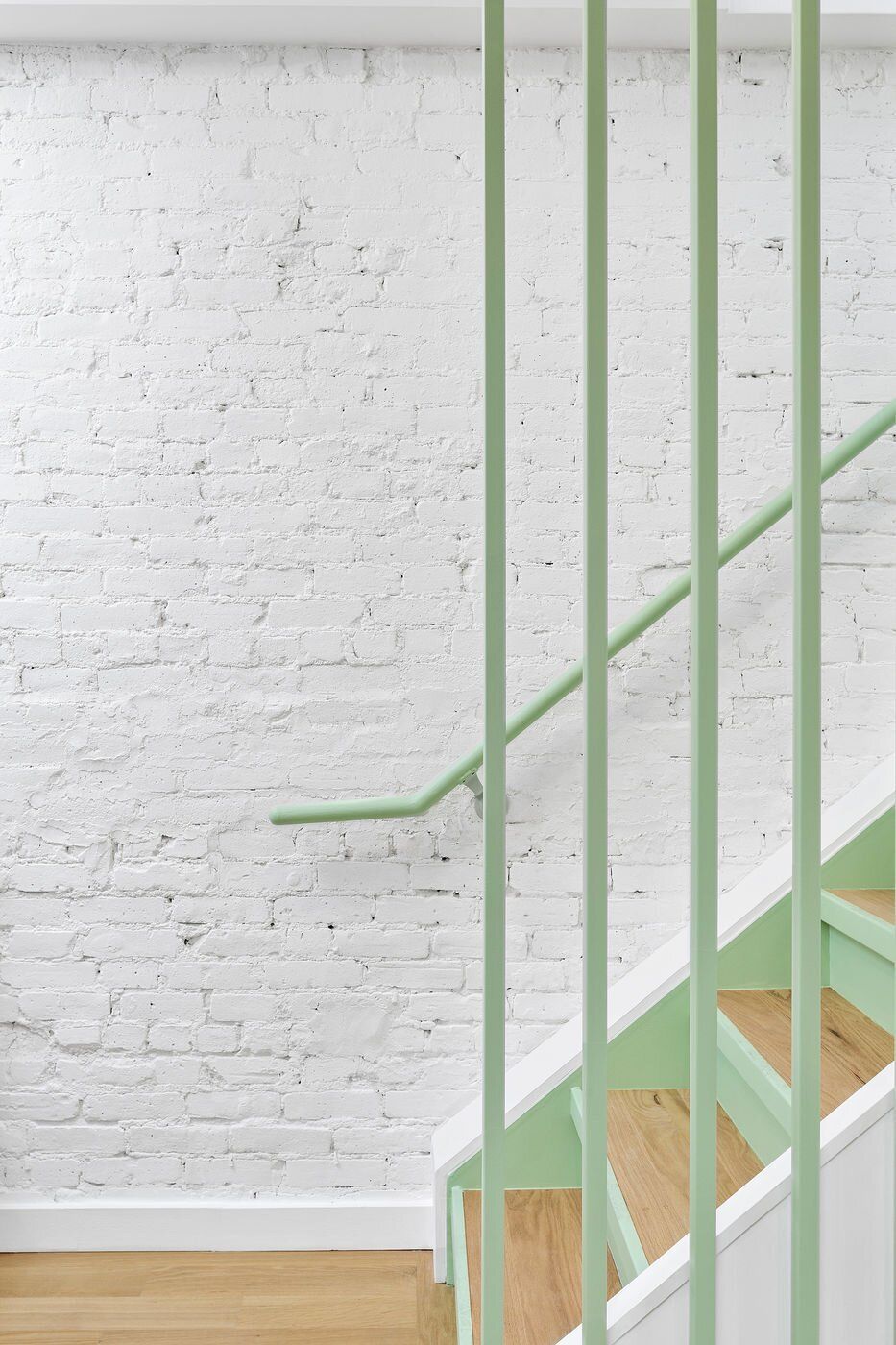 The renovation retained the brick building's original character, but completely renovated the unit layouts and surfaces, including introducing new white oak floors and stair treads.

"I love to use a graphic sensibility in my work with thoughtful color choices and pure geometries," explains Abigail Coover, founder of Overlay Office, which both designed and developed the project.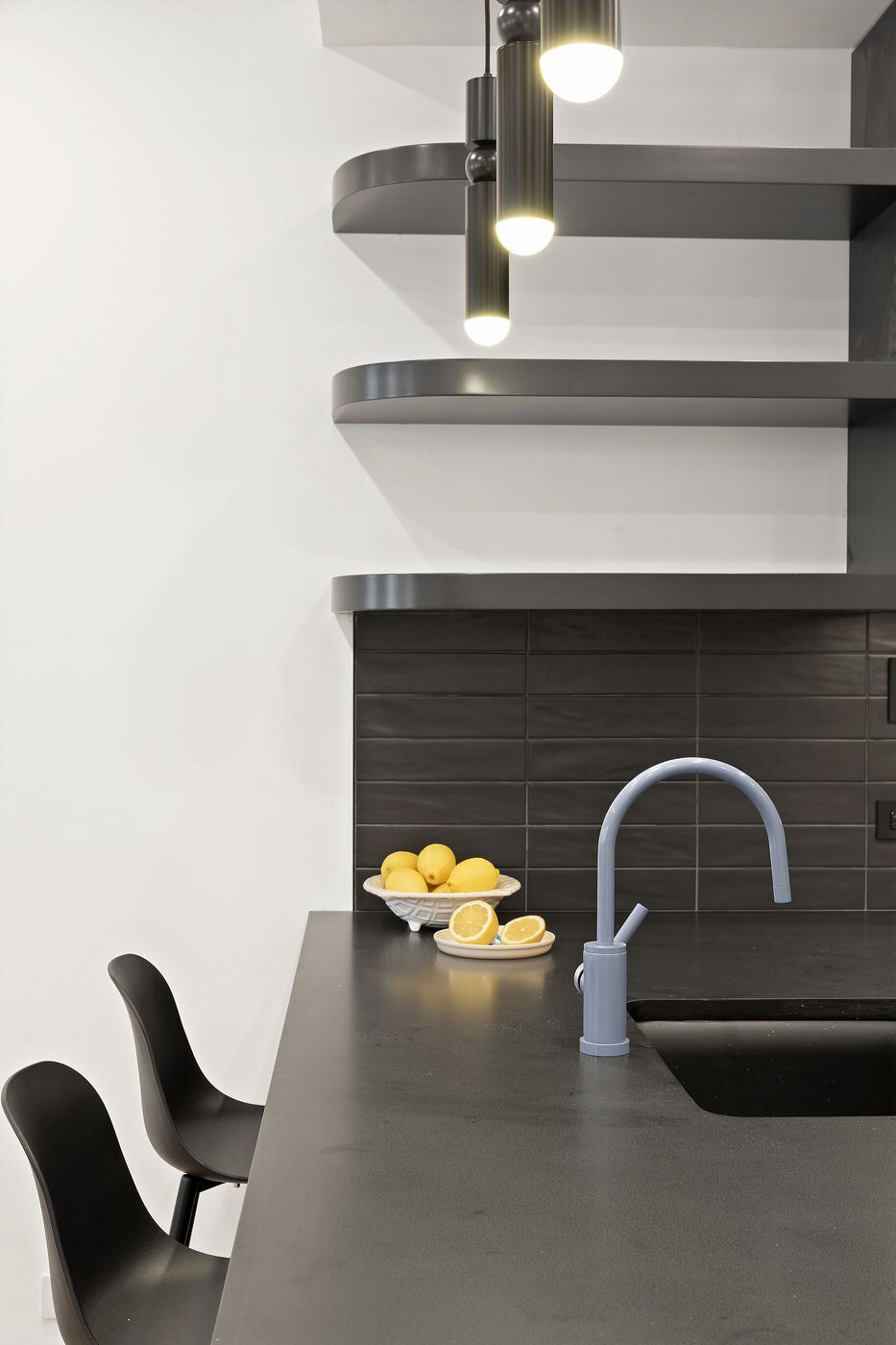 The kitchen is finished with matte-black surfaces and a curve motif, with pops of color from its sink hardware.

Coover had never purchased a building before taking on this townhouse, but she was intrigued by the possibility of her firm combining design and development as part of its core mission. "It was a steep learning curve, and a huge challenge, but also very rewarding," she says. "It's a way as a small firm in Brooklyn to have a totally different kind of revenue stream."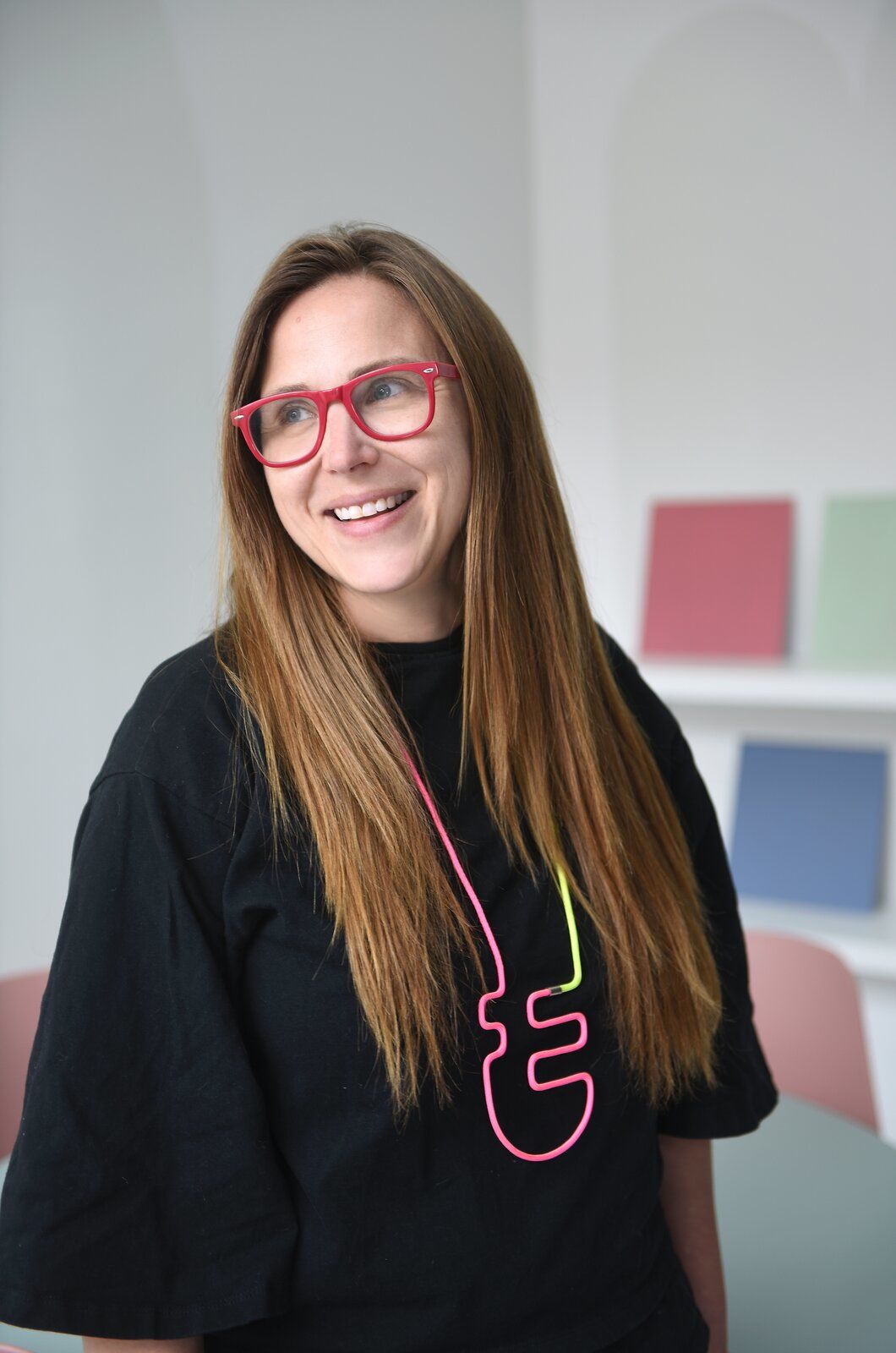 "It was a steep learning curve, and a huge challenge, but also very rewarding," says Overlay Office founder Abigail Coover.

Coover, who also teaches at Brooklyn's Pratt Institute School of Architecture, founded Overlay Office in 2019. The firm's portfolio betrays an affinity for play and experimentation that often combines architecture and graphics, be it for a children's playground or a pediatric therapy space.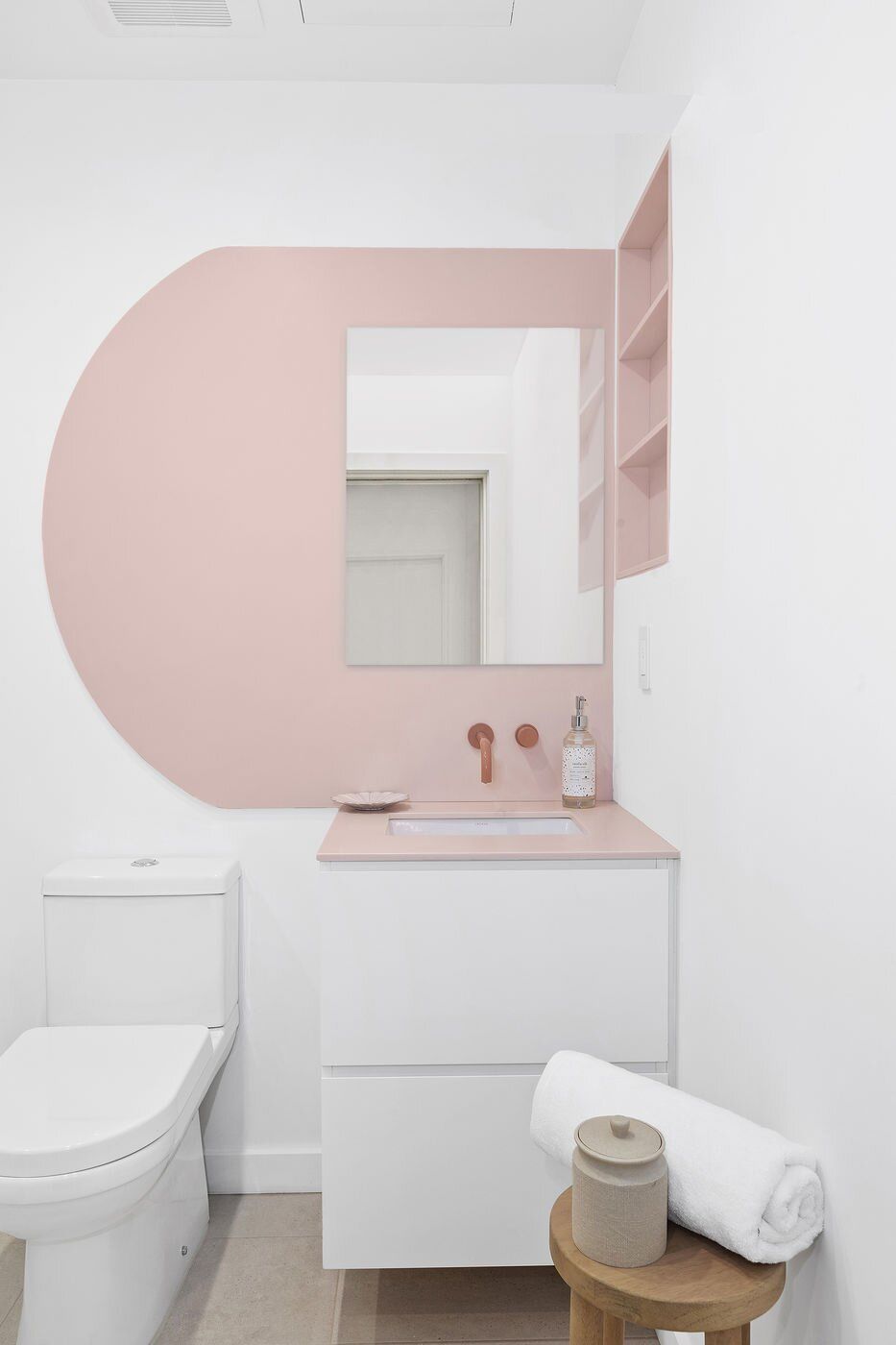 The arch motif begun on the building's exterior continues inside the units.

Researching the Seventh Avenue townhouse's 120-year history, Coover and her Overlay Office team discovered it had been altered numerous times. The offset, painted arches on the facade not only reference the arched roofs of the nearby Park Slope Armory, but also the building's previous iterations.




The most spacious of the three units includes a partially sunken lower floor for its bedrooms.

The arch motif continues inside in the form of arched mirrors and curved kitchen shelving. It's coupled with a series of colorful, contemporary material choices for various surfaces, such as recycled plastic by Durat used in the bathroom wall, tub and sink surfaces that ape the look of terrazzo, and colorful sink fixtures from Watermark Brooklyn.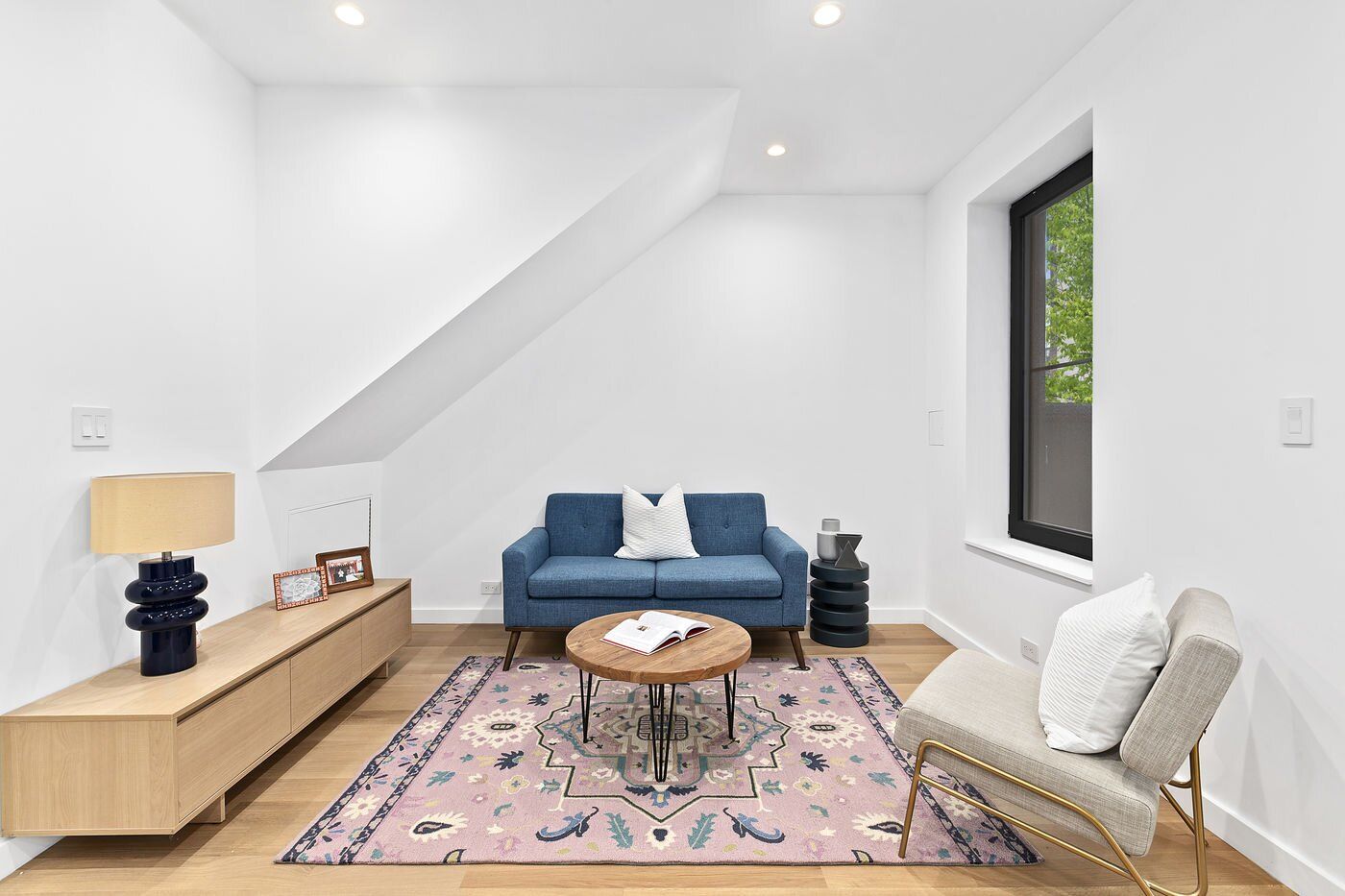 A small living area tucked under the stairs.

"We took the opportunity to use familiar details, objects, and materials in creative and unexpected ways," says Coover. "I was trying to do as high a quality as possible, while still being on a budget, with creative use of materials, like the colored faucets."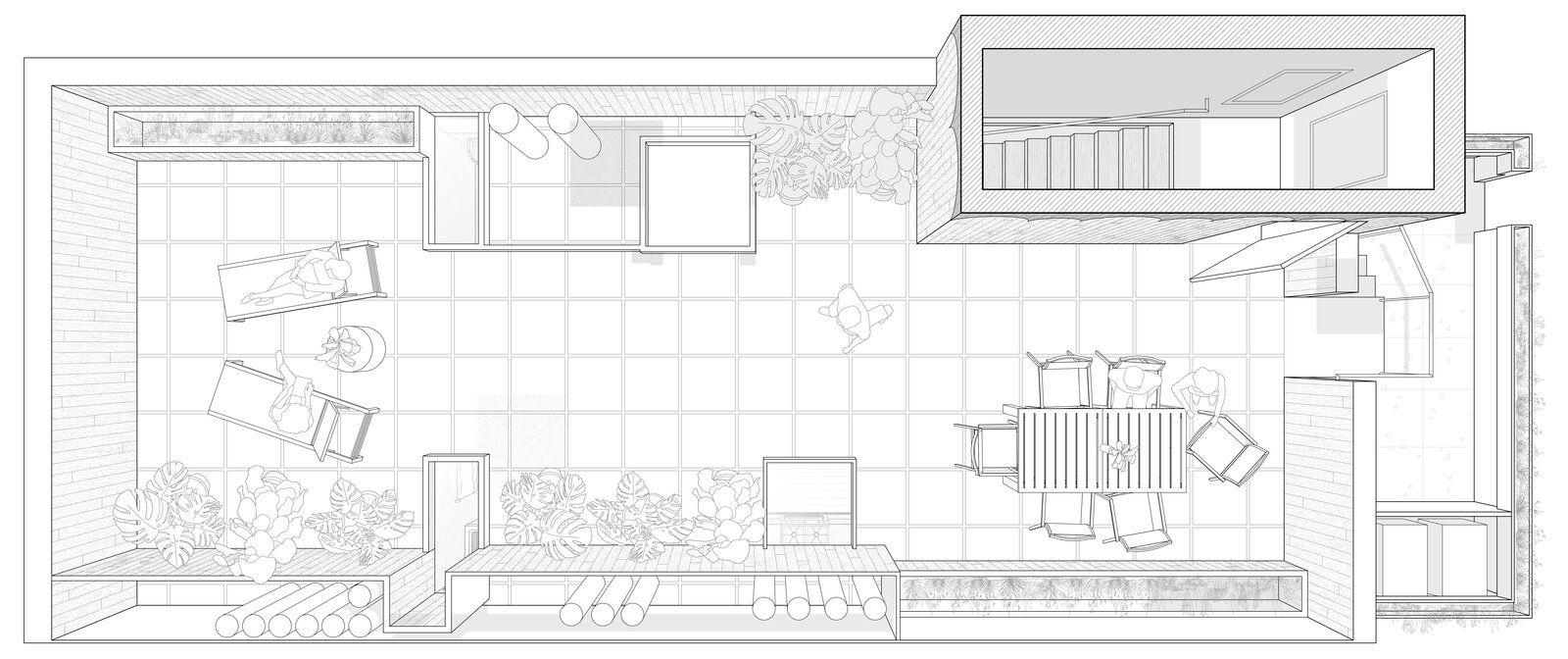 An overhead perspective drawing of the roof deck.

The building has been divided into three condominiums, each with two bedrooms and one-and-a-half baths, with the largest unit at 1,341 square feet occupying an exposed lower level and the ground floor. Each of the two upstairs units (743 and 812 square feet, respectively) occupies a whole floor, and all three units come with their own dedicated outdoor space, including a roof deck that's part of the top-floor condo.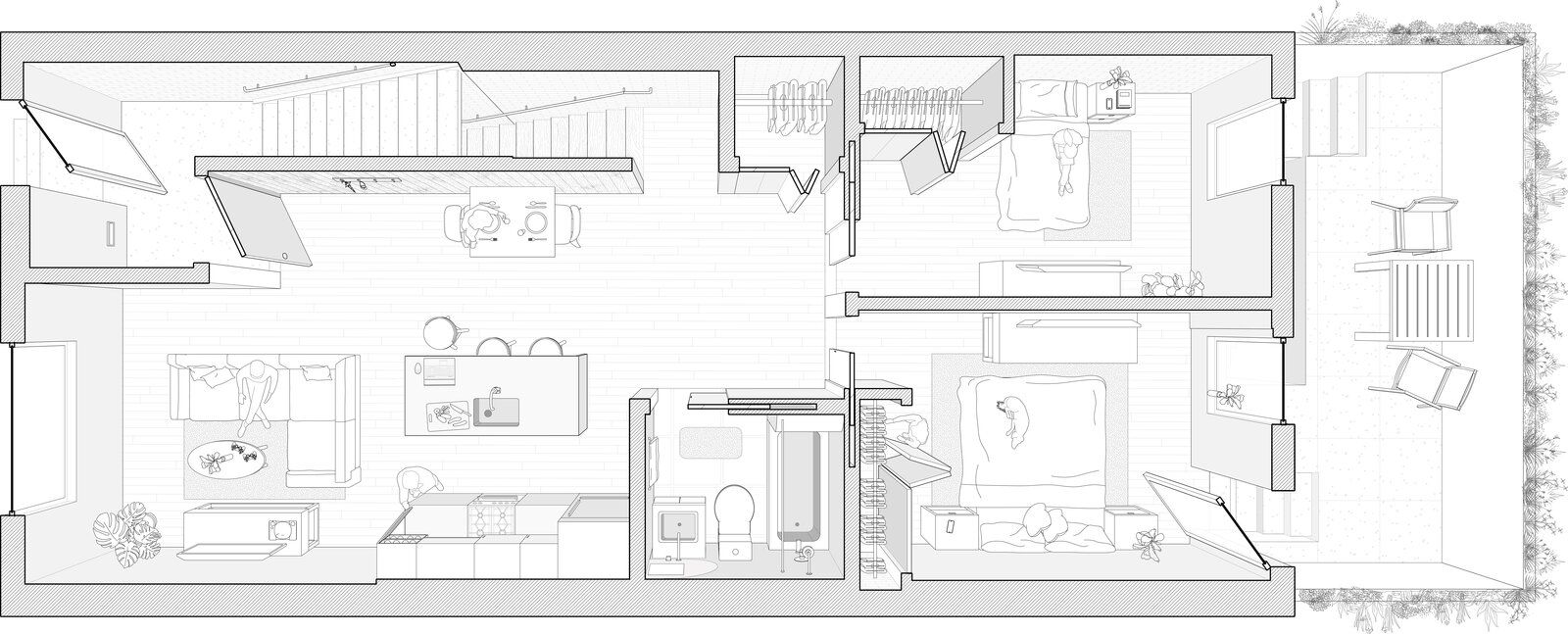 An overhead perspective of the building's first floor.

Its painted arches notwithstanding, perhaps the standout quality of 460 Seventh Avenue is that it offers design on a budget. "People keep telling the agent, 'I didn't know a project like this existed in Brooklyn,'" Coover says. "There's a bit of a cookie-cutter kind of thing in Brooklyn. This doesn't fit that mold."