Adele's 30 has shot to number one, overtaking Abba to become the fastest-selling album of the year so far.
Its 261,000 first-week chart sales mean it sped past the Swedish pop group's comeback album Voyage, which opened with 204,000 sales.

However, Adele's sales figures are significantly lower than those of her previous album 25, released in 2015.

That album, her third, opened with 800,000 first-week sales, which means 30 has sold 32% of its predecessor.

The drop can be partially explained by the huge growth of streaming in the last six years. Added to which, there was a greater incentive for fans to buy 25, as it was kept off streaming platforms for its first six months of release.

Adele's opening sales have topped those of Abba's long-awaited comeback album Voyage

Adele won out over Ed Sheeran's = (Equals) album to claim top spot this week.

This means she has now secured a chart double, with the album's lead single Easy On Me remaining number one for a sixth consecutive week.

Adele's opening week success with 30 ensures all four of her albums have now reached number one - a record for a female act.

The album made up 67% of all physical sales and became the most-streamed album of the week, with 55.7 million plays across all tracks.

The numbers mark the biggest first week for an album since Sheeran's ÷ (Divide) in 2017.

It is also strongest opening week for a female solo album since Adele's last studio album 25, which was released in November 2015.

The London-born star has said that 30 is an attempt to explain her divorce from her husband to nine-year-old son Angelo.

The BBC's review said it finds an "emotionally bewildered" Adele "at the top of her game".

Adele's album shines bright - but can her music last?

Adele's last album achieved platinum status in 24 hours, selling 300,000 copies in a single day.

Her latest hasn't reached that figure after a week on sale. But go easy on her - album sales have fallen precipitously in the six years since Adele released 25.

Back then, streaming accounted for just 11% of the UK's music market - and no-one thought it was odd for Adele to withhold her album from Spotify and Apple. By relying on CDs, vinyl and downloads, she racked up a record-breaking 800,000 sales in the space of a week.

Today, 80% of music consumption is on streaming services and most of Adele's fans are happy not to own a hard copy of 30. That's reflected in lower sales figures - but Adele is still setting fire to the rain.

In the US, 30 is already the biggest-seller of the year, overtaking albums by Drake and Olivia Rodrigo. In the UK, her first-week total of 261,000 is miles ahead of the 7,317 copies Dua Lipa's Future Nostalgia sold on its fourth week at number one last May (the lowest ever total for a UK chart topper).

The record industry and the media still rely on album sales as a measure of success - but in reality, the public has moved on. Adele's success should really be measured in cultural impact. Her US TV special was watched by more people than the Grammys or the Oscars. The British equivalent drew a peak audience of 5.4 million viewers, helping ITV achieve its biggest Sunday night of the year.

The real question is whether, after this publicity blitz, her new music will hang around.

"Success may be more about whether, two months down the line, we still have memes flooding TikTok and James Corden doing skits," observed music industry analyst Mark Mulligan.

"This will say as much about how the world is responding to her music than how many streams she clocks up."

Abba's Voyage slips to third place this week, while Oasis are a new entry at number four with the live recording of their Britpop-defining Knebworth gig from 1996.

Other debut entries in the top 10 include Robert Plant and Alison Klauss' second collaboration Raise The Roof and London rap collective D Block Europe's new mixtape Home Alone 2.

Rock-pop veterans Elbow also feature with their latest album Flying Dream 1.

In the singles rundown, Adele's chart domination means her biggest competition remains... herself.

The singer's 101,000 chart sales and 11.5 million streams of Easy On Me beat out her two other tracks from 30 - Oh My God, which claims the week's highest new entry at number two, and I Drink Wine at number four.

Easy On Me is now Adele's longest-running chart-topper, outstripping Someone Like You.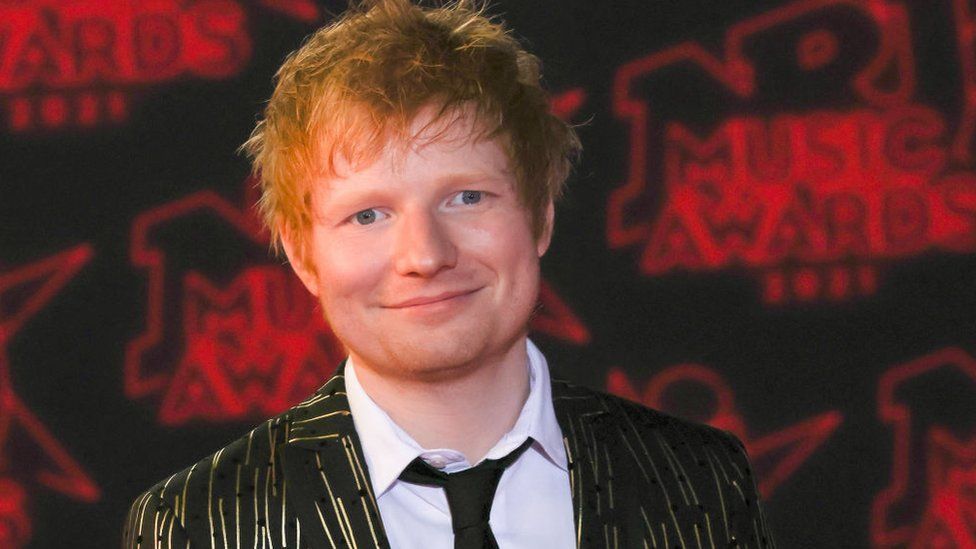 Ed Sheeran is Adele's only competition in the top 5 of the singles chart

Her closest competition in the singles chart, Sheeran, slipped to third with Shiver, while Bad Habits spent its 22nd week in the top 10 at number five.

This week's biggest chart jump comes courtesy of 17-year-old Nashville pop prodigy Gayle, whose track ABCDEFU rises 26 positions to number 14.