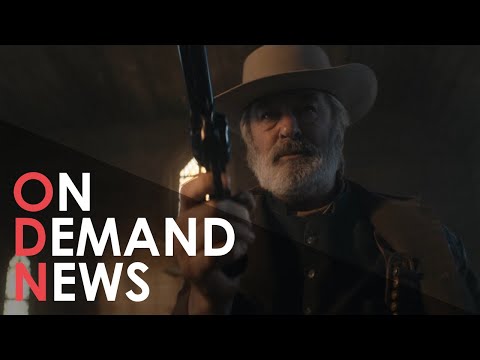 Alec Baldwin Shooting: New Video Shows CHILLING Aftermath
The last scene Halyna Hutchins ever filmed has been released.
Police have released footage from the set of the film Rust, including of the aftermath of the fatal shooting of a cinematographer by actor Alec Baldwin.

Santa Fe Sheriff Adan Mendoza also released crime scene photos and witness interviews, including Mr Baldwin's.

But police said a decision on whether to file criminal charges will depend on the outcome of future forensic work.

Halyna Hutchins, 42, was shot by Mr Baldwin while he rehearsed with what he believed to be a safe gun.

The actor, who was also a producer on the film, previously said he did not pull the trigger and had no idea how a live bullet came to be on the set near Santa Fe in the US state of New Mexico.

In videos released on Monday, police and medics can be seen racing to the scene, and bodycam footage shows first responders battling to save Hutchins.

In other clips, Mr Baldwin is seen dressed as a cowboy and practising with what appears to be the gun that killed the cinematographer.

In a statement accompanying the release of the footage, Sheriff Mendoza said the investigation into the shooting "remains open and ongoing".

He said several components of the investigation remain outstanding, including firearms forensics, fingerprint analysis, a report from the medical examiner and analysis of Mr Baldwin's phone data.

"Once these investigative components are provided to the sheriff's office we will be able to complete the investigation to forward it to the Santa Fe District Attorney for review," Sheriff Mendoza said.

According to the New York Times, a spokesperson for the Sante Fe sheriff's office said authorities had decided to release the files after multiple requests from the media and because investigators wanted to show what information remained outstanding before the case could be passed on to prosecutors.

Authorities have refused to rule out filing criminal charges over the incident and in October District Attorney Mary Carmack-Altwies told the New York Times that "everything at this point, including criminal charges, is on the table".

The release comes a week after producers of the film were condemned by authorities for failing to follow safety guidelines and charged the maximum fine of $136,793 (£105,000).

An investigation conducted by the New Mexico Environment Department found that the makers of the film showed "plain indifference to recognised hazards associated with use of firearms on set".

It added that the film's management "knew that firearm safety procedures were not being followed on set and demonstrated plain indifference to employee safety by failing to review work practices and take corrective action".

The company said it disagreed with the findings and would appeal.