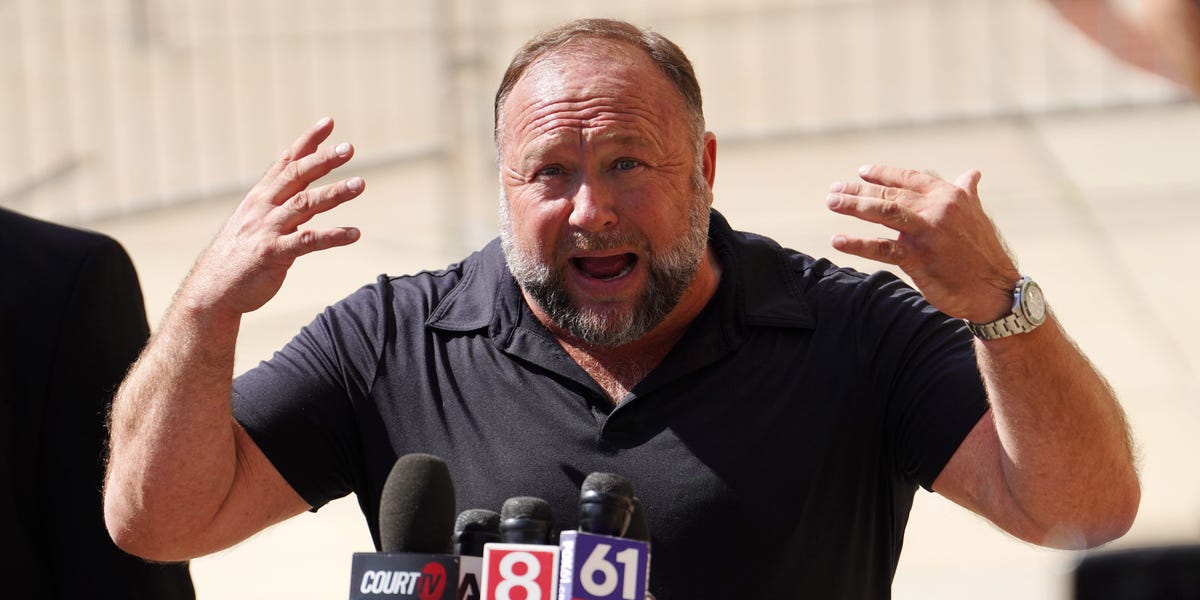 Alex Jones is trying to swing a bankruptcy plan where he still gets paid $520,000 a year
Jones owes close to $1.5 billion to the relatives of the Sandy Hook shooting victims, who sued him after he called the 2012 massacre a hoax.
Alex Jones' media company has proposed a bankruptcy plan that would still allow him to be paid $520,000 per year.

This plan would also see the far-right conspiracy theorist and podcaster paying less than 4% of what he owes the families of the Sandy Hook victims, over the next five years.

Jones owes around $1.5 billion to the relatives of the Sandy Hook shooting victims. They sued him after he called the 2012 massacre a hoax and said the families of 20 murdered children were crisis actors.

Jones and his company, Free Speech Systems — which he fully owns — filed for bankruptcy separately in December and July, respectively.

As part of the bankruptcy proceedings, Free Speech Systems filed a reorganization proposal on Tuesday. In the proposal, the company said it expects to make around $30 million annually from selling nutrition supplements like vitamin gummies and fish oil.

But only around $7 million to $10 million of that money would go to creditors each year, per the plan filed in the Texas Southern Bankruptcy Court, seen by Insider.

The rest of the money will be used for the cost of goods and operations expenses, as well as paying $520,000 each to Jones and a potential new chief operating officer.

Another $560,000 would be reserved for "executive incentive" bonuses. The plan states that these bonuses can be increased to a $1.26 million per year payout, by 2027.

Jones' pay and bonus would be part of a total of $3 million to $3.5 million spent on staff salaries per year. Free Speech Systems will spend another $839,000 on contract employees, $780,000 on hourly wages and overtime pay, and $352,000 on employee bonuses in 2023, per the company's proposal.

The firm had 45 employees as of December 31, its filing said.

Jones's InfoWars online store sells products such as turmeric toothpaste for $14.95, "Super Concentrated Beet Extract Essence" for $39.95, and t-shirts and accessories.

It sources some of its products from a company called PQPR Holdings, to which Free Speech Systems owes $54 million. PQPR Holdings is partially owned by Jones and managed by his father. Lawyers for the Sandy Hook families say the $54 million debt is just a tactic by Jones to stash away his fortune and prevent it from going to pay off the damages Jones now owes, per The New York Times.

Jones claimed on his InfoWars show in December that he was "officially out of money, personally."

"It's all going to be filed. It's all going to be public. And you will see that Alex Jones has almost no cash," he said on his show, per CBS News.

However, a forensic economist testified in August that Jones and Free Speech Systems have a combined net worth of up to $270 million.

In December, Jones asked a judge to restore his annual salary to $1.3 million — what he used to make before Free Speech Systems went bankrupt.

Jones also recently gave more than $1.3 million to his wife and parents, according to a February 14 bankruptcy filing.

Meanwhile, the right-wing conspiracy theorist accused authorities of trying to seize his cat in bankruptcy proceedings and claimed it was harassment. He estimated that the cat, Mushu, is worth around $2,000.