When former Amazon worker Chris Smalls organised a small protest outside a massive Amazon warehouse in New York two years ago, he didn't intend to pick a years-long fight with one of the world's largest companies. He just wanted his team to be able to do their jobs safely.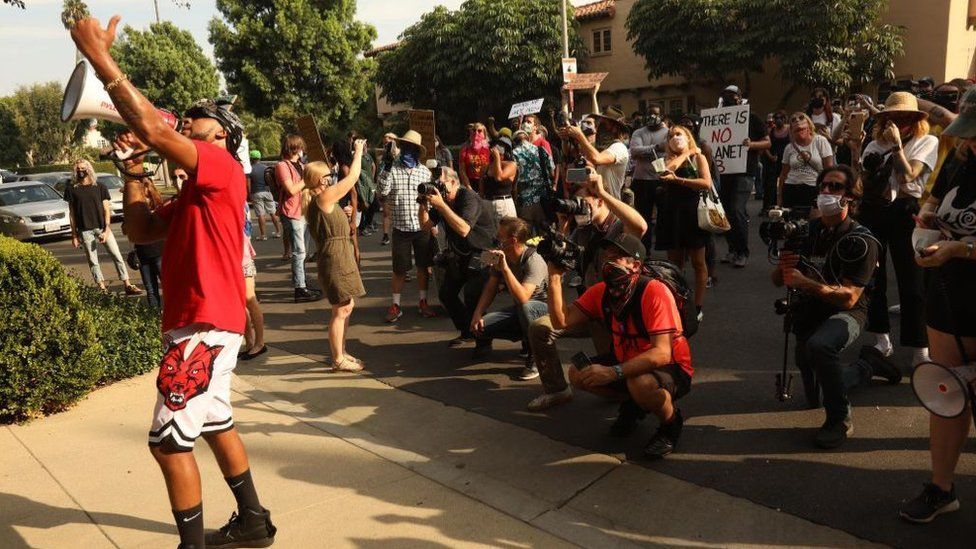 Chris Smalls has led protests against Amazon around the country - including in front of Jeff Bezos properties
"When the pandemic came, employees underneath me were getting sick," he says. "I realised that something was wrong."

Amazon fired him, citing quarantine violations. But his concerns caught the world's attention - an early sign of a much bigger labour battle brewing at the e-commerce giant.

In the following months, as its business surged thanks to the pandemic, Amazon faced accusations around the world that it neglected staff welfare - claims it denied.

In the US, the company now faces its most serious labour unrest in decades.

After walkouts and protests across the country, workers at three warehouses in New York and Alabama are deciding whether to join a labour union - which would be a first for Amazon in the US.

Mr Smalls is one of the leaders in the fight.

He says he's embracing a role the shopping giant set out in a leaked memo from 2020, which described Mr Smalls as "not smart or articulate" and argued that if he became "the face of the entire union/organising movement" it would help to undermine it.

Mr Smalls, who worked at Amazon for more than four years, starting as an entry-level worker before getting promoted, said he was blindsided by the memo, which some saw as racist, though Amazon told reporters at the time the author wasn't aware Mr Smalls was black.

"My whole life changed in one minute," the father-of-two says. "From there, I started to pretty much try to make them eat their words."

For 11 months, the 33-year-old and his team have staked out a spot opposite his former workplace, the JFK8 warehouse on Staten Island, intercepting staff on their way home to make the case that they need a union to fight for them in negotiations with the e-commerce giant.

His team are seeking higher pay, longer breaks, more paid time off and paid medical leave, among other changes. They want to convince workers that a union will be a more effective way to raise complaints over rules like one that requires staff to work unscheduled overtime shifts.

Voting on the question began 25 March and the result will be announced in coming days. Amazon faces a second election at a smaller warehouse in the same industrial park next month.

Organisers say the stakes are nothing short of the future of the American worker, pointing to Amazon's rank as the second largest employer in the US.

"We need to take down Amazon. We need these workers to organise," says Derrick Palmer, who helped Mr Smalls organise his 2020 protest and was also disciplined (but not fired) by Amazon, which cited social distancing violations. "We need them to know they have the power."

Revival of US unions?

Amazon saw off a similar unionisation effort in Alabama last year, convincing workers to vote 2-1 against the idea.

The vote - the first the company had faced in the US since it was founded in 1994 - looked decisive. But regulators later called for a re-run, saying Amazon had violated rules that protect the right to organise during the campaign.

Officials started counting the results of that vote on 28 March.

John Logan, professor of labour and employment studies at San Francisco State University, says it's remarkable that activists have even got to the point of an election, given how much American laws favour employers.

Last year, union membership in the US sank again, continuing a decades-long decline despite a surge of activism leading to successful campaigns at Starbucks, media outlets and some smaller retailers.

"Something has definitely changed in the last two years, when it comes to the labour landscape in the United States, and... the Amazon union votes are a reflection of that change," Prof Logan says.

"It would be a monumental event if either of the unions [in New York] were to win. But even if they were to lose, if the results are close I still think it will result in more union activity at Amazon warehouses across the country."

'Earth's best employer'?

Last year, in the aftermath of the Alabama election, Amazon founder Jeff Bezos pledged that the company would do better by its workers, including addressing the firm's high injury rate.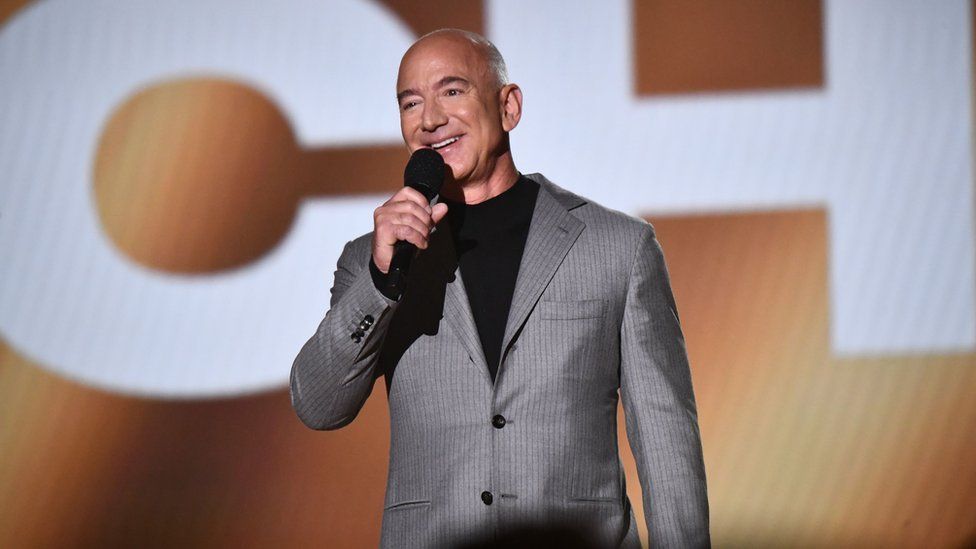 Jeff Bezos told shareholders he wanted to make Amazon "earth's best employer"

"Despite what we've accomplished, it's clear to me that we need a better vision for our employees' success," he wrote in his final letter to shareholders before stepping down as chief executive.

Amazon - which US regulators have accused of retaliating illegally against labour organisers on their staff - remains staunchly anti-union.

The firm says it offers competitive pay and benefits and a union will only add a new layer of bureaucracy, while membership fees eat into workers' wages.

To fight the campaigns, the firm has inundated staff with texts, fliers and other materials and held repeated mandatory training meetings about the issue, where they cast doubt on the union's ability to secure improvements for its members.

"Our employees have the choice of whether or not to join a union," says spokeswoman Kelly Nantel. "As a company we don't think unions are the best answer for our employees. Our focus remains on working directly with our team to continue making Amazon a great place to work."

Amazon has been urging workers to vote, warning that if the election is dominated by pro-union forces and the union emerges victorious, it will represent everyone at the warehouses in question.

"Negotiations are always a give and take," an Amazon representative warns in audio of a meeting in New York supplied by organisers. "What's important to the [Amazon Labor Union] may not be important to you. They will be willing to trade your priorities for one of theirs."

A union victory in New York is far from assured.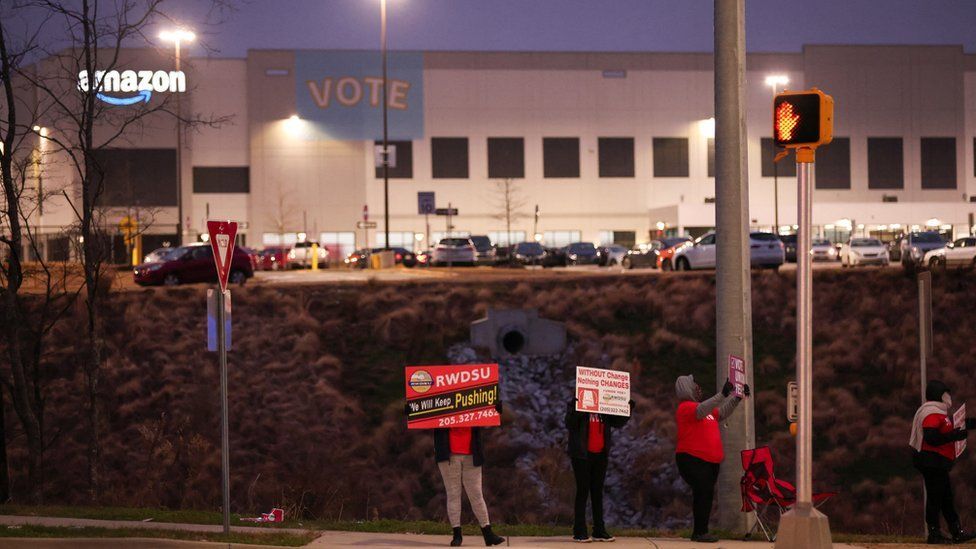 Officials will start counting the vote of the re-run election in Bessemer, Alabama on 28 March

Leroy Hairston, 22, who has worked at the JFK8 warehouse in New York for about two months - not unusual at a place with high turnover - tells the BBC he is leaning against the union. He thinks it is inexperienced and would struggle to make changes, making resolving staff issues more complicated,

"I don't see the point," he says. "Everything is prolonged instead of just going to HR."

Mr Smalls says he is hopeful that New York - where one in five workers belong to a union - offers better conditions for victory than Alabama, a notoriously anti-union state.

He also has contacts in more than a dozen other warehouses around the country that he hopes to unionise should he prove victorious.

"Once we get established here, we want to spread like wildfire," Mr Smalls says.

Over the last month, Amazon Labor Union volunteers have made a concerted final push to convince undecided workers.

Julian Mitchell-Israel, a 22-year-old community activist who took a job with Amazon to join the union effort, estimates their odds of winning at just over 50%.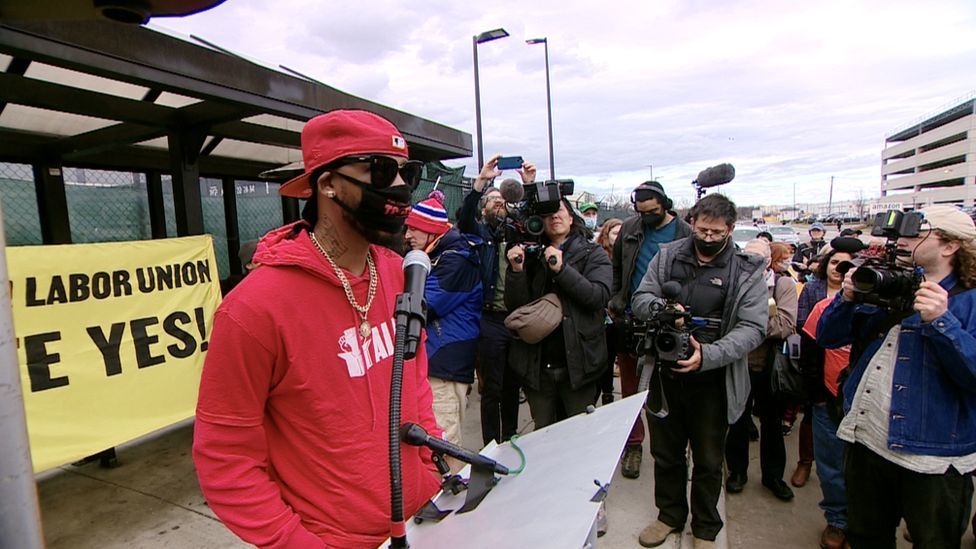 Chris Smalls leads a rally outside Amazon

At a blustery cold rally in the Staten Island industrial park this month, Mr Smalls, in a red hoodie and trainers, seemed undaunted. Surrounded by workers, union activists and politicians he led the small crowd in a chant of: "We will win! We will win!"

Mickie Garson, 50, who has worked at Amazon for three years and drove in on her day off to hear the union make its pitch, surveyed the scene from the Amazon parking lot, divided from the speakers by several lanes of traffic.

She said she remained "on the fence" despite experience at previous jobs that made her confident a unionised workplace would be better.

"It's the pressure of knowing that we could make history," she says. "We're excited with the fact that it could happen but also, then what happens after that?"