Designed by Sala Architects, Metal Lark Tower is the first cabin to open at Nordlys Lodging, a 140-acre property where nature rules.
Five years ago, when father and son Jeff and Bruce McPheeters set out on an evening canoe ride near their family cabin on Wood Lake in Northern Wisconsin, they paddled by a site for sale that sparked an idea. What if they built a vacation rental along the tree-lined river to share the landscape with others?

"The conversation snowballed, and all of a sudden, we were writing letters to farmers," Jeff said. "We didn't have a grand idea in the beginning-it started with tiny houses, which changed with practicality and minimum zoning requirements."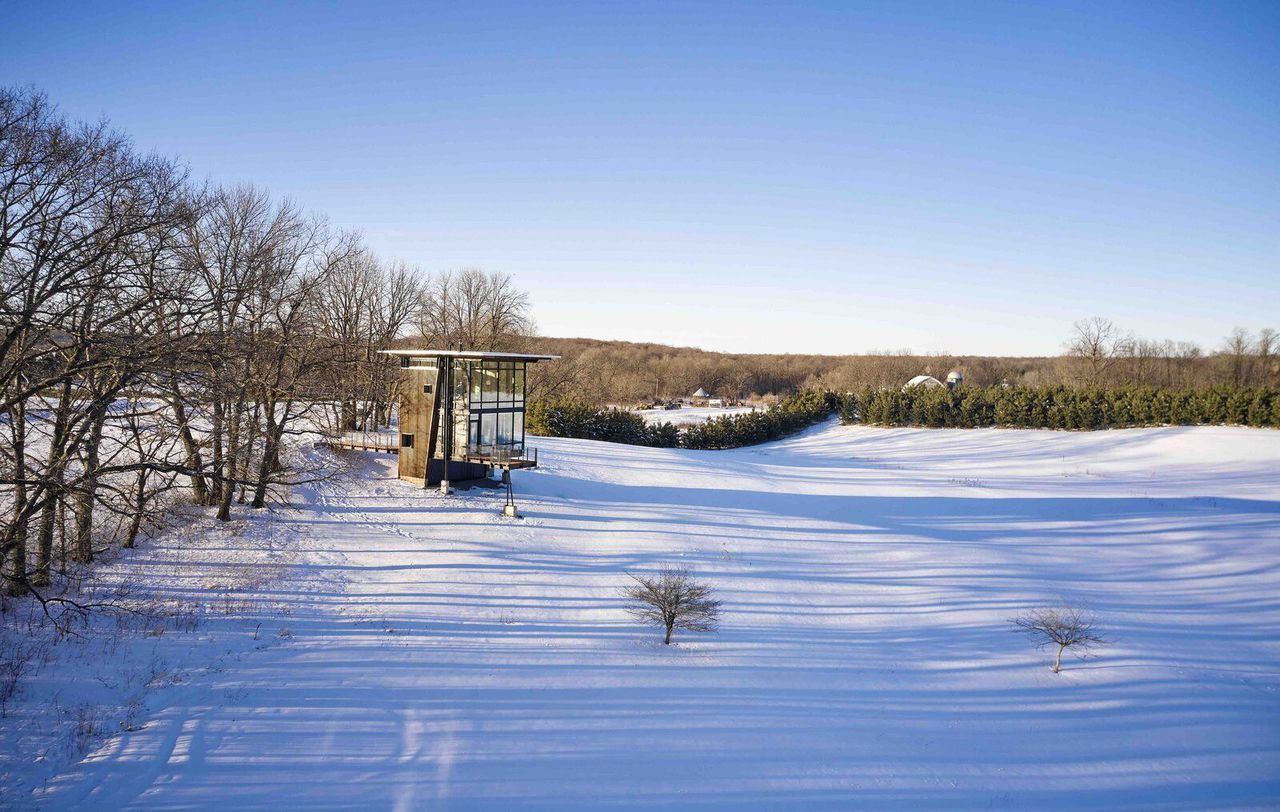 The 820-square-foot Metal Lark Tower is the first cabin to open at Nordlys Lodging in Frederic, Wisconsin. The second cabin, Long House, has been completed and will be available to book soon.

After nearly two years of surveying the county property map, the McPheeters found the perfect place to break ground on what would become Nordlys Lodging Co: a 140-acre plot of rural land in Frederic, Wisconsin, 90 miles northeast of Minneapolis. "The property has a great mixture of biomes," says Jeff, who describes hills, meadows, a pond, deciduous woods, and unique granite outcroppings. "Then there are little chunks that are piny forest," he adds. "In 140 acres, you get all the regions of Wisconsin."

As fans of Pacific Northwest architecture, the McPheeters dreamed of nestling micro-structures of wood, glass, and metal within the landscape, but they worried about the aesthetic's ability to withstand harsh winters. "The style works in Puget Sound, but if you tried to mimic it in the Midwest, you'd have icicles on the inside of your steel beams in January," Jeff laughs.

Fatefully, while they were back home in Minneapolis, a dwelling designed by architect David Wagner on Lake of the Isles caught their attention. Wagner, a Washington native who worked for several Seattle-area firms before moving to Minnesota, has spent the last 20 years living in St. Paul and practicing architecture throughout the region as the principal of Sala Architects. "Unlike people in the Pacific Northwest, he understands our weather," Jeff says. "He was able to adapt the aesthetic to our much more demanding climate."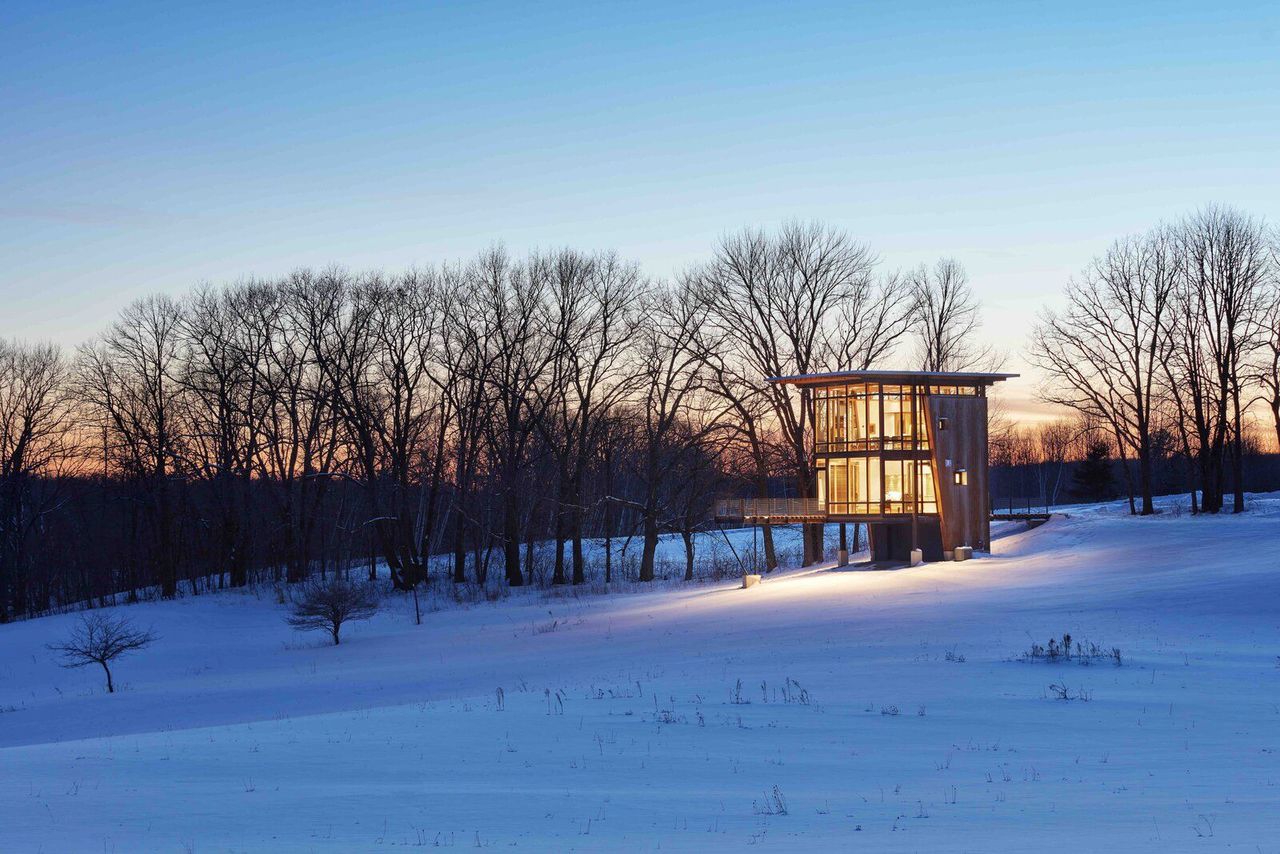 The four-season cabins are quiet and restorative in any weather. "It's not near the town or highways, so at night it's just perfect-very quiet. Our neighbors are either hunting land or farms, so there's no light or sound pollution," Jeff says. "During harvest season, you may hear the low groan of the combine. That sound travels five miles."

To kick things off, Wagner visited the property to scout siting options. "Right away, [Jeff and Bruce] were talking about multiple cabins, each with a unique setting that would respond differently and have a sense of seclusion and solitude," he says.

The first to be completed and available for guests to book, Metal Lark Tower is a two-story, 820-square-foot cabin on a sloping hillside, resting against a dividing line of trees. "Now that it's done, it's really magical," Bruce says. "It's interesting to experience the 'aha' moment of walking in and having it all open up the meadow and the lake," Wagner says. "There is a certain poetry of that particular spot."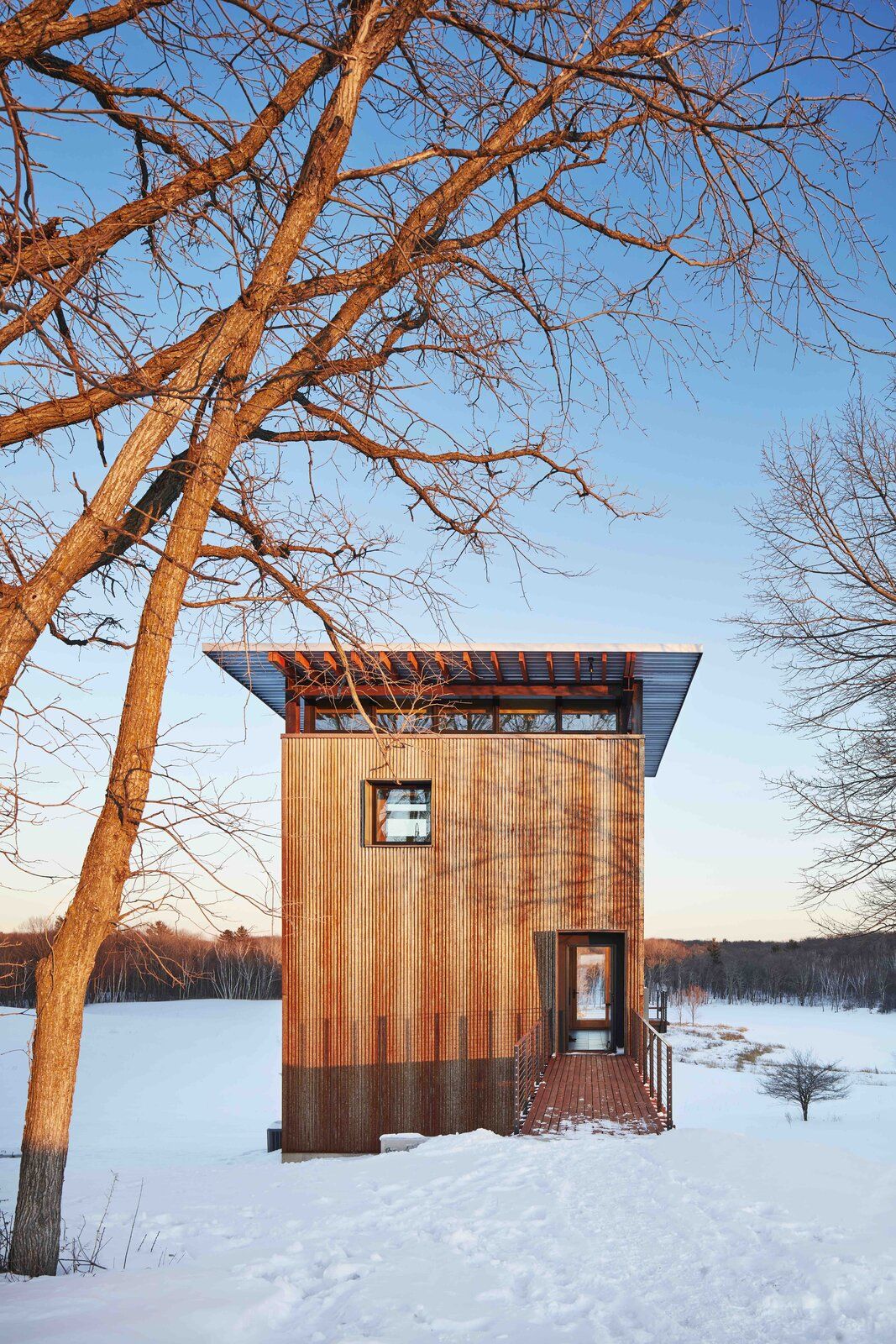 The corrugated, Cor-Ten steel siding has begun to develop a patina. "We considered painted steel also," says Wagner, "but Cor-Ten will last longer and it gives that nice, rusty feel."

Throughout the year, leaves on the nearby oak trees play a role in temperature management. "In the summertime, they provide shade, then the leaves fall, and the building is open to passive solar warmth in the winter," Wagner says. Solar panels and natural heat insulated by the triple-paned windows add to the structure's efficiency. "If you were to turn the furnace off on a sunny January day, it could still be 60 degrees inside by 11 a.m.," says Jeff.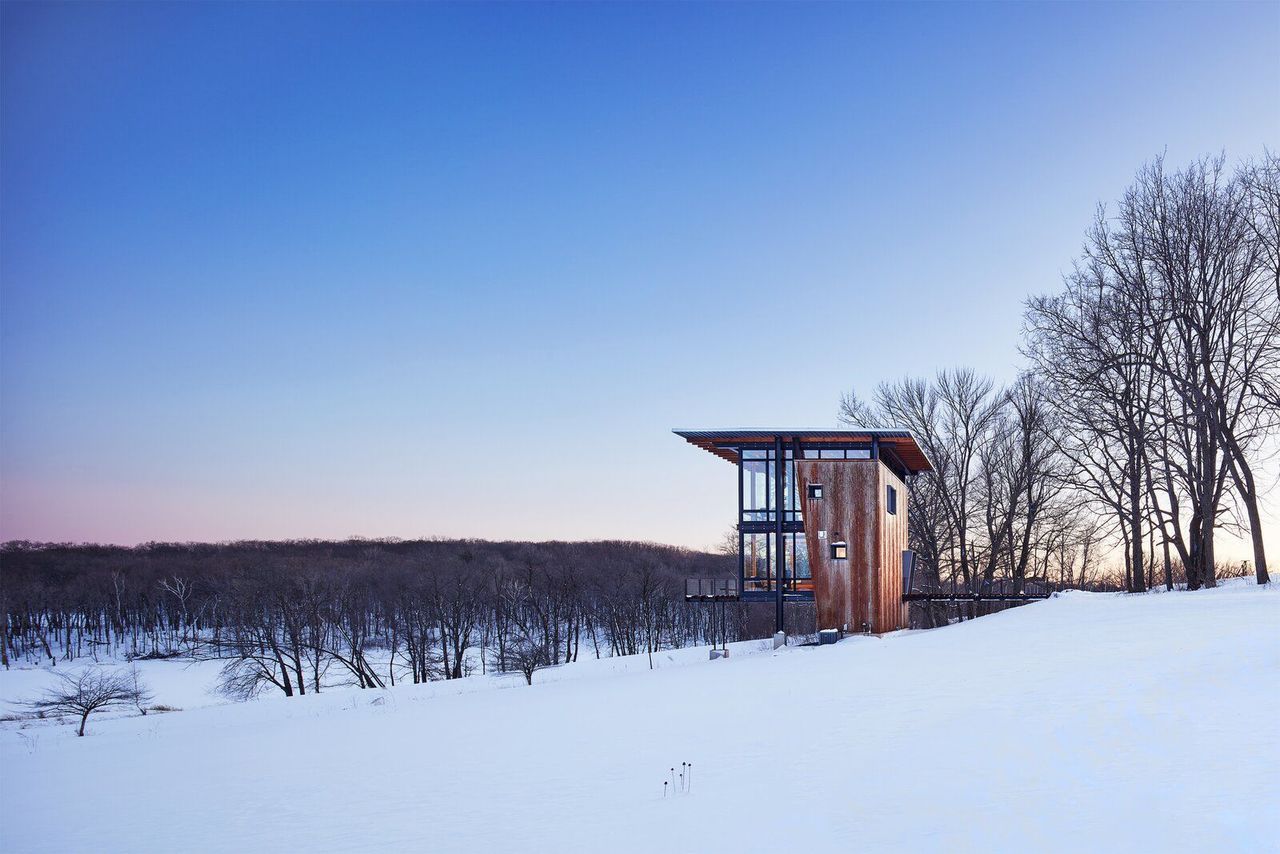 Small windows on the northwest side of Metal Lark Tower provide privacy and protection from winter winds. Once inside, panoramic views through floor-to-ceiling windows surprise and delight guests.

In the coldest months, winds rage from the northwest, so Wagner created a "steel overcoat" of sorts that wraps the exterior in corrugated, Cor-Ten steel. "It's packed with insulation and acts as a down winter jacket," Wagner says. Just below a roof with deep overhangs, a narrow clerestory ushers in daylight and extends the ceiling upward.

Inside, expansive glass trimmed in Douglas fir from Winnipeg-based window manufacturer Loewen keeps the structure weathertight. Throughout the cabin, Douglas fir appears as wall paneling, trim, and on ceiling beams, resulting in a sleek and uncomplicated palette. Wide-plank engineered flooring with a Nordic whitewashed oak finish stays warm with radiant heat.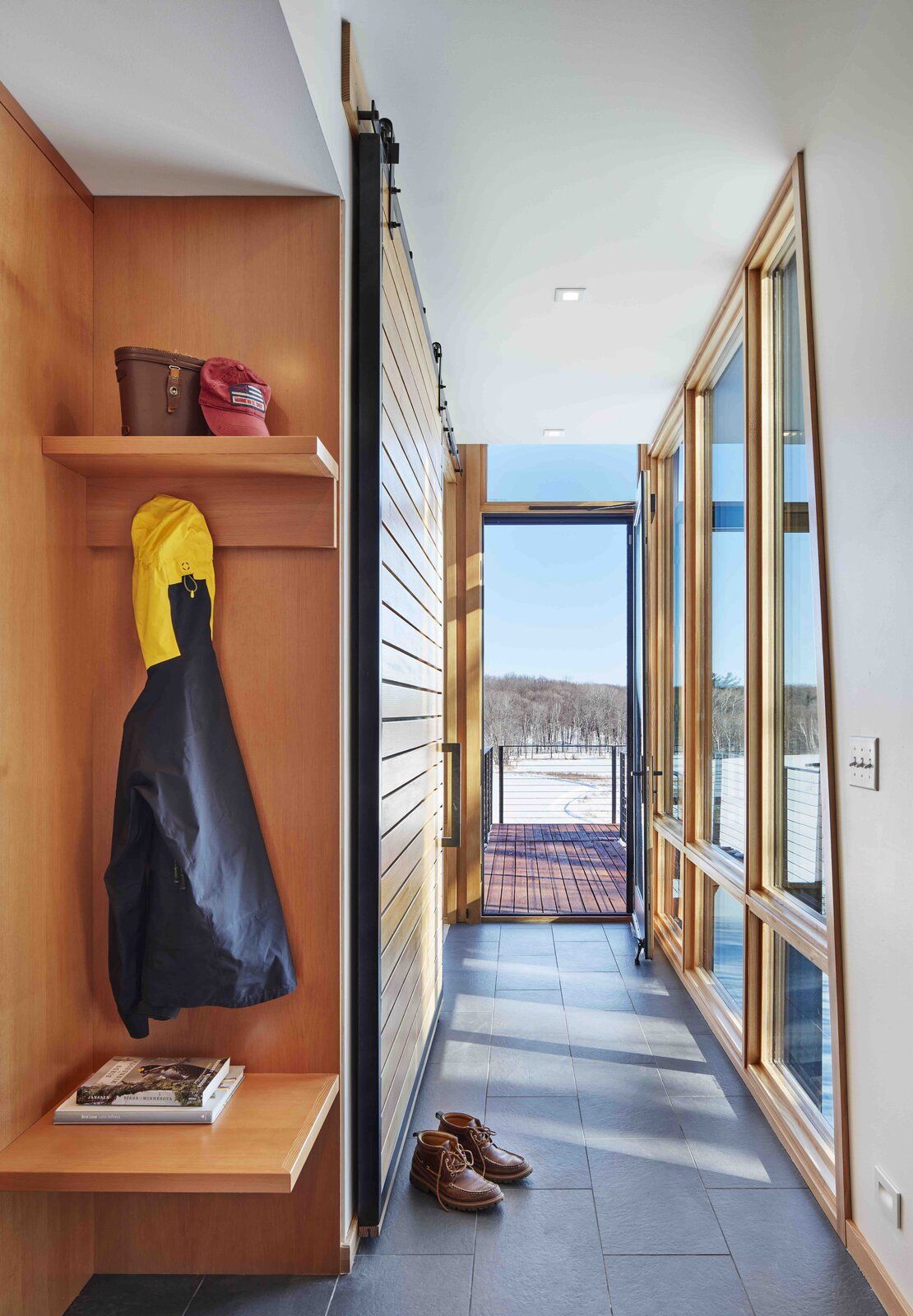 Through the front door, a niche to store belongings is constructed from Douglas fir. Hardwearing black slate floor tile offers an element of earthy charm.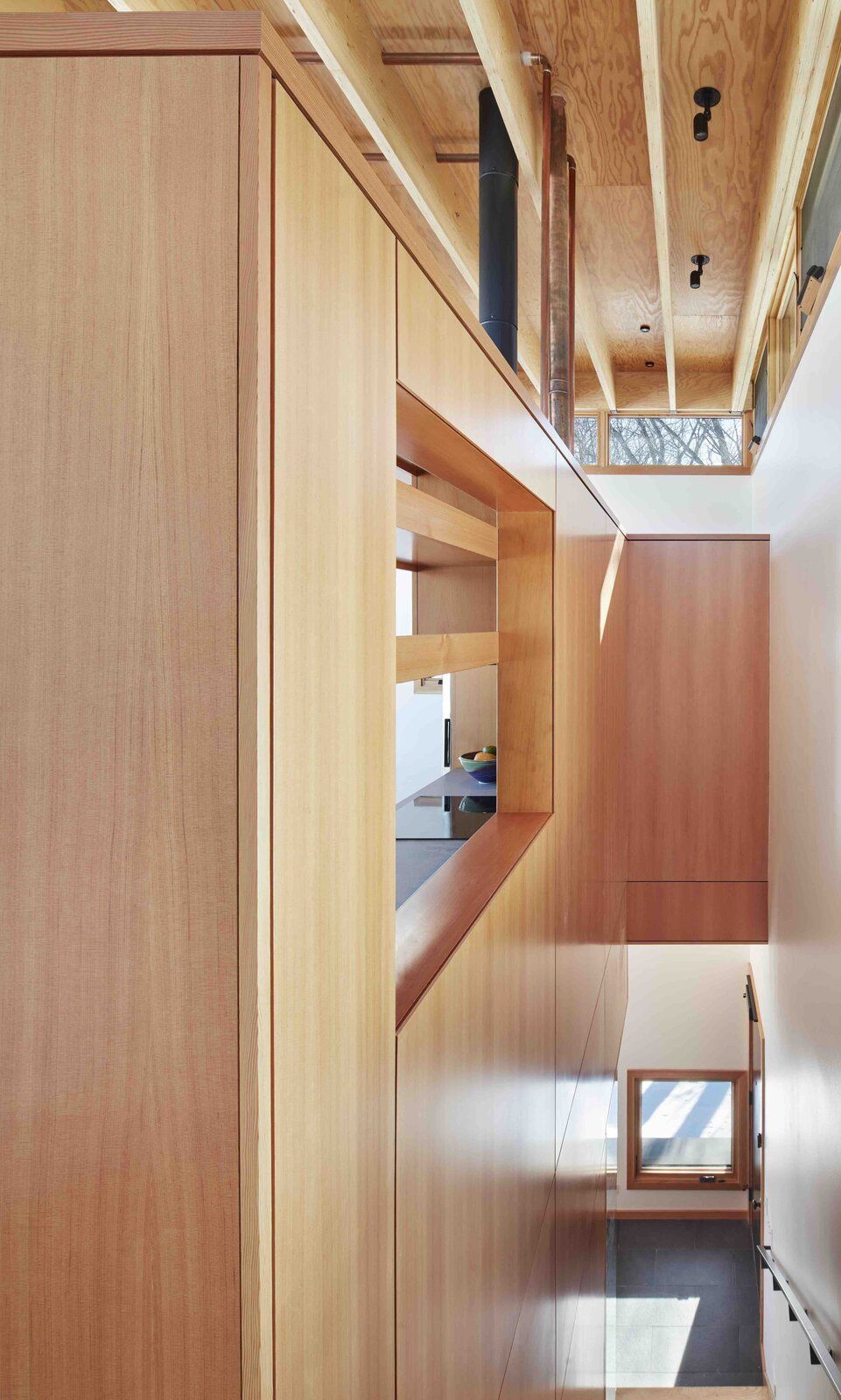 Walls are wrapped in warm wood paneling as you climb the stairs to the second floor. A thin band of clerestory windows lets in additional daylight along the ceiling. "It adds this other element instead of just being supported by the other walls," Wagner says. "It creates a hovering roofline."

Metal Lark offers guests a comfortable king bed and luxe bathroom wrapped in immersive landscape views, plus hidden Murphy bunk beds in the upstairs living space. Furnishings, primarily purchased from Minneapolis-headquartered Room & Board, add to the contemporary, Scandinavian-inspired aesthetic.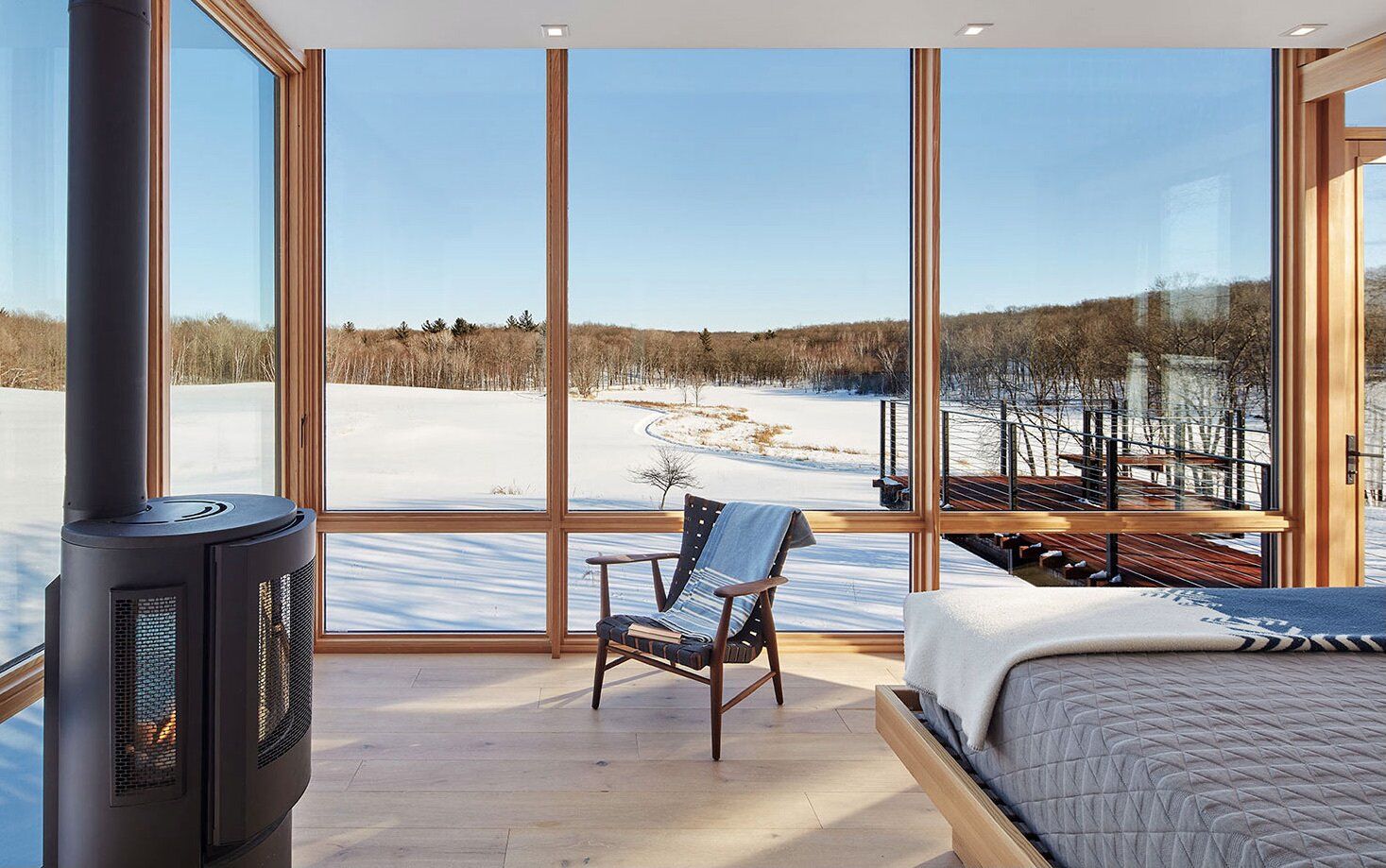 The primary bedroom is wrapped in immersive views of nature. "Watch the shadows get longer on the meadow as the sun sets," Bruce suggests. "Then the moon comes out of the southeast, so you get to see the moonrise from bed." Organic Avocado mattresses and Quince sheets and towels add a touch of nontoxic luxury.

Down the gravel road from Metal Lark lies the property's newest build, a cabin aptly named Long House, a linear two-bedroom, two-bath dwelling with rejuvenating lake views. "We stretched it out along the hillside," Wagner says. "We didn't do another tower because we wanted it to be accessible, and there were a lot of interesting views up and down the lake."

Wagner maximized the scenery with floor-to-ceiling corner windows in bedrooms and living spaces. Outside, a boardwalk leads to the satellite screen shelter primed for yoga, al fresco dining, or reading a book. "It's a nice place to have a cup of coffee. Guests can choose to use it as an open-air pavilion or bring down the insect screens," he says.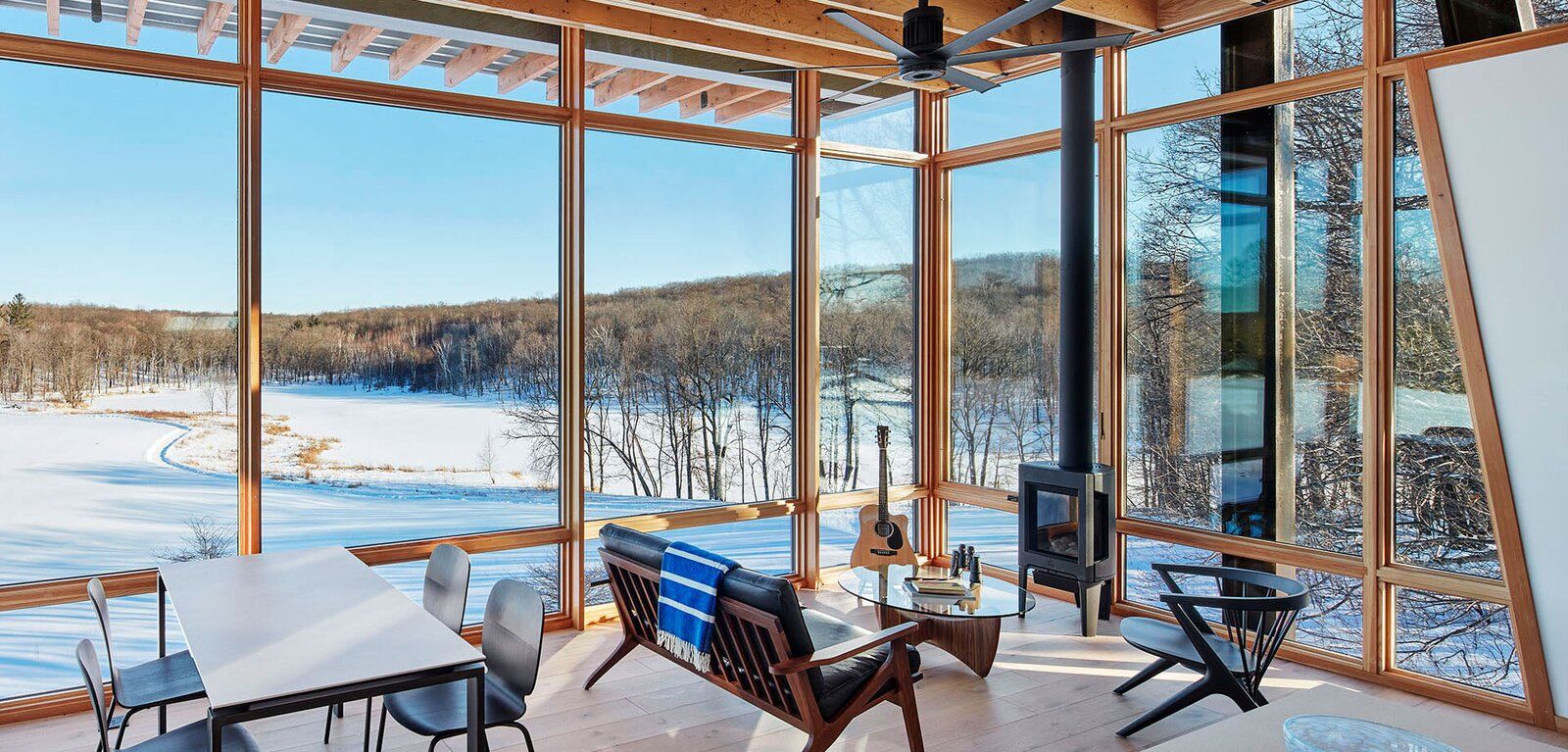 Sweeping floor-to-ceiling glass on the upper-level living space immerses Metal Lark's visitors in their natural surroundings.

As is the case in Metal Lark, Douglas fir features heavily on trim, paneling, cabinetry, and windows. "From the palette standpoint, it's very harmonious," Wagner says. "The roof and layout are different-it's intended to be a different experience. The location is what largely supports that, as it's 50 feet from the lakeshore."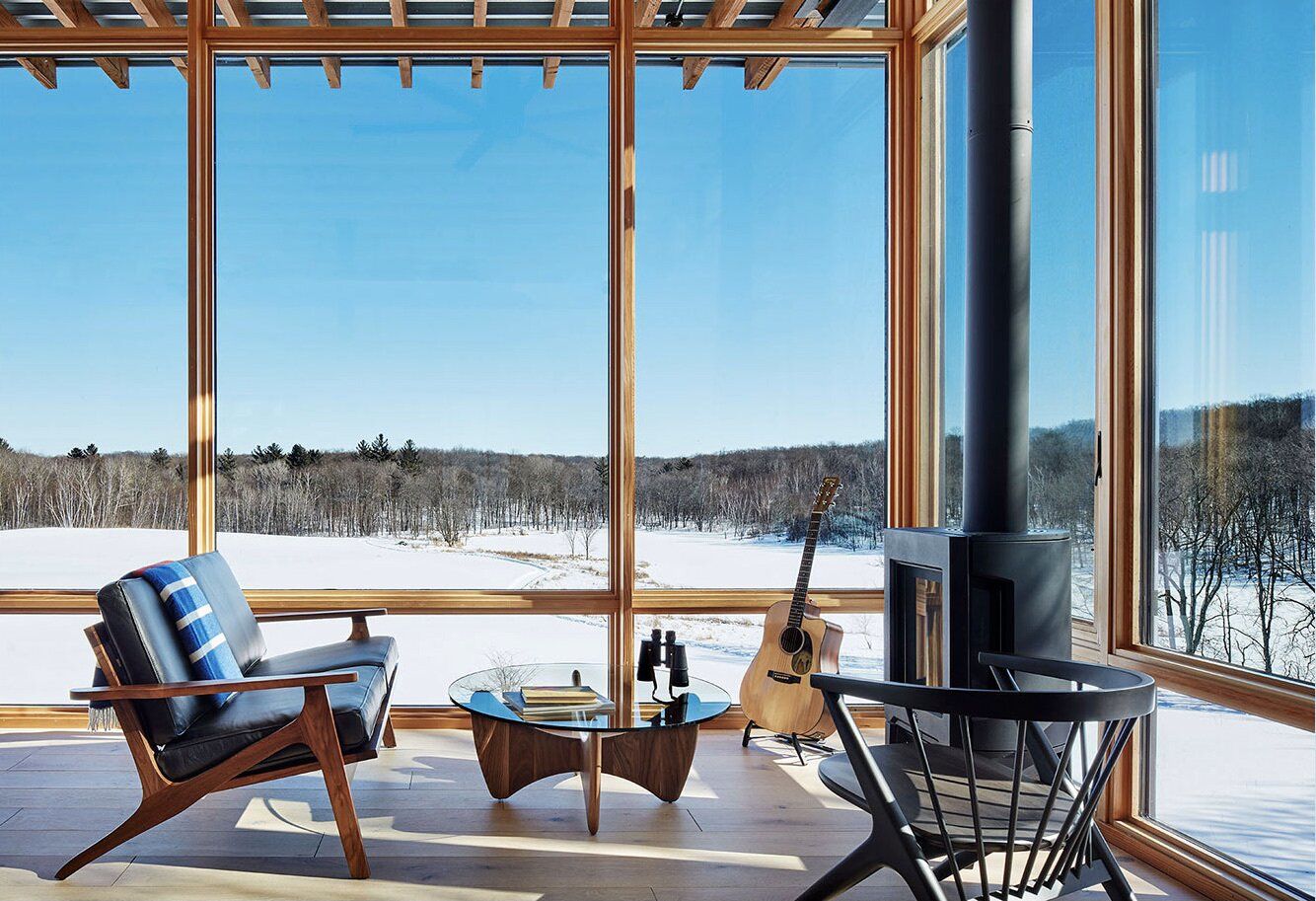 Gas stoves from Norwegian retailer Jotul add a cozy ambiance and a dose of Scandinavian style. Modern furnishings from Room & Board sit comfortably low to the ground, leaving views uncompromised.

Nordlys, pronounced nord-lüs, is Danish and Norwegian for the Aurora Borealis, or Northern Lights. "Given our northern location and our family's Scandinavian heritage, the name suits us well," say the McPheeters, who have realized their goal of offering an unparalleled experience of architecture augmenting nature.

Ecological efforts, such as restoring 25-30 acres of wildflower meadows and installing high-tech solar panels, help support the vision. Should you need to charge your electric car for the trip home, a 240-volt electric charging station is available, too. "You can almost have a net-zero vacation if you're from Minneapolis, driving up here with the right car," Jeff says.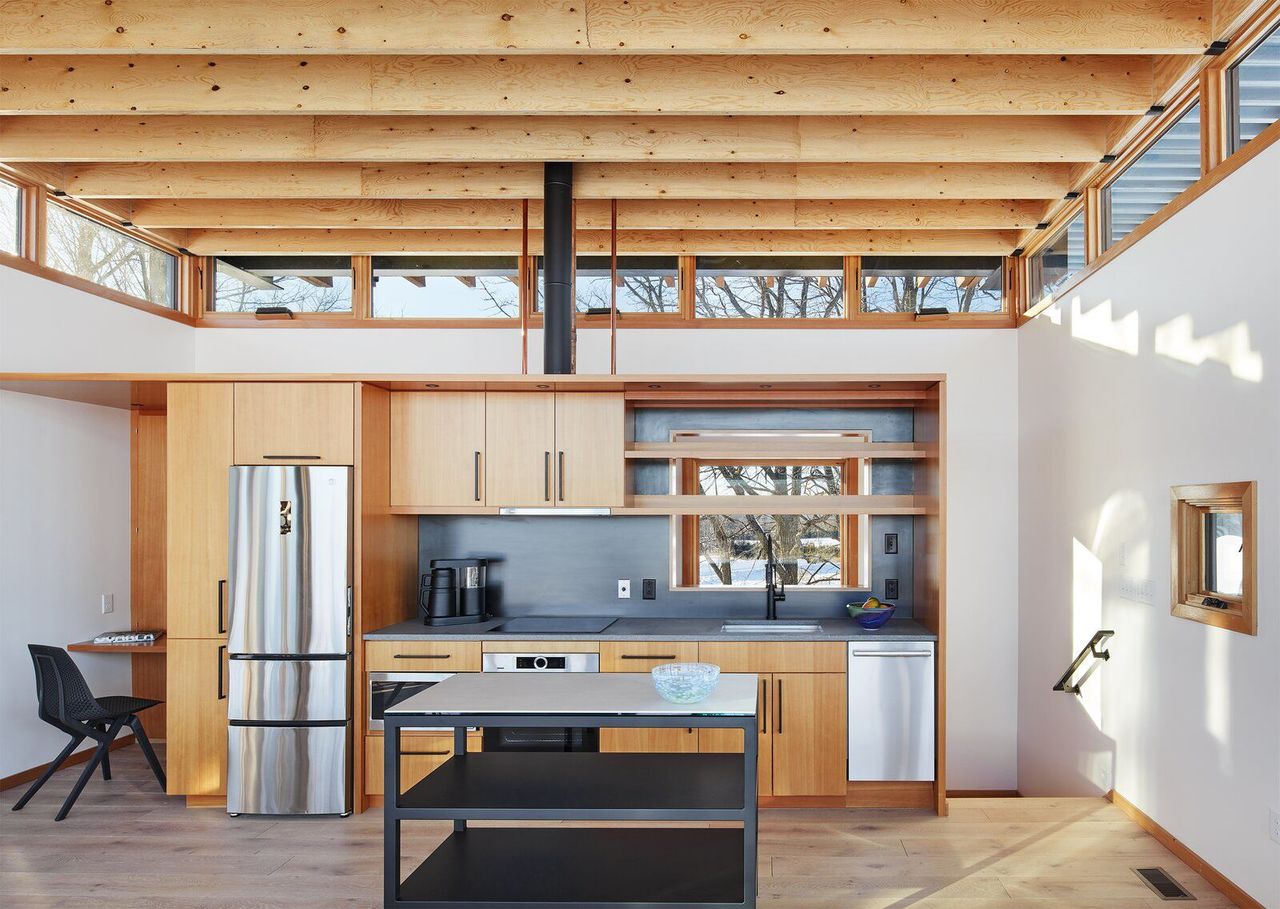 Concrete-inspired Caesarstone counters offer an impervious worktop in Metal Lark's chef-grade kitchen. Behind the desk on the left, pull-down Murphy bunk beds provide capacity for two additional guests. The McPheeter hospitality team (which includes Jeff's mother, Anne, as an unofficial head of housekeeping and thoughtfulness) makes the experience uniquely personal by sourcing locally made products and luxe design details. Enjoy your Ratio coffee maker, grounds from Northern Coffeeworks in Minneapolis, Twin Cities–crafted muesli from Seven Sundays, and local Beez Kneez honey. "The honey is from hives across the street," Jeff says. "There is an organic vegetable farm across the street, and they have hives. It's fun to say the pollen potentially came from the fields you can see from the kitchen window-they're within the bee's pollen collection territory."

To fully experience the property, traverse the hiking trails, light a bonfire, or man a paddleboat on the lake. Guests have many ways to spend their time away, though all activities are silent and promote peace and reflection, Bruce says: "This winter, we'll have snow shoes so guests can go for a walk through the woods. We hope to have a nordic ski trail, too. The goal is quiet sports. The quiet lets you really hear the birds and wildlife."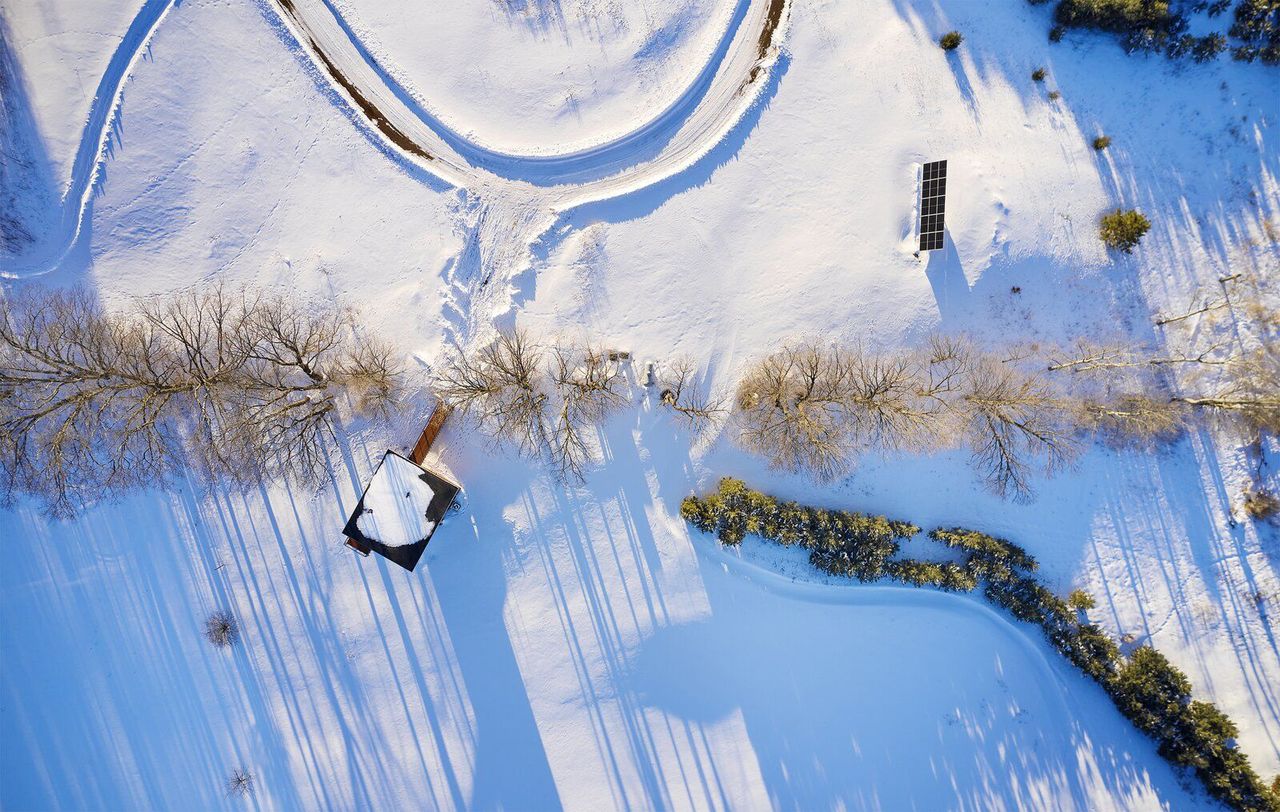 A birds-eye view of Metal Lark after a fresh snow. The building's solar panel sits just behind the cabin along the gravel entry road. Deciduous trees separate parking and dwelling space. "They're more than just buildings," says Wagner of the two cabins. "In some ways, it's less about the buildings than it is about the place."

Driving home, Wagner hopes visitors feel a renewed appreciation for the outdoors. "Hopefully what people take away from this is a connection to the landscape, to nature, to the world around them, and the experiences that it can provide," Wagner says. "A sense of truly being surrounded-to have this experience of being immersed in a way that few people get the opportunity to."