Elizabeth II's health is a big talking point right now, not just because she is elderly but also because Buckingham Palace is releasing so little information about it.
So we thought we'd spend this week's edition answering your biggest questions and concerns.


Yes, she is still recovering from Covid-19.

Last Sunday, the palace announced the 95-year old monarch had tested positive for Covid that same day and was experiencing "mild, cold-like symptoms." It confirmed she was receiving "medical attention" and a royal source added that there had been an outbreak of the virus among Her Majesty's team at Windsor.

It was made clear though that she was not out of action, as the statement added that she "expects to continue light duties at Windsor over the coming week."


What are "light duties?"

This is a relatively new term that we are still getting used to, but our sense is that it means paperwork. Mentioning it reassures us that she is still well enough to work on the most important matters of state, such as signing off on new laws.

She also found time to send a letter of congratulations to the British Olympic team in the week and offer condolences to the people of Brazil following the devastating floods in Petrópolis.

The Queen during her last in-person engagement, days before she tested positive for coronavirus
But didn't she have to cancel her meetings?

She canceled her weekly in-person audience with the Prime Minister on Wednesday but that's because it would have broken Covid regulations at the time, which still required her to isolate. The Queen had a call with Boris Johnson instead.

On Tuesday, she postponed an unspecified number of video calls as she continued to experience symptoms and a source told CNN that they would decide on upcoming engagements nearer the time. She also canceled her video calls Thursday but we are told they are being rescheduled.


Why can't she do video calls?

It may simply be because she doesn't want to appear on camera when she feels unwell, but it also meant we weren't able to see her for ourselves for the whole week.


Why is the palace being so secretive?

It wouldn't accept that it is being secretive. Aides agree the public has a right to updates on their head of state but they also refuse to give a "running commentary" on her medical condition. That's because they believe the family has the same right to patient confidentiality that the rest of us have.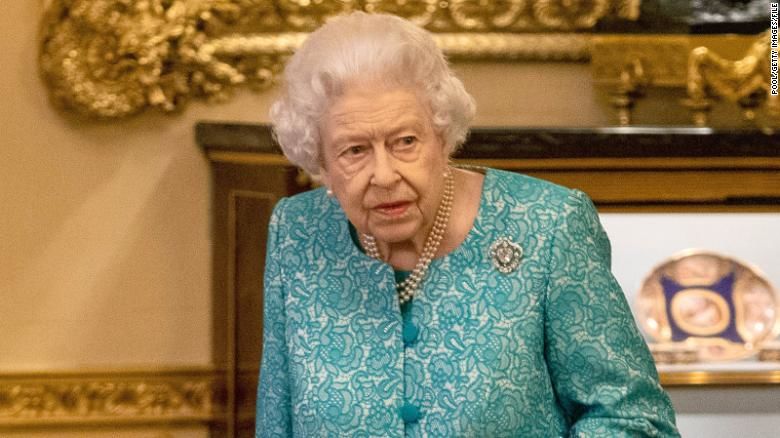 The Queen at a reception in Windsor in 2021
Would they tell us if it got serious?

Well, the palace didn't tell us when she was admitted to hospital last year until it was leaked to the media and even then, it wouldn't specify what she was admitted for.

Our reading of that incident was that if there had been a procedure of some sort then we would have been informed as that was the general rule courtiers had for updates on Prince Philip's hospital visits.

If it got really serious and the Queen became incapacitated temporarily, we suspect we won't be told anything until the family and the Prime Minister were informed and a formal announcement is made about who will be acting on her behalf.


Is Covid her only health issue?

No. She also has some sort of mobility issue. At her last in-person audience with senior members of the military, she joked with them that she couldn't move.

CNN was told that was probably more to do with feeling stiff rather than an injury or other ailment. It would be more surprising if she didn't feel creaky sometimes given that she's approaching her 96th birthday in April. This week can't have been comfortable for her when she couldn't move around properly and felt like she had a cold. At least she's out of isolation now, or we assume so as the isolation rules were scrapped in England on Thursday.

All this is a reminder that Elizabeth isn't superhuman, and instances like this prompt the public to worry. The palace is constantly trying to balance the public's right to updates on a publicly-funded monarch with her desire for some privacy.

In reality, the public will always want to know more but it's that mystique that keeps us captivated by royalty, and it's why we eagerly await pictures of her return to work and again keeping the country ticking over. History teaches us she won't be held back for long.


DON'T MISS
Kate wows crowds in Denmark.

Catherine, the Duchess of Cambridge, received the warmest of welcomes from the Danish Royal family in Copenhagen this week as she made her inaugural overseas trip with her organization, The Royal Foundation Center for Early Childhood. Kate was received to Denmark by Queen Margrethe II, who recently marked her 50th year on the throne.

The duchess spent her two-day trip learning about the country's approach to childhood development, visiting the LEGO Foundation Playlab at the University College Copenhagen. She appeared in her element and even shot down a children's slide (in heels!).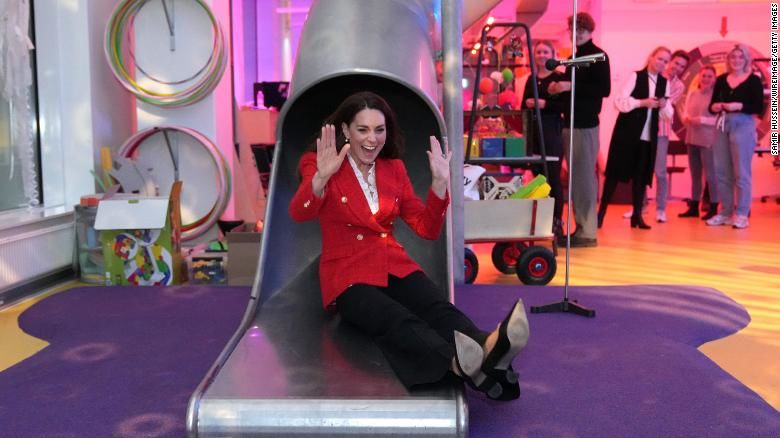 The Duchess of Cambridge uses a slide during a visit to the LEGO Foundation PlayLab on February 22 in Copenhagen, Denmark.

Kate then visited the Copenhagen Infant Mental Health Project, and later the Stenurten Forest Kindergarten, where she learned about how the power of nature can be harnessed to support early years learning. There she was seen laughing and playing with the children.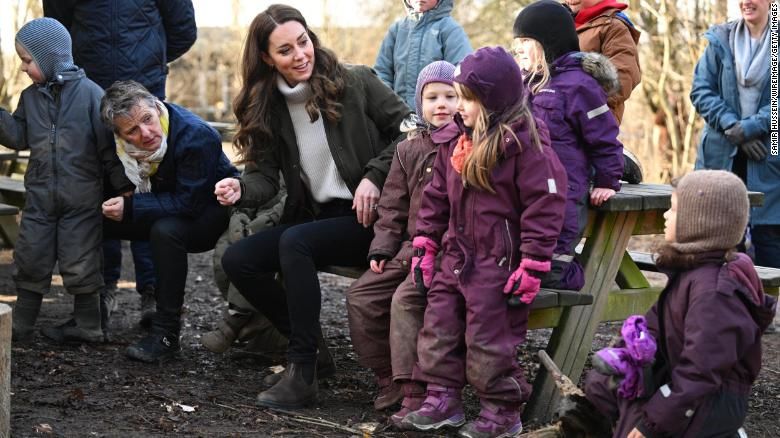 Kate was in Denmark on a two-day visit with her royal foundation.

The duchess also joined Crown Princess Mary of Denmark on a visit to the Danner Crisis Center, a project supported by the Danish royal that aims to protect vulnerable women and children from domestic violence. The pair were photographed smiling and embracing on the trip, to the delight of royal watchers who gushed on social media over the future Queens working together.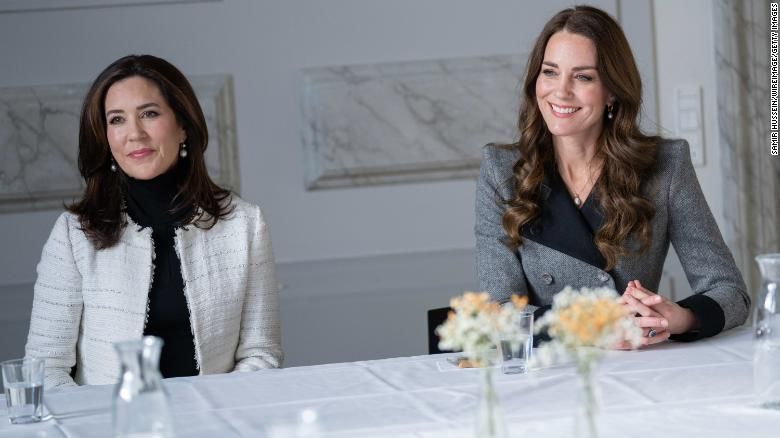 The Duchess of Cambridge and Crown Princess of Denmark on Wednesday
WHAT ELSE IS HAPPENING
Tension brewing in Cambridge household?

William and Catherine are going head-to-head this weekend as England takes on Wales in the rugby Six Nations Championship Saturday. The duke is royal patron of the Welsh Rugby Union while Kate recently became the patron of England Rugby. The couple -- who have often revealed their competitive nature at sporting engagements -- are set to attend the game at London's Twickenham Stadium.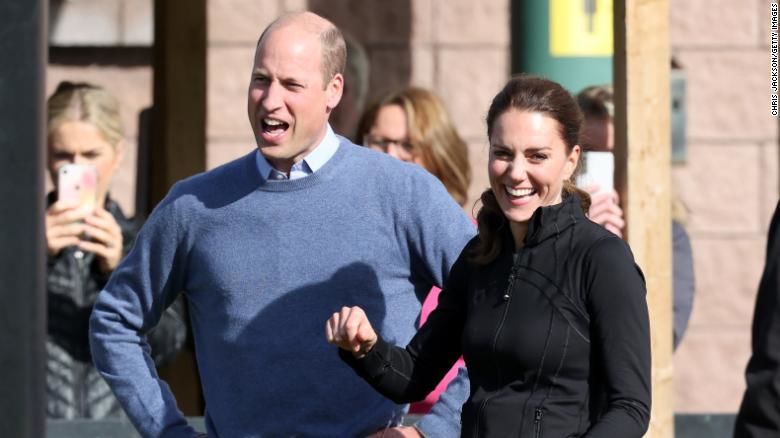 William and Kate share a laugh during a 2021 engagement.
Prince Harry's latest lawsuit.

The Duke of Sussex has launched a new legal battle against a UK publisher. Prince Harry filed a complaint against Associated Newspapers Limited (ANL) -- the publisher of titles including The Daily Mail and Mail on Sunday, a spokesperson for the duke told us this week. Harry's spokesperson did not share any further details on which newspaper is facing litigation or why. CNN has reached out to DMG Media, ANL's parent company, for comment. Prince Harry labeled the British tabloid landscape as "toxic" last year in an interview with "The Late Late Show" host James Cordon. The fresh lawsuit comes months after
Meghan, Duchess of Sussex won her own legal battle with ANL over the publication of a letter she wrote to her estranged father in 2018.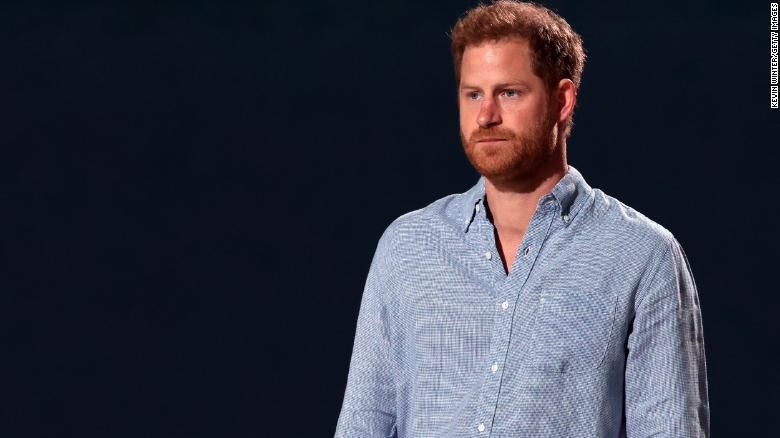 Prince Harry speaks onstage during Global Citizen VAX LIVE: The Concert To Reunite The World at SoFi Stadium in Inglewood, California. The concert was broadcast on May 8, 2021
Earl of Wessex takes over father's role.

Prince Edward has taken over his late father's role as president of the Royal Windsor Horse Show. The Duke of Edinburgh had been a "hands on" president of the event, which has taken place on the private grounds of Windsor Castle since 1991. Philip was a keen horseman and competed in International Carriage Driving competitions for 35 years. Edward said his father had been "instrumental" in developing the equestrian festival into one of the most prestigious horse shows in the world. The earl and his wife Sophie, Countess of Wessex, have long been involved with the event, most recently as Royal Vice Presidents, according to a press release from organizers. The show is set to put on a jubilee-themed extravaganza in May.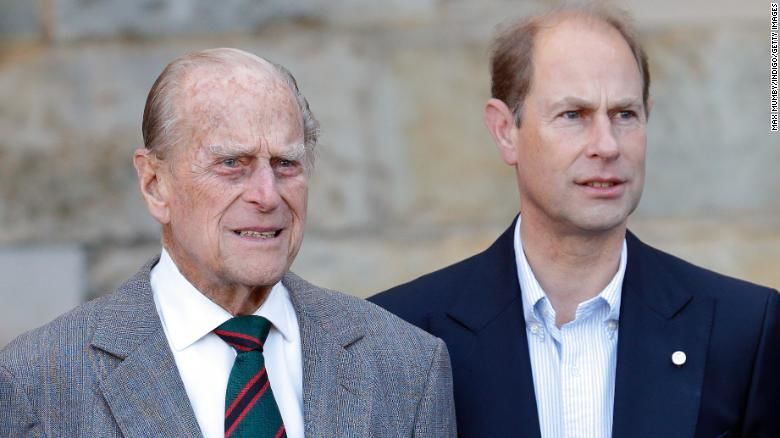 Prince Edward with his father, Prince Philip, in Edinburgh, Scotland in 2016
ROYAL TEA BREAK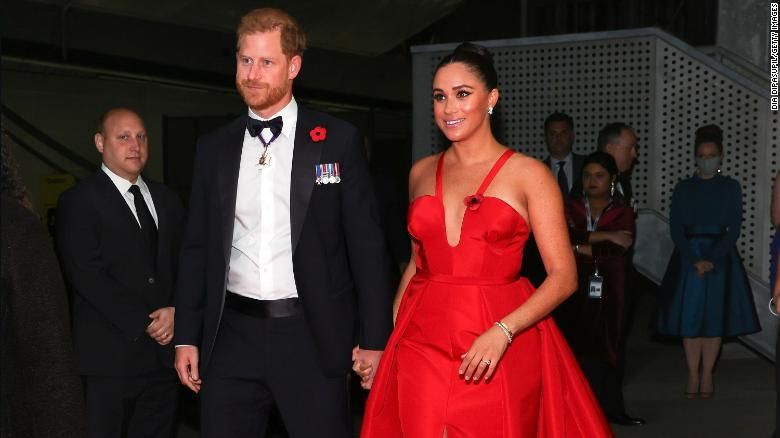 The Sussexes attend the 2021 Salute To Freedom Gala at Intrepid Sea-Air-Space Museum on in New York City on November 10, 2021.

The Duke and Duchess of Sussex will be awarded with the prestigious NAACP President's Award in recognition of their humanitarian work and commitment to equality and social justice this weekend. The couple will be presented with the accolade at the 53rd NAACP Image Awards, which will air live at 8 p.m. ET on BET, on Saturday. The NAACP are honoring Harry and Meghan for their "distinguished public service" and for having "heeded the call to social justice" in the United States and around the world, according to a NAACP press release. Previous winners include Rihanna, Muhammad Ali, Lauryn Hill, Condoleezza Rice and LeBron James.

The pair have also announced a new award in collaboration with NAACP in an effort to continue supporting and recognizing future generations of civil rights leaders. Author and scholar Safiya Noble -- who explores how digital technologies intersect with culture, race and gender -- will be awarded the inaugural NAACP-Archewell Digital Civil Rights Award.

Harry and Meghan said it was a "true honor" to be acknowledged by the President's Award, the press release added. They said the work of the NAACP to ensure racial justice and protect civil rights was "vital."


IN THE ROYAL DIARY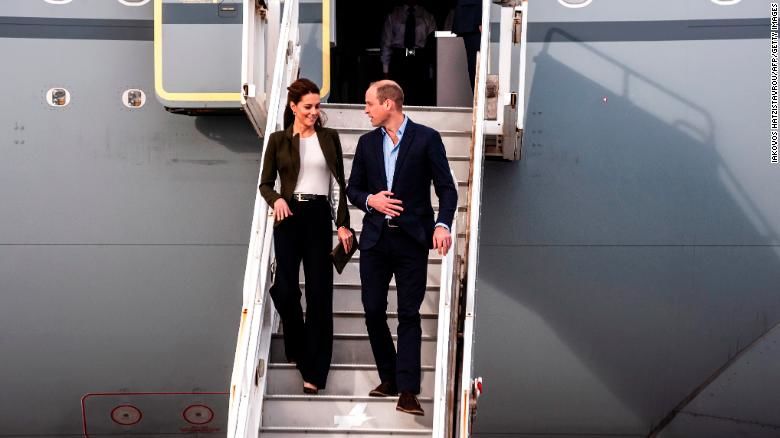 The Cambridges arrive at RAF Akrotiri, southwest of the coastal southern Cypriot city of Limassol on December 5, 2018, during a visit honoring military personnel serving overseas during the Christmas period.

Several members of the royal family will embark on overseas tours in spring to mark the Queen's Platinum Jubilee, when Elizabeth II celebrates the milestone of 70 years on the British throne.

The Cambridges will kick things off with the first tour next month, with the couple heading to the Caribbean, where they will visit Belize, Jamaica and the Bahamas between March 19 and 26. Prince Charles and wife Camilla will head to the Republic of Ireland for a two-day visit on March 23. Princess Anne will visit Papua New Guinea in mid-April. And finally, the Queen's youngest son, Prince Edward, and his wife Sophie will round out the month, on a multi-stop tour that will take in Antigua and Barbuda, Grenada, St. Lucia, and St. Vincent and the Grenadines from April 22.

In a post on their joint Instagram story, the Cambridges shared their excitement over their upcoming Caribbean tour. "We can't wait to meet people in all three countries, celebrate local cultures and understand more about innovative work being done across communities," the pair wrote before signing off the message "W&C."


DID YOU KNOW?
William's secret trip to MI6 HQ.

Speaking of the Duke of Cambridge ... while his wife was in Denmark, he made an unannounced visit to the Secret Intelligence Service in London on Wednesday. The agency is perhaps better known as MI6 -- thanks to James Bond -- and specializes in foreign intelligence. Media outlets learned of the visit after it featured in the Court Circular, which is the official record of royal engagements. In 2019, the duke completed a three-week attachment with the UK's Security and Intelligence Agencies, observing firsthand the country's fight against terrorism.


PHOTO OF THE WEEK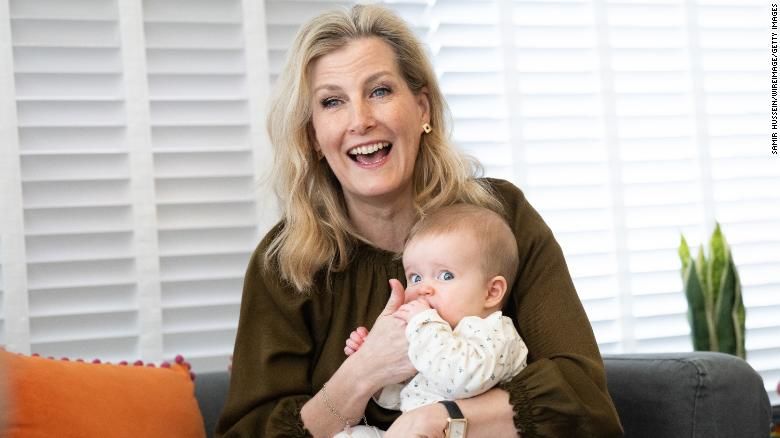 Sophie, Countess of Wessex met new mothers and their babies as she opened the new Jigsaw Hub at The Lighthouse community center in Woking, England on February 24. The center hosts a range of projects aiming to support, encourage and empower marginalized and vulnerable members of society through training and providing care packages and food.
"We stand with the people of Ukraine."
Harry and Meghan issued a statement in support of the European country after it was invaded by Russian forces Thursday.


The pair called Russian President Vladimir Putin's actions a "breach of international and humanitarian law" and called on the global community to do the same.