From childhood sweetheart to one-half of sport's couple of the moment — this is Mrs Messi
Last night, football star Lionel Messi became a legend after securing Argentina its first World Cup victory since 1986.

During the tense final against France, his childhood sweetheart, Antonela Roccuzzo, could be seen cheering him on from the sidelines, and erupted into celebration after the team won 4-2 on penalties.

"CHAMPIONS! I don't even know how to start.. pride greater that we feel for you @leomessi thank you for teaching us to never give up, you have to fight to the end." She later posted to Instagram. "We know what you suffered so many years, what you wanted to get!!! Let's go Argentina."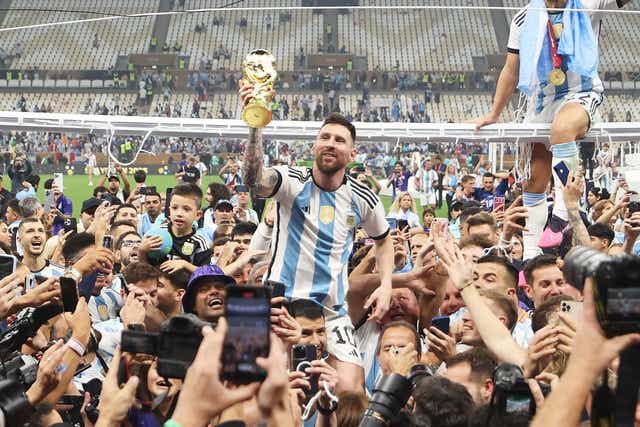 Lionel Messi celebrates with teammates while holding aloft the FIFA World Cup Qatar 2022 Winner's Trophy
The 34-year-old has been by her husband's side for every one of his major triumphs, including his seven Ballon d'Or wins, 2009 FIFA World Player of the Year, and four UEFA Champions League titles. That's despite Messi conceding that Antonella "gets bored of football", in a 2013 interview with Italian newspaper Corriere della Sera, proving her utmost loyalty to the athlete.
But really, it's no surprise, the pair have been inseparable since they were teenagers and, although they are extremely private, Messi has gushed to FC Barcelona about how his wife "has lots of great qualities".
"I really admire how she deals with the day to day, she is always in a good mood and she approaches problems admirably. She is highly intelligent and well rounded in all aspects of life."
This is the story of how the former dentistry graduate won Messi's heart and became a social-media star in her own right.
"She is highly intelligent and well rounded in all aspects of life"
How tragedy brought the two childhood sweethearts together

Roccuzzo was born in Rosario and first met Messi via her cousin, Lucas Scaglia, when they were only five years old. The former midfielder used to train with Messi and it was at the training ground where the two future lovebirds fell for each other.

According to trainer Enrique Dominguez, the young footballer would loiter around the training centre, until his friend would invite him around for dinner, in the hope of spending more time with Roccuzzo. While Scagilia's father said Messi "could not look away from her for a second".

In fact, in 2019, local newspaper La Capital uncovered a photo of the two hanging out in a holiday resort in Punta Mogotes when Roccuzzo was only nine years old. At the time, Messi was playing in a youth football tournament in the nearby city of Balcarce, and Roccuzzo had come along to support her cousin who was also playing.

The young lovebirds

Unfortunately, things became complicated when Messi moved to Barcelona to train when he was only 13. "Imagine moving with your family to a new continent at age 13, with everyone's future riding on you. It was a complicated time," Messi recalled during an interview with Sports Illustrated.

"On the one hand, it was spectacular to come play at Barcelona. On the other, leaving everything behind in Rosario was tough: my friends, the rest of my family, my childhood, arriving in a country where I had nothing. I started practically from zero."

However, he didn't have any choice. Messi had been diagnosed with a growth-deficiency disorder as a child, which meant he had to inject himself with growth hormones in his leg each night — his family were struggling to afford it and Barcelona paid for the treatment.

Still, the two stayed in contact, with Messi returning regularly to see Roccuzzo. But, in 2005, disaster struck when Roccuzzo's best friend, Ursula Notz, passed away in a car accident. Upon hearing the devastating news, Messi dropped everything and flew to Rosario to support the grieving university student, which is when they reportedly began officially dating. However, they kept their relationship private until 2008 as Roccuzzo, then 18, didn't want to be the archetypal WAG.

From studying dentistry to finally taking their relationship public

Instead, Roccuzzo attended the National University of Rosario, where she studied dentistry before switching to social communication. However, Messi couldn't keep his excitement at finally landing his dream woman after so many years.

During a January 2009 interview with the football chatshow Hat Trick Barca, on the Catalan channel TV3, Messi replied to a question asking if he was in a relationship: "Yes, I have a girlfriend. She is in Argentina. The truth is that I am well and I am relaxed."

With the cat out of the bag, the duo had their public debut a month later during a carnival in Sitges. Then, less than a year later, Roccuzzo made the decision to cut her career short and move to Barcelona to support her beau.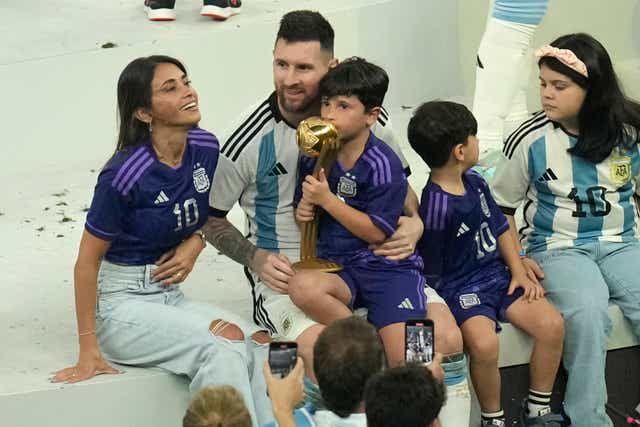 Lionel Messi sits with his wife and two of his sons after the final

By 2012, the couple welcomed their first son, Thiago. "You grow and you learn," Messi told FC Barcelona about being a father. "You gather experience in all aspects of life, on and off the field. But, as a human being, having three children changed my perspective on life, my way of thinking and it also helped me grow."

He added, "Even though there are few moments of respite at home with three kids, we try to enjoy every second with them, whether it is watching the TV, playing, or whatever. We like to stay at home and enjoy these moments."

Their second son, Mateo, was born in 2015, and their third son, Ciro, was born in 2018.

Hosting the "wedding of the century"

On June 30, 2017, the pair wed in their home town of Rosario, in Argentina. For the event, they took over the extravagant City Centre Hotel and Casino, complete with an additional 450 police officers, who were overseen by a former military sergeant for added security. An understandable preparation, especially considering their guestlist included Premier League stars Cesc Fabregas and Sergio Aguero, as well as Barcelona legends Xavi Hernandez, Carles Puyol, and Samuel Eto'o (plus global pop star Shakira).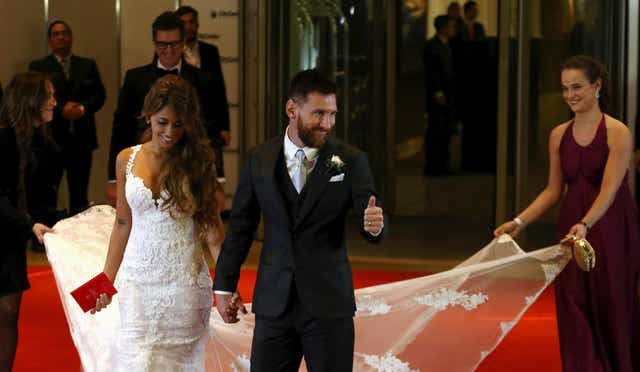 Lionel Messi and his wife, Antonela, on their wedding day

The bride wore a custom Rosa Clará gown that was flown in from Spain on a private jet and took more than 200 hours to make. But as the designer herself said: "Dressing Antonella for her wedding to Leo Messi is a real honour, and a real responsibility. Being asked to create a gown for an occasion as special and unique as her wedding day is a source of enormous pride for our company."

The mermaid-style gown, which featured a deep sweetheart neckline, delicate French lace straps, and a heart-shaped back, was complemented by Messi's suave Dolce and Gabbana suit.

As for the 250 guests, who had their phones banned during the nuptials, they were treated to a sushi station, empanadas (traditional pasties), and a casserole of sweetbreads and blood sausage. All the leftover food was donated to the Rosario food bank.

Social media, pet dogs, and Ed Sheeran

Although Messi is making £94 million over three years playing for Paris Saint-Germain, Roccuzzo makes her own money as a model-influencer with more than 25 million followers.

The couple on their private jet en route to Paris last year

Back in November 2016, Rocuzzo announced that she had signed a modelling contract with Argentine fashion label Ricky Sarkany and, a year later, she opened a Barcelona outpost for the brand alongside her good friend, Sofia Balbi. She has also worked with the likes of Stella McCartney, Adidas, and Alo Yoga.

These days, she spends her time between their multiple houses, including a £10 million mansion just outside Barcelona, as well as ones in Ibiza, Miami, and their home town of Rosario in Argentina. There they have a house complete with 25 rooms called The Fortress, which they plan to live in once Messi retires.

As well as being a known dog lover, Roccuzzo is also a huge fan of British singer Ed Sheeran. So much so that Messi poked fun at having met the musician before her. Under a photo of the football star and the Grammy Award winner that Messi posted on Instagram, Roccuzzo's friend Balbi commented: "Someone I know loves this photo," to which Messi replied, "She missed out on the photo but he said hello."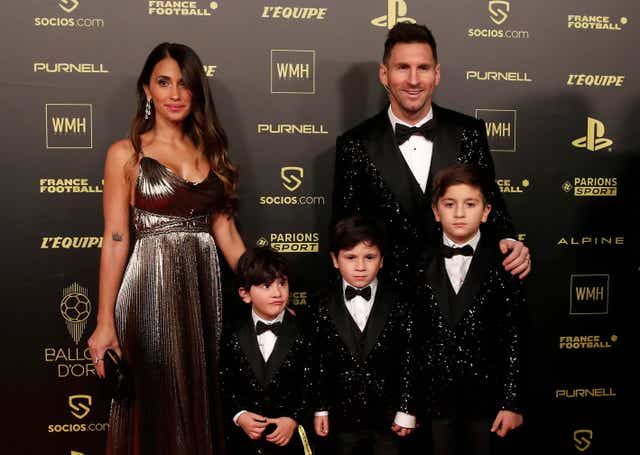 At the Ballon d'Or Awards in Paris with the family in 2021

It appears the feeling was mutual. During an interview with a journalist who is close friends with Roccuzzo, Sheeran passed along this message: "I was so sorry not to meet you in Paris but I'm going to be in the Stade de France playing next summer if you want to come," he said, while holding a copy of his new album, Equals. "Anytime you want to come to a show feel free and I'll see you there. And I've got a vinyl for you too. Lots of love.