Two of Banksy's most recognisable artworks have sold for a combined total of more than £7m at auction.
Vandalised Oils (Choppers), described by auction house Sotheby's as having an "anti-war" message, went for almost £4.4m, above the initial estimate of between £2.5m and 3.5m.

Girl With Balloon fetched £2.8m, after being priced at £2m to £3m.

Both pieces were sold by the London auctioneers having belonged to singer Robbie Williams.

Vandalised Oil (Choppers), showing two low-flying military helicopters, recalls the 1979 film about the Vietnam war, Apocalypse Now, when US attack helicopters strafe enemy positions to Richard Wagner's Ride of the Valkyries.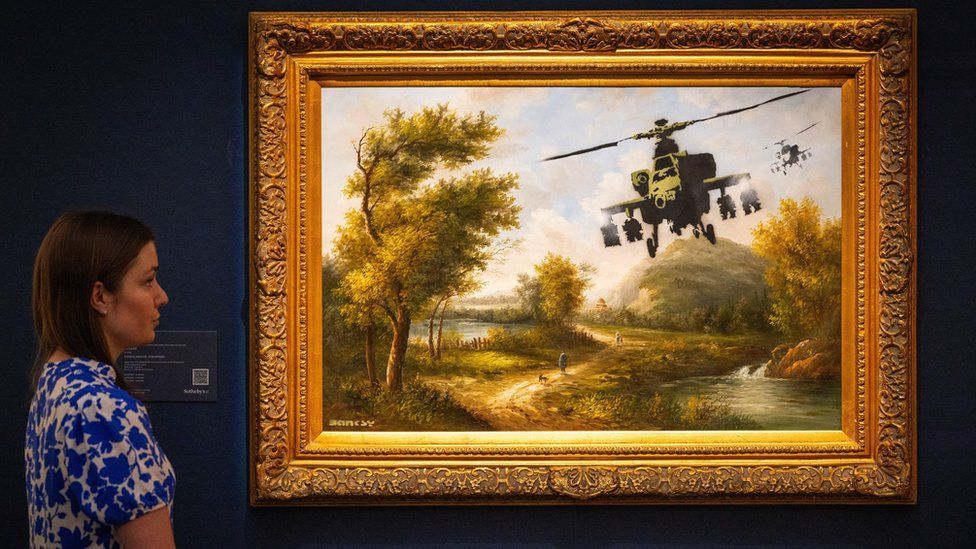 Vandalised Oil (Choppers) sold for almost £4.4m

In its catalogue note, Sotheby's said it also reflected Banksy's opposition to the second Iraq war, when he handed out stencilled placards at London protests in 2003.

Girl with Balloon, in spraypaint on metal, was acquired by Williams directly from the graffiti artist in 2006.

The picture is one of his most famous images showing a young girl holding her hand out towards a red heart-shaped balloon.

A different version of the same work was automatically shredded after it sold at auction in 2018.
Both works had belonged to singer Robbie Williams