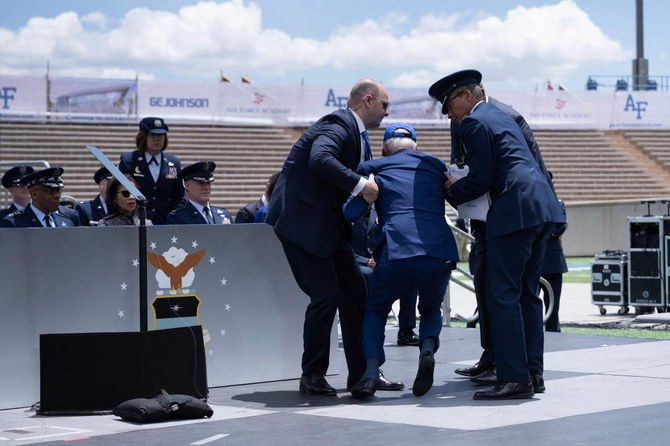 President Biden Takes a Tumble at Air Force Academy Commencement
In a minor mishap during the Air Force Academy's commencement ceremony, President Joe Biden took a fall on stage after tripping over an obstacle.
However, he appeared unhurt and was helped back up by Air Force personnel.

The incident occurred as Biden was shaking hands with a cadet and walking back to his seat.

It is not clear what caused the fall, but a small black sandbag on the stage appeared to have caught his foot.

Biden, who is 80 years old and seeking re-election in 2024, has been declared physically fit by his doctor, who conducted a routine examination earlier this year.

Biden is known for his active lifestyle and regularly engages in exercise.

In November 2020, shortly after he won the presidential election, Biden broke his foot while playing with his granddaughter's dog.

Despite the injury, Biden continued with his campaign and was inaugurated as President in January 2021.

Biden's fall on stage on Thursday has been described as a minor mishap and there is no indication that it will have any impact on his political career or his ability to perform his duties as President.