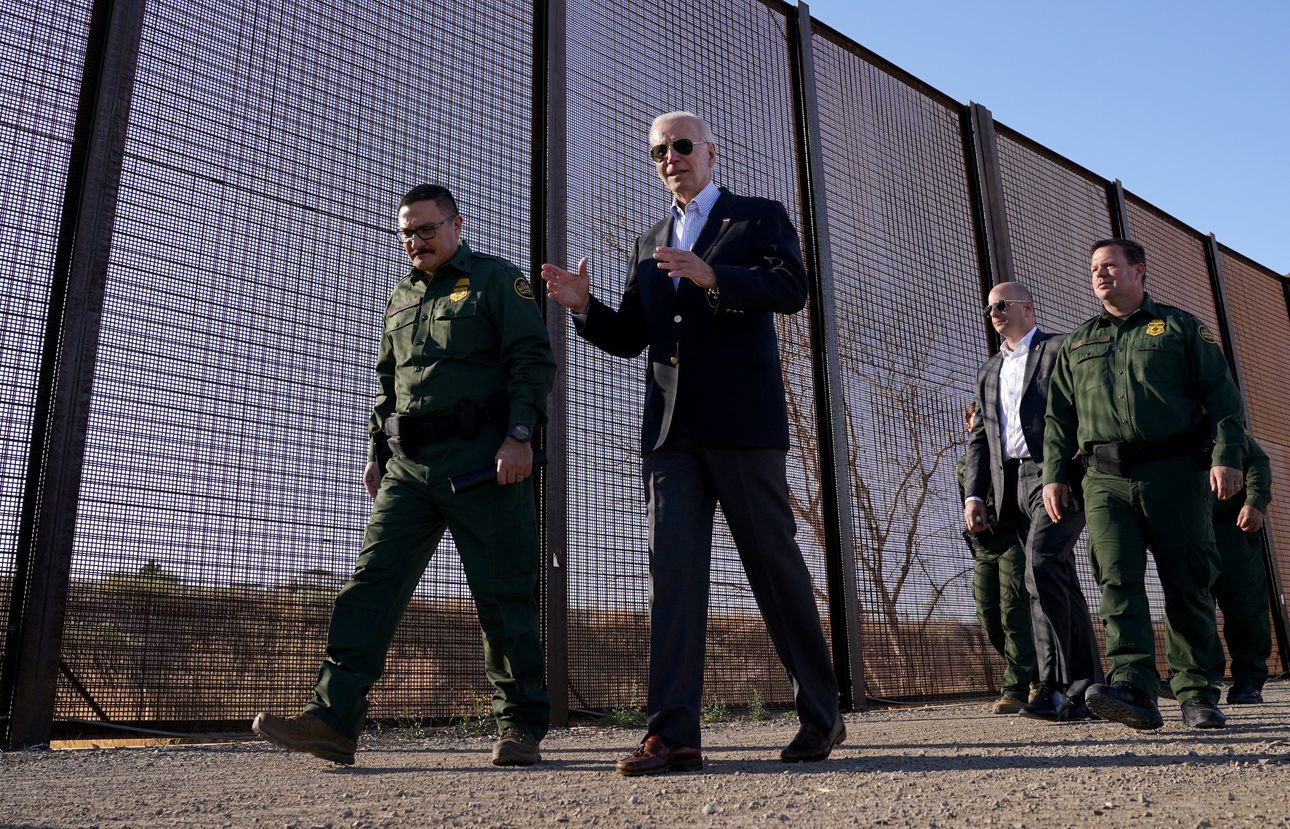 Biden Visits Southern Border While Facing Criticism From Both Parties
President Biden made his first trip to the U.S.-Mexico border since taking office, visiting a port of entry and a center for migrants as his immigration policy faces criticism from both parties.
Mr. Biden arrived Sunday afternoon in El Paso, Texas, which in December saw a surge of mostly Nicaraguan migrants. He stopped there on his way to Mexico City, where he will meet Monday and Tuesday with Mexican President Andrés Manuel López Obrador and Canadian Prime Minister Justin Trudeau for the North American Leaders' Summit.

His first stop was at the Bridge of the Americas Port of Entry, where the president toured the facility with border officials. He then stopped along the border fence that separates El Paso from Juárez, Mexico. Mr. Biden also visited the El Paso County Migrant Services Support Center.

"They need a lot of resources. We're going to get it for them," Mr. Biden told reporters at one point. He didn't make any formal remarks or announce any policy during the visit, which lasted roughly four hours.

Days before the trip, Mr. Biden announced an aggressive effort to bring down illegal crossings at the border. To the chagrin of some Democrats and immigration advocates, his plans rely on the resumption or expansion of several Trump-era policies that Mr. Biden has previously decried, including Title 42, the pandemic-era border measure that allows migrants seeking asylum to be quickly turned away.

The administration has been struggling to respond amid a record 2.2 million arrests of people caught crossing the border illegally in the fiscal year that ended Sept. 30. El Paso declared a state of emergency this past month as an influx of asylum seekers crossing the border illegally overwhelmed federal immigration and city authorities.

Mr. Biden was greeted at the airport by Texas Gov. Greg Abbott, a Republican who has criticized Mr. Biden's policies. Republicans have been calling on Mr. Biden to travel to the region for two years, saying he wasn't focused enough on the issue.

Mr. Abbott told reporters the president was "two years and about 20 billion dollars too late." He said he gave the president a letter asking him to take a series of enforcement steps, including detaining people who entered the country illegally and resuming construction of a border wall in Texas. Mr. Biden said Sunday afternoon that he hadn't yet read the letter.

Mr. Abbott is building a barrier of shipping containers near El Paso in response to the influx of migrants.

Homeland Security Secretary Alejandro Mayorkas defended the president's policies to reporters on Air Force One Sunday, saying the goal is to "incentivize a safe and orderly way and cut out the smuggling organizations."

Mr. Abbott and some other governors have been sending busloads of migrants to Democratic-run cities to draw attention to the issue of migrants straining local resources. Colorado Gov. Jared Polis, a Democrat, said Saturday he would halt busing migrants from Denver to New York City and Chicago after the mayors of those cities argued that their shelters were already overrun.

There are between 7,000 and 10,000 migrants stranded in the Mexican border city of Ciudad Juárez, neighboring El Paso, estimates Enrique Valenzuela, head of Chihuahua state's migration agency. On Friday, Mexico said it deployed 200 officers from the country's migration agency along the border in Ciudad Juárez to make sure migrants expelled from the U.S. and those who arrive from southern Mexico are provided with shelter from the cold, blankets and hot drinks.