Boris Johnson has condemned the "disgraceful scenes" in the US, where protesters stormed Congress.
Supporters of President Donald Trump breached the Capitol building where lawmakers met to confirm President-elect Joe Biden's election win.

The PM said the US "stands for democracy around the world", and it was "vital that there should be a peaceful and orderly transfer of power".

Labour leader Sir Keir Starmer said it was a "direct attack on democracy".

And Scotland's First Minister, Nicola Sturgeon, called the events "utterly horrifying".

Friend of President Trump and leader of Reform UK - formerly the Brexit Party - Nigel Farage tweeted: "Storming Capitol Hill is wrong. The protesters must leave."

The US Congress has now reconvened after the violence - spurred on by Mr Trump's unproven claims of electoral fraud - to certify Joe Biden's victory in the US election in November

Hundreds of the president's supporters stormed the Capitol, and staged an occupation of the building in Washington DC.

Both chambers of Congress were forced in to recess, as protesters clashed with police and tear gas was released.
A woman who was shot during the protests later died.
UK MPs from across the political spectrum have criticised the events in the US.

Foreign Secretary Dominic Raab said there was "no justification for these violent attempts to frustrate the lawful and proper transition of power", while Home Secretary Priti Patel called the scenes "unacceptable and undemocratic".

She added: "There is no justification for this violence and Donald Trump must condemn it."

Her Conservative colleague, and former Foreign Secretary, Jeremy Hunt directly addressed President Trump for telling the crowd to march on Congress, tweeting: "He shames American democracy tonight and causes its friends anguish - but he is not America."

Labour's deputy leader, Angela Rayner said: "The violence that Donald Trump has unleashed is terrifying, and the Republicans who stood by him have blood on their hands."

And shadow foreign secretary Lisa Nandy said the events were "the legacy of a politics of hate that pits people against each other and threatens the foundations of democracy".

Meanwhile, Work and Pensions Secretary Therese Coffey has defended the prime minister's response to the rioting.

Asked on ITV's Peston programme why Mr Johnson hadn't criticised Mr Trump, she said: "The prime minister has been clear tonight that we need a peaceful and orderly transition."

Ms Coffey added that events in the US were an "reminder that democracy is something precious - and will only continue to thrive as long as we protect institutions that make this country important and not demean each other when the majority of what we want to achieve is similar outcomes".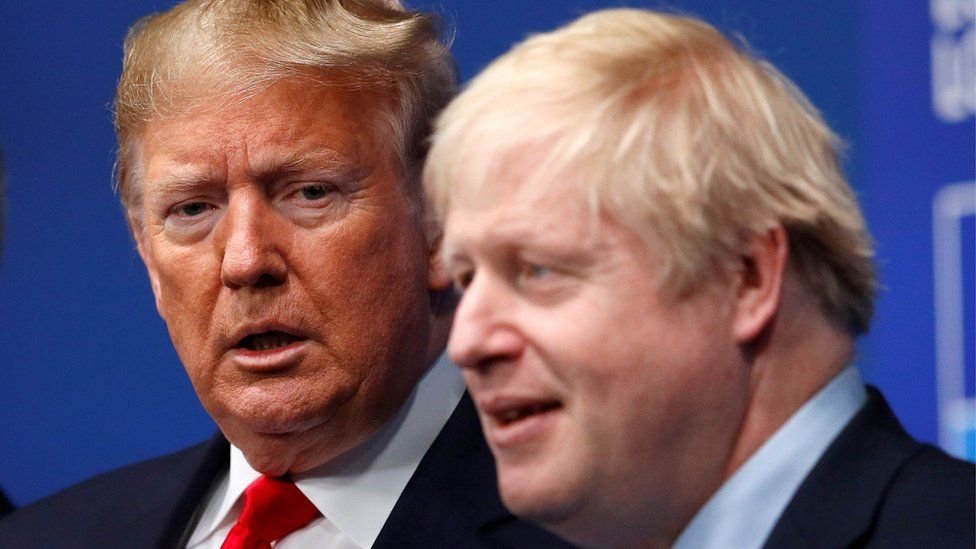 He tweeted: "What a legacy the events of today are to his time in office. Shameful, shocking an affront to democracy."

Leader of the Liberal Democrats, Ed Davey, called the scenes "absolutely horrendous", while his party's foreign affairs spokeswoman, Layla Moran, said: "The scenes coming out of Washington tonight are an attack on democracy."