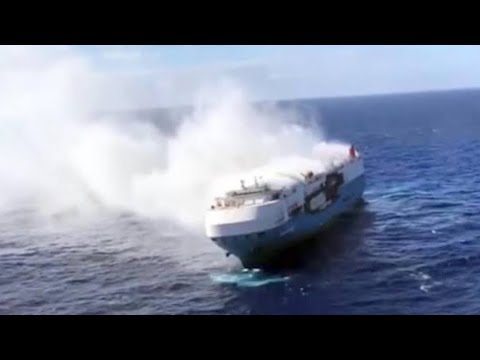 Burning cargo ship full of Porsches and Lamborghinis
Thousands of luxury cars, including Lamborghinis, Audis and Porsches, are adrift in the Atlantic Ocean on a burning cargo ship
The crew was safely evacuated; the cars were not so lucky!

Panama-flagged car carrier Felicity Ace caught fire in the Atlantic Ocean while transporting approximately 2,500 cars, including roughly 1,100 Porsches and an undetermined number of Volkswagens.

The ship's 22 crewmembers were rescued by the Portuguese Navy, but the fate of the cars remains unknown.

Our immediate thoughts are of relief that the 22 crew of the merchant ship "Felicity Ace" are safe and well," Porsche spokesperson Luke Vandezande told Autoblog. "A number of our cars are among the cargo.

We are in contact with the shipping company and the details of the cars on board are now known," he said. "Customers affected by the incident are being contacted by their dealer."

"While it remains too early to confirm what occurred and next steps, we are – along with our colleagues at Porsche AG – supporting our customers and our dealers as best we can to find solutions," Vandezande said.

"Anyone concerned by this incident and the implications on the car they've ordered should maintain in contact with dealer with which their order was placed."

Vandezande confirmed that Porsche models accounted for approximately 1,100 of the 2,500 vehicles thought to be on board.

He could not speak to the origin or breakdown of any other makes or models in the ship's hold, but fan site VWVortex.com notes that the ship's previous manifests reflect a long history of delivering vehicles for VW Group, and some customers tracking incoming ID.4 deliveries say their information suggests that their cars may have been on board.