At least 21 vehicles towed as police bid to break up protest camp that has paralysed Canada's capital for several weeks
Police in Ottawa have begun arresting protesters and towing away vehicles in an effort to break up the so-called "freedom convoy" that has paralysed Canada's capital for weeks and prompted the prime minister, Justin Trudeau, to declare a national emergency

Seventy people were arrested and at least 21 vehicles towed away, as police exercised emergency powers which Trudeau invoked on Monday.

Truck horns blared as hundreds of police, some carrying rifles, others with riot shields and gas masks, moved in on a protest camp near Parliament Hill on Friday morning. Scuffles broke out when officers detained a number of demonstrators, leading some away in handcuffs.

A police drone hovered overhead as more officers on horseback and at least three armoured vehicles arrived at the scene.

Officers in grey fatigues climbed atop two semi trucks as they took the first of two main camps close to parliament. Warnings blared from police loudspeakers: "You must leave! You will be arrested!"

Police commanders had made it clear on Thursday they were preparing to end the siege and remove more than 300 trucks, camper vans and other vehicles that have blockaded the city since late January.

The city's interim police chief Steve Bell warned that "action is imminent," and two prominent protest leaders were arrested on Thursday night. Chris Barber and Tamara Lich will face charges of mischief and counselling to commit mischief.

Pat King, an influential convoy leader, was arrested during a Facebook Live stream on Friday. BJ Dichter, another prominent figure in the movement, told supporters it was "time to leave" and pleaded for Ottawa police to let drivers remove their vehicles.

For the first time since the protests began, police vastly outnumbered the demonstrators, allowing officers to take control of sections of the protest camps. The heavily increased presence allowed them to use greater force, including smashing the windows of vehicles and dragging out drivers.

Some protesters linked arms and refused to move as the police line pushed forward; some sang the national anthem O Canada! and called for non-violence while others struggled and shouted insults at the officers.

"You're the ones who are evil," shouted one woman.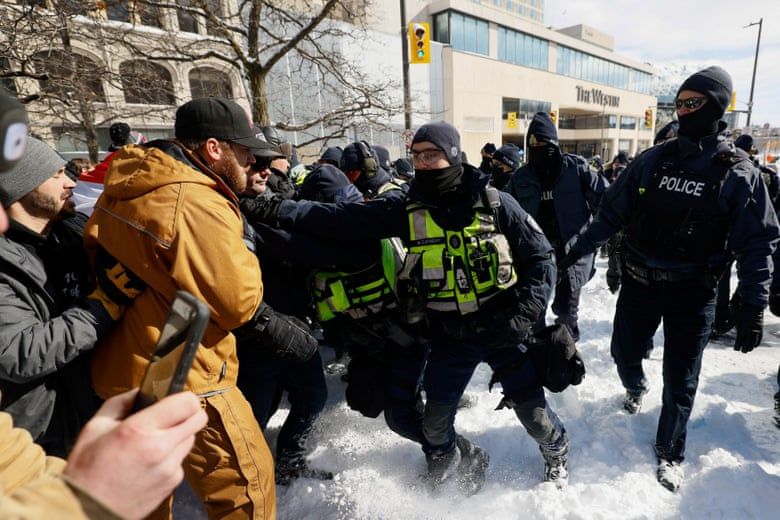 Police officers push back protesters.

But the police move was welcomed by some local residents who have complained of harassment and intimidation, and obtained a court order to stop the truckers' incessant horn honking.

"I live down here, and I haven't been able to get to anything, including my pharmacy, for three fucking weeks!" one passerby shouted at the protesters. "And now you're going to go home, thankfully. Because you lost!"

Several children were present during the scuffles at the protest camp, despite warnings from police that parents in the convoy should find alternative care in the event they faced arrest.

"The pictures of these irresponsible parents putting their children on the front lines of the police action is beyond description," tweeted Cindy Blackstock, head of the First Nations Child and Family Caring Society. "So sad for these children and I hope they have a loving caregiver to look after them b/c there are serious questions about the judgement of the parent."

As police pushed from the south of one camp, protesters scrambled for snow shovels and began creating makeshift barriers.

"A beautiful day to see the snow cleared!" shouted one.

Police said they set up a "red zone' in the city's downtown core on Thursday evening with 100 checkpoints throughout the area as a way to prevent protesters from entering – a move meant to also prevent large crowds coming to the city over the weekend. They also blocked key highway exits into the city.

Canada's House of Commons canceled its work on Friday, with the speaker, Anthony Rota, warning lawmakers to "stay away from the downtown core until further notice" because of an expected police operation.

With temperatures with windchill hovering around -23C (-9.4F), protesters had started their day digging out their vehicles from a heavy overnight snowfall. A bitter wind blew through the protest camps as dozens of protesters huddled round fires and watched warily as the police numbers grew.

Some protesters at the main blockade were defiant, convinced that officers would not move against the encampment.

"I took a look those cops and they look cold. They don't want to be here," said Zack, an Ottawa resident carrying a flag that read "We Ain't Leaving".

One protester, dressed in a high-visibility jacket, shouted "Freedom!" as he pulled a trolley with 12 canisters of diesel past a group of Royal Canadian Mounted Police officers towards the blockade.

Some protesters promised to resist the coming crackdown, encouraging others to lock themselves inside their vehicles. "They'll need the jaws of life if they want to get me out," said one.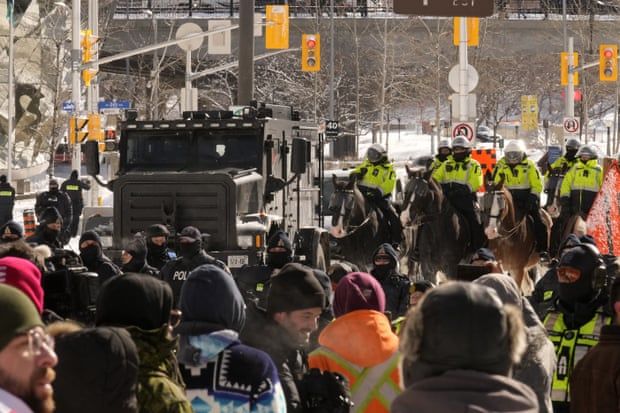 The scene in Ottawa on Friday.

Ottawa police issued a stark warning on Twitter: "DEMONSTRATORS: You must leave. You must cease further unlawful activity and immediately remove your vehicle and/or property from all unlawful protest sites. Anyone within the unlawful protest site may be arrested."

As the day progressed, more and more trucks gradually left the blockade. Large tow trucks also arrived near the camps as police arrested drivers and took control of vehicles.

The towing industry has long resisted calls to move the trucks, fearing their companies risked being targeted by convoy supporters. Many of the tow drivers in Ottawa on Friday wore masks or balaclavas and the decals of their company trucks were covered.

On Monday, Trudeau became the first prime minister to invoke the Emergencies Act, granting his government sweeping powers to bar gatherings in certain locations, tow away vehicles, suspend driving licenses and freeze bank accounts.

The encampment in the capital represented the movement's last stronghold after three weeks of demonstrations and blockades that shut down several border crossings into the US and triggered a political crisis.

The demonstrations initially focused on a vaccine requirement for truckers entering Canada, but some protesters' demands escalated to the repeal of all Covid health measures, and even the toppling of the Trudeau government.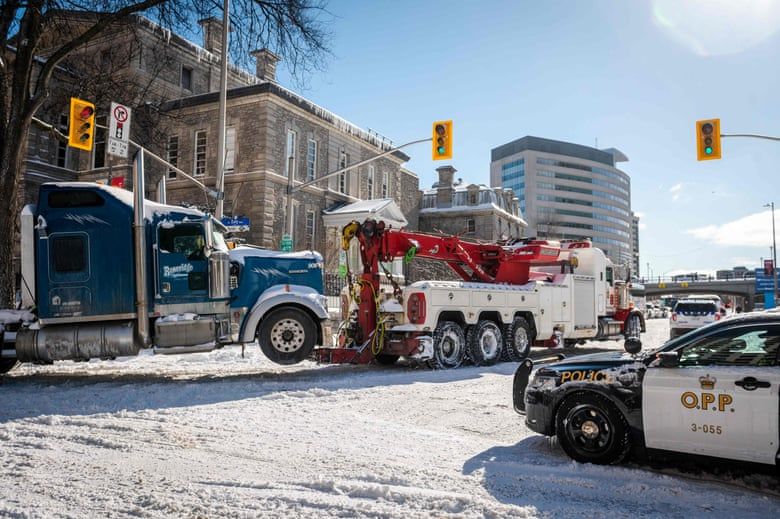 Police begin to remove the protest trucks from the area.

Fringe elements, including far-right activists, nationalist groups and conspiracy theorists, have played a central role in the protests from the start, and officials had expressed concern about the potential for violence.

Officers had hesitated to move against the protesters, partly due to fears that some were armed. But the occupation was stoking growing tensions with local residents who complained of harassment and intimidation, and obtained a court order to stop the truckers' incessant horn honking.

The protesters represent a small minority in Canada. The country has one of the highest rates of full vaccination anywhere in the world, with more than 80% of people covered.

The protests also have inspired similar convoys in France, New Zealand and the Netherlands.