Perhaps the ultimate Airbnb, Casa Le Chacuel in Yucca Valley, California, is a minimalist retreat renovated by its design-minded owners, Mila Morris and Jøna Maaryn.
Last year, architectural designer Mila Morris and her partner, furniture builder Jøna Maaryn, combined their creative talents to bring a stunning desert retreat to life. The duo carefully transformed an old ranch in the heart of Yucca Valley, California; when they're traveling, the four-bedroom, three-bathroom is available to rent on Airbnb. Part renovation, part new construction, the 2,800-square-foot home features clean lines and a soothing, nature-inspired palette.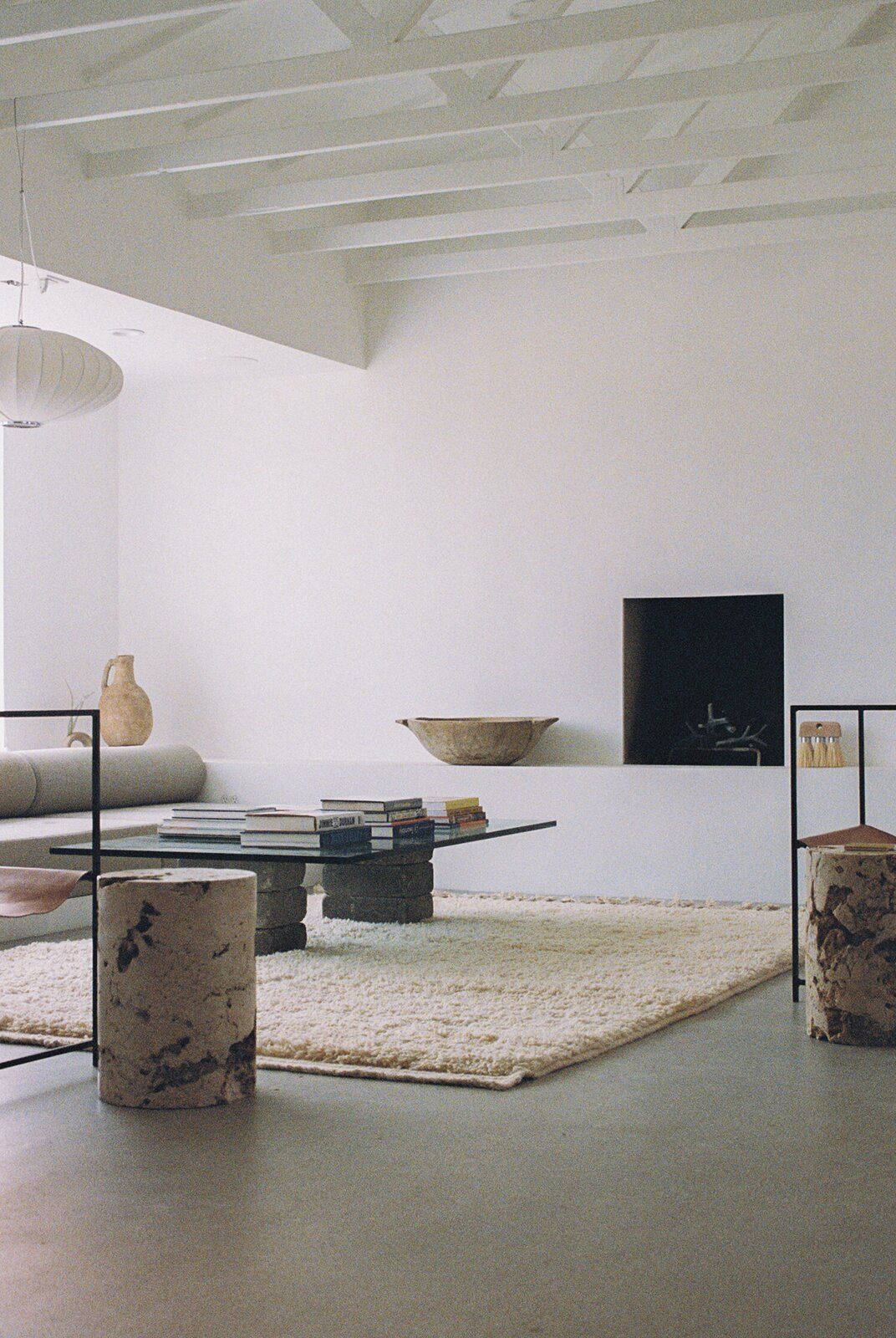 A wall in the living room was retrofitted to create a minimal fireplace cubby.

To bring their vision to life, Mila and Jøna took on a total gut renovation of the desert oasis. Interior walls were stripped down to bare studs, walls were relocated, and windows were moved and added to enhance natural lighting throughout the structure. Various doors were also rearranged to better accommodate traffic flow in the new layout.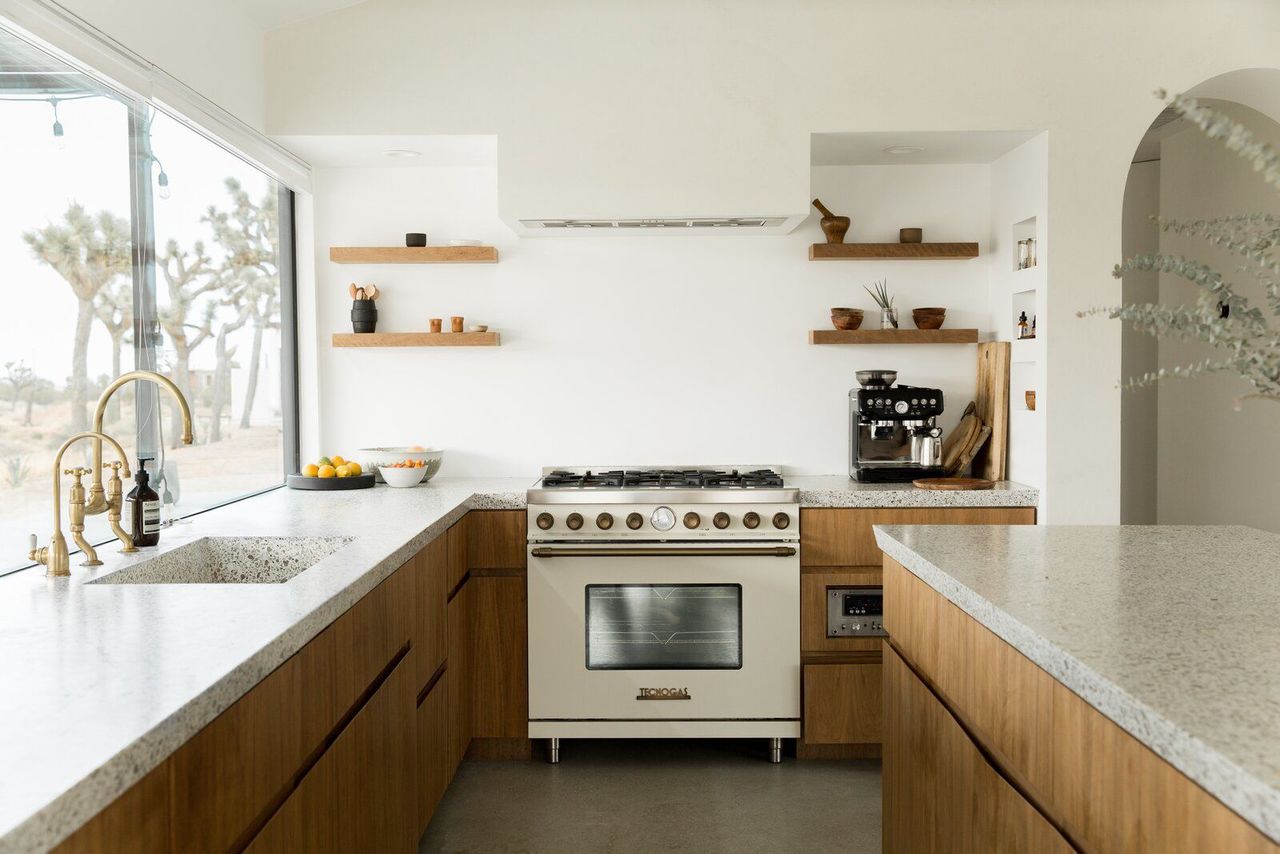 In the kitchen, walnut cabinetry is topped with terrazzo countertops and a matching sink. Under-counter appliances like a refrigerator, freezer, and ice machine help make the space appear uncluttered.

"We had to make more of a communal space and expand [the] bedrooms and bathrooms," says Mila of their home, dubbed Casa Le Chacuel + Spa. "All we kept were the exterior studs, but we added arches and shifted walls to accommodate large closets and new entrances to [the] bathrooms and bedrooms."




Warm-toned furnishings designed by the homeowners complement the retreat's minimalist desert aesthetic.

To add volume to the interior, the duo opened up the living room's low ceilings and decided to keep the trusses exposed. The walls, ceilings, and trusses were then coated with a crisp white paint to give the room an expansive feel.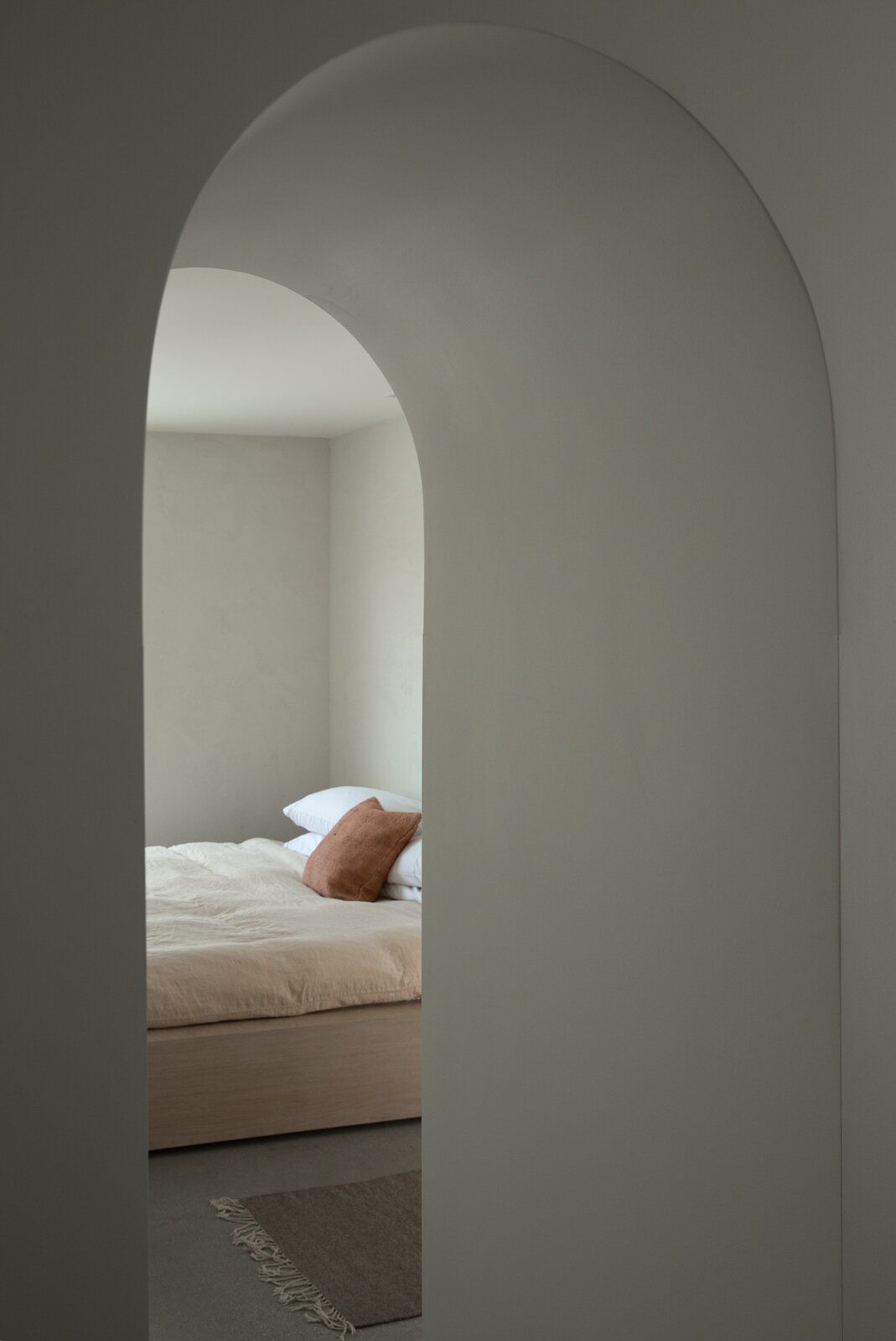 Soft-arched passageways throughout the home draw the sight line toward cozy vignettes.

The home's furniture was designed with the ethereal in mind-not to obstruct the space, but rather to let light pass through it. In the primary living areas, Jøna's sleek furnishings are thoughtfully arranged to add warmth and texture to each minimalistic space.

Mila and Jøna designed and built the barstools, sling chairs, table base, and benches, utilizing materials like brass, leather, powder-coated steel, and hand-poured concrete to add visual depth to each item's sleek silhouette. "We wanted minimalist design for furnishings that would complement the clean lines of the home [but] contrast with the found objects that bring a cultural and worn-in look," says Mila. "That dichotomy is pleasant because it feels like [the home has] been lived in, yet it has modern design."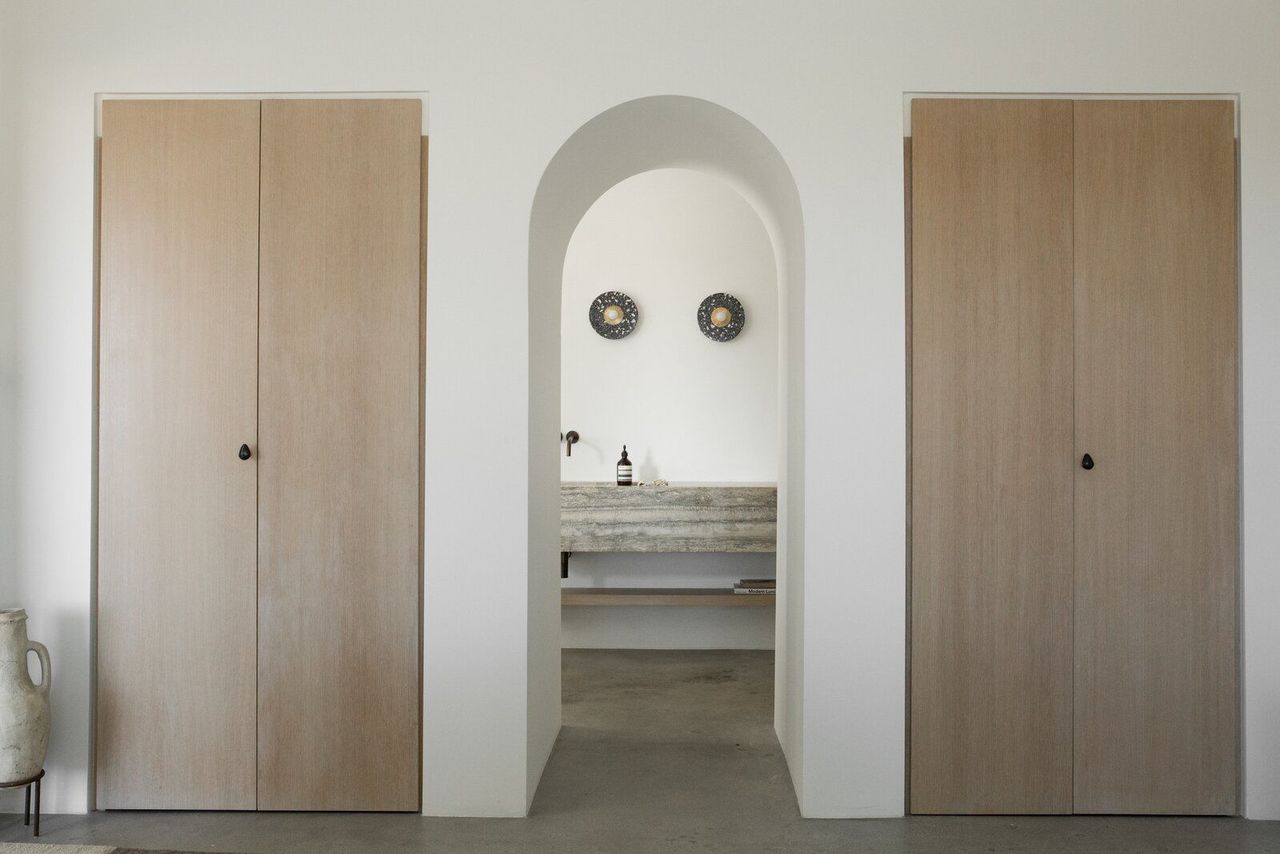 Natural stone and light wood tones soften the stark, white-washed living spaces.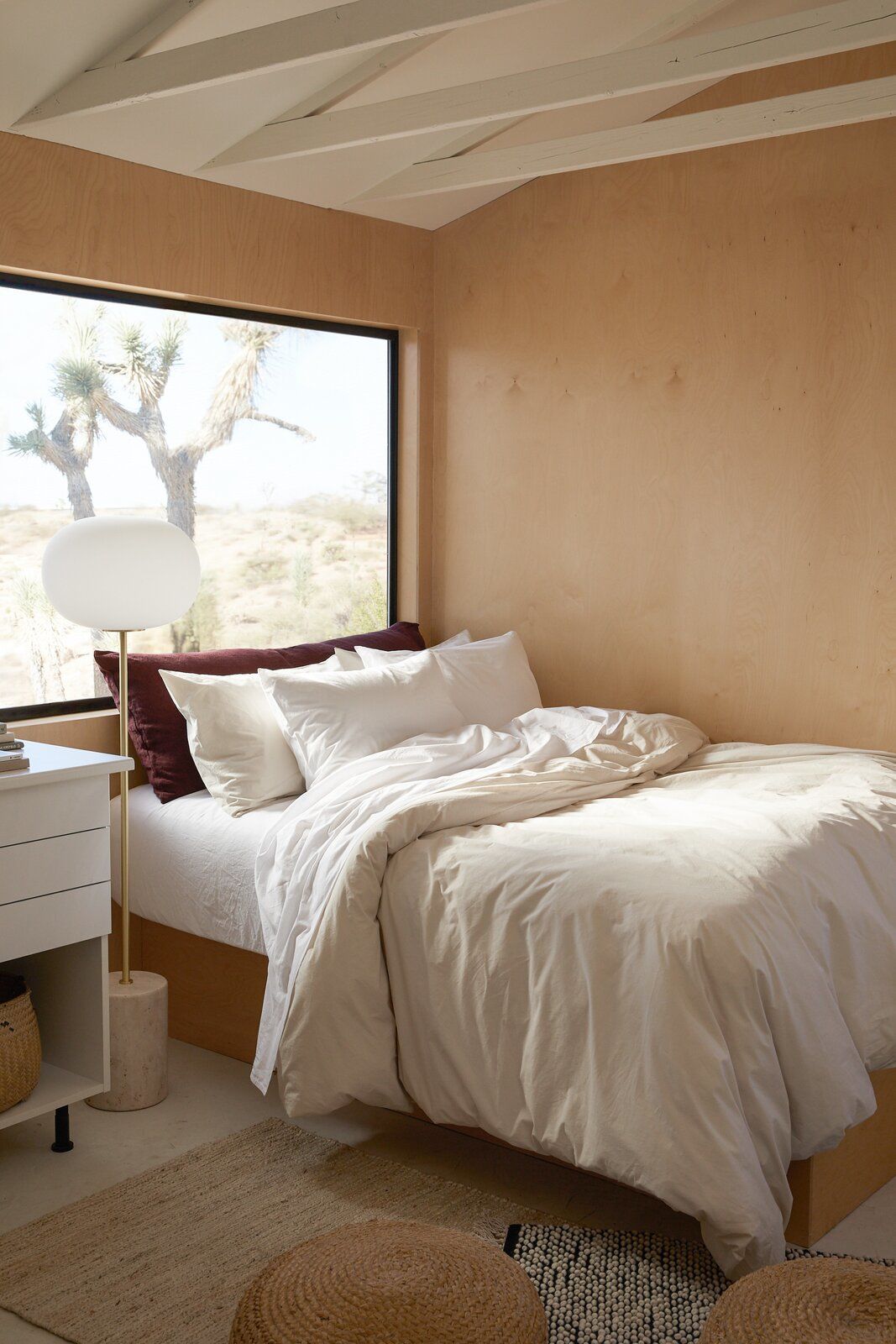 Wood-clad walls and organic textiles add warmth to one of the bedrooms.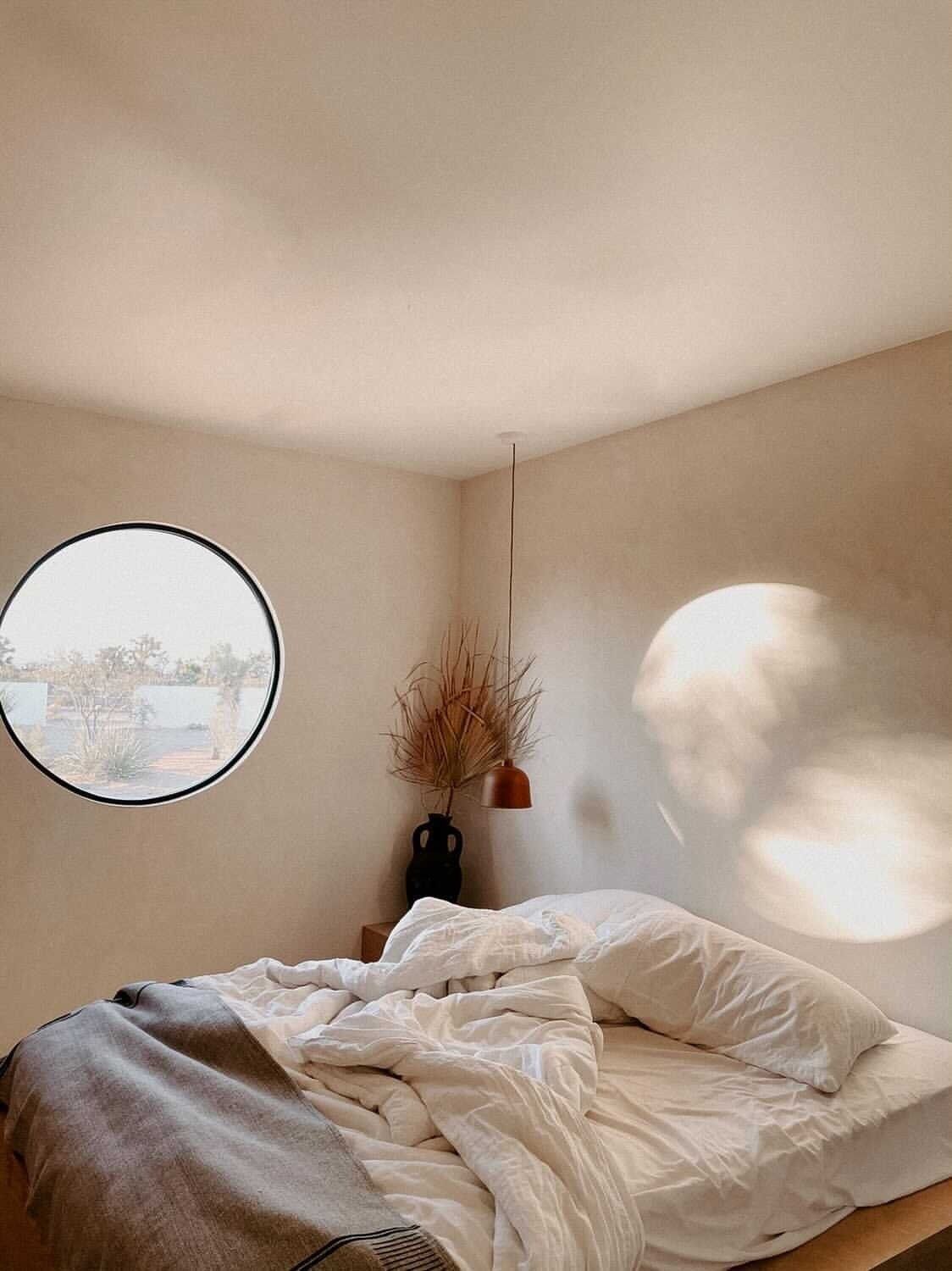 A round window casts a lunar-like glow above the bed in one of the suites.

Mila and Jøna could easily shift gears to help the other in their creative department. For instance, Mila designed the home's built-in couches and beds, while Jøna helped make the final decisions with overall design of the house.

Throughout the renovation, the couple sought out to embrace organic materials whenever possible. They replaced the home's plastic baths with showers made from tadelakt, a waterproof plaster that originates from Morocco. Materials like terrazzo and salvaged marble were used to construct the kitchen sink and countertops, as well as the outdoor shower and sink. "There is no plastic used in the house at all," Mila says. "It's either concrete, metal, rocks or tadelakt."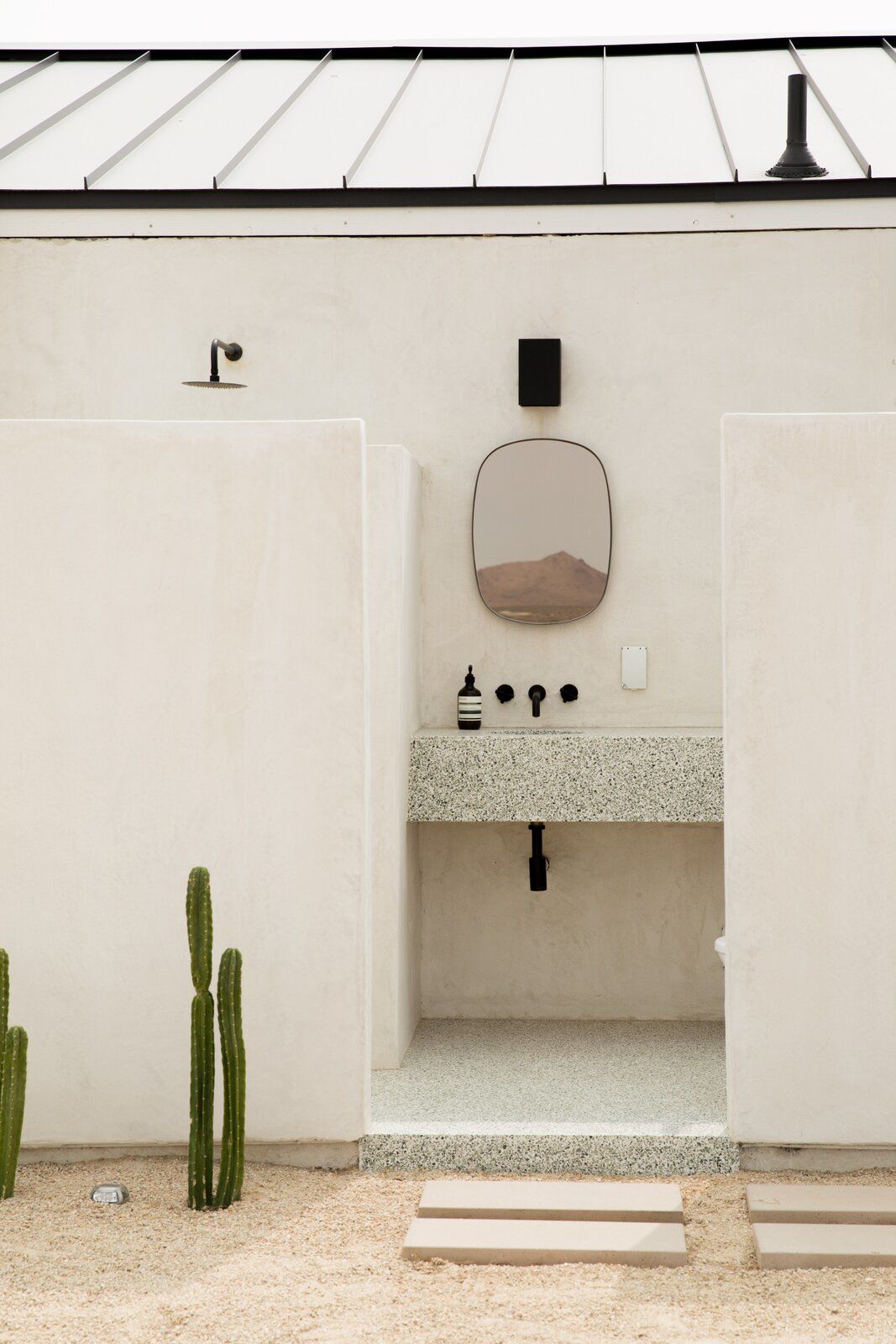 The home's exterior features a smooth, white stucco. An open-air bathroom features a sink constructed using a custom terrazzo made by Mila.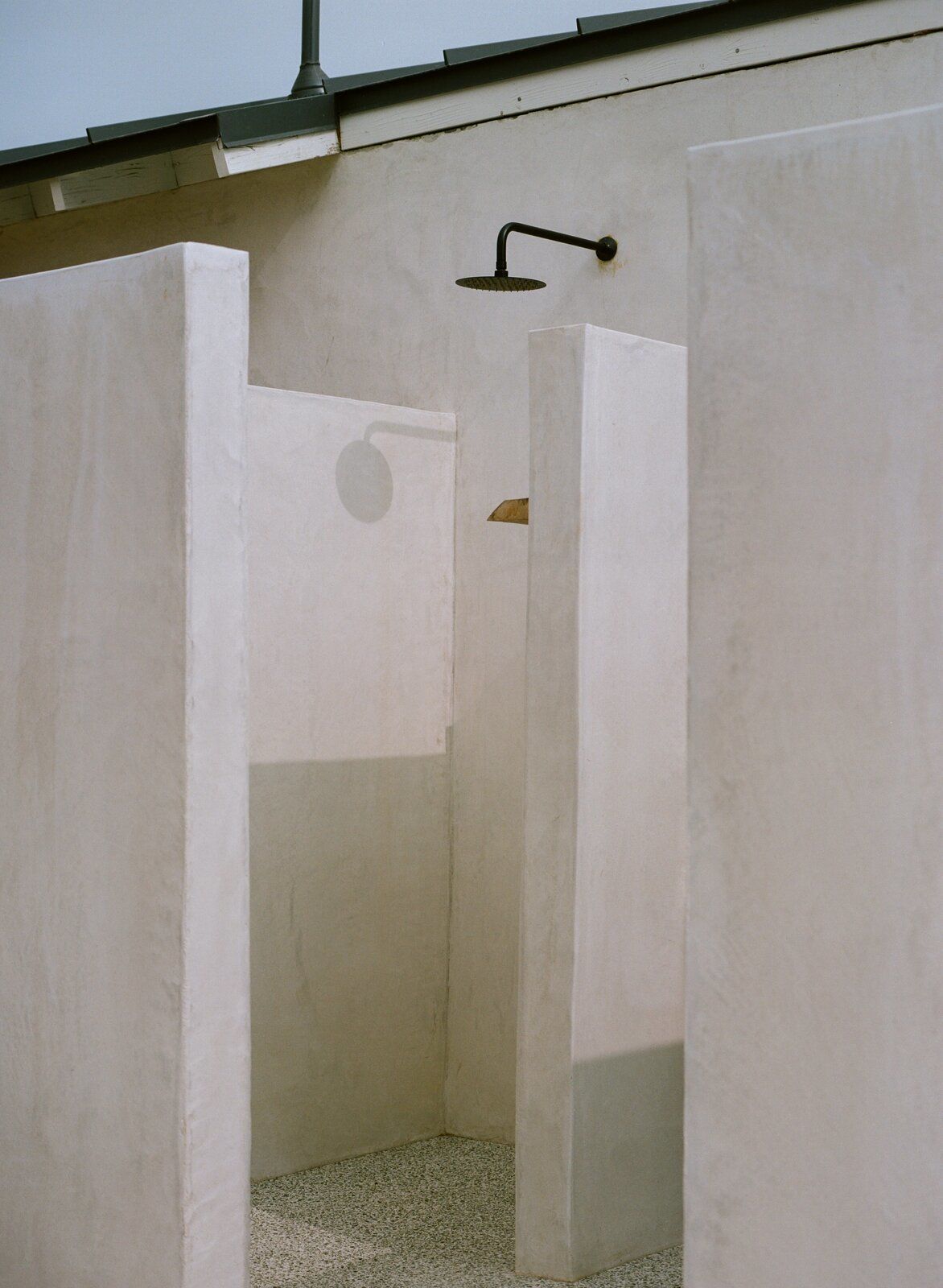 The Yucca Valley retreat includes an outdoor shower with byCocoon showerheads and faucets.

To further revive the ranch's desert vibes, Mila and Jøna incorporated some new constructions, including al fresco elements. The twosome installed an outdoor shower as well as a concrete pool, hot tub, and a lounge area that is speckled with irrigated desert plantings.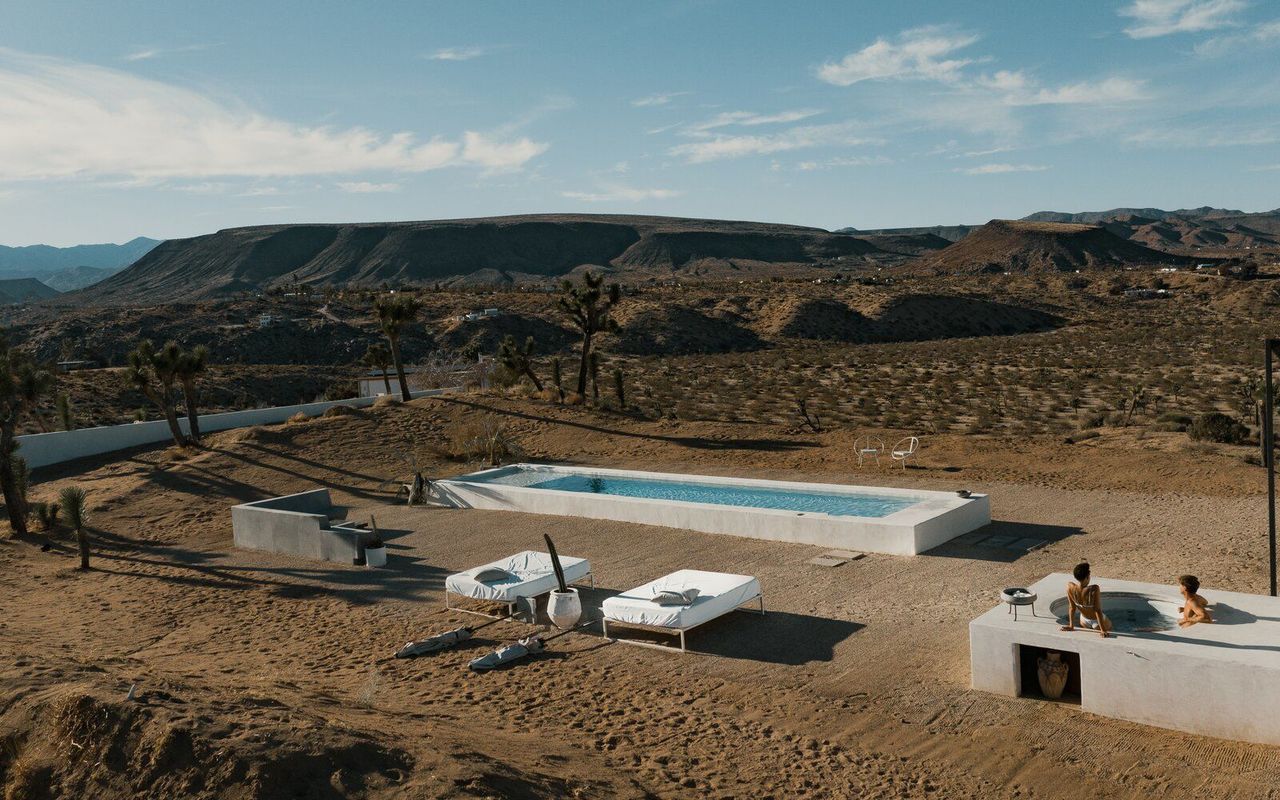 A 41-foot-long heated saltwater pool includes a submerged tanning ledge. The hot tub was created using concrete and stucco.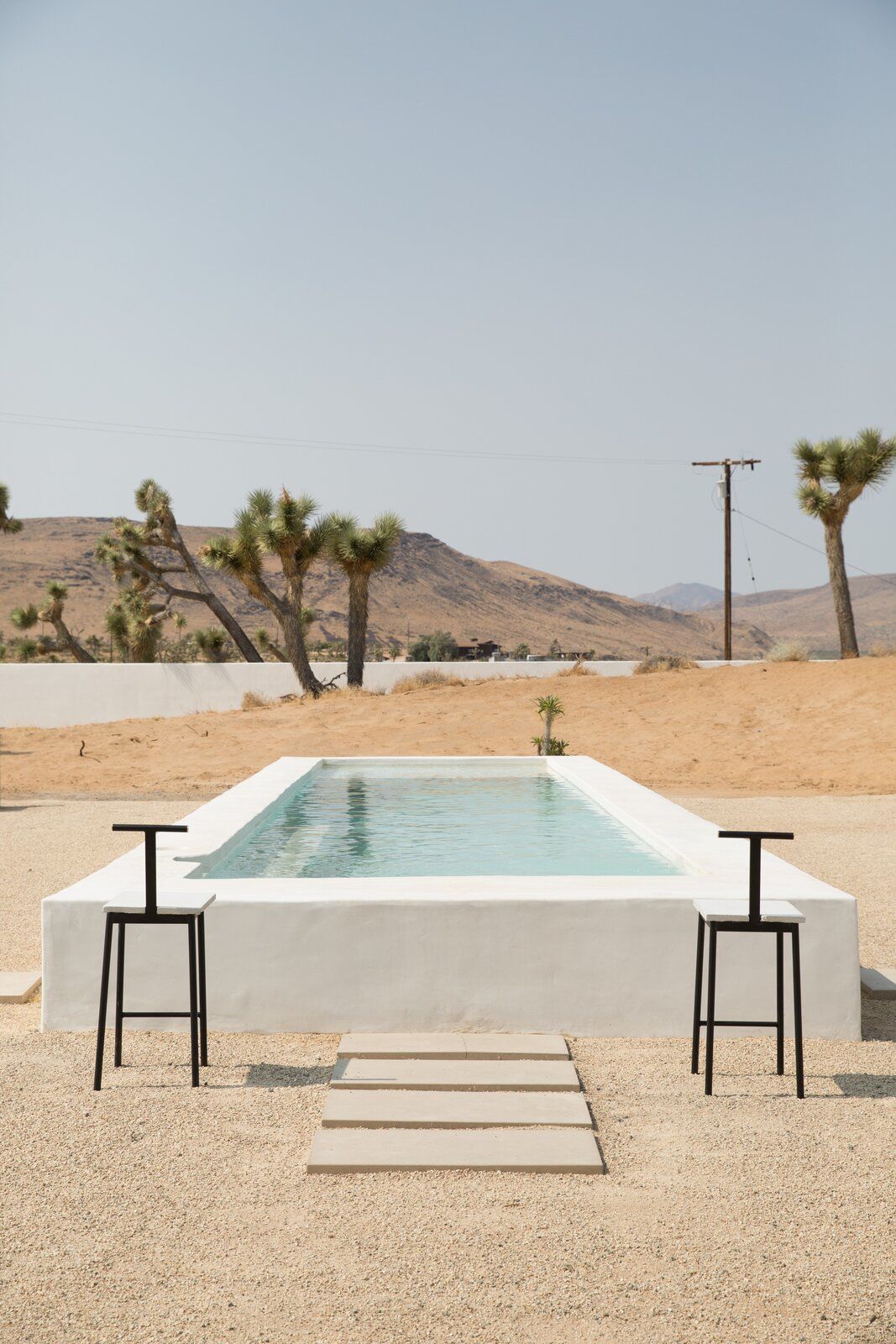 Mila designed the home's concrete pool, which is finished with a custom plaster.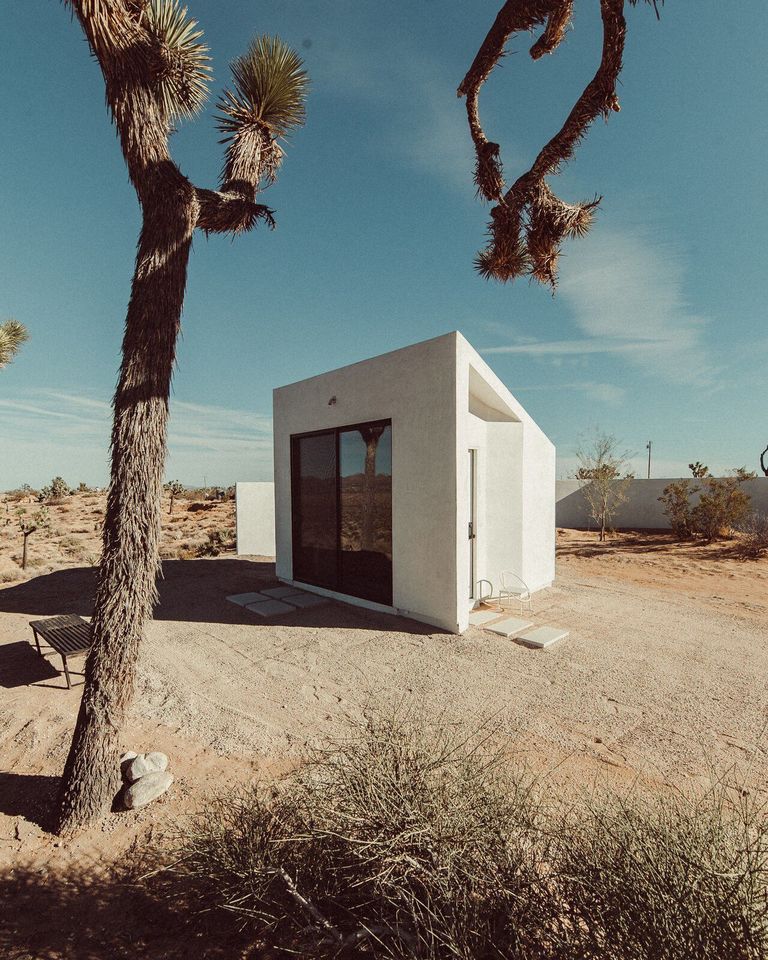 The old garage was transformed into a studio that features salvaged windows from the main house.

Before completing the renovation, the property's dilapidated roof was replaced with a standing-seam metal covering to hold up against the harsh desert weather. Several glass windows from the main house were also salvaged and installed in the former garage, which now serves as a transformed studio space where visitors can work remotely while surrounded by superb desert views.