State media reports that China Eastern 737 went down near city of Wuzhou, sparking mountainside fire
A passenger plane carrying 132 people has crashed in southern China, with no survivors announced so far, Chinese authorities have reported.

The China Eastern Airlines plane departed Kunming at 1pm, on route to Guangzhou. At about 2.20pm, according to data from Flightradar24, the plane, a Boeing 737, plummeted more than 20,000 feet in just over a minute. It then seems to have regained altitude momentarily, before dropping rapidly again. The plane crashed near the city of Wuzhou in Teng County, Guangxi province.

The Civil Aviation Administration said it had activated emergency protocols and sent a working group to the scene. State broadcasters said rescuers had been dispatched but there were no immediate details of casualties. China Eastern Airlines said it had also sent officials to the site in line with emergency measures.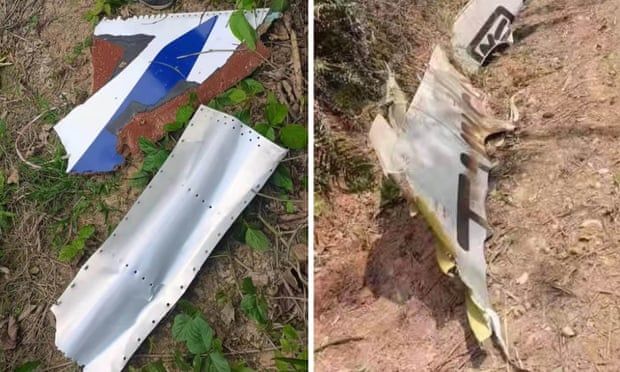 Pictures from the scene of a Boeing 737 crash in south China.

Onboard were 123 passengers and nine crew members. State media said some family members of the passengers had arrived at the airline's Yunnan branch by Monday evening. The airline said no foreign nationals were aboard the plane.

Several show a plume of smoke coming from a mountainous region. Other clips show intense flames around a circular area, while another clip appears to show plane wreckage with the name China Eastern Airline visible. Drone footage of the crash site published on Monday evening showed a deep scar in the ground, and very few large pieces of wreckage.

The Guardian has not independently verified the footage.

The Wuzhou fire rescue department said it had dispatched 23 firetrucks and 117 personnel to the site. Another 538 personnel had been ordered in from surrounding detachments as reinforcements. Firefighters could not reach the site by road, and so had walked part of the way into the forested region, state media said.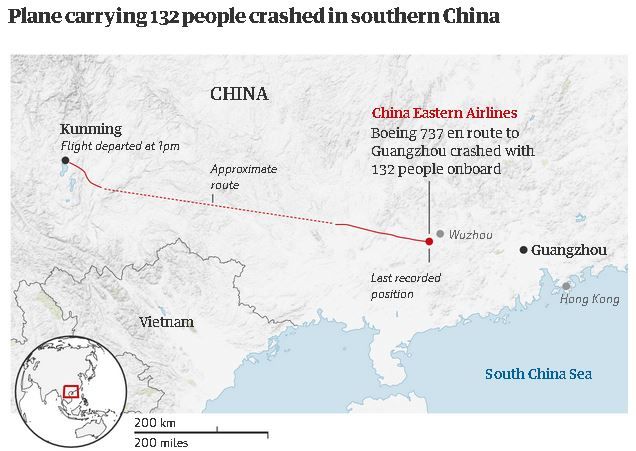 CCTV said the fire was contained within a few hours.

China's leader, Xi Jinping, called for a prompt investigation into the cause of the crash, the country's first major fatal air disaster since 2010.

Aviation experts in the UK said there could be multiple reasons for the crash before further evidence emerged. Tony Cable, an air accident investigator, said that possibilities included a "loss of control event" or high altitude stall.

Others said that the pattern of the flight shown on tracking sites, which saw the plane cruising at a steady altitude and speed before descending without any reported mayday call, and with no loss of data signal, appeared similar to the Germanwings crash in 2015. The Airbus A320 passenger plane was crashed deliberately into the French Alps by the pilot, killing himself and 149 people on board.

David Learmount, consulting editor at Flightglobal, said: "We don't have any direct evidence but we can observe that at this stage when we had observed the Germanwings disappearance, when it descended to destruction the two profiles looked very similar – so it is worrying."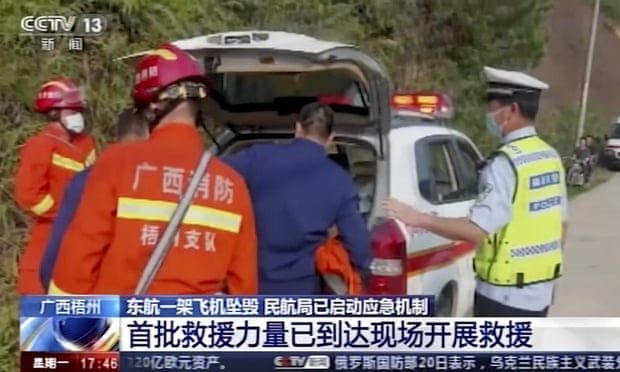 An image taken from video footage run by China's CCTV showing emergency personnel preparing to travel to the site of the plane crash.

The plane is a six-year-old Boeing 737-89P, according to flight data trackers. The Boeing 737-800s are among the most common passenger planes in the world, and different to the 737 Max, which was grounded worldwide after two fatal crashes in 2018 and 2019.

China operates more of the planes than any other country, with 1,177 aircraft based there, according to aviation analytics firm Cirium. State media reported China Eastern Airlines had grounded all 737-800 planes.

China Eastern Airlines, a state-owned company and one of the biggest airlines in Asia, did not answer calls from the Guardian. Its homepage had switched to black and white, which state media said was to mark the crash.

Shares in Boeing fell 10% on news of the crash but have since climbed back to be just under 7% down.

A spokesperson for Boeing told the Guardian they were aware of initial media reports and were working to gather more information.