Planned for completion in 2022, these 11 customizable homes are designed to encourage togetherness.
"To me, sustainable design means doing what's right for the environment, the project, and the community," says architect and developer Jason Boyer of the vision behind KARMA, the multifamily project his firm, Boyer Vertical, is currently planning in North Phoenix, Arizona. "I want to add value to the neighborhood, and create homes that look good, function well, and are timeless."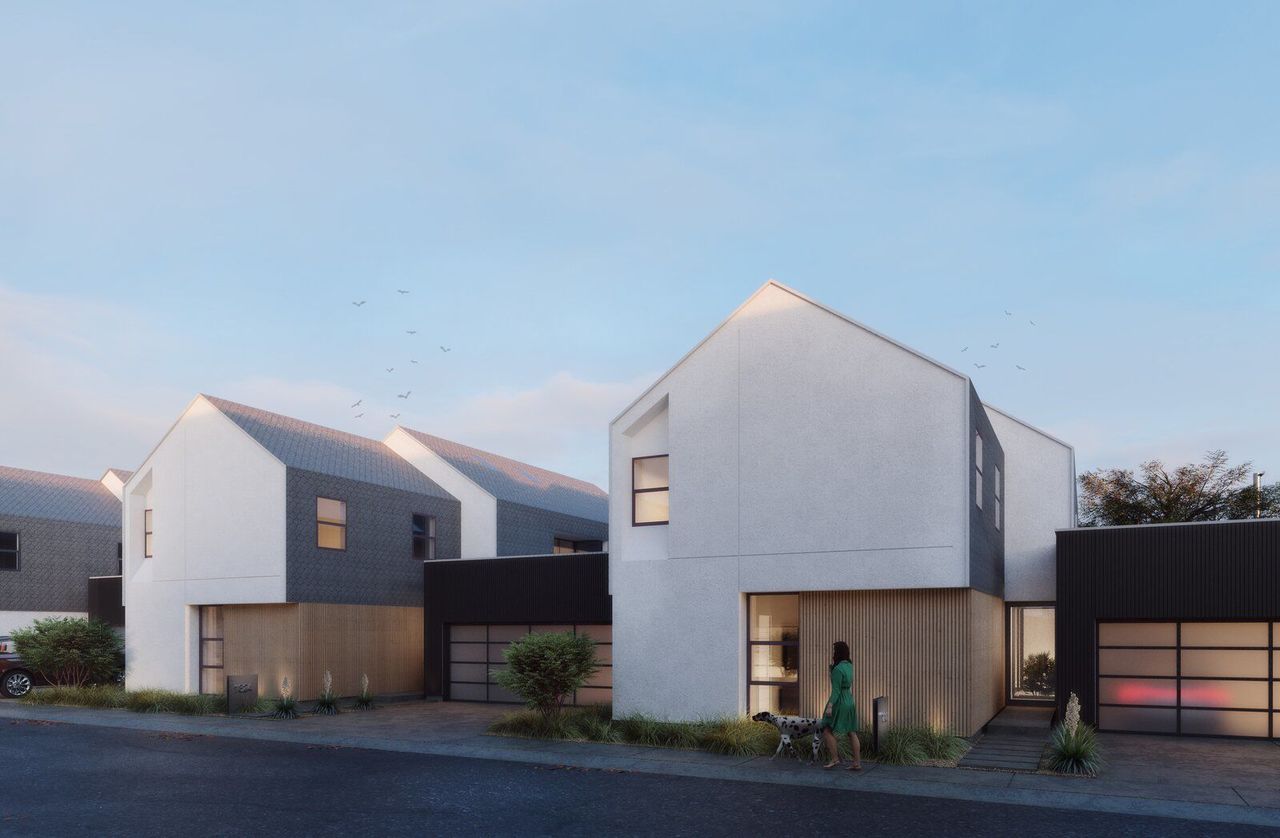 KARMA is a collection of thoughtfully sited, contemporary homes in Phoenix, Arizona, slated for completion in 2022.




Filled with light from above, the kitchen occupies the center of the home.

Designed to encourage community and make the most of indoor/outdoor living, each of the eleven homes is flooded with natural light from above, particularly in the sunny kitchen areas. Sliding glass doors offer passive cooling and connect the common spaces to the backyard.

"Among the key things we learned from the pandemic is the fact that people gravitate toward living outdoors-especially in Arizona, where the weather is amazing six months out of the year," Boyer says. "The passive shading strategy makes outdoor living more comfortable and enjoyable."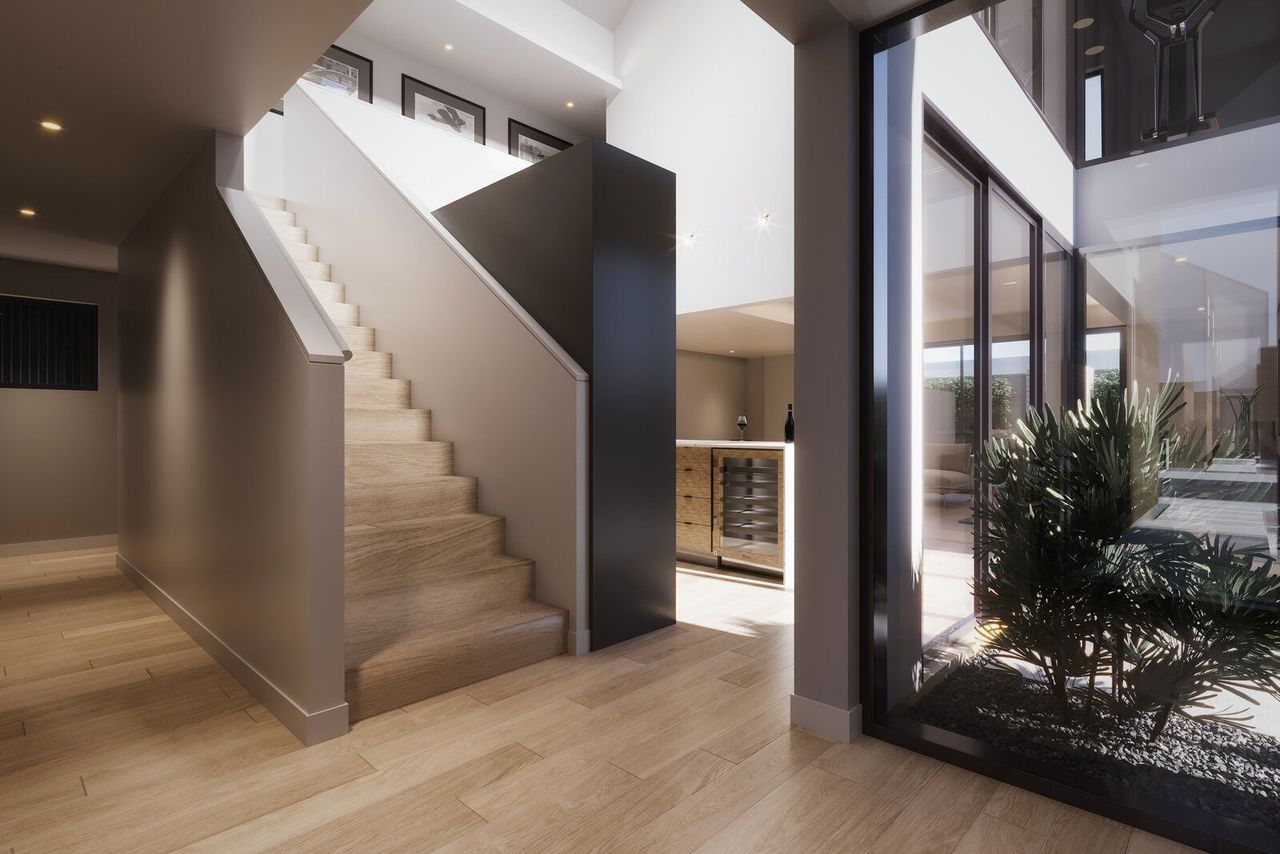 Simple forms, carefully located openings, and easy-maintenance materials combine to ensure both stylish and carefree living.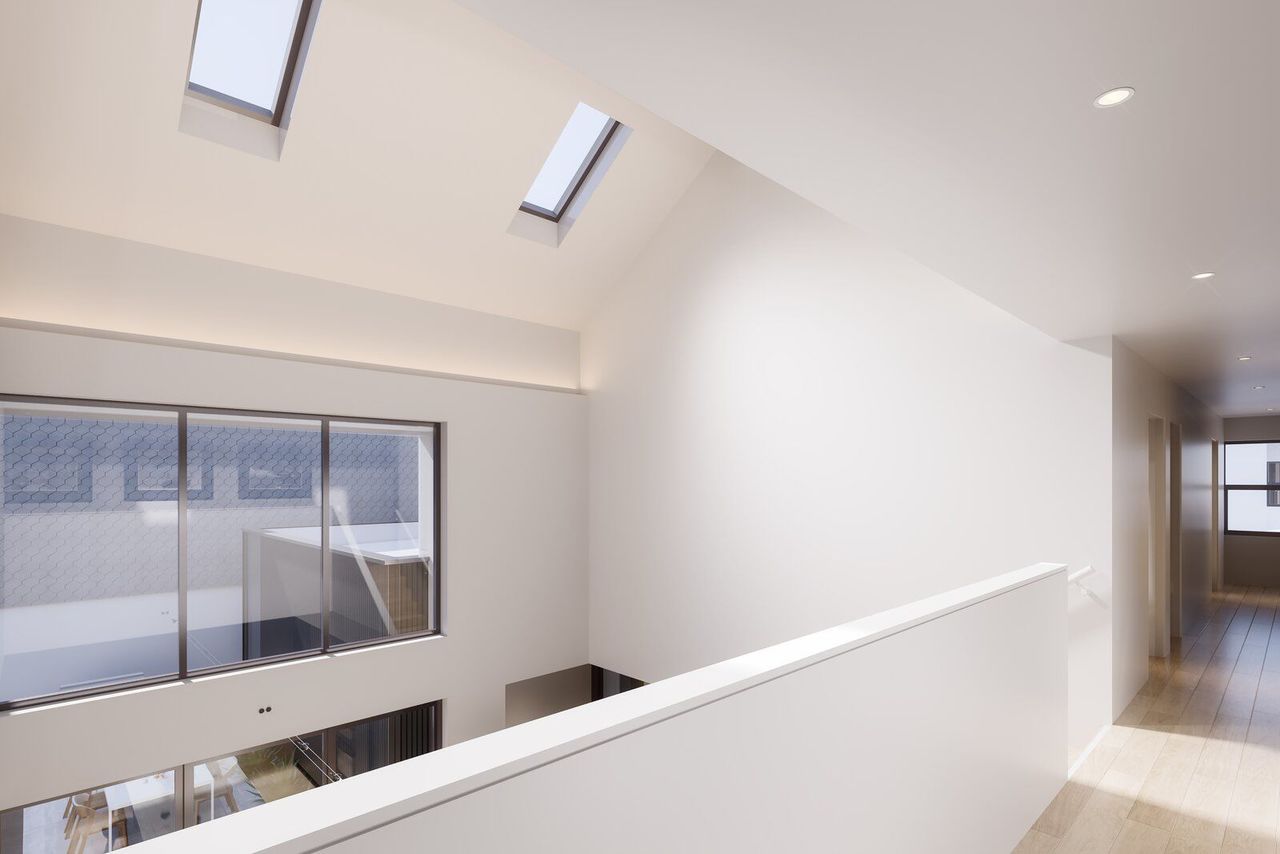 Clerestory openings bring more light into the home's second-floor.

Besides capitalizing on the weather, the project includes numerous energy-efficient features, including a compact footprint that's highly insulated, LED lighting throughout, built-in smart technology, solar wiring, and plug-ins for electric vehicles in the garages. According to Boyer, the units will likely be 50 percent more energy efficient than a standard new home, and 80 percent more efficient than the typical resale home.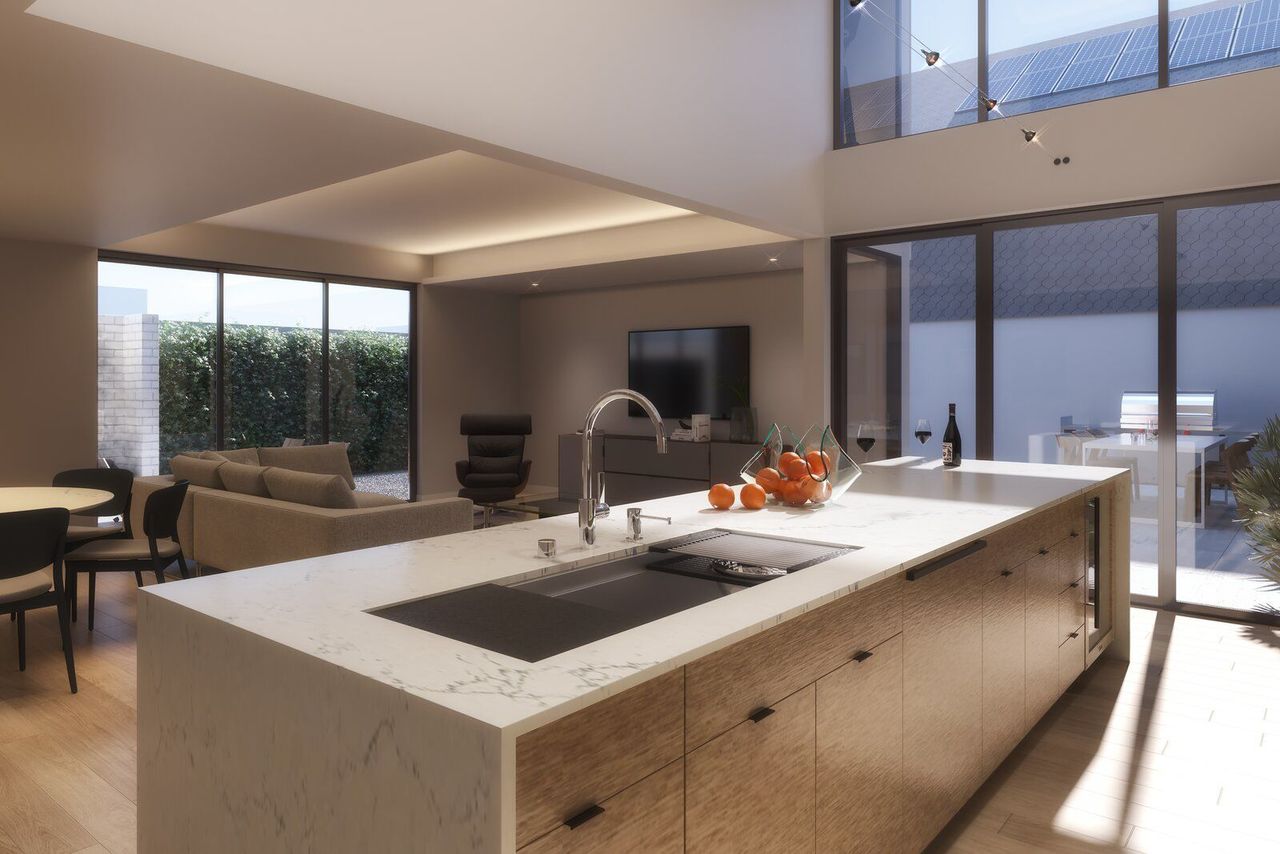 The open kitchen is bathed in natural light that filters down from the two-story volume above.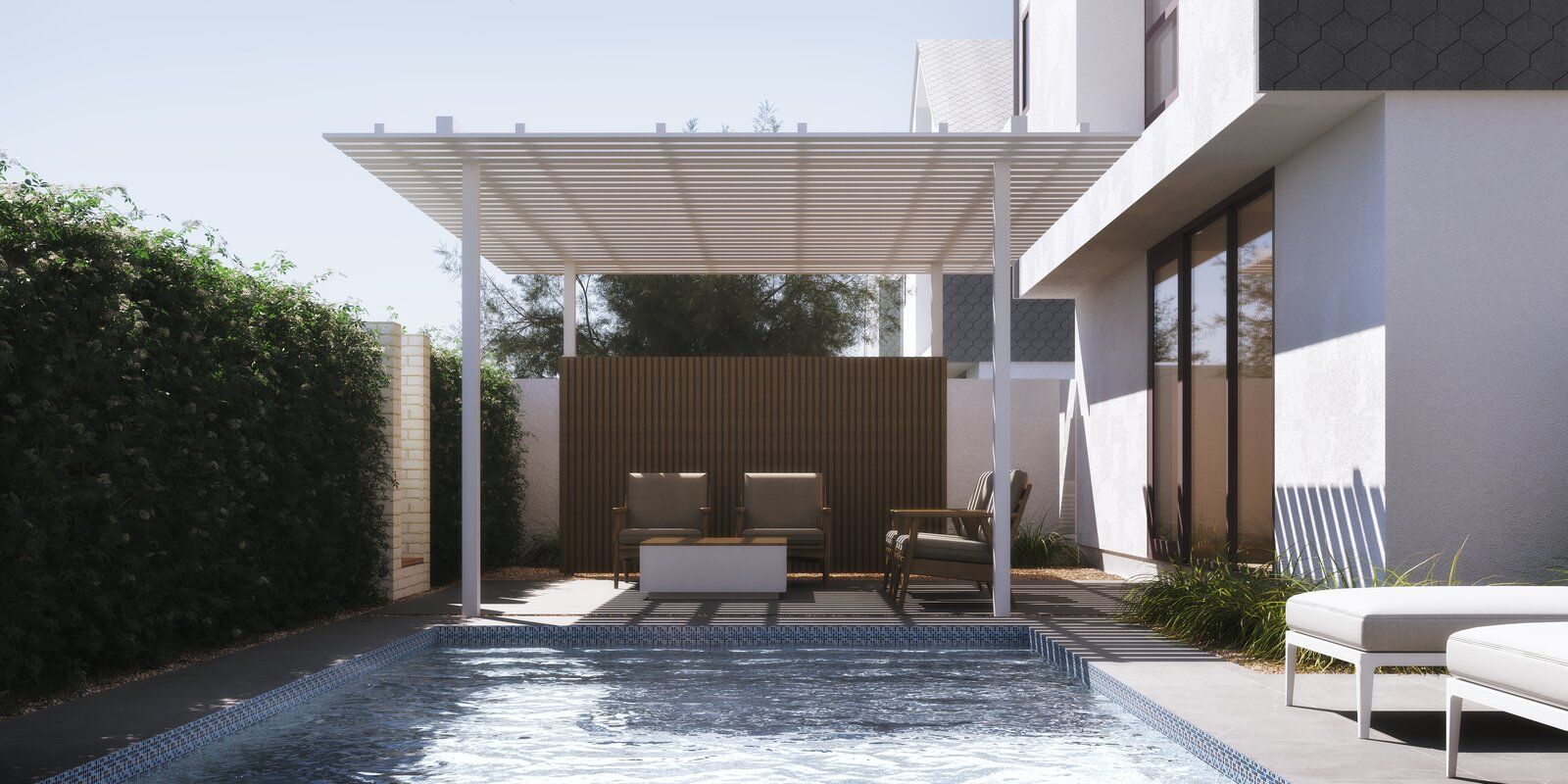 The backyard offers space for a pool, dining area, and shaded lounge.

Rebecca Rudolph, a principal of the Los Angeles–based architecture firm Design, Bitches, recently reviewed the project as a judge for Andersen's Bright Ideas Design Awards, and notes a few key details that add up to its overall appeal. "The project is an interesting combination of smaller-scale housing, double-height spaces, and maximized outdoor living," she says. "It's a nice use of simple materials and landscape integration."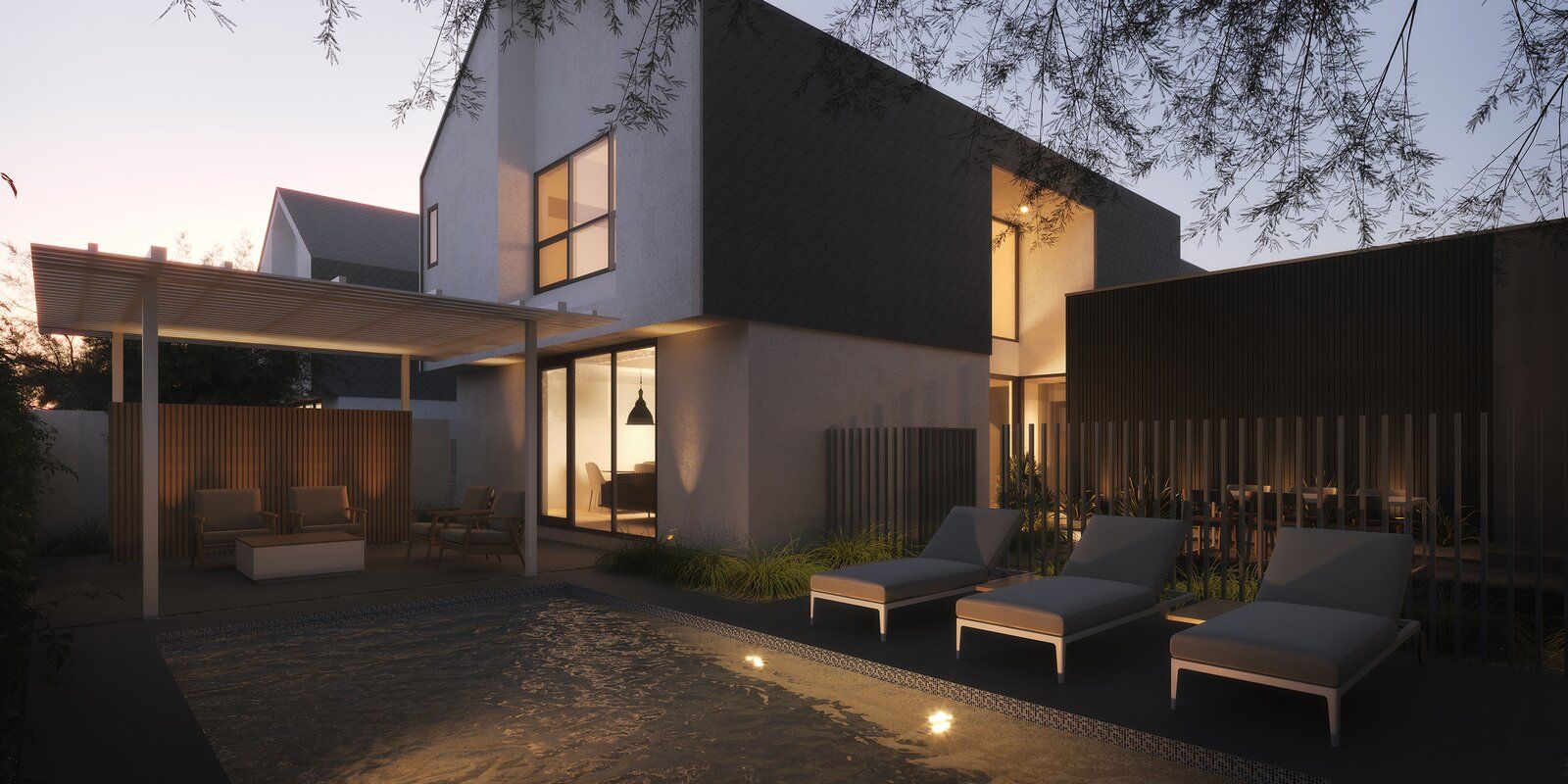 In the evening, light from within casts a warm glow on the outdoor living spaces.

Fellow design award judge Brandon Berg of Andersen Doors & Windows agrees, noting how inviting the project will be once completed. "There's a good balance of sustainable design and features customers are looking for," he notes. Award judge Lisa Iwamoto of IwamotoScott adds: "They are very handsome buildings-serene and sophisticated."