Thousands of young people are forgoing school on day six of the UN climate summit to show world leaders they expect action on the crisis.
Activist Greta Thunberg has headlined a youth march organised by the school strike movement Fridays for Future.

Young people from across the globe joined her on the procession from Kelvingrove Park to the city centre.

Some of them told us why.

Amy, 14, from Darnley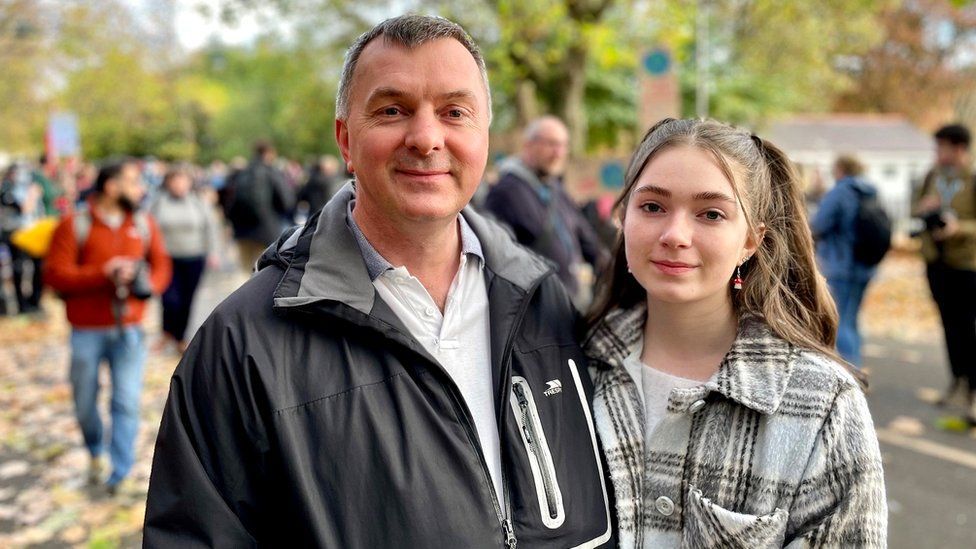 Graham Paisley and daughter Amy, 14, are in Glasgow for the march

Graham Paisley and his daughter Amy were among those gathering in Kelvingrove Park, in Glasgow's west end, ahead of the march.

Mr Paisley, 49, said: "I am here for Amy. I think it is really important for her to have a view of what is happening in the world.

"Climate change is going to have a big impact on our lives and things will definitely get worse if we don't do anything about it."

The businessman only found out about the demonstration when S4 pupil Amy, 14, mentioned it on Monday.

They travelled from Darnley, Glasgow, to take part in what will be their first protest.

Amy said: "If someone is going to get something done about it then it is going to be young people as we are going to have to live with it.

"I hope today will make governments realise that it is something people care about.

"They need to do something about it."

April Hamilton and baby Juneau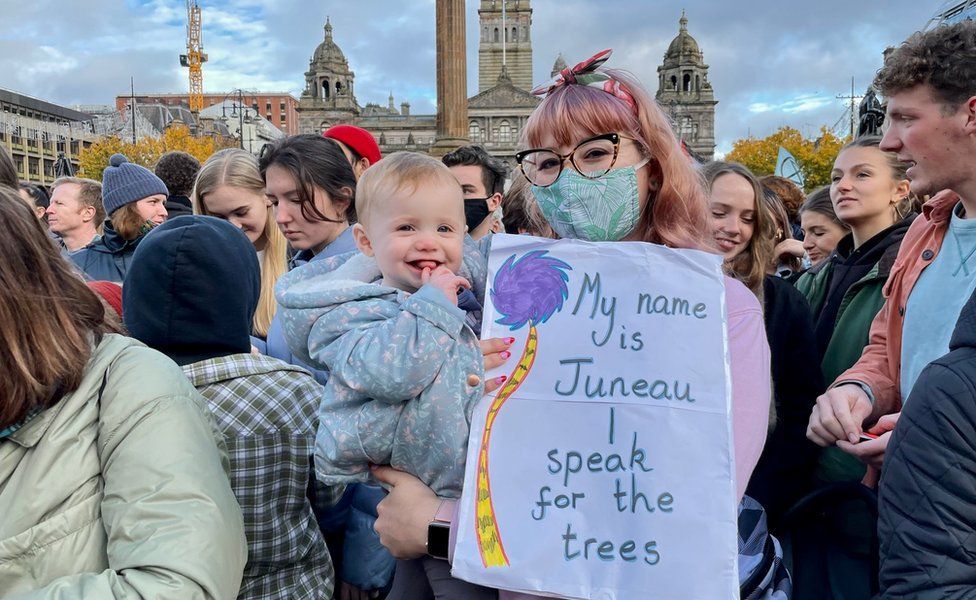 A smiling Juneau made it to her first protest before her first birthday

April travelled to George Square from Paisley, Renfrewshire, for the rally with her 11-month-old daughter Juneau.

The teacher said: "It is too important not to be here as there hasn't been anything like this in the city before.

"I worry about what the world will be like when my daughter is older. What animals will be extinct?

"Will she see the beauty of Scotland as I saw it growing up?"

Ms Hamilton, 33, hopes the outcome of COP26 will be more than just words.

She is looking forward to seeing climate activist Greta Thunberg, whom she said is an incredible role model for her daughter.

Ms Hamilton added: "I think it is amazing that one person can have such an impact. She hasn't changed her tune and she hasn't let fame get to her head.

"She is just one girl who cares about the world."

Patrick Klein and Philip, 10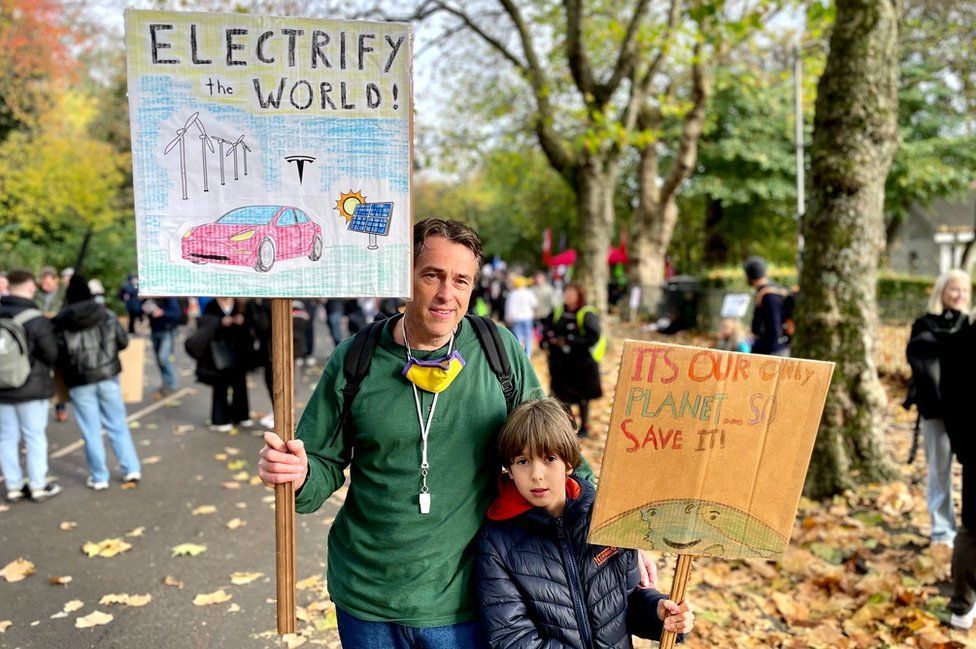 Patrick Klein brought his son Philip to his first protest
Patrick Klein is on the march with wife Julia and son Philip.
The software engineer is originally from Luxembourg but has lived in Glasgow for 20 years.

Mr Klein, 50, said: "I think it is important to make the case for climate change and to send a message to politicians that they need to take action."

He said he had been disappointed with what had been announced at COP26 so far as he believed it did not go far enough.

Among the measures Mr Klein would like to see are coal consigned to history and an end to combustion engines in cars before 2030.

Philip, 10, said: "I came here today because I want my future to to be good and I want everyone else's future to be good."

Prof Kathryn Elmer and Keifer, 10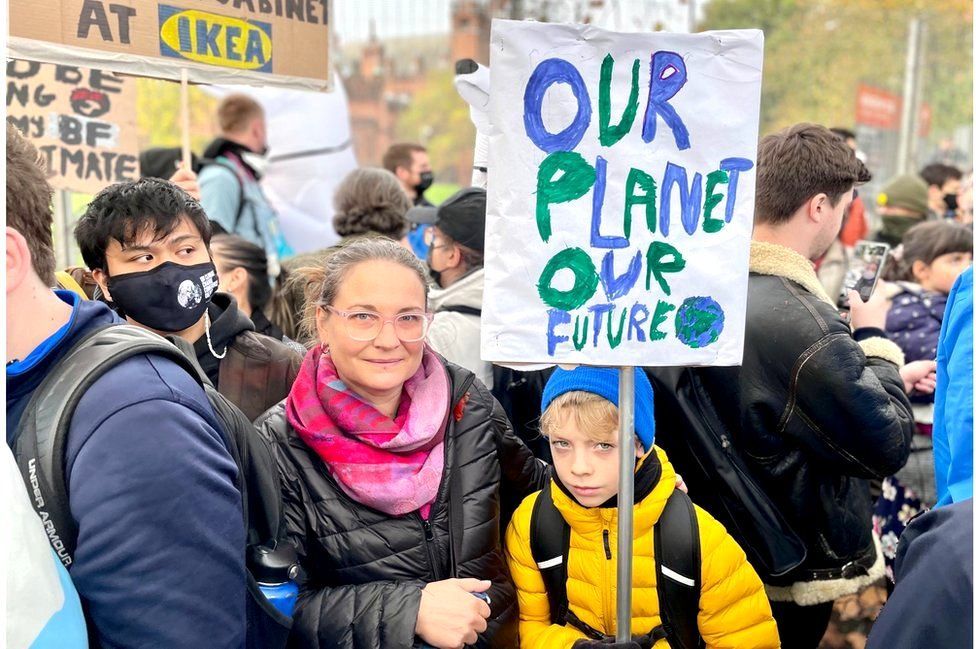 Prof Kathryn Elmer, with her son Keifer, thinks it is time for aggressive choices

Glasgow University biology Professor Kathryn Elmer is attending the march with her son Keifer.

She said: "There has been many, many years of scepticism and talk but now is the time to make some aggressive choices.

"We can't just sit here and watch the planet burn."

Prof Elmer, who is originally from Canada, wants the UK to stand up and be a global leader on climate change.

Son Keifer, 10, said: "Not a lot of adults are listening to young people, like Greta Thunberg.

"I think it is time for for all ages to take action."

Evelyn Acham, Ugandan activist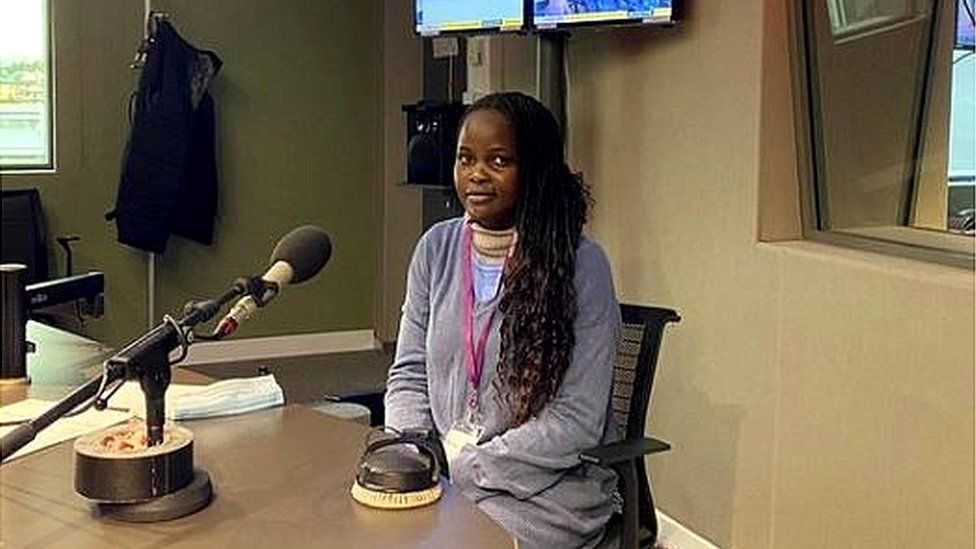 Evelyn Acham campaigns for the Rise Up movement in Uganda

Evelyn Acham, a Ugandan activist with the Rise Up movement in Africa, said some young people had become "full-time activists" against climate change, giving up education and work due to the urgency of the crisis.

Ms Acham told BBC Radio's Good Morning Scotland programme the situation was so urgent that they had abandoned other parts of their lives to push for action.

She said: "The young people going out there to march gives us hope.

"The future belongs to those young people, because they still have a lot of time, they haven't achieved a lot, but the older generation have already achieved so much and (climate change) probably won't be so much their problem.

"But young people still have work to do, they still have school to do, they have a future to build, so this is our concern."

She added: "Many young people have given up school to become full-time activists, some have given up work, some have given up going for a masters degree, just because they're seeing the urgency of this."

She said young people continued to take to the streets across the world because "we do not have a choice".

Ruth and Dora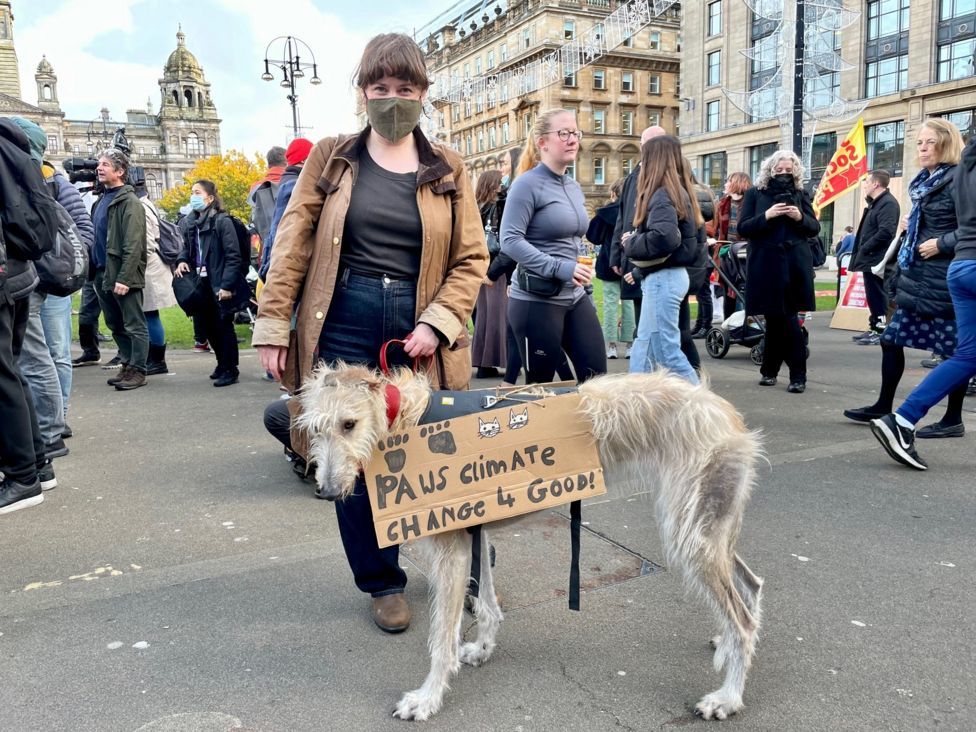 Ruth Ewan attended the rally with her daughter Peggy and pet dog Dora.

Ruth Ewan is in George Square for the rally with her daughter Peggy - who made a special sign for their pet lurcher, Dora.

The artist said: "I want my daughter to think about what is happening to the world and to engage with the struggle for climate justice."

Ms Ewan, 40, is also concerned about rising inequality and hopes the UN climate conference will have a positive impact across the globe.

She added: "I want to see more action and less blah blah blah.

"I am excited that my daughter will get to see Greta today as she is an amazing young female role model."

Anne Thom and Ruby, 11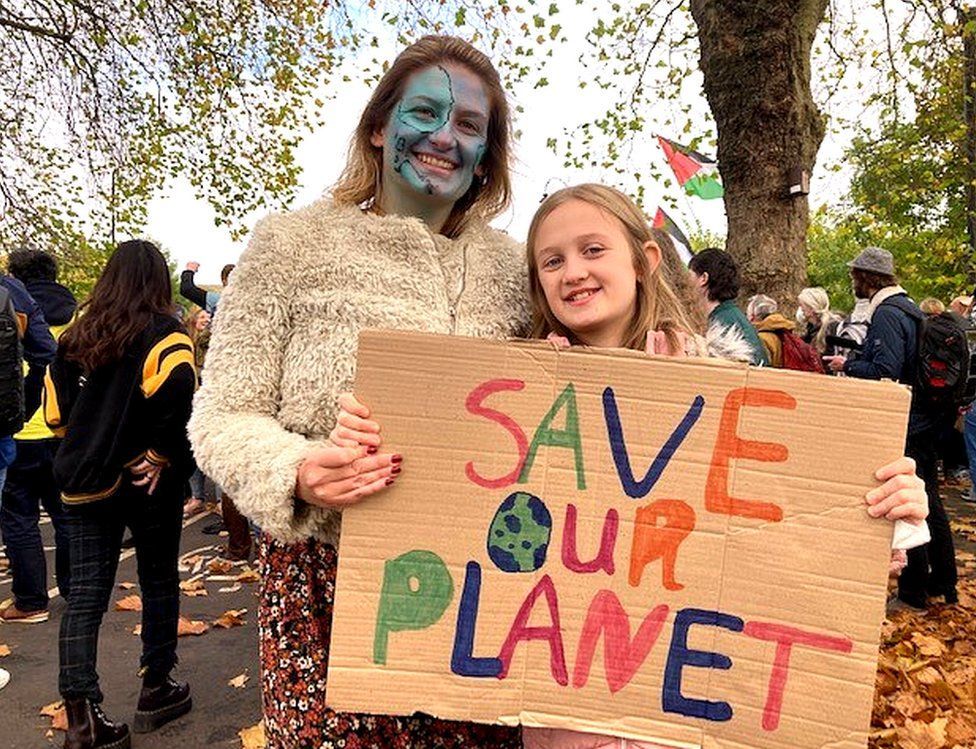 Ruby is worried for her own children when she grows up

Ruby has been allowed to miss school to attend her first ever march - on her birthday.

She said: "I wanted to come here on my birthday to help everyone's voices get heard on climate change.

"I'm worried if I have any children they might not know what a polar bear is."