Rolling out booster jabs to younger age groups could help cut Covid infection rates to low levels across the UK, a leading scientist has said.
Prof Neil Ferguson said data suggests a third jab gives significant protection, even against mild illness.

He said he saw "no reason" why younger age groups should not be offered boosters after priority groups.

He also said the UK was unlikely to get a "catastrophic winter wave" this Christmas.

The UK recorded 38,351 new Covid-19 cases on Saturday, up by nearly 8,000 on the previous week. A further 157 deaths within 28 days of a positive test were also reported.

Health Secretary Sajid Javid tweeted that 12 million booster jabs had been given across the UK, with more than two million being delivered in one week.

In September, the government's scientific advisers recommended everyone over 50 should be offered a third dose of a Covid vaccine, along with front-line medical staff and younger adults with some underlying health conditions. The rollout began later that month.

Prof Ferguson, head of the modelling group at Imperial College London, told BBC Radio 4's Today Programme he saw "no reason why we shouldn't be rolling them out to younger age groups, once we've got through the priority groups, the over-50s and the clinically very vulnerable".

Modelling data on the immunity booster jabs provided to the UK population will be published next week, he said.

Prof Ferguson said he expected the data to be "very like" that seen in places such as Israel, where it showed people were "very substantially protected" after receiving their booster dose - not just from severe disease, "but even from just getting infected again, mild disease".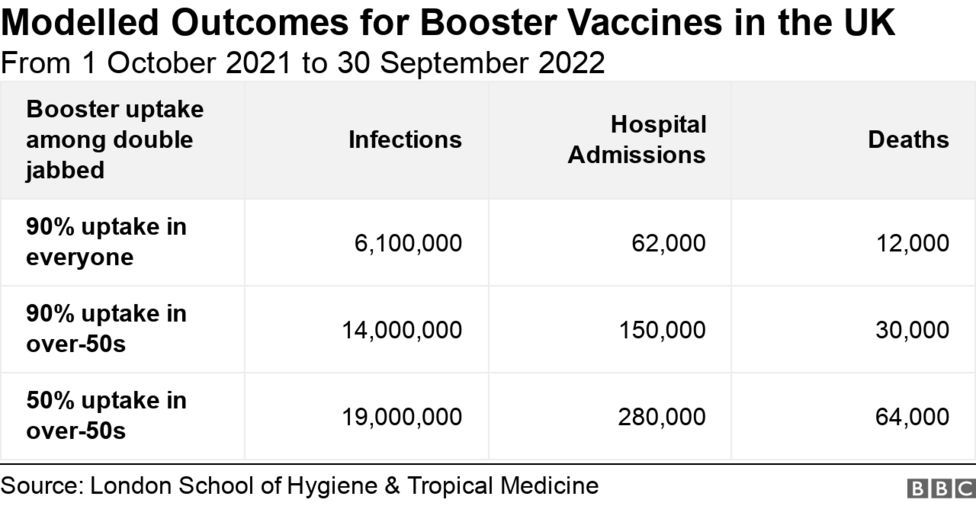 He added: "And that's what we've been missing in the last few months with the Delta variant, with people who have only had one or two doses."

He said, according to modelling carried out by his group and at the London School of Hygiene and Tropical Medicine, rolling out booster jabs to younger age groups "could make quite a big difference to driving down transmission to low levels".

However, Prof Ferguson, whose modelling led to the first nationwide restrictions in 2020, added this would be a decision for the Joint Committee on Vaccination and Immunisation (JCVI) committee to make.

Who is eligible to get the booster jab?

People are eligible for a booster jab in the UK if:

* They are aged 50 or over

* They are over-16 with a health condition that places them at high risk

* They are a front-line heath or social care worker

It must also have been six months (182 days) since their second dose.

Rules about who is eligible for a booster are the same throughout the UK.

In Scotland, people will be able to book boosters online from later this month. In Wales and Northern Ireland people will be invited to book an appointment and for most people this will happen at least six months after their second jabs.

Prof Ferguson said he thought the UK was unlikely to experience a "catastrophic winter wave at this point". He said "we are in a very different place from last year" and "the vaccination is having a huge effect" in the population's immunity levels.

Whereas restrictions have been reintroduced in some countries across Europe, such as the Netherlands, Prof Ferguson said the UK was in "quite a different situation" and he hoped it could "avoid" the return of social distancing measures this winter.

He said "we might see slow increases as we did in October" near Christmas, but the fast rollout of booster jabs has given the UK an advantage in the fight to control Covid.

In light of Boris Johnson's statement on Friday about "storm clouds" gathering over parts of Europe, Prof Ferguson said: "We can't be complacent, but at the moment I don't think we'll be in a situation the Netherlands is coming into where they really do need to get on top of rising case numbers using social distancing."

The UK has experienced a high number of cases since July, ranging from 30,000 to 50,000 new cases daily. Prof Ferguson said the high number of cases during the past four months "has obviously had a downside". But, "paradoxically it had an upside of boosting the immunity of the population compared to countries like Germany, the Netherlands and France", he added.

Germany recorded its highest number of new Covid infections on Wednesday, whilst Austria is set to impose a lockdown for unvaccinated people.

Across Europe, the highest number of hospitalisations and deaths from Covid have been among unvaccinated members of the population.

Recent data from the Office for National Statistics (ONS) has suggested infection levels are continuing to fall across the UK.

About one in 60 people in private households in England had Covid-19 in the week ending 6 November, down from one in 50 the previous week.

In Wales, about one in 45 people were estimated to have had the virus in the week ending 6 November, down from one in 40 the previous week.

In Northern Ireland, the figure was about one in 75 people, down from one in 65 the previous week, while in Scotland it was one in 85, down from one in 80.