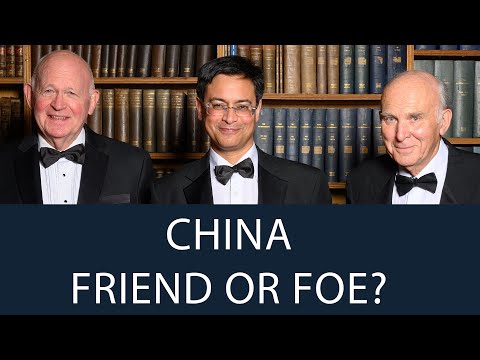 Dancing With The Dragon - China: Friend or Foe?
China has increasingly dominated headlines as a growing economic superpower whose growth and foreign policy are rapidly restructuring international politics.
This head-to-head debate will consider China's place in the world, whether the balance of global power has tilted towards China, and what the true nature of Sino-British and Sino-American relations are. Has China won?

What does winning actually mean for China? Our two speakers will consider these questions and more as we explore how China is remaking the modern world.


--------------------------------------
1. Rt. Hon. Sir Vince Cable
Sir Vince Cable is a British Liberal Democrat Politician who served as Party Leader and spent five years in the coalition cabinet as Secretary of State for Business, Innovation and Skills. He authored The Chinese Conundrum, which explores relations between China and the West.

2. Dr Michael Pillsbury
Dr Michael Pillsbury is Director of the Center on Chinese Strategy at the Hudson Institute. He has held numerous defence and foreign policy advisory positions in the US Government and is considered the architect of Trump's China policy.

3. Professor Rana Mitter (Moderator)
Professor Mitter is a Professor of the History and Politics of Modern China. He has served as the Director of the Oxford China Centre. He is the author of numerous books on China, including A Bitter Revolution: China's Struggle with the Modern World.




ABOUT THE OXFORD UNION SOCIETY: The Oxford Union is the world's most prestigious debating society, with an unparalleled reputation for bringing international guests and speakers to Oxford. Since 1823, the Union has been promoting debate and discussion not just in Oxford University, but across the globe.