During the month of October, the Dominican Republic's airports registered a significant increase in passenger traffic, as reported by the Civil Aviation Board (JAC) in its monthly report.
The data included in the «Air Transport Statistics Report» indicates that during October 2021, 949,783 passengers were transported, of which 483,037 correspond to inbound flights and 466,746 to outbound flights in a total of 7,681 operations. This represents a 9% increase over the same period in 2019.

The Dominican Republic's aero commercial activity shows that the air sector registers a robust recovery with respect to the same activity pre-Covid. All airports located in tourist destinations showed growth: Punta Cana, La Romana, Puerto Plata, and Samaná, highlighting the airports of Samaná and La Romana, which doubled their passenger traffic» said José E. Marte Piantini, President of the Civil Aviation Board.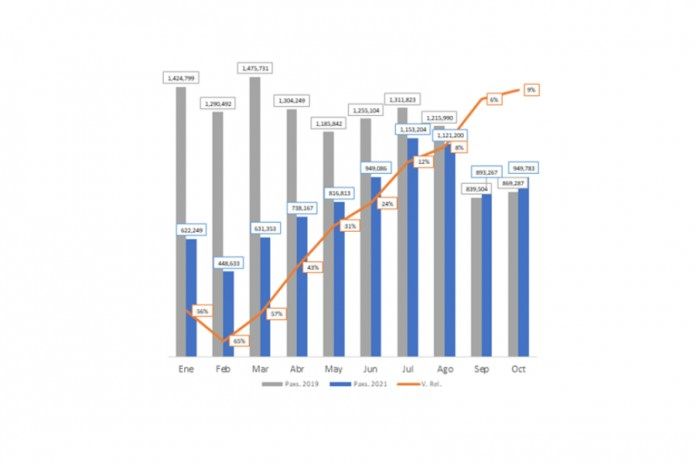 Leading markets

*  United States

U.S. airlines have significantly increased their operations to the Dominican Republic. American Airlines has added capacity on several routes with the introduction of wide-body aircraft, while low-cost carriers such as Frontier and Spirit have introduced new routes.

*  Spain

The Spanish market is one of the most outstanding growth markets. Iberia has increased its seat and frequency offerings to higher levels than in 2019. LEVEL resumed operations to Punta Cana (PUJ), Iberojet announced new routes from Barcelona (BCN) and during the year-end holiday season increases its operation in the Caribbean country, as did Air Europa, while there was the landing of leisure operator World2Fly.

*  Germany

German leisure airlines have committed to the Dominican market. Condor announced flights from Dusseldorf (DUS) and Munich to Punta Cana (PUJ) and Lufthansa Group subsidiary Eurowings Discover, which entered the long-haul market this year, has a current operation between Frankfurt (FRA) and Punta Cana (PUJ), and expects to add Munich (MUC) by summer 2022.

*  Russia

Aeroflot began operations between Moscow (SVO) and Punta Cana (PUJ) in Airbus A350-900 aircraft, Azur Air started flying from St. Petersburg (LED) and Yekaterinburg (SVX) to La Romana (LRM), whereas other tour operators such as Pegas Fly launched connections from Sheremetyevo (SVO) to Punta Cana (PUJ), Samana (AZS) and Puerto Plata (POP).