A woman with Down's syndrome fighting against abortion laws says she is ecstatic she has won the right to appeal against a High Court ruling.
Heidi Crowter challenged legislation allowing foetuses with the condition to be aborted up until birth, saying it was unlawfully discriminatory.

The government maintained it did not discriminate against Down's and the case was dismissed last year.

But the 26-year-old from Coventry has celebrated the chance to appeal.

"I am so happy I could burst", she told BBC News.

"If we don't win, then it's not meant to be, but I think we will win.

"And it's even better it happened on International Women's Day."

After Tuesday's hearing, she thanked people via social media for their support throughout her legal challenge.

Under legislation in England, Wales and Scotland, there is a 24-week time limit for abortion, unless "there is a substantial risk that if the child were born it would suffer from such physical or mental abnormalities as to be seriously handicapped", which includes Down's syndrome.

In September, High Court judges found the section of the Abortion Act pertaining to the condition to not be unlawful, adding that it aimed to strike a balance between the rights of the unborn child and of women.

However, the Court of Appeal will now reconsider the case after judges gave permission.

'Not adequate'

Giving their ruling on Tuesday, Lord Justice Peter Jackson and Lady Justice Nicola Davies said the appeal was granted on the grounds that Ms Crowter and the two other applicants had the right to hear the decision of a full court, and that even if the appeal failed, clarity in the law was important.

The judges said the applicants could appeal on limited grounds - essentially whether or not the rights of disabled foetuses are discriminated against, by clauses in the abortion act.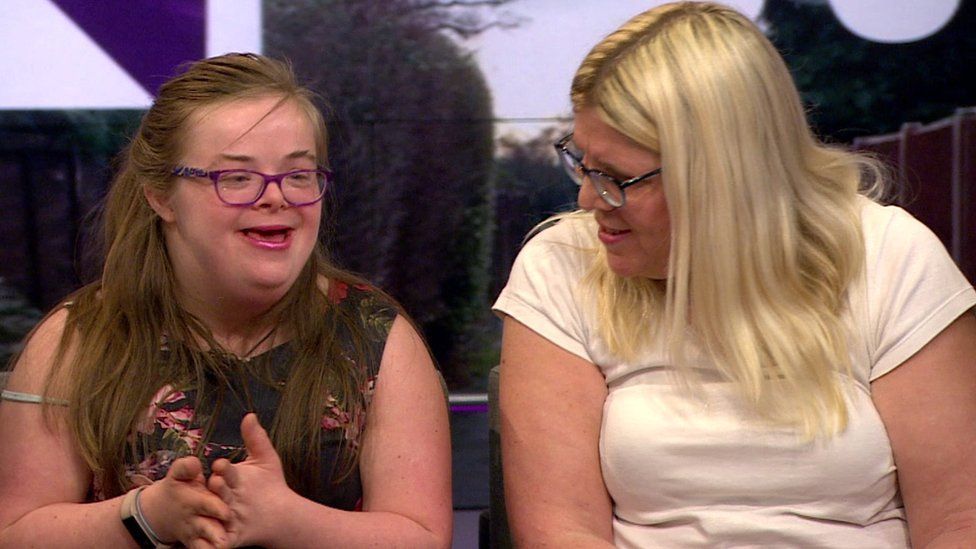 Heidi Crowter, pictured with mother Liz, addressed the court hearing on Tuesday

"It is at least arguable that the treatment of the question of interference... was not adequate," Lord Justice Peter Jackson said.

"Even if the appeal is likely to fail for other reasons, this is an area where clarity is important and the applicants and others in their position are entitled to know where the law stands on the question of their rights and whether they have been interfered with."

Ms Crowter addressed the court during the hearing, telling the judges the law "makes me feel that I am not wanted and loved" and that it was "downright discrimination".

"People like me should not be discriminated against," she said.

"Please hear our appeal so all babies can be treated equally, all the time, however many chromosomes they have.

"So, please, let us appeal and change the law to make us all equal. I want people to see us as people and equals and not just a burden."

Ms Crowter said the appeal should be heard before the end of the year.