'He wanted me to hit him back, but I chose not to,' Harry claims of his brother in clip from his ITV interview airing on Sunday evening
Prince Harry has revealed new details of his clash with Prince William, claiming his brother was clouded by a "red mist" before he allegedly attacked him.

The duke's recollection of the angry row with Prince William in London in 2019 is among the most shocking allegations included in his memoir Spare and first emerged when a copy was leaked this week ahead of publication on Tuesday.

In a new clip from an interview with ITV's Tom Bradby to publicise the autobiography on Friday, Harry talked further about the incident at his then home in the grounds of Kensington Palace.

Harry claimed the conversation to discuss the "catastrophe" of their relationship became a shouting match, before turning violent with William grabbing him by the collar and throwing him to the floor.

He said in the new clip: "What was different here was the level of frustration, and I talked about the red mist that I had for so many years, and I saw this red mist in him."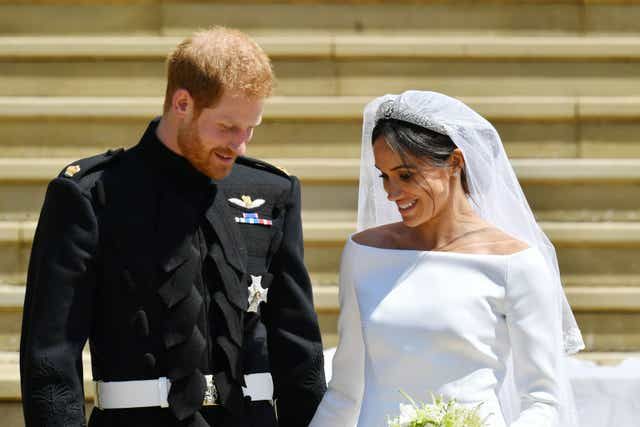 The Duke of Sussex has admitted he was 'probably bigoted' before his relationship with Meghan
It comes as further revelations continue to emerge from the book, despite stringent security measures by its publisher.
In the book, which accidentally went on sale in Spain, Harry details his final words to his grandmother the Queen when he saw her in Balmoral only hours after her death.
He describes how he told her he hoped "she would be happy" and reunited with her husband Prince Philip, who had died a year before.
He raced to Scotland to see her after Buckingham Palace announced that she was gravely ill on September 8 last year.
However, he failed to reach the estate before she passed away aged 96 and only learned of her passing when he read the BBC news website.
When he eventually arrived at Balmoral, he was greeted by Anne, the Princess Royal, who then took him upstairs to where the late Sovereign was lying.
He wrote: "I advanced with uncertainty and saw her. I stayed still, watching her carefully for a good while.
"I whispered that I hoped she was happy and that she was with Grandfather now. I said that I admired her for having carried out her duties until the end. The Jubilee, the welcoming of the new Prime Minister."
The deeply personal recollection is just one of many to feature in the book which has blown apart the royal family's tradition of reticence and privacy.
Kensington Palace and Buckingham Palace have declined to comment on any of the allegations.
One of the claims made by Harry is that the King told him the royal family did not have enough money to support Meghan.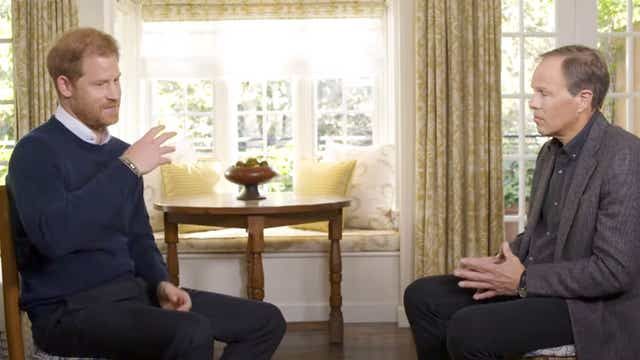 Prince Harry's interview with Tom Bradby is going out on Sunday night
He said he suspected his father was jealous of his wife's growing popularity - and was worried she would end up "overshadowing" him.
He describes how Charles told him he was "already having to pay" a lot to support him as well as
Prince William
and Kate and their family.
He said: "Pa didn't financially support Willy and me, and our families, out of any largesse. That was his job. That was the whole deal."
Harry said he and his brother had agreed to serve the monarch and keep themselves "inside the gilded cage at all times" in exchange for being financially cared for.
"Pa might have dreaded the rising cost of maintaining us, but what he really couldn't stomach was someone new dominating the monarchy, grabbing the limelight, someone shiny and new coming in and overshadowing him," Harry wrote.
He said the situation was similar to that of his mother Diana who dominated headlines around the world while she was alive drawing attention away from other members of the royal family.
Asked about Diana in a clip from another interview - this time with American broadcaster ABC News, Harry said she would be "sad" about the breakdown in the relationship between him and his brother.
"There's a lot that can happen between now and then but the door is always open, the ball is in their court."

In his interview with ITV, Harry was pressed on details of his drug use over the years which is detailed in the book, with Mr Bradby telling him: "There's a fair amount of drugs (in the book). Marijuana, magic mushrooms, cocaine. I mean, that's going to surprise people."

The duke appears to agree and says it was "important to acknowledge".

The royal also states he wants to reconcile with his family - something which he says cannot happen without "some accountability".

"I want reconciliation," he says, "but, first, there needs to be some accountability".

The duke also states: "The truth, supposedly, at the moment, has been there's only one side of the story, right? But, there's two sides to every story."

It comes after Harry reportedly alleged in his book William had called his American wife Meghan "difficult", "rude" and "abrasive" - comments which the younger brother said parroted "the press narrative" about his wife.

The royal also talks more about his relationship with Meghan and told one US broadcaster he was "probably bigoted" before he met her.

In a clip from a CBS News interview due to air this Sunday, Harry tells interviewer Anderson Cooper he said: "I went into this incredibly naive. I had no idea the British press were so bigoted. Hell, I was probably bigoted before the relationship with Meghan."

In another clip from the interview, Harry explained why his move away from the royal family has been so public.

"Every single time I've tried to do it privately there have been briefings and leakings and planting of stories against me and my wife," Harry told Cooper. "You know, the family motto is never complain, never explain, but it's just a motto."

In the book Harry also claims that William and Kate, now the Prince and Princess of Wales, laughed after seeing him dressed in a Nazi uniform for a party.

There are also accounts of Harry's drug-taking and experiences as an Army helicopter pilot in the Afghanistan conflict.

He also reveals he lost his virginity to an older woman in a field near a busy pub.

Harry compared his treatment at the hands of the unnamed woman as that of a "young stallion".