UK households cannot carry the cost of the Ukraine war which is set to push energy bills even higher, the boss of Octopus Energy has said.
Greg Jackson was speaking as UK households brace for average energy bills to reach a predicted £3,554 a year in October and £4,650 in January.

He called for the government to double its financial support or freeze the amount suppliers can charge for energy.

No 10 previously said there would be no new policy before a new PM is in place.

The new Conservative Party leader will be announced on 5 September and will face immediate pressure to tackle the nation's energy bills.

The current favourite, Liz Truss, has promised tax cuts and recently hinted at direct financial help for hard-pressed households.

Her rival, Rishi Sunak, has said he would introduce more targeted support for households, and has promised to reduce VAT on domestic energy bills from 5% to zero.

The upcoming jump in energy prices has prompted investment bank Citi to raise his forecast of UK inflation to 18% in early 2023.

Inflation - the rate at which prices rise - is currently at 10.1% and the Bank of England's target is 2%.

On Friday, the energy price cap - the maximum amount suppliers can charge customers in England, Scotland and Wales for each unit of energy - will be announced.

Energy prices have risen sharply because demand for gas increased when Covid restrictions eased while the war in Ukraine has disrupted supplies from Russia.

Mr Jackson, founder and chief executive of Octopus Energy Group, said: "You can't expect the energy customers, or indeed the retailers to carry the cost of a war."

Asked what the solution could be, he told BBC Radio 4's Today programme the government "could double the existing support package".

In October, all UK households will get a £400 discount on their fuel bills and some eight million low-income households will get an additional £650.

Plans to enable households to get discounts on electricity bills if they cut use at peak times are set to be announced by the National Grid in the next two weeks.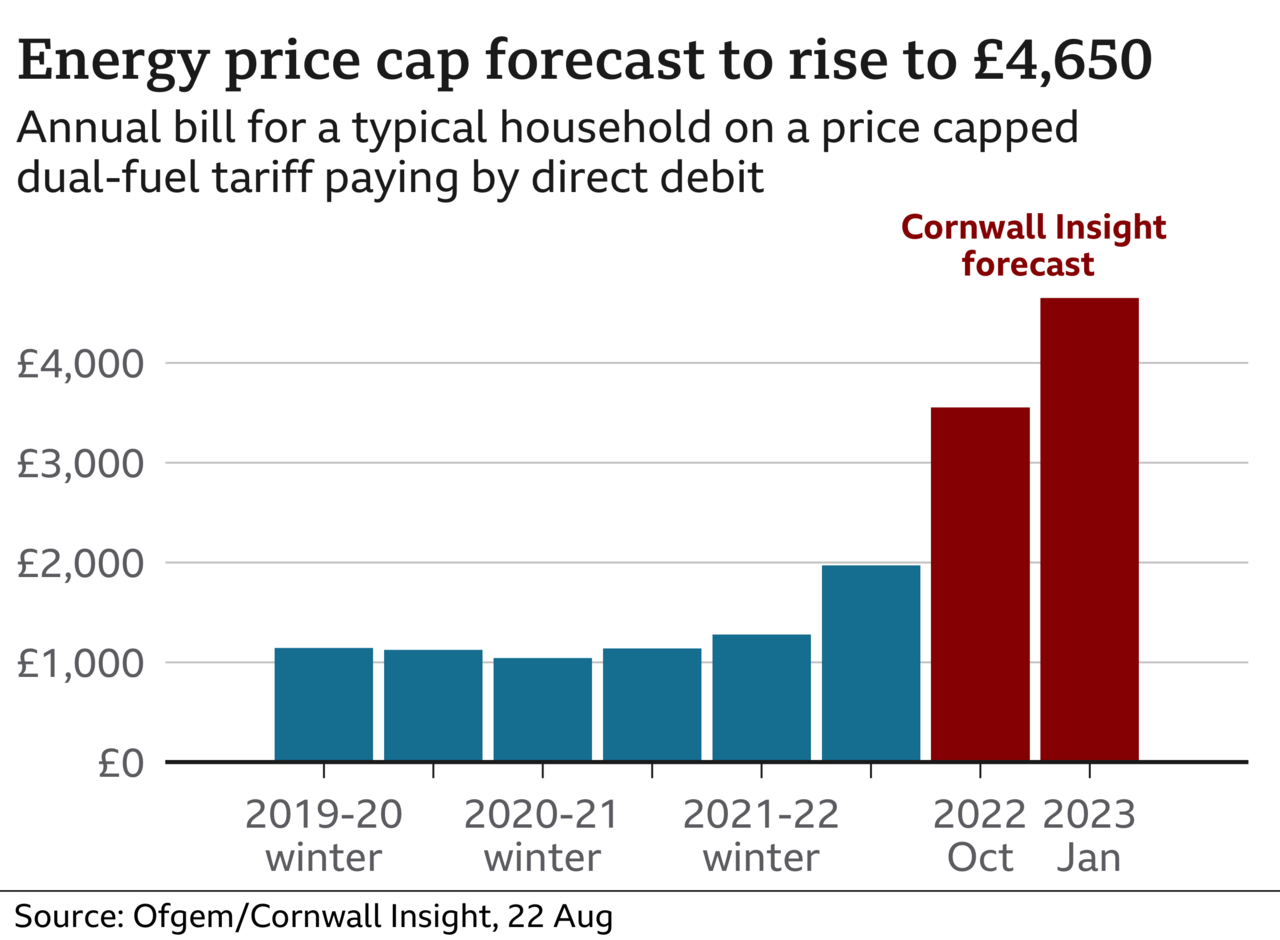 Mr Jackson also suggested a "tariff deficit fund" which would involve the government freezing the energy price cap roughly where it is.

The government would borrow money from banks to pay the difference between the wholesale cost and the price to the consumer while energy prices were high.

This money would be paid back when energy prices came down, he said.

Dale Vince, chief executive of renewable energy generator and supplier Ecotricity, told the BBC: "The government does need to intervene we shouldn't expect customers to pay the cost of this failure and the Ukraine war."

He said the problem pre-dated the invasion of Ukraine and there was a "systemic failure in the energy market".

But he said the deficit scheme Mr Jackson had outlined would force taxpayers to foot the bill over the next decade.

"The government simply needs to step in and pick up this cost like it did in the pandemic," he said.

"We need £40bn to get through this winter. That's 10% of what was spent during the pandemic and that's the only thing that will really sort this problem out."


This summer has seen forecasts, suggestions and a lot of political debate. What it has not seen is certainty.

On Friday, households will finally be told exactly by how much domestic energy bills will rise in October. Remember, individual bills will vary, depending on how much gas and electricity you use. But the percentage increase in the domestic energy price cap for England, Wales and Scotland will be official and expressed in clear terms.

Energy will be more expensive, but at least people will have some basis to plan for the financial hit.

That said, the uncertainty won't be over. What extra support, if any, that is provided by government won't be clear until a new prime minister is in place. Energy prices for the second half of the winter are also unclear.

Energy bosses say fundamental change in the sector doesn't come quickly, but help for householders facing soaring bills as the nights draw in cannot come quickly enough.

Meanwhile Bill Bullen, founder and chief executive of energy supplier Utilita,said that energy prices must be frozen at their current level.

"That's not going to be enough even still for those customers who are on low incomes and vulnerable, maybe have some medical dependencies so some extra help is going to be required," he said.

He added: "The reality is when you get up to £3,500 a huge number of homes won't be able to afford this."

Mr Vince said there needed to be an overhaul of how electricity prices were decided.

"The price of gas sets the price of electricity in our country and we should break that link - other European countries are looking to do exactly that," he said.

"We let global commodity markets set the price that we pay for gas from our own North Sea and we are paying up to 10 times more for that right now."

He added: "Half of the gas that Britain uses come from our North Sea if we price cap that we take away half the problem."