The EU is proposing further sanctions against the Kremlin after allegations of Russian war crimes in Ukraine, with EU ambassadors meeting on Wednesday to decide what steps to take.
European Commission head Ursula von der Leyen said planned measures included an import ban on coal and a ban on Russian ships and road operators.

The US is also planning more sanctions.

And UK Foreign Secretary Liz Truss is calling for a "tough new wave" of sanctions from G7 and Nato ministers.

She said her Japanese counterpart had agreed the international community had to increase pressure on Russia's Vladimir Putin "and his war machine with further co-ordinated sanctions".

EU officials had earlier indicated the focus would be on enforcing existing measures.

But revelations of atrocities, with hundreds of bodies of civilians found in towns abandoned by Russian troops, have given added impetus for new measures.

"The new sanctions will probably be adopted tomorrow," French European Affairs Minister Clément Beaune said on Tuesday.

Ms von der Leyen said the proposals included:

* A ban on coal imports worth €4bn a year, and a full ban on four Russian banks including Russia's second biggest bank VTB

* A ban on Russian ships entering EU ports (with some exemptions) and on Russian and Belarusian road transport operators

* Bans on EU exports in advanced semiconductors and machinery worth €10bn and other EU imports on wood and cement, seafood and alcohol.

* Russian companies would also be barred from taking part in competing for contracts across the EU.

The EU was also working on other sanctions including on imports of Russian oil, she said.

This is the fifth set of EU sanctions so far. Earlier measures have ranged from individuals including Vladimir Putin and hundreds of Russian MPs, to the financial and energy sectors. The 27 member states plan to cut use of Russian gas by two-thirds by the end of this year and then make Europe entirely independent of Russian fossil fuels by 2030.

There is an active debate in Germany on imposing a total embargo on Russian energy, but the government warns it would trigger a recession and mass unemployment and for the moment it has ruled it out. "If it would stop the war, then we would do it immediately," said Foreign Minister Annalena Baerbock.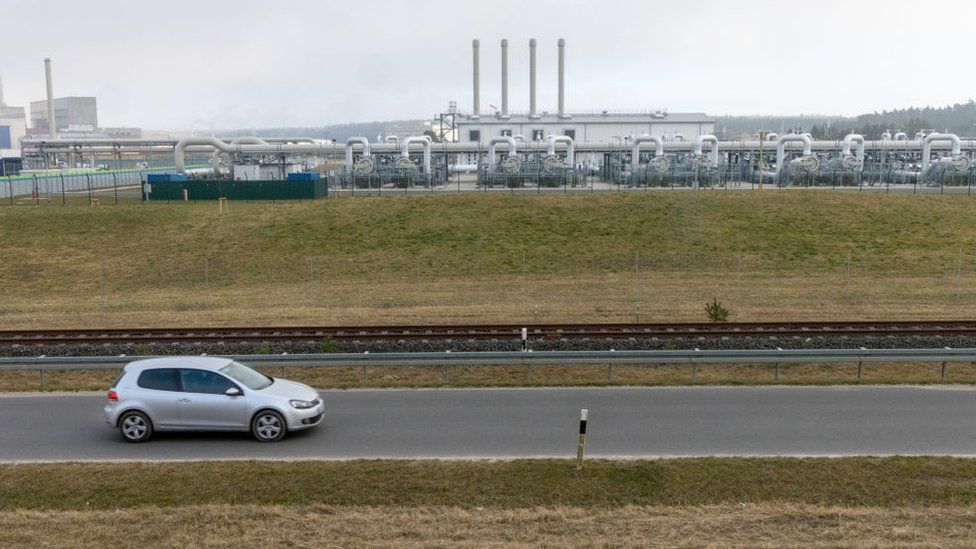 At the start of the war Germany was quick to halt the big Nord Stream 2 gas pipeline from Russia before it went online

Germany relied on Russian gas for 55% of its imports last year, while for the EU as a whole it was 40%.

Experts widely agree that sanctions agreed by the West until now are unprecedented but Eddie Fishman rates them at "seven or an eight of 10 in intensity". He was a lead official in the US State Department in 2014 when sanctions were drawn up in response to Russia's illegal annexation of Crimea in 2014.

"Oil remains the life-blood of Russia's economy," he argues. "Putin has made billions of dollars since the war began and Russia's oil sales remain very strong."

The EU's latest proposals tighten sanctions on four Russian banks. Although major Russian banks have been shut out of the Swift financial messaging system, two of the biggest are not.

Again, it's energy-related. Sberbank and Gazprombank facilitate energy payments from Europe to Russia.

Lithuania announced that from the start of this month it had put a stop to all Russian gas imports.

"Look friends, you can do the same," President Gitanis Nauseda told his EU counterparts. It had become possible through investment in liquified natural gas and electricity link infrastructure, he explained.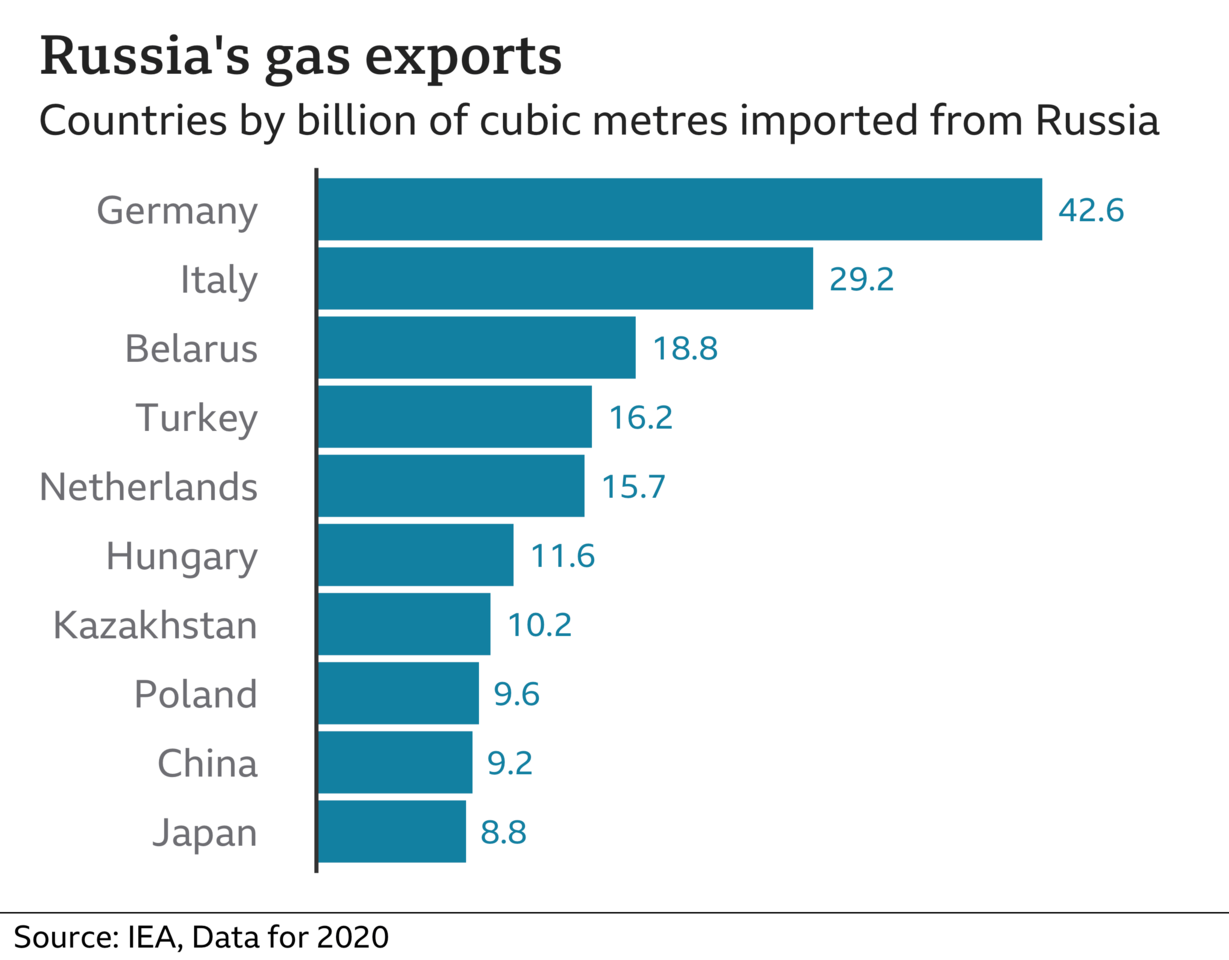 But could the EU, as a whole, really turn off the taps to Russian energy?

There have been warnings of factory closures, jobs losses and plummeting public consent for sanctions.

You would have to pray for warm and windy weather, says Jacob Kirkegaard of the German Marshall Fund. Warm to lessen the need for heating homes - and windy to power Europe's electricity generating turbines.

And while Mr Kirkegaard agrees with German Chancellor Olaf Scholz that a ban could trigger a recession, he believes the blow to Russia would be worse.

"The Russian government would, in my opinion, be compelled to start printing large amounts of new roubles with the risk of inciting significant additional inflation in Russia."

Beyond energy, sanctions so far have hit Russia's tech, aviation and finance sectors, as well as its oligarchs - the wealthy Russians who made their fortunes under President Putin's patronage.

But, as Ukraine's President Volodymyr Zelensky reminded Belgian lawmakers in an address last week, there are other awkward areas where business goes on.

Rough diamonds are still moving from Russia to Antwerp and sea ports remain open to Russian shipping.

So while trade ties between the EU and Russia have been seriously frayed, strained but lucrative connections remain.

An energy embargo remains the "ultimate" economic severance weapon, and Germany is usually cited as the main obstacle to that. But other countries are accused of hiding behind Chancellor Olaf Scholz's frank assessments.

"Germany is really afraid of what might happen to its economy," says Prof Karen Pittel, a director at the Ifo Institute for Economic Research in Munich.

"But in principle, if it happens tomorrow, then we'll survive it."

She also believes that the outlook has shifted after President Putin began demanding payment for gas in roubles. Germany refused but Prof Pittel says it's possible there may come a time when Germany has no other choice than to abandon Russian energy.

It still seems extremely unlikely that Europe will be cut off from Russian supplies in one, big dramatic move, but pressure is mounting.

"Clear and determined sanctions are necessary. These sanctions are not working," Polish Prime Minister Mateusz Morawiecki said this week.

Until recently, the idea of an energy embargo would not have just seemed unlikely. It would have been unthinkable.