Two rare classic Ferraris cars worth £8.5m have sped up the building of a new lifeboat boathouse in north Wales.
The 1960s cars were donated to lifeboat charity RNLI by footwear entrepreneur and classic car enthusiast Richard Colton after he died in 2015.

The red 1960 Ferrari 250 GT SWB was sold at auction for £6.6m and a 1967 Ferrari 275 GTB/4 raised £1.93m.

Some £2.8m of the legacy helped fund a boathouse on the Gwynedd coast, which officially opened this weekend.

Pwllheli's crew, in fact, marked the "proud day" in their 130-year history with a triple celebration, which also saw the naming and dedication of their new Shannon class lifeboat and a new launch and recovery system.

The new boathouse on the Llyn Peninsula was officially opened by Charles Denton, godson of late Northamptonshire businessman Mr Colton, while its construction was also helped by a £100,000 community fundraising appeal.

Mr Colton, a partner in the footwear company Colton Brothers, died in 2015 aged 82. He was also a member of the V12 section of the Ferrari Owners' Club and had owned other Ferraris.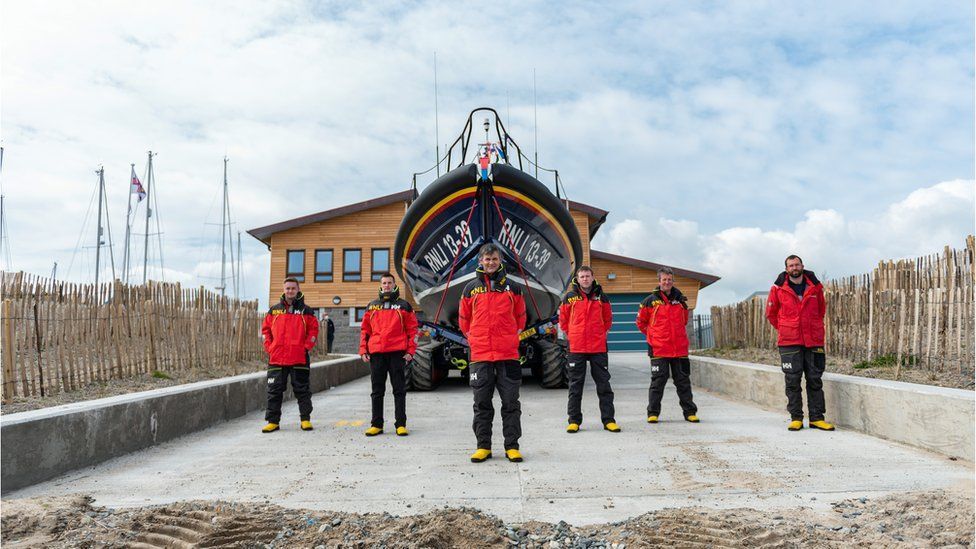 The boathouse is now home to the latest Shannon class RNLI boat, which was named Smith Brothers in a dedication ceremony, and presented to the man who funded the lifeboat, Roger Smith from Tamworth in Staffordshire.

"During my sailing activities I have always had the greatest confidence in the RNLI facilities," said the keen sailor.

"Whilst I have never had to call upon their help myself, I have been part of teams who helped yachts that were then handed over to the RNLI

"Life has been very kind to me, and the RNLI has agreed that I fund a Shannon all-weather lifeboat for Pwllheli.

"The more I get to know the RNLI fundraisers and volunteer crews, the more admiration I have for them."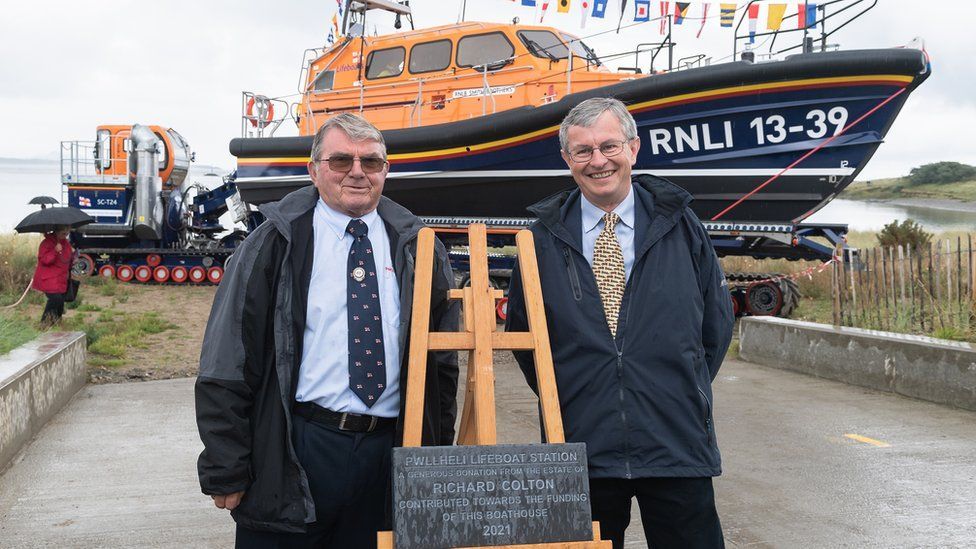 The chairman of Pwllheli RNLI Lifeboat Management Group said it was "a proud day for all at Pwllheli RNLI and the start of a new chapter in the station's 130-year history".

"On behalf of all at Pwllheli RNLI I would like to thank everyone who has supported Pwllheli Lifeboat Station to help us get to where we are today and make sure that our volunteer crew will be here to save lives for many years to come," said Alan Jones.