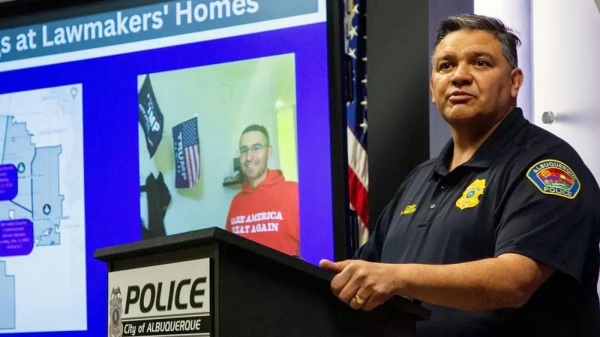 Former Republican candidate held over shootings targeting Democrats' homes
A man who ran unsuccessfully as a Republican state politician in New Mexico is accused by police of masterminding a shooting spree targeting the homes of Democrats.
Solomon Pena, 39, conspired with and paid four other men to shoot the properties of four local politicians, say Albuquerque police. No one was hurt in the attacks soon after November's elections.

Pena lost his attempt to sit in the state's House and contested his defeat. The election result was a convincing one, with his Democratic opponent and incumbent winning 73% of the vote.

On Nov. 15 he posted a photo of himself in a Make America Great Again sweatshirt and draped in a Trump 2024 flag, saying he would not concede the election.

At a press conference on Monday shortly after his arrest, police said that following his loss, Pena had approached the four Democrats he later targeted — two county commissioners and two state legislators — to say without evidence that the election was fraudulent.

The shootings unfolded in the weeks that followed. The local paper, the Albuquerque Journal, reported that on Dec. 4 eight shots were fired into a commissioner's home and then 12 bullets at another commissioner's home a week later.

On Jan. 3, three shots were fired at a state Democrat's home. The bullets traveled through her young daughter's bedroom, the paper reported. A fourth politician then found damage to his property.

Police feared the shootings were linked and politically motivated, and were led to Pena by phone records, witness statements and ballistic evidence from the scene.

As well as masterminding the operation, police also believe Pena fired some of the shots. They said more arrests would be made.

Albuquerque Mayor Tim Keller said this kind of radicalism was a threat to the nation.

"This was about a right-wing radical, an election denier who was arrested today and someone who did the worst imaginable thing you can do when you have a political disagreement, which is turn that to violence," he said.

Attempts to reach a lawyer for Pena for comment have been unsuccessful.