We'll give you the answer at the end of the article but it's solving problems like this that first drew Amena to apply for a spot on GCHQ's summer school programme to become a trainee spy.

GCHQ is the UK's intelligence, security and cyber agency and their mission is to keep the country safe by analysing and disrupting the online communications of groups that pose a threat to the UK.

Of course Amena isn't her real name. For security reasons she can't tell us what it is. Radio 1 Newsbeat spoke to her via Zoom, but her camera had to be turned off.

What she can tell us is that she is in her early twenties and is first-generation British Bangladeshi, she did the summer school two years ago and now works at GCHQ full time.

Diversity issues

It's candidates like Amena that the security services are trying to get on board.

In the past, the intelligence agency hasn't had the best reputation for recruiting ethnic minorities.

In October 2020, the head of the organisation admitted they needed more diverse recruits to "reflect the natural national picture".

This year the number of female sign-ups almost doubled and those from ethnic minority backgrounds tripled compared to 2020.

Amena says diversity within GCHQ is important because "when you come from a different background, you might have a different way of looking at things".

But she has chosen not to tell her family what she does and describes that as "difficult".

"In my culture it's important you make your parents proud and it's very difficult to do that when you're in a job where you can't tell them what you do.

"I worry they'd be too proud to keep it to themselves."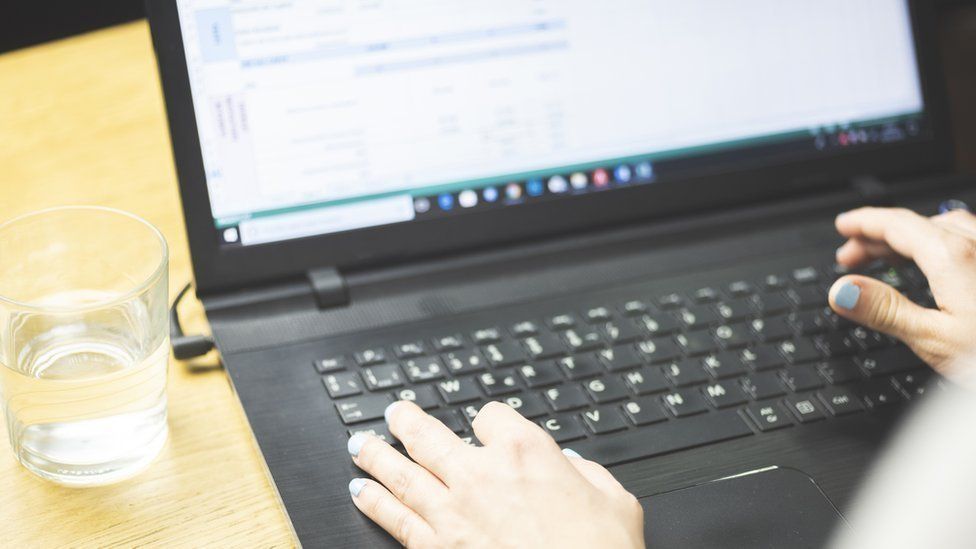 GCHQ was founded in 1919

None of Amena's friends know what she does either.

"When you start at GCHQ you're warned about being careful with what you say outside of work, but the saddest thing is, people don't actually ask about work.

"I often sit in in a conversation, worried if somebody will ask about what I do and they just don't. People are quite happy to talk about themselves."

Catfish training

Amena is now an ethical hacker for GCHQ. She works in a team which legally hacks terrorists, disrupts criminal plans and protects the UK from evolving threats, such as ransomware attacks - computer viruses which demand money.

"It's really cool, frontline work. Which is exciting," she says.

"Every so often, I'll be sitting in a meeting and thinking, 'I can't believe that they're letting me into all this information'."

By all accounts, this is complex work, but for anyone who has watched MTV's Catfish, Amena says she pretty much played the role of presenter Nēv Schulman in her summer school training.

It comes in handy when online dating. She says she does background checks on potential dates by using "open source techniques" - research tools which anyone can use.

"Look for any news articles that they've been mentioned in or look at their social media pages, see if they're registered to vote, or you can reverse-search images of them. That sort of thing is all readily available."

"It's something that I do for myself and definitely something that everybody should do just to make sure we're being safe."

'I'm more relaxed now'

Each day when she enters the building, Amena swipes three different ID cards and needs a code to access her notepad. But despite the high security and jobs she works on, she says she's actually felt "more relaxed" since starting.

"I can read the news and brush off any anxiety, because I know the people working on things and I have the trust in them."

Right now is a busy time for Amena and her colleagues. Just last week, GCHQ's director said ransomware attacks have doubled in the last year in the UK but she stresses they all have outside lives.

"There's a common misconception that you've got to be a nerd, or your entire life has to revolve around work, but I get to spend a lot of my weekends at the pub."

And if you're here for the answer to the riddle, it's six. The sequence is the number of letters in the names of months. August has six letters.