Google: "Due to the war in Ukraine, we will pause monetization of content that exploits, dismisses, or condones the war." So, any opinions, facts or reports that fail to follow this narrative, are not allowed by what George Orwell called "The Ministry of Truth".
Here are the orders surrounding the type of reports, facts and news websites and opinions that have been ordered to be censored, in order to survive: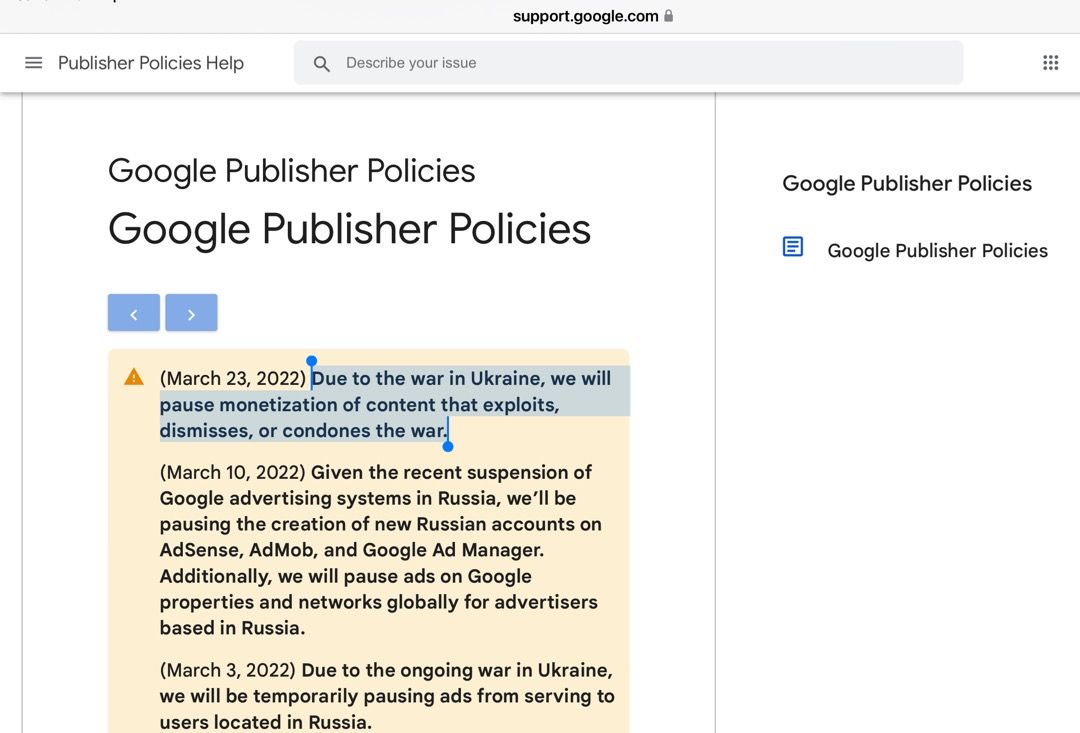 So don't be angry if you are exposed to just one side of the facts and not to the other 359 dimensions.
Journalists and media organisations must survive and, anyway, 'the truth' is always the first victim of every war. In Russia, China, the USA or the UK, there are no real differences on censorship, propaganda and disinformation policies when it comes to war (examples being Julian Assange, Chelsea Manning, Daniel Ellsberg, Edward Snowden, to name but a few…).
Now, you can understand why we do not use advertising here. We do not promote our website on social media, and we do not use any marketing and no SEO techniques. To do so would corrupt our values of journalism; it would shift our focus from reporting the facts and our open minded opinions to populism and "mainstreamism"; it would flood our site with brainwashed readers, instead of the independent thinkers that we are looking for.
However, we do not judge others that use advertising. It's absolutely OK and an accepted part of 21st Century media-life. Those that rely on advertising have families to feed, and billions of 'average readers' in whom we have no interest; but, money-wise that audience is fantastic - and they are a legitimate audience for other sectors of the media who seek them out.
We, obviously, do not support the war and, obviously, we are stunned, shocked, saddened and hurt about everything that is happening in Ukraine. But we do not believe that there is only one side of this story. And we do not believe that turning a blind eye to the other side will solve the problem.
We believe in Supreme Court Justice Louis Brandeis' motto: "Sunlight is the best disinfectant". We feel sorry that Google believes otherwise.