Amid the excitement over a vaccine said to be 90 per cent effective, questions remain over virus mutations, people refusing to take it and the problem of storing it at -80 degrees.
The coronavirus vaccine developed by Pfizer and BioNTech has raised hopes for the end of the pandemic after the interim result of trials showed 90 per cent effectiveness, but questions remain about safety, distribution and its precise effect on the virus.

Before the vaccine is approved for use by health authorities around the world, it will have to meet certain safety requirements that vary by jurisdiction.
In the United States, the Food and Drug Administration is requiring manufacturers to produce safety data on half of subjects for two months after their second dose of the vaccine before it can be approved for emergency use.

Pfizer has said it expects to reach this by the third week of November, and has reported no serious adverse reactions in the nearly 40,000 trial participants who have received two doses of the vaccine.

The US multinational believes it can produce 50 million vaccine doses this year and up to 1.3 billion doses in 2021.

Ian Frazer, a professor at the University of Queensland who co-invented the human papillomavirus vaccine, said there was still a "small risk of unexpected safety issues" and that some people might refuse to take it.

"It depends on their risk level – I'd have it if working in a hospital," he said. "I'd guess that most young people will think twice in Australia
where there's now no virus."

Terry Nolan, a vaccine expert at the University of Melbourne, said that while he found safety concerns about such a rapidly developed vaccine "understandable", it would be vital for the public to get on board with mass immunisation.

"Unless there are very high levels of protection of the community there's very little hope of getting anything near herd immunity," Nolan said.

Apart from safety, potential complications could include virus mutations that could impact the vaccine's effectiveness over time.

Health authorities across the world have indicated that the first doses of a successful vaccine will go to high-risk groups, such as frontline health care workers, employees in aged care facilities, and the elderly.

Frazer predicted the general public would have to wait a "year or longer" until they would have access to the vaccine.

Nolan suggested a less conservative time frame, saying he expected a vaccine to be available "well before" a year's time.

He said Pfizer's apparent breakthrough indicated that other vaccines based on the same principles would also be effective, which would be a "matter of comfort for the world that the supply from a number of manufacturers is very likely to be there".

Nearly a dozen vaccines are in large-scale, human trials – known as phase 3 trials – including candidates developed in the US, China, Russia and Britain.

In August, Russia became the first country to announce the approval of a vaccine before the completion of extensive human trials, prompting widespread scepticism and criticism among scientists and medical professionals.
The Russian government later said the approval of the vaccine, developed by the Moscow-affiliated Gamaleya Institute, was "conditional" on the results of phase 3 trials. Last month, Russian President Vladimir Putin announced the approval of a second vaccine before phase 3 trials had even begun.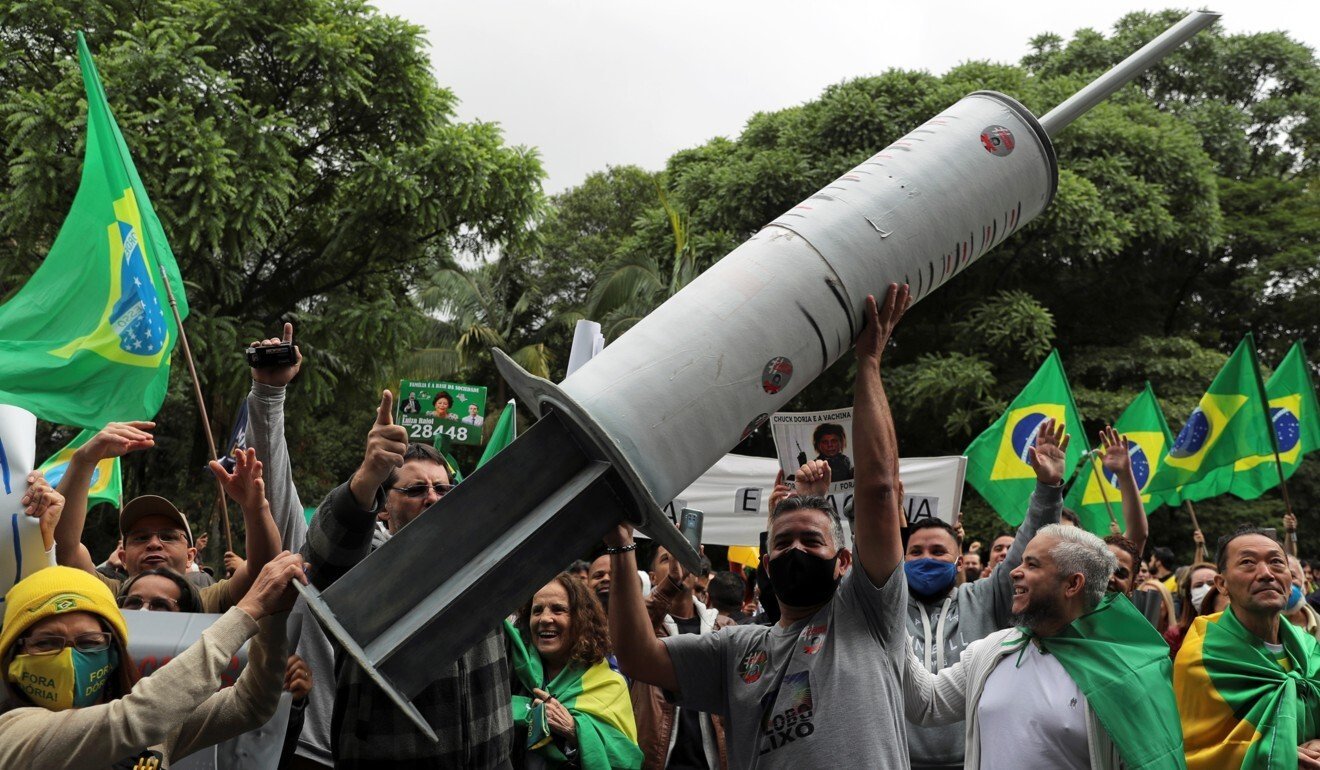 Demonstrators with a giant syringe protest against China's Sinovac vaccine.

China has approved the limited use of three vaccines for some groups such as the military, including the Sinovac Biotech vaccine, trials for which were briefly halted by Brazilian authorities on Monday following an "adverse event". Brazil's health authority restarted the trials on Wednesday after it was confirmed that a volunteer had died from suicide, not an adverse reaction to the vaccine.
Chinese health officials have reported no adverse side effects from the hundreds of thousands of doses administered through the emergency use listing of the Sinovac vaccine and vaccines by CanSino Biologics and the Wuhan Institute of Biological Products.

Governments around the world have invested huge sums into securing multiple different vaccines ahead of time, with the cost per dose ranging from US$32-US$37 for the Moderna vaccine to a few dollars for AstraZeneca's offering. The US government paid US$1.5 billion to Moderna alone to secure 100 million doses of its candidate.

The buying up of potential vaccines by rich countries has raised concerns about their availability in the developing world.


As of September, developed countries including the US, Britain , Australia and Japan had secured more than half of the 5.3 billion doses allocated in supply deals inked by AstraZeneca, the Gamaleya Institute, Moderna, Pfizer and Sinovac, according to an analysis by Ofxam.

In response to such concerns, the global collaboration Covax has raised more than US$2 billion from nearly 100 rich nations to purchase and distribute vaccines among poorer countries.

Distribution poses a major challenge due to the particular storage requirements of the vaccine, particularly in lower-income countries with less developed infrastructure. Unlike most vaccines which can be stored in a normal refrigerator, the Pfizer/BioNTech vaccine must be kept at -80 degrees Celsius. Freezers capable of maintaining such temperatures are uncommon even at major hospitals in developed countries. Pfizer has said it plans to use dry ice to transport the vaccine by land and air to distribution centres around the world, a daunting logistical feat.

"Are there sufficient ultra-low [temperature] refrigerators at vaccination sites?" asked John Siu Lun Tam, a vaccination expert at the Hong Kong Polytechnic University. "How would we know if the 'ultra-low cold chain' had been kept and that the vaccine you get is not inactivated?

"The complete vaccinations process requires two injections," Tam said. "There will be a logistics issue about how to make sure people actually get two doses."

A big unknown remains the vaccine's effectiveness in stopping transmission of the virus. While the Pfizer/BioNTech candidate has shown major promise in preventing sickness, there is as yet little indication it is effective at stopping the spread of infection among people.

"The animal studies which have been done ahead of time so far, including some challenge studies in monkeys, suggest that this class of vaccine may not prevent transmission," Nolan said.

That could result in authorities significantly prolonging their pandemic restrictions. Plans for unrestricted international travel for those with a "health passport" showing they have been vaccinated, for example, might have to wait.

"The whole quarantine business is very, very difficult," Nolan said. "To have completely free travel for those who have, say, a passport, would be what we're hoping to happen, but we can't at the moment guarantee that would happen."