Some things never change. The battle between Hong Kong and Singapore to attract global business talent might just be one of them.
Five years after Bloomberg first created its guide for expatriates considering which of the two cities to live and work in, here's a fresh look at some of the key factors in this long-running rivalry.

It's been a period of seismic upheavals. The Covid-19 pandemic upended expectations about work, travel and healthcare just about everywhere. Hong Kong has been transformed by China's expansive clampdown on dissent, while Singapore politics are shifting as anxiety over inequality mounts. And looming ahead is a potential slowdown in the global economy.


1. How Much Can I Earn?

Top finance jobs in Hong Kong have long held a salary premium over those in Singapore, but the gap has widened dramatically over the past five years.

Wages for director- and chief officer-level positions are more than 60% higher in Hong Kong, according to data compiled by Bloomberg from a 2022 survey by recruitment firm Robert Walters Plc. In 2017, the difference was about 25%.

The change is partly driven by Hong Kong's struggle to retain talent in the face of strict Covid policies and the impact of the national security law.

"The financial services candidate pool in Hong Kong is shrinking," said John Mullally, regional director for southern China and Hong Kong financial services at Robert Walters. The firm expects the percentage of foreign nationals in that pool to continue to fall.

However, those who stay may be able to command heftier salary raises when they move jobs as a result, said Mullally.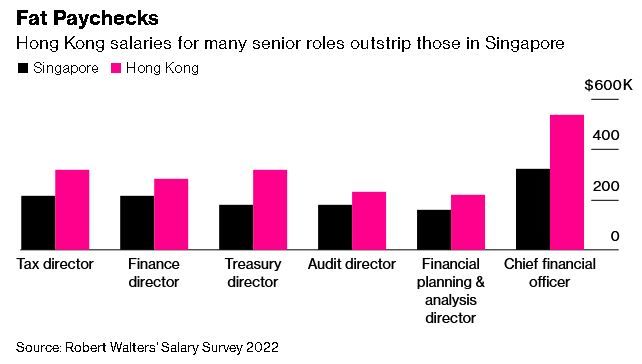 In Singapore, hiring has accelerated despite tighter visa rules for white-collar workers, said Glen Chua, a senior manager at Robert Walters who is based in the city.

And in both cities, income tax remains relatively low. Singapore's top rate for income above the first $230,000 is 22%. (Prices have been converted into US dollars throughout.) In Hong Kong, the top rate is 17%.


2. How Much Will I Spend?

Workers who opt for Hong Kong will need that extra earning power. For the second year running it's the most expensive city in the world for expats, according to findings by ECA International. Back in 2017 it sat at No. 2 in the rankings.

A cup of coffee in the financial hub costs about $5.20 and a liter of milk comes in at about $4.40.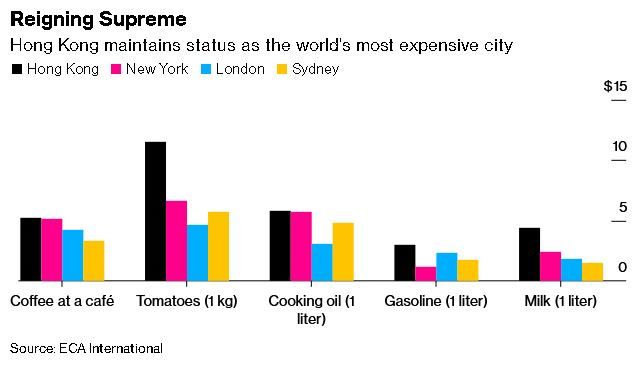 In Singapore, items such as utilities and gasoline got pricier this year but the weakening currency kept the city-state in 13th place on ECA's list, said Lee Quane, the firm's regional director for Asia. The Hong Kong dollar's peg to the greenback has helped curb inflation by maintaining the local currency's buying power.

Still, be prepared to pay more in Singapore for luxuries like jewelry, suits or wine, according to Julius Baer Group Ltd.'s 2022 report on global wealth and lifestyle. Fine dining is also more expensive, even though the Southeast Asian nation has just 48 Michelin-starred restaurants, while Hong Kong has 71.


3. How Much Does Real Estate Cost?

Both cities' expats tend to rent rather than buy. Either way, housing remains most people's largest single living expense.

As Singapore re-opens and expats come flooding back, rental prices are catching up with notoriously costly Hong Kong — especially in the central business district. Pandemic-related delays in supply are having an impact too. Values are spiking for private homes, according to a report from property technology company PropertyGuru Group Ltd.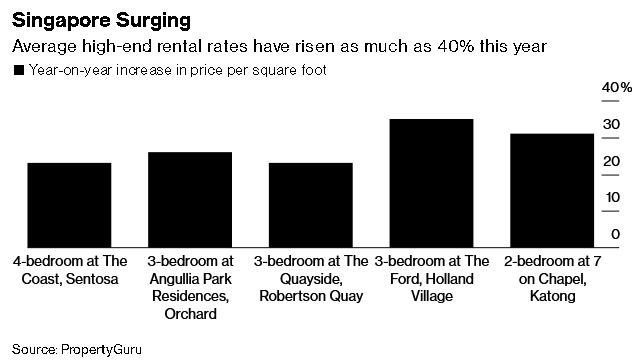 A 700-square-foot, fully furnished apartment in central Singapore starts from about $3,500 a month, PropertyGuru data show. In Hong Kong, a similar property will set you back at least $4,000 a month, according to property website Squarefoot.com.hk.

If you're thinking of buying, though, the difference gets much starker. A three-bedroom house in one of Singapore's prime areas costs about $4.3 million, according to PropertyGuru. In Hong Kong — routinely ranked as the world's most expensive housing market — Squarefoot shows a similar property will set you back somewhere in the order of $10.5 million.


4. Which City Is Best for Doing Business and Investing Money?

Singapore now has the edge over Hong Kong as a place to do business and to grow wealth, whereas the picture was more mixed five years ago.

The Southeast Asian financial hub has the world's lowest business environment risks, according to a November Fitch Solutions report, followed by Switzerland then Hong Kong.

Singapore's benchmark stock index has been less volatile than Hong Kong's over the past five years, swinging between modest gains and losses except for during the March 2020 pandemic outbreak. The Straits Times Index is down about 4% since 2017, while Hong Kong's Hang Seng Index has tumbled almost 15% over the same period, including a drop of more than 6% in 2022.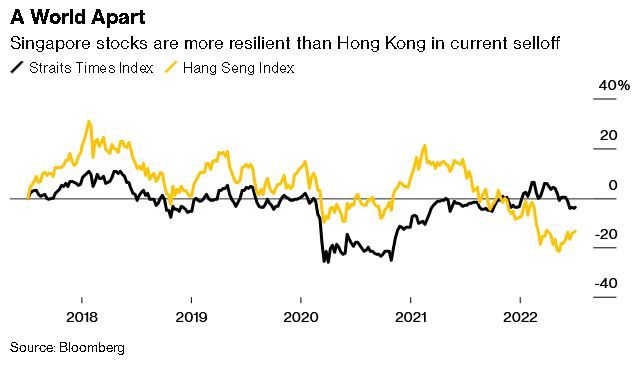 Hong Kong's office rental growth and average monthly rents have been stagnant so far this year, while rental growth in Singapore's central business district accelerated for the three quarters to March 31, the latest available data from Jones Lang LaSalle Inc. show. Tenants in the technology, consumer and non-banking financial services sectors have led demand so far this year.

What's more, Jones Lang LaSalle expects Singapore's office market to keep benefiting from return-to-office momentum and the re-opening of the international border.


5. How Much Does Owning a Car Cost?

Petrolheads, be warned: Singapore is one of the most expensive places in the world to own a car — and the cost of an open category vehicle-ownership permit surged to a record $75,000 in June.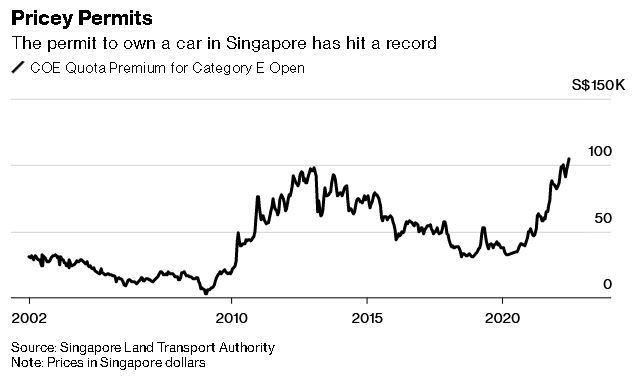 The costly license is just one part of a push to reduce traffic jams and encourage the use of public transport on the island. An Audi A6 luxury sedan costs at least $219,300 in Singapore, according to the company's website. In Hong Kong, the car will cost around $63,600, including first registration tax and manufacturer's warranty on the first five years or 100,000 kilometers (62,137 miles).

However, taxis cost about the same in both cities and are relatively cheap compared with other major financial hubs. A 10-kilometer (6.2-mile) ride costs about $10 in Singapore and about $11 in Hong Kong.


6. How Much Will Education and Childcare Cost?

Median annual school fees at an international school in Singapore would have set you back about $21,000 last year, according to the International Schools Database. That's compared to about $17,000 in Hong Kong.

The quality of education in Singapore and Hong Kong is "comparable" and some institutions operate schools in both locations, according to Bronwyn Small, a senior education consultant at ED-SG, an advisory that helps families find international school placements in Singapore. Both cities beat the world average in terms of International Baccalaureate scores.

In Singapore, "we have seen a large increase in the number of applications, when you compare to the last two years," added Small. "This is driven by the borders opening," she said, "but also specifically from Hong Kong and Shanghai."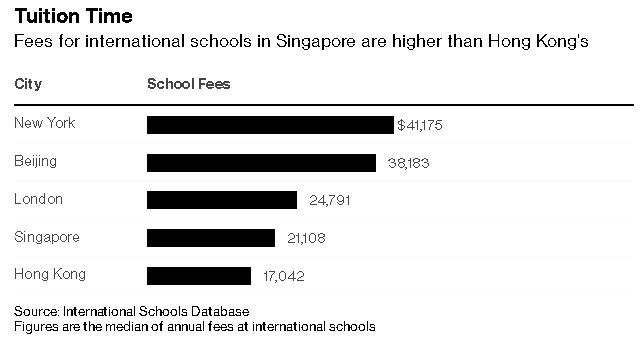 Availability at Hong Kong's international schools has been fluctuating since 2019, said Jason Lee, founder of Lee Educational Consulting. While well-known schools remain extremely competitive, some schools are "crying out for more students," he said.

Outside of school, childcare in both cities is often provided by domestic "helpers" — mostly women from poorer parts of Southeast Asia who also carry out household tasks such as cooking and cleaning. These migrant workers earn a salary of about $428 a month in Singapore, where employers may also incur some extra costs such as agency fees. In Hong Kong, the minimum salary is about $590 a month and employers must also provide food or an additional monthly allowance of $150.


7. How Open Is the City After Covid?

While virus curbs are a relatively short-term feature of any place — and may change at any time — they're currently among the big contrasts between the two cities right now.

Singapore has reopened its international border and scrapped most pandemic-related rules, such as Covid tests for vaccinated visitors and limits on gathering sizes. Hong Kong still has some of the strictest virus measures in the world, which include hotel quarantine for inbound travelers.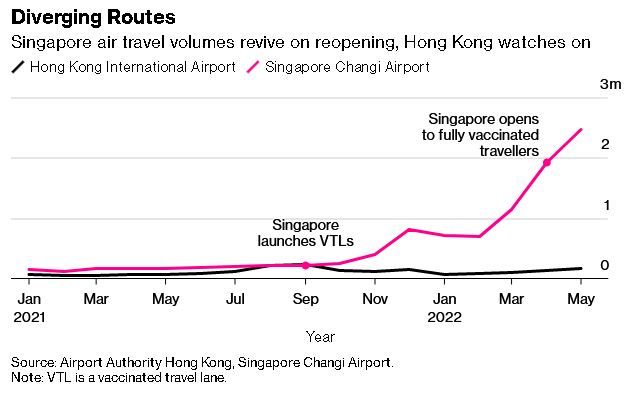 Consequently Singapore's airport is bustling again, with events like the Shangri-La Dialogue and the Formula One Grand Prix taking place there this year.

Air traffic in Hong Kong remains at a trickle. The world's most-visited city in 2017, according to Euromonitor, now sits at No. 49 in the rankings.