The Microsoft heiress married her Olympian boyfriend at their 142-acre New York estate this weekend. Katie Strick takes a look behind the lavish three-day event
It was never going to be a small affair.

Pictures of the marriage of Bill and Melinda Gates' eldest daughter, Jennifer, and her equestrian sweetheart, Nayel Nassar, emerged this week and they paint a picture of a lavish farm wedding set amongst the autumn leaves.

Reports this week suggest the pair's 300 guests were treated to two ceremonies, a lavish brunch and a performance from Coldplay - as long as they'd had the vaccine and tested negative for Covid.

According to the bride herself, the star-studded three-day event felt like an "otherworldly fairyale", with decadent white floral decorations, hanging yellow lights and a roster of celebrity wedding planners behind the venue, food and drink.

"It's been a challenging year, both collectively with the pandemic and for our families going through transitions. But our love for one another has been a constant. Being able to celebrate our wedding with our closest friends and family was a dream come true," Jennifer - known as Jenn to her friends - told Vogue on Monday, in a nod to her parents' recent high-profile divorce.

The 25-year-old medical student and her now-husband have since shared pictures of the wedding, with Jennifer in a lace Vera Wang gown - just one of (at least) three designer dresses she reportedly wore on the day.

Nassar, a renowned Egyptian equestrian who competed in the Tokyo Olympics this summer, wore a black Armani tuxedo with a matching ivory lily pinned to his lapel. "Thank you to everyone who made this the happiest day of my life," he wrote on Instagram yesterday.

So how long have she and Nassar been together and who did they invite to celebrate with them? From the couple's (surprising) first dance song to the family friend who facilitated their nuptials, this is everything we know so far.

Born in Stanford, cemented on the slopes

Medical student Jennifer and her economics graduate husband might have different academic interests, but outside of their studies they are both keen equestrians - a hobby that's been at the heart of their relationship since the start.

The pair have been together since January 2017 after meeting through horse-riding at Stanford. Both were internationally ranked equestrian athletes and both have gone on to belong to the Paris Panthers, a show-jumping club Jennifer founded and now manages. The pair also run international show-jumping stables Evergate Stables together and Nassar is currently ranked 44th in the world for show-jumping - he competed in his first Olympic Games this summer for Team Egypt and recently founded Jumpr, a new app for show-jumping stats.

But horse-riding isn't their only shared sporting passion. Last year Nassar proposed during a ski trip, on the Microsoft hieress' favourite run. "Nayel always reminds me to believe in myself, which is so important. I'm so lucky to have him as a partner. He's incredibly supportive, humble and loyal, and someone that I look forward to building a life with," she has said in an interview. "I can't wait to spend the rest of our lives learning, growing, laughing, and loving together," she wrote in a post on Instagram after the engagement in January 2020, later calling him her "life partner" and "my person".

Jennifer has deleted many of her old Instagram posts in recent months, including many of the family and with her siblings, but Nassar remains front and centre of her glamorous grid. "Always ok losing to this guy," she wrote in November 2018 after coming sixth to her now-husband's first place in the World Cup qualifiers in Las Vegas - her first post featuring Nassar.

Since then the 25-year-old has shared a reel of loving pictures of their relationship, from Valentine's Day snaps in New York to their proposal shoot while skiing. "Nayel Nassar, you are one of a kind," she wrote alongside it in January 2020. "Absolutely swept me off my feet this past weekend, surprising me in the most meaningful location over one of our many shared passions. I can't wait to spend the rest of our lives learning, growing, laughing and loving together. Yes a million times over. AHHH!!!"

A wedding weekender

The wedding venue was presumably obvious from the start: the 142-acre estate, Evergate Stables, bought for Jennifer by her parents and now run by the equestrian power couple together.

The family stables are located in North Salem, Westchester County, an area in the Hudson Valley north of New York City, and photos paint a picture of a dream-like weekend set against the backdrop of the farm.

"Planning a wedding while I was in medical school rotations and Nayel was preparing for the Olympics was no small feat," Jennifer told Vogue this week. "But it was so worth it to share such a special day with those closest to us. We feel so grateful for everyone involved who kept us on track and helped make our vision come to life."

According to the bride, the wedding was a three-day affair, starting with an Islamic marriage ceremony on Friday with their immediate families before the main outdoor ceremony on Saturday and a post-wedding brunch on Sunday. She reportedly asked all 300 guests to be vaccinated and take a Covid test before attending.

"It was a beautiful fall day, and we had just finished taking photos when the rain started," she said alongside a series of photos of them posing among the autumn leaves around the farm. "The ceremony was facilitated by a longtime family friend, and we both wrote our own vows. It was a really special and intimate moment."

Jennifer's parents both reportedly walked her down the aisle, before the fairytale reception in a tent adorned with hanging lights on the farm. According to the Daily Mail, Jennifer and Bill danced to Elton John's Can You Feel The Love Tonight for their father-daughter dance and the newlyweds' first dance was set to Yellow Lights, a song written and performed by the couple's friend, American folk singer-songwriter Harry Hudson, a friend of Kylie Jenner's.

Hudson is understood to be friends with stars including Kylie Jenner, but the real celebrity centerpiece of the night was Coldplay, who jetted in fresh from their set at Prince William's Earthshot Prize ceremony in London to perform for the couple. The band has just announced their first carbon-neutral tour — presumably they offset the emissions from the flight?

Chris Martin and his bandmates weren't the only VIPs at the weekend's Gates wedding. Georgina Bloomberg, the daughter of former New York mayor Michael Bloomberg, is also believed to have attended as a guest and according to Vogue, a roster of big names worked behind the scenes: world-famous chef Jean Georges hosted the dinner, New York baker Sylvia Weinstock was behind the six-layer floral-adorned wedding cake and celebrity event planner Marcy Blum organised the wedding (her other clients include Kevin Bacon, LeBron James and Bill Joel).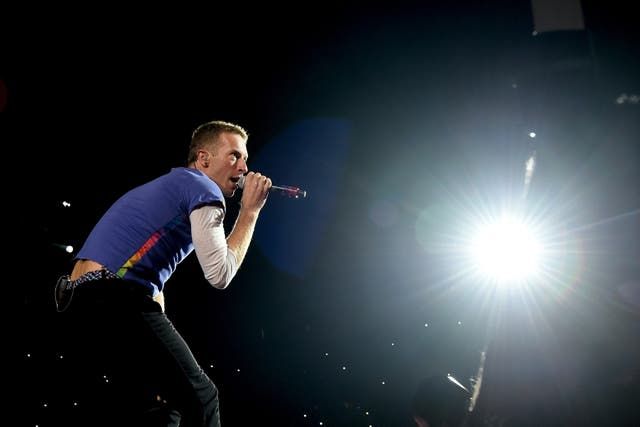 "One piece of advice we were given [throughout the planning process] was to remember that this day is about us and our love," Jennifer told Vogue, adding: "I think we really kept that at the center of our minds while planning, and we also tried to ensure that our families and friends were able to enjoy themselves."

She has since shared a single Instagram picture on Instagram, showing her and her husband laughing as they walk arm-in-arm down the aisle and captioned "my universe" alongside the wedding date.

Nassar shared a similar picture with his 127,000 followers, showing his new-wife gazing up at him. "We did a thing this weekend!" he wrote. "Can't wait for forever after with you @jenniferkgates."

Jennifer's parents Bill and Melinda have also shared images of the couple from the weekend. "What a joy to celebrate the light and love of @jenniferkgates and @nayelnassar this past weekend. So grateful we were able to find a way to safely gather for this special day," Melinda wrote alongside a picture of her daughter's veil billowing in the breeze.

Bill posted a simple image of the pair gazing into each other's eyes. "Jenn and Nayel, it's impossible to put into words how happy it makes me to see you filled with joy on your wedding day," he wrote. "I'm so proud of you both for everything you've accomplished in your lives so far and everything you will do with your future together."

The power of three (dresses)

While her nine bridesmaids wore dark green, a mix of halternecks and sleeved gowns, Jennifer wore a custom-made ivory long-sleeve Vera Wang Haute dress with French macrame lace on the bodice, sleeves and skirt. The skirt was also lined with white Dutch delphinium flowers and she wore a French lace veil to match.

"Vera and her whole team were so wonderful to work with," the bride told Vogue. "[Vera] is an icon in the fashion industry and a trailblazer as a woman who changed careers late and followed her passions. From our first meeting, I knew that I was in such good hands."

She went on to call the gown her "dream dress" - but there were more to come. Over the course of the weekend, the 25-year-old was also pictured in a second Vera Wang Haute ivory gown with a square neckline, which she wore for the reception, as well as a third sleeveless ivory number for their pre-wedding shoot on Friday.

Pictures also show her in a possible fourth dress, another sleeveless gown, while chatting to her father Bill outside the venue. The Microsoft founder was snapped at various points across the weekend and each time he wore a proud grin. After a difficult few months following his and Melinda's high-profile divorce, perhaps a big white wedding — a celebration of the daughter's young love — was exactly what the Gates family needed.