Wikileaks founder Julian Assange has married his long-term partner at a high-security prison in London.
Mr Assange, 50, married Stella Moris on Wednesday in Belmarsh prison, where he has been held since 2019.

The couple were granted permission to marry last year, and the ceremony was attended by four guests as well as two official witnesses and two guards.

Mr Assange is in prison while US authorities seek to extradite him to face trial on espionage charges.

He is wanted over the publication of thousands of classified documents relating to the Afghanistan and Iraq wars. He denies any wrongdoing.

Earlier this month, the UK Supreme Court refused to allow his latest appeal against extradition.

Ms Moris, a 38-year-old lawyer, was greeted by a crowd of supporters as she left the ceremony in south-east London. They threw confetti and shouted "congratulations" and "free Julian Assange".

She wore a wedding dress designed by Dame Vivienne Westwood - who has campaigned to stop the extradition of Mr Assange.

"I am very happy and very sad. I love Julian with all my heart, and I wish he were here," Ms Moris told the crowd, before describing her husband's detention as "cruel and inhuman".

"The love we have for each other carries us through," she said. "He's the most amazing person."

The couple began a relationship in 2015 and have two children together.

Four guests were allowed to attend the wedding at the high-security prison

Both children attended the ceremony on Wednesday, along with Mr Assange's father and brother.

Mr Assange's case will now go back to District Judge Vanessa Baraitser, the original judge who assessed the American extradition request.

Home Secretary Priti Patel is then expected to make a final decision.

Mr Assange faces an 18-count indictment from the US government, which accuses him of conspiring to hack into military databases to acquire sensitive information relating to the Afghanistan and Iraq wars. The information was then published on the Wikileaks website.

The documents revealed how the US military had killed hundreds of civilians in unreported incidents during the war in Afghanistan, while leaked Iraq war files showed 66,000 civilians had been killed, and prisoners tortured, by Iraqi forces.

The US says the leaks broke the law and endangered lives, but Mr Assange claims the case is politically motivated.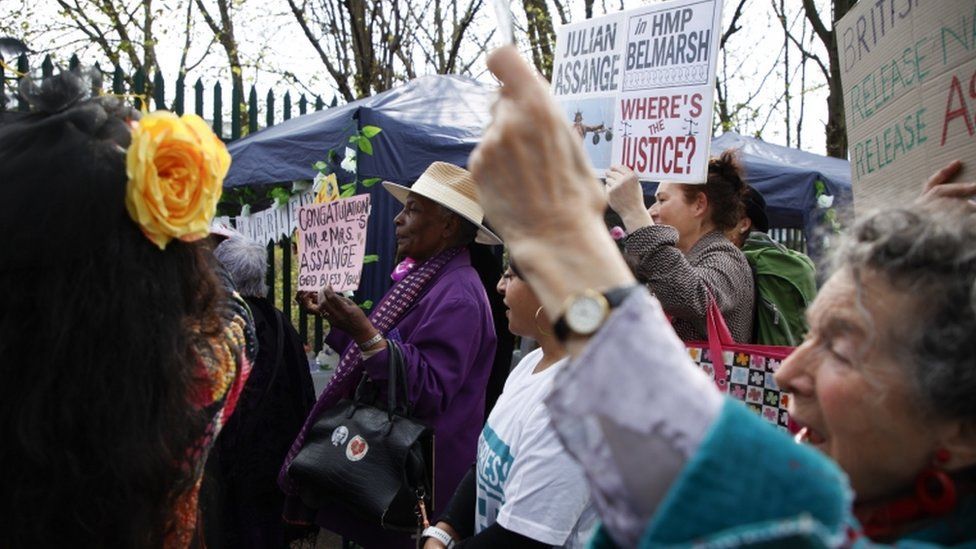 A crowd of supporters gathered outside the prison on Wednesday