Health campaigners say the government's obesity strategy is "falling apart", after it delayed bans on multi-buy deals for junk food and pre-watershed TV advertising for at least a year.
Chef Jamie Oliver said banning adverts was vital to protecting child health.

Multi-buy deals made "people spend more on junk, and less on healthy food", the Children's Food Campaign said.

But ministers say they are deferring the policy to assess its impact on the cost of living crisis.

The Department of Health and Social Care said the planned ban - due to be brought in in October - on "buy one get one free" deals for food and drinks high in fat, salt or sugar as well as free refills for soft drinks, would be put on hold for 12 months.

Plans to restrict TV advertising of junk foods before the 21:00 GMT watershed and paid-for online adverts are also being paused and will not come into force until January 2024, the department added.

It added curbs on junk food placement in stores would still go ahead this October.

Writing on Twitter, Mr Oliver - who has long campaigned to improve children's access to healthier food - said restricting junk food advertising was crucial.

"This is a wasted opportunity and it starts to erode the whole obesity strategy - which at some point looked progressive and world leading written down, but is falling apart when it comes to acting on these policies," he said.

"Parents and kids don't want to hear any more excuses from the government. I really hope the Prime Minister @BorisJohnson proves me wrong and shows real leadership to give young people a healthier and fairer future."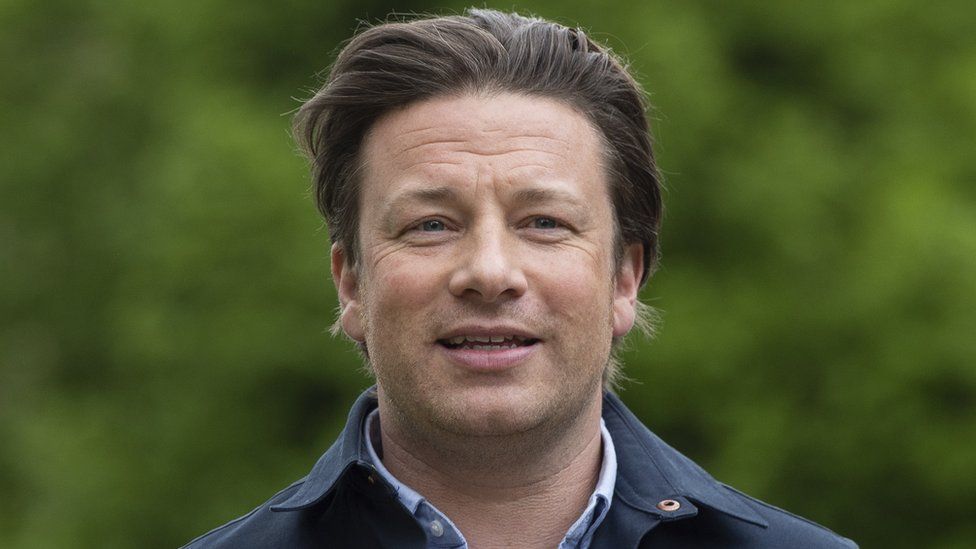 Chef and healthy eating campaigner Jamie Oliver said the government's obesity strategy was being eroded by the delays

The delay was also criticised as "unconservative" by former health minister Lord Bethall, who said it would be "extremely difficult" for the government to come back to the plans before the next election.

Lord Bethell, who previously served in Boris Johnson's government, said illnesses caused by excessive junk food consumption were placing a burden on the NHS and the taxpayer.

Public health research commissioned by the government shows consumers buy around 20% more junk food than they would ordinarily when it is sold via promotion.

It also found that people do not stockpile the extra food and drink, but increase their consumption instead.

A study released by Cancer Research UK in March has also found "strong evidence" of targeted advertising of junk food on social media directly influencing young people aged 11 to 19 into making unhealthy choices.

The charity's chief executive, Michelle Mitchell, said she was "incredibly disappointed" over the decision to postpone the bans, saying obesity was the second biggest preventable cause of cancer in the UK.
Obesity - what does the data say?

About two thirds of adults in England were overweight or obese - with 28% of these considered to be obese - according to the NHS' most recent health survey in 2019.

Among children aged four to five, 14% are obese, with a further 13% overweight, the National Child Measurement Programme found last year.

When surveying children aged 10 to 11 years old, this rose to 25.5% obese and 15.4% overweight.

These figures showed large increases on the previous year, when 9.9% of children aged four to give and 21% of children aged 10-11 were obese.

Barbara Crowther, of the Children's Food Campaign, said ministers should be urgently curbing multi-buy offers.

"Obesity is spiking and millions of families can't afford to put proper food on the table. Multi-buy offers make people spend more on junk, and less on healthy food," she said.

"This delay threatens the UK target to halve childhood obesity by 2030. Boris is playing politics with our children's health."

Labour's shadow health minister Andrew Gwynne said: "Instead of cutting childhood obesity, preventing ill-health and easing pressure on the NHS, this chaotic government is performing another U-turn."

However, public health minister Maggie Throup insisted the government remained committed to tackling the issue of childhood obesity.

"Pausing restrictions on deals like 'buy one get one free' will allow us to understand its impact on consumers in light of an unprecedented global economic situation," she added.

The British Retail Consortium said the ban on multi-buy deals was unlikely to make much difference as retailers have "largely moved away" from them in recent years.

Andrew Opie, director of food and sustainability at the consortium, welcomed the delay on adverting rules as "one less distraction" for companies looking to focus on keeping prices down.

And industry body the Food and Drink Federation argued that it makes sense to delay restrictions on multi-buy deals as families and manufacturers struggle with high inflation. It would also give the industry time to prepare for a change in the law, it said.

When the government unveiled the planned curbs, some of the UK's biggest food companies, including Britvic, Kellogg's and Mars, criticised them as disproportionate and lacking evidence.
The costs of the NHS dealing with obesity in the UK are "vast" and it was time to "get a grip on it", says the PM.


Last month, Kellogg's said it would take the government to court over the curbs preventing some cereals from being placed in key locations in stores due to their high sugar content.

Laws requiring large restaurants, cafes and takeaways to list calories on their menus came into force last month.