A single bathroom space, redesigned in 21 different ways: changes in bathroom colour schemes, bathroom feature walls, bathroom furniture, and vanity mirrors.
If you're a fan of the Groundhog Day movie, then you're probably going to enjoy this! Imagine this is like Groundhog day for interior design, where we get to do it over and over again until everything is just how it's supposed to be. This is the same bathroom space, redesigned 21 different ways, visualised by Black Razor.
We're looking at alternatives for every aspect here: complete changes in colour scheme, alternative wall treatments, different styles of bathroom furniture and new vanity mirrors. Each change brings about a different ambience in the room, a different personality. Which style would you go for, if you could do it all over again?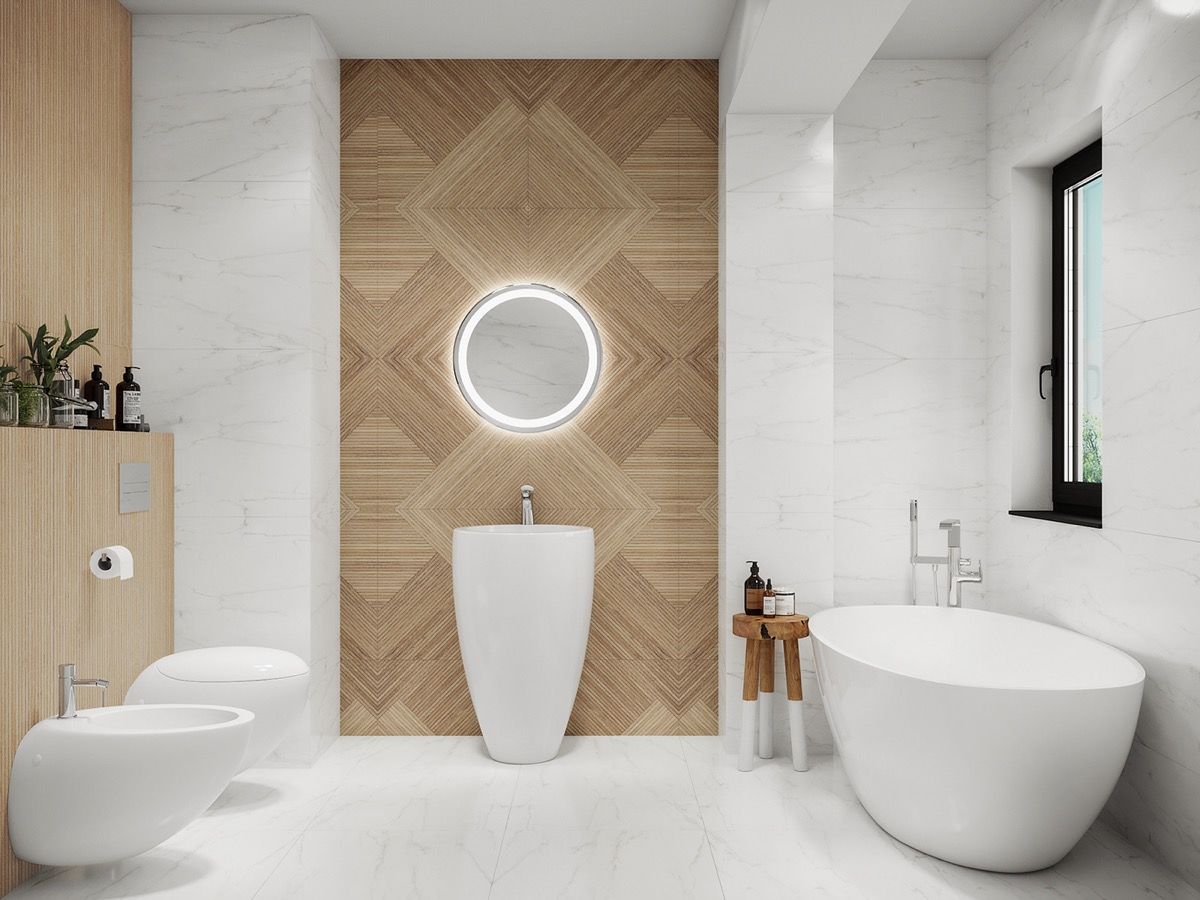 Wonderful wood. The first shot at this bathroom space is a design centered around a stunning wood panelled feature wall, where the grain is set in geometric pattern. An elegant modern pedestal sink is poised in front. The remainder of the bathroom is kept mostly white to allow the special feature wall to hold its spotlight.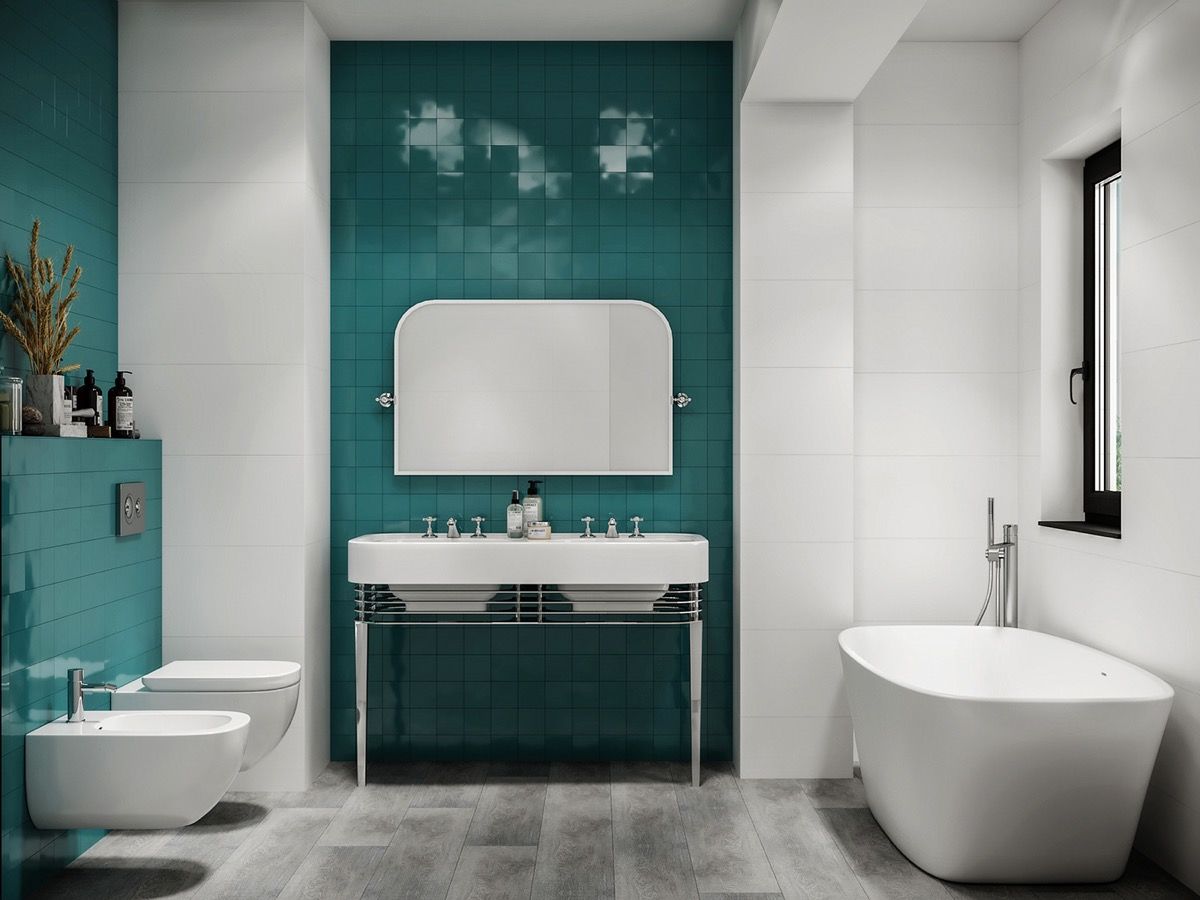 Tall and teal. This colourful design employs small teal wall tiles, covering two walls from floor to ceiling. The small dimension of the tiles makes the room appear taller; their glossy finish prevents the deep colour from darkening the room. A white double sink bathroom vanity, and a wide vanity mirror help break up the expanse of colour too.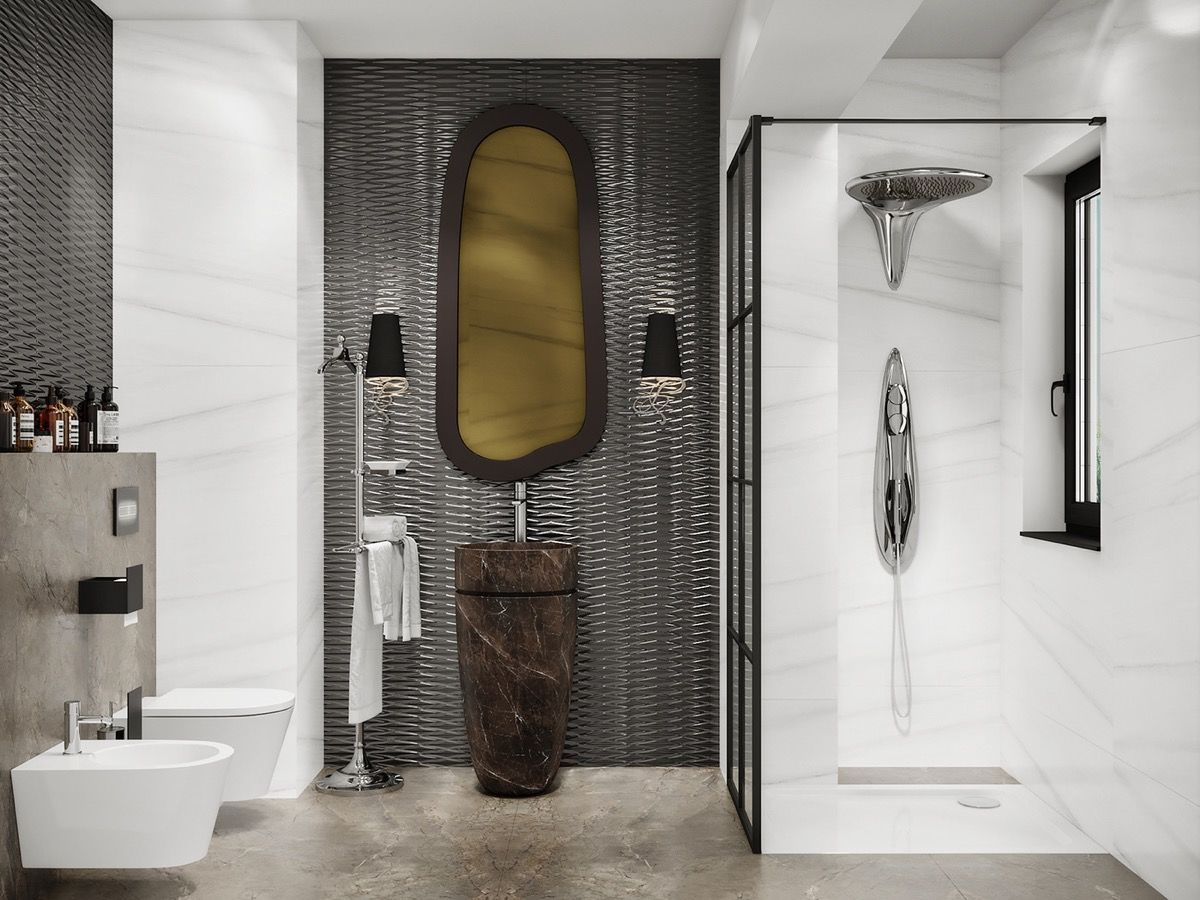 A surrealist's sanctuary. A unique bathroom sink, irregular shaped mirror, unusual wall sconces and a bizarrely oversized shower design make this the type of bathroom you might find in the house of a modern day Salvador Dali.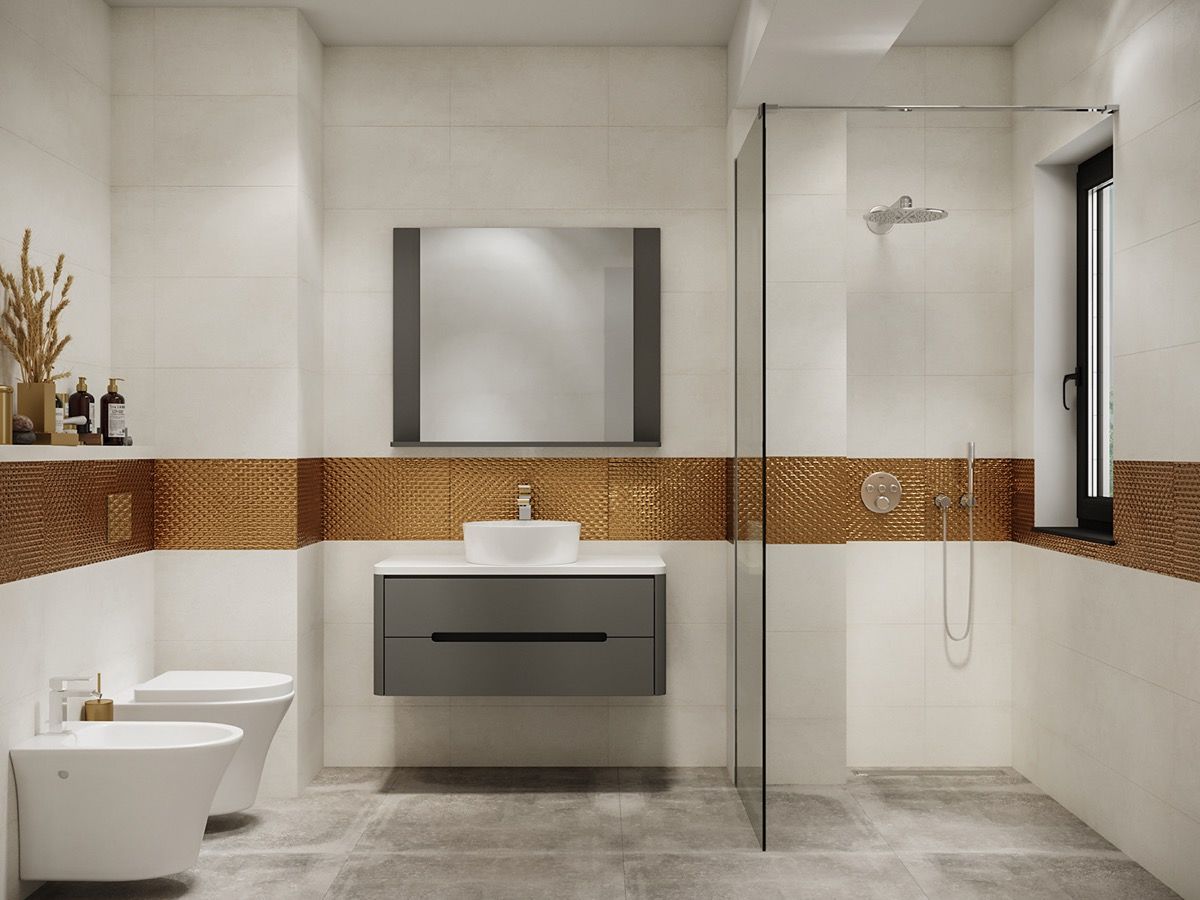 Get up and go-ld. Feel special in the mornings by wrapping yourself in gold. A strip of golden tile wraps this white bathroom design, like ribbon tied around a precious gift.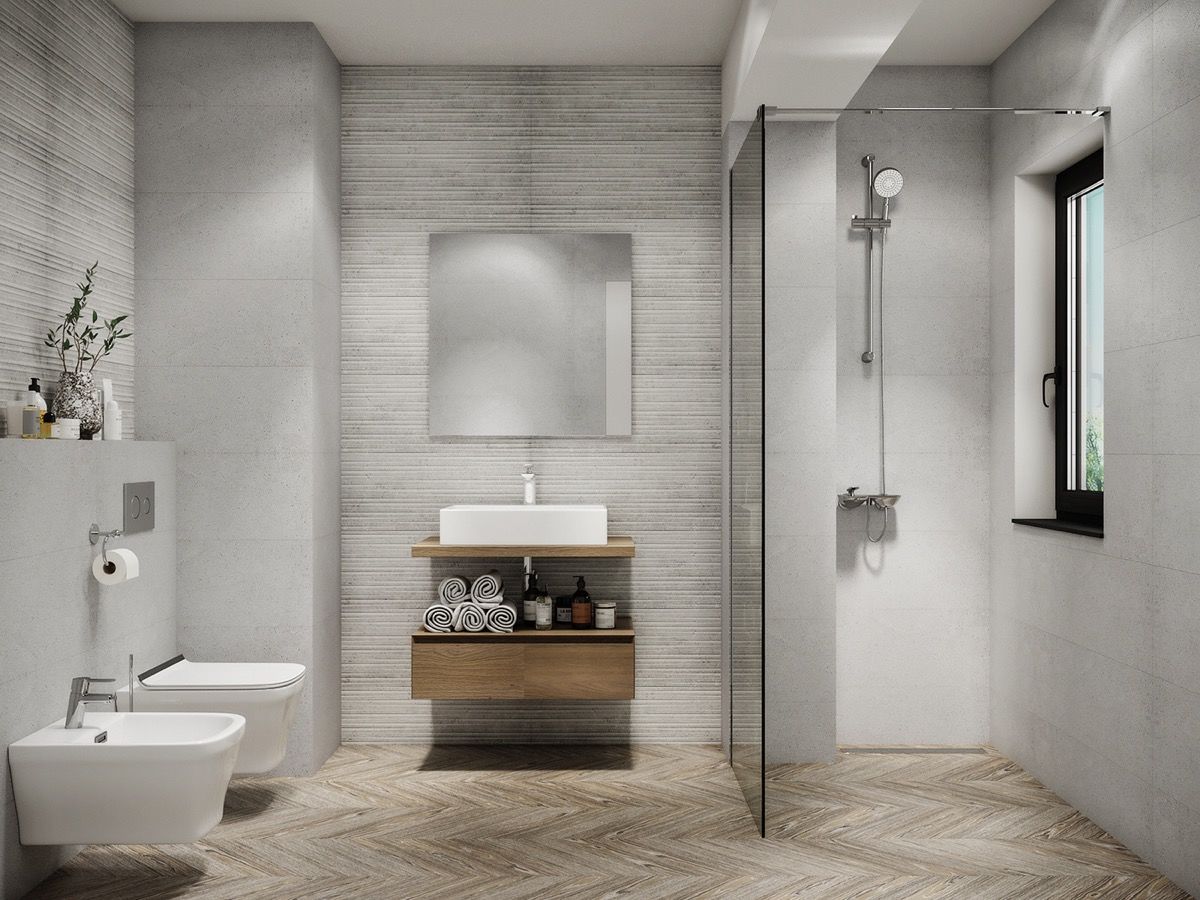 Low colour, high texture. Herringbone floor, ribbed feature walls and concrete tile fill this bathroom with subdued colour, yet their texture gives the eye plenty to work on.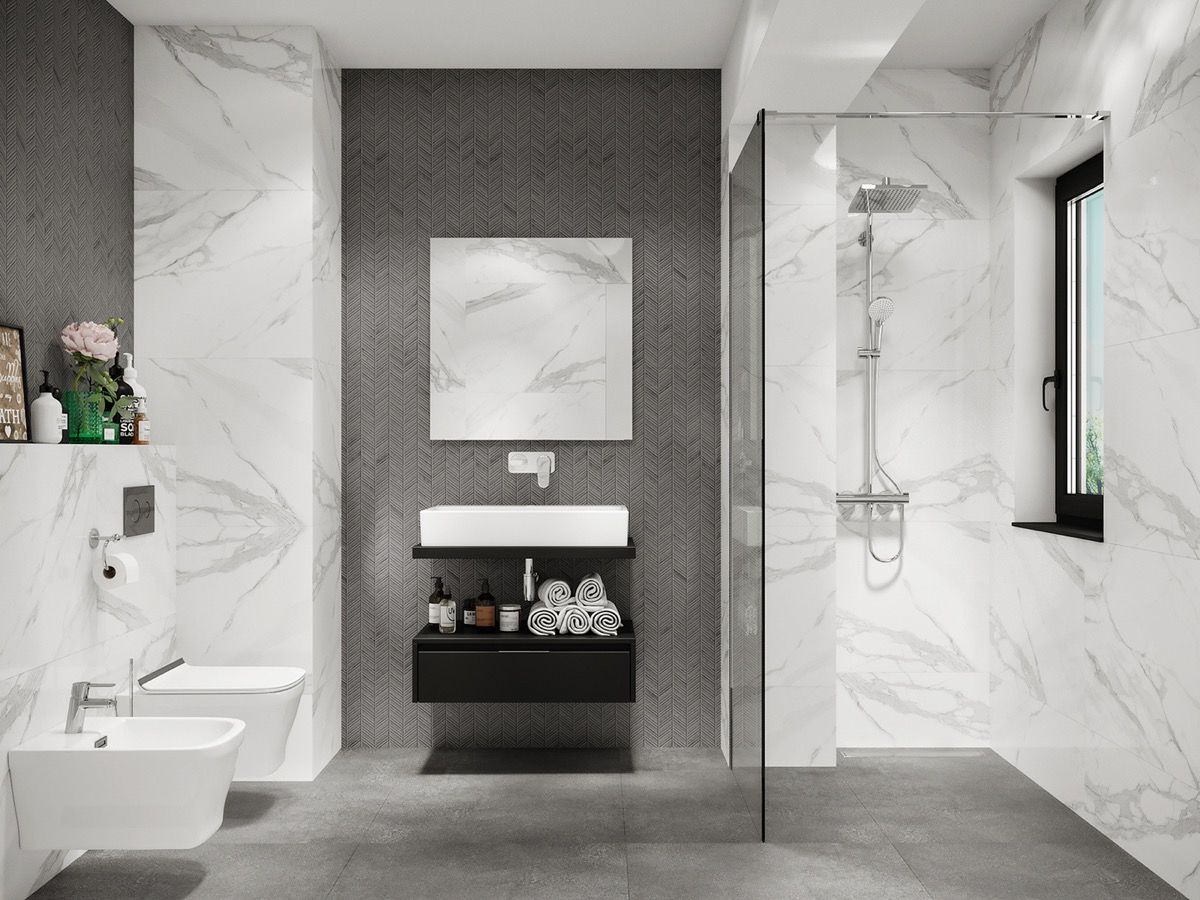 Look for luxe finishes.This grey and white bathroom looks glorious in swathes of marble and high-end geometric tile. Even the smallest of spaces can look the business given the right materials.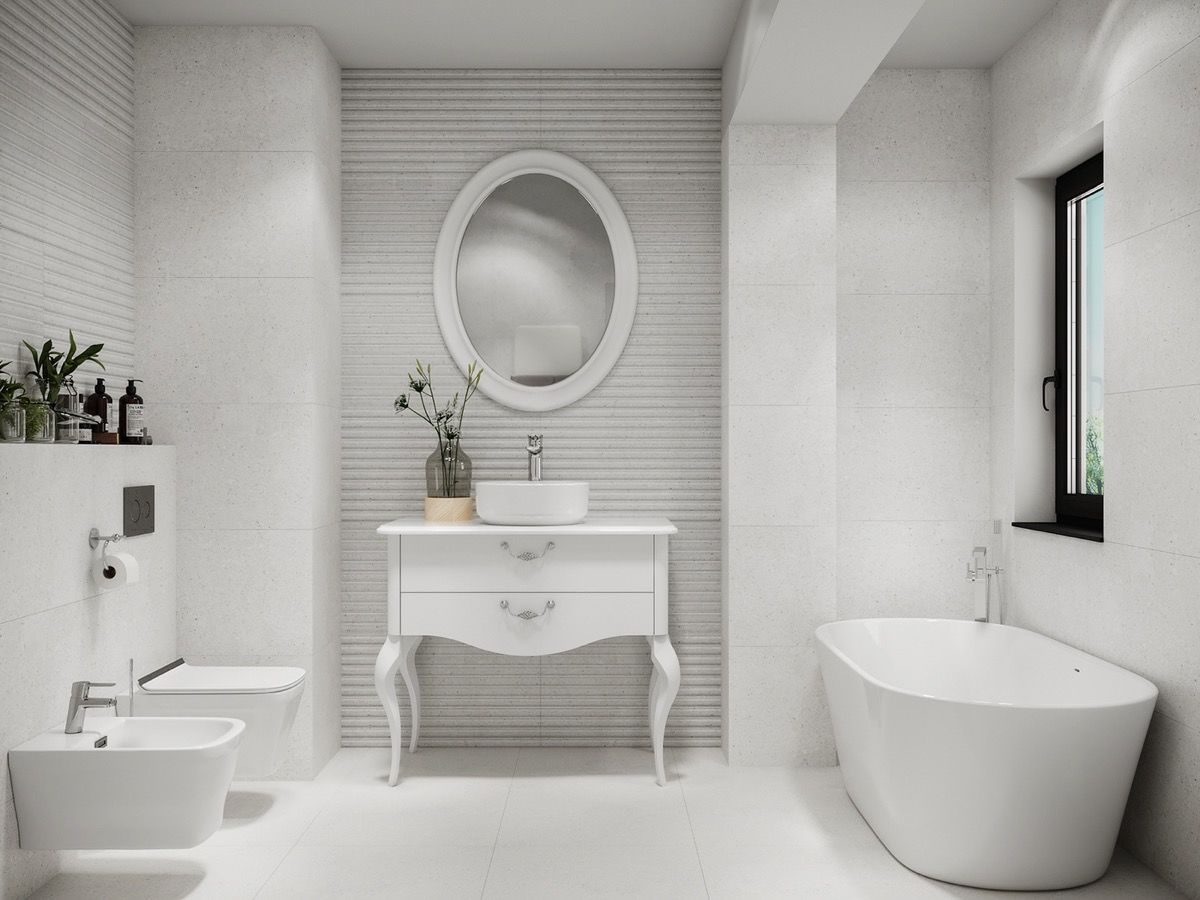 Traditional with a modern twist. A french vintage style chest of drawers serves as a vanity unit here; the rest of the ceramics are completely modern in nature, including a wall hung minimalist toilet and bidet set.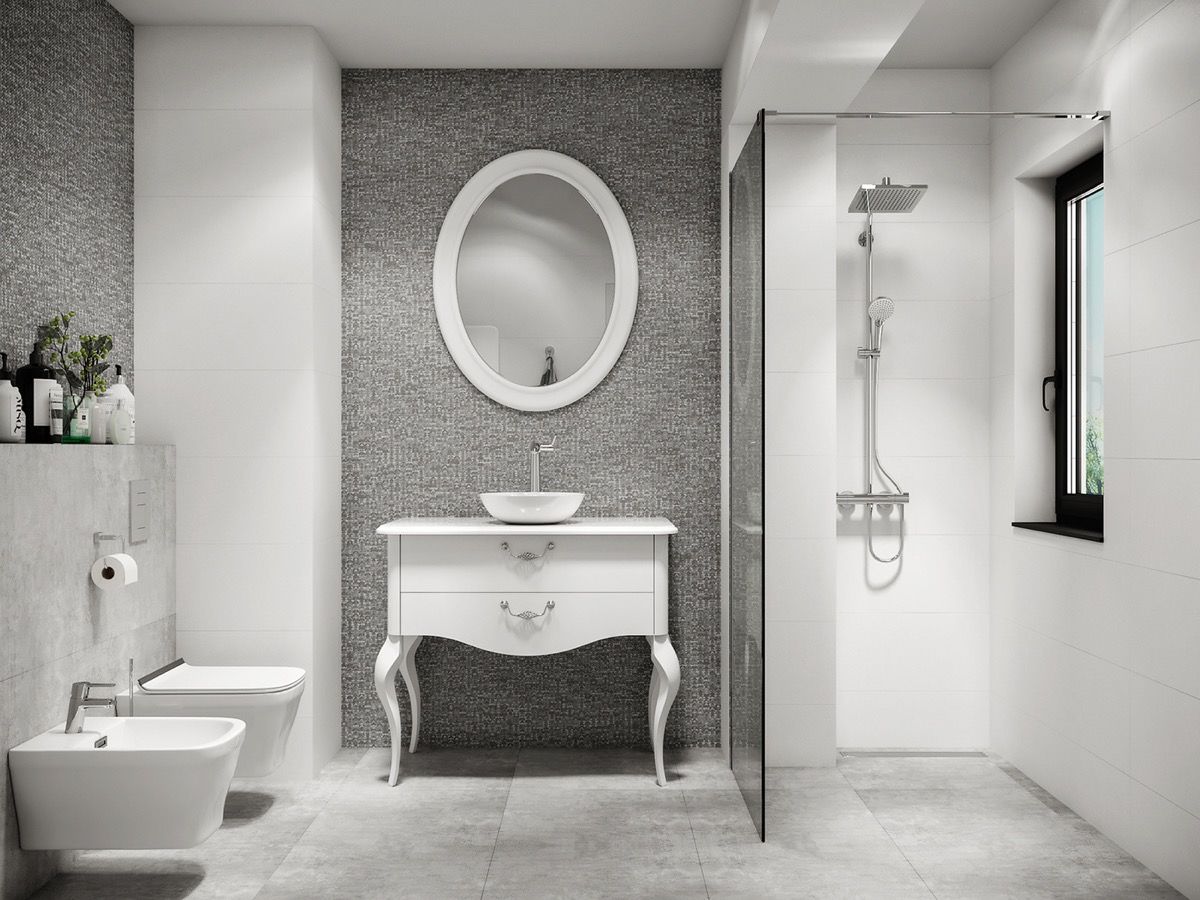 Another take on the french vintage meets modern minimalist approach, but this time with a shower enclosure instead of a bath, plus a darker choice of wall tiles.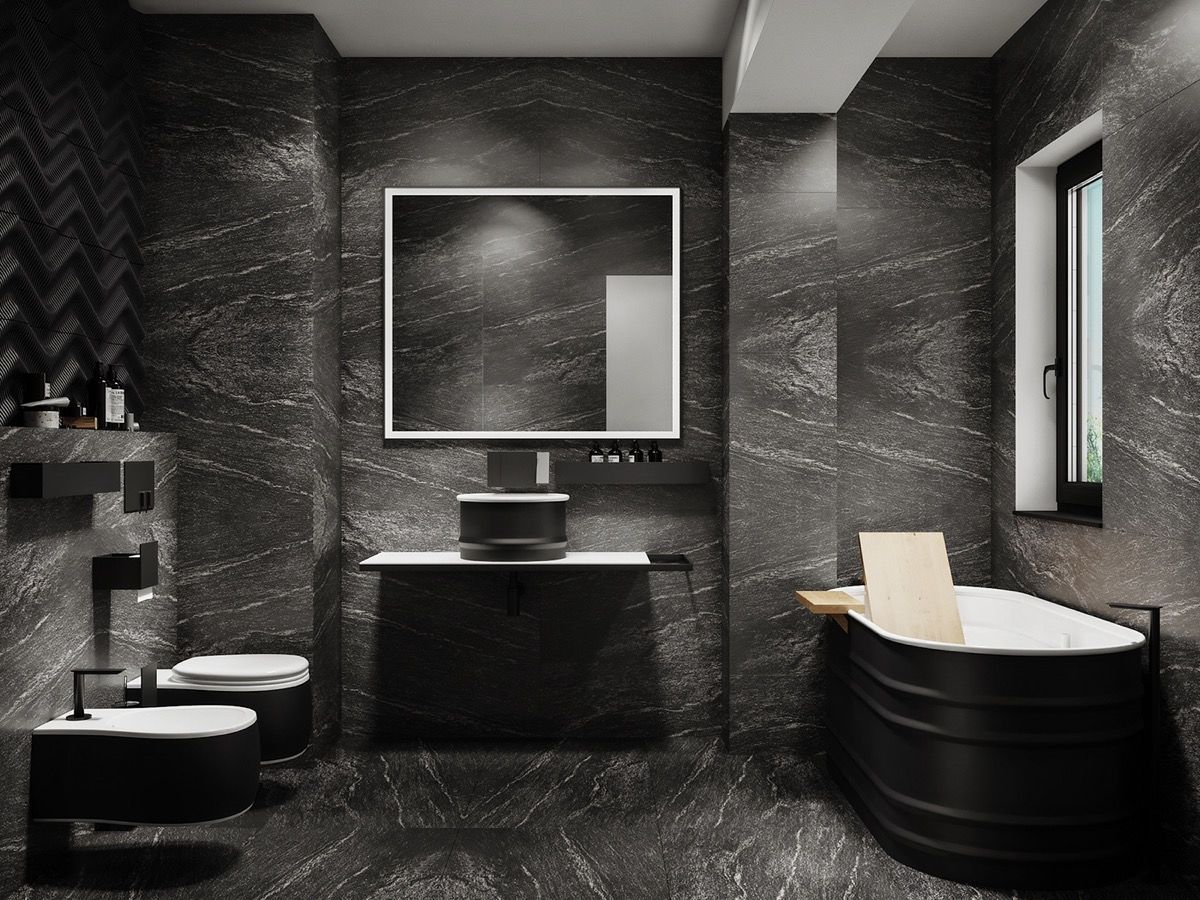 The bathtub is back. This modern black bath tub makes a striking statement, even in equally dark surroundings. Black box shelves hold toiletries neatly within. The flush plate matches the black boxy aesthetic, along with a black minimalist toilet paper holder.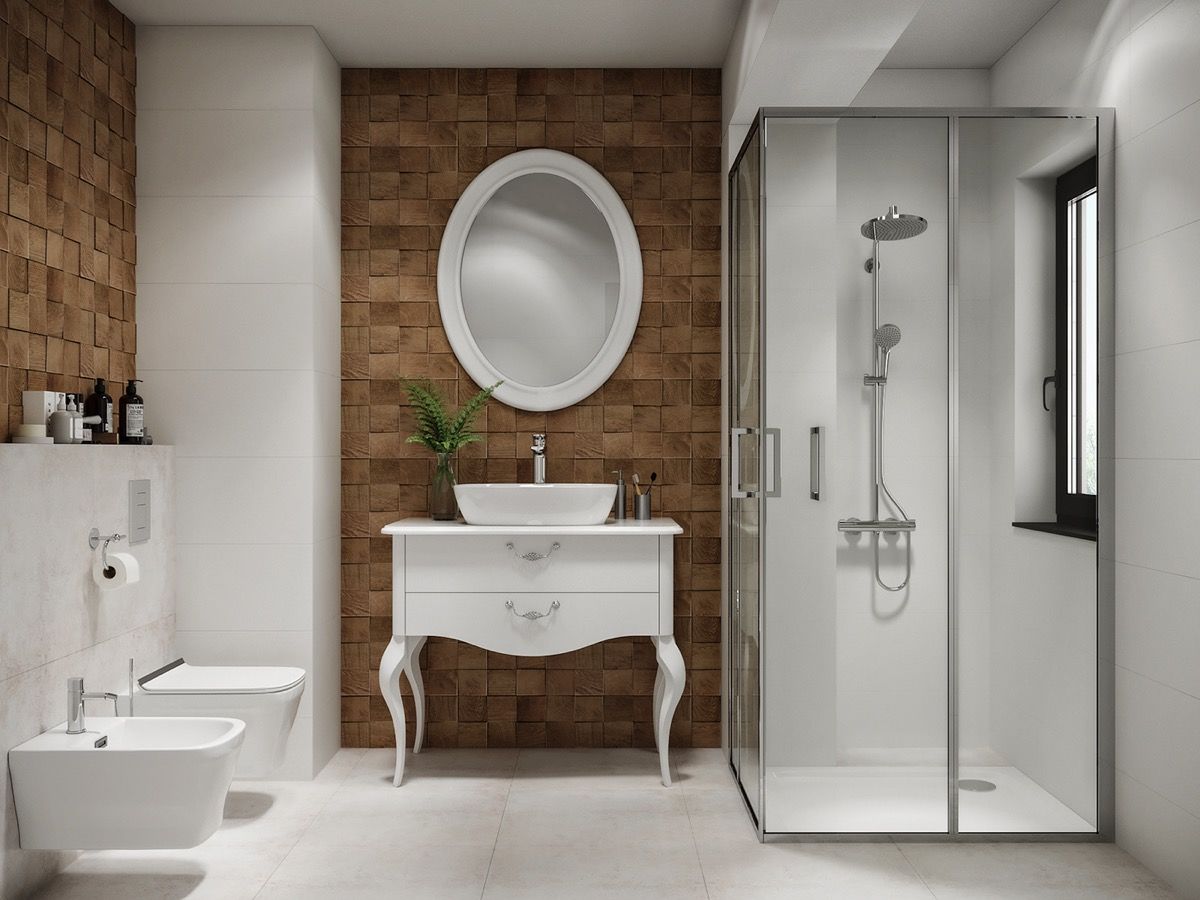 A chip off the old block. The french vintage style vanity is back, but this time with a unique wood block feature wall.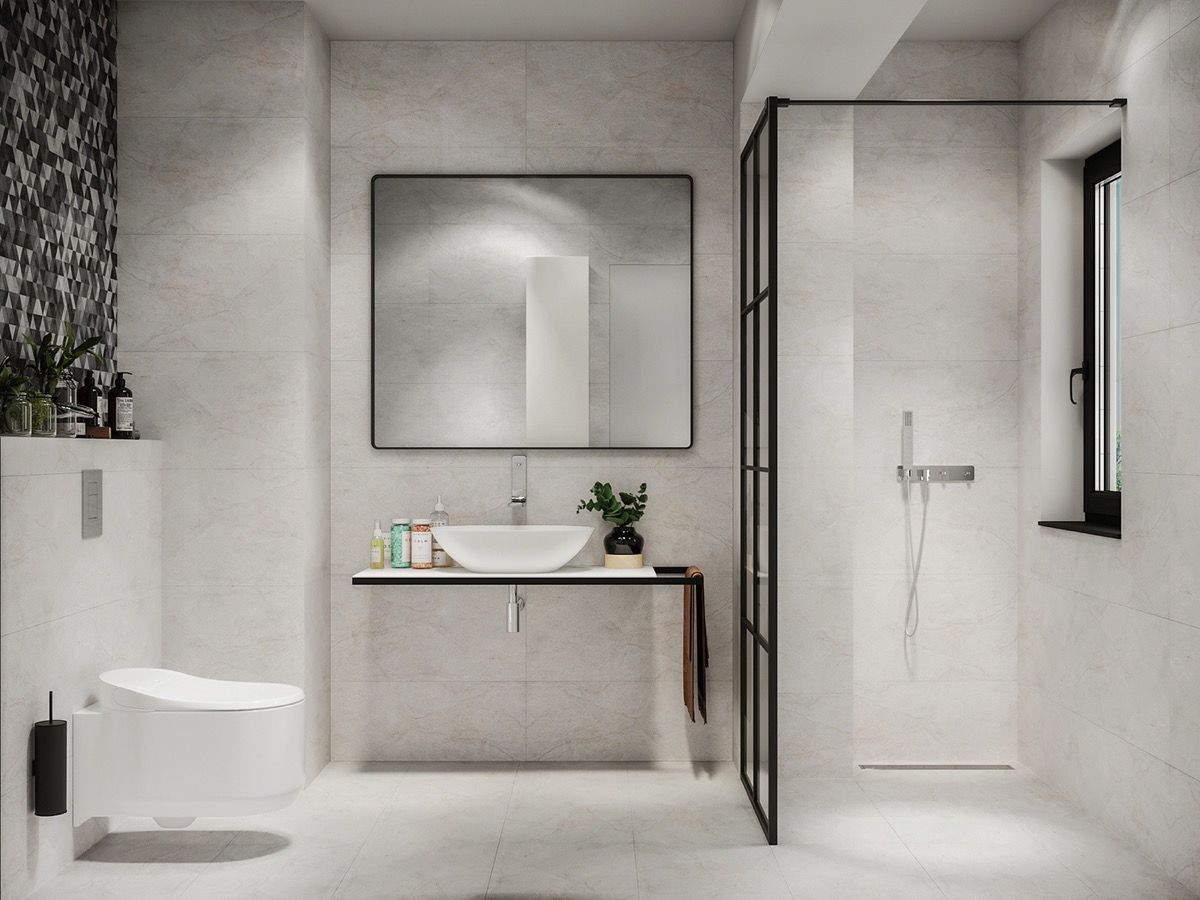 There's beauty in balance. Attention-grabbing tiles have been restricted to the cistern wall in this one, to balance out a chic black framed shower screen.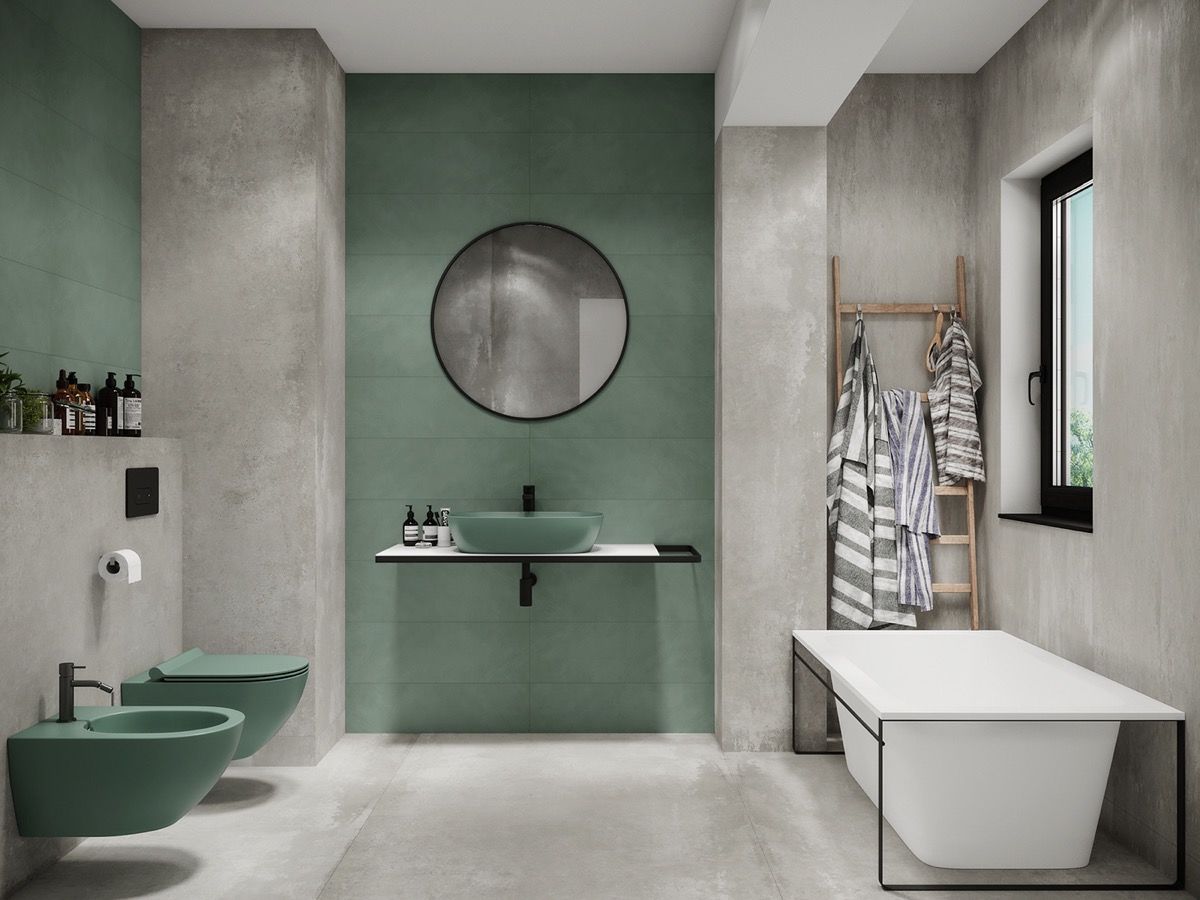 Minty fresh. Its not just the toothpaste thats minty in this green bathroom. Mint walls, basin, toilet and bidet are all looking super fresh within a raw concrete shell. An extraordinary wireframed bathtub design introduces a crisp white element, as well as a razor thin white vanity shelf.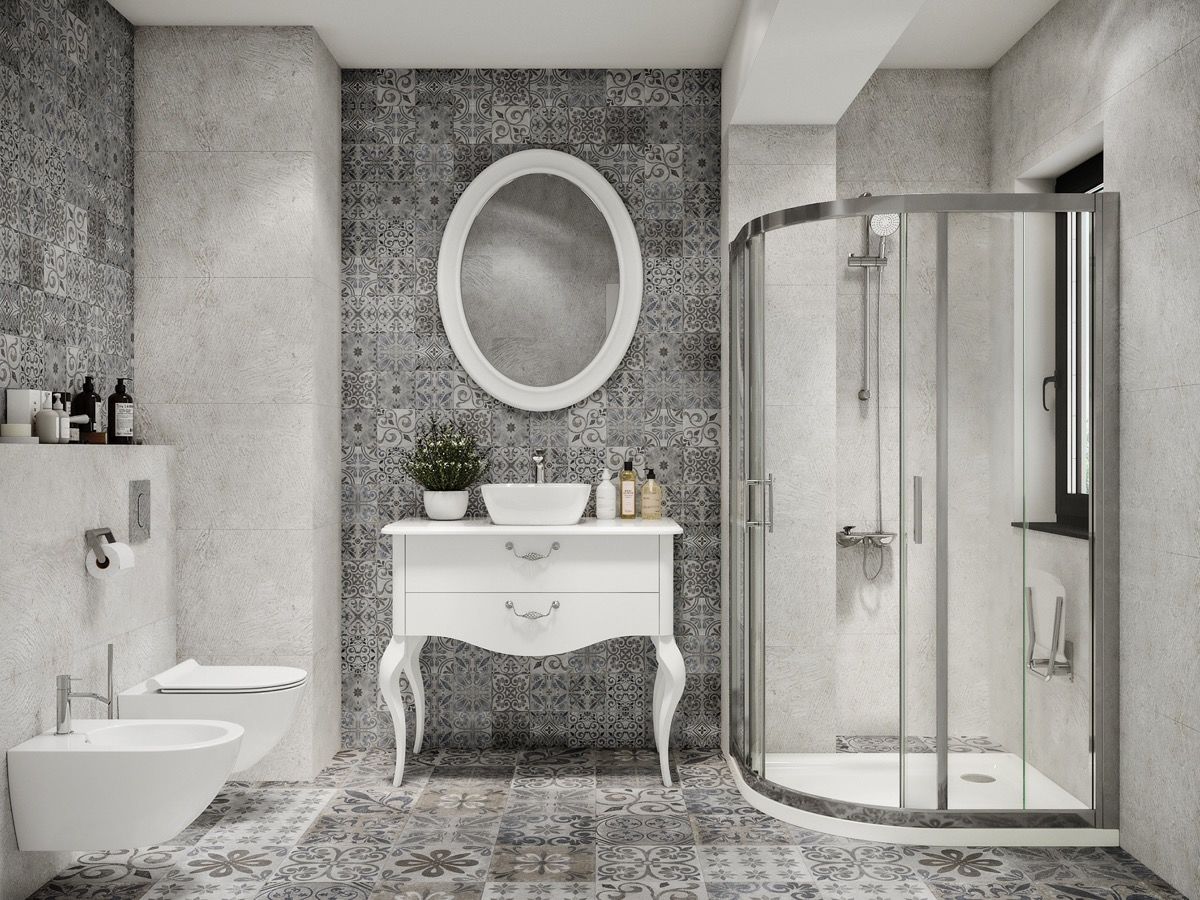 Pattern for miles. Stylish, characterful and so en vogue, patterned tiles can turn a bland bathroom scheme into something super special. We see the introduction of a corner shower in this design too, curving away to leave a larger floor area, and even more sublime pattern. The shower tray will not fit back into the recess, so a small tiled step fills in the gap.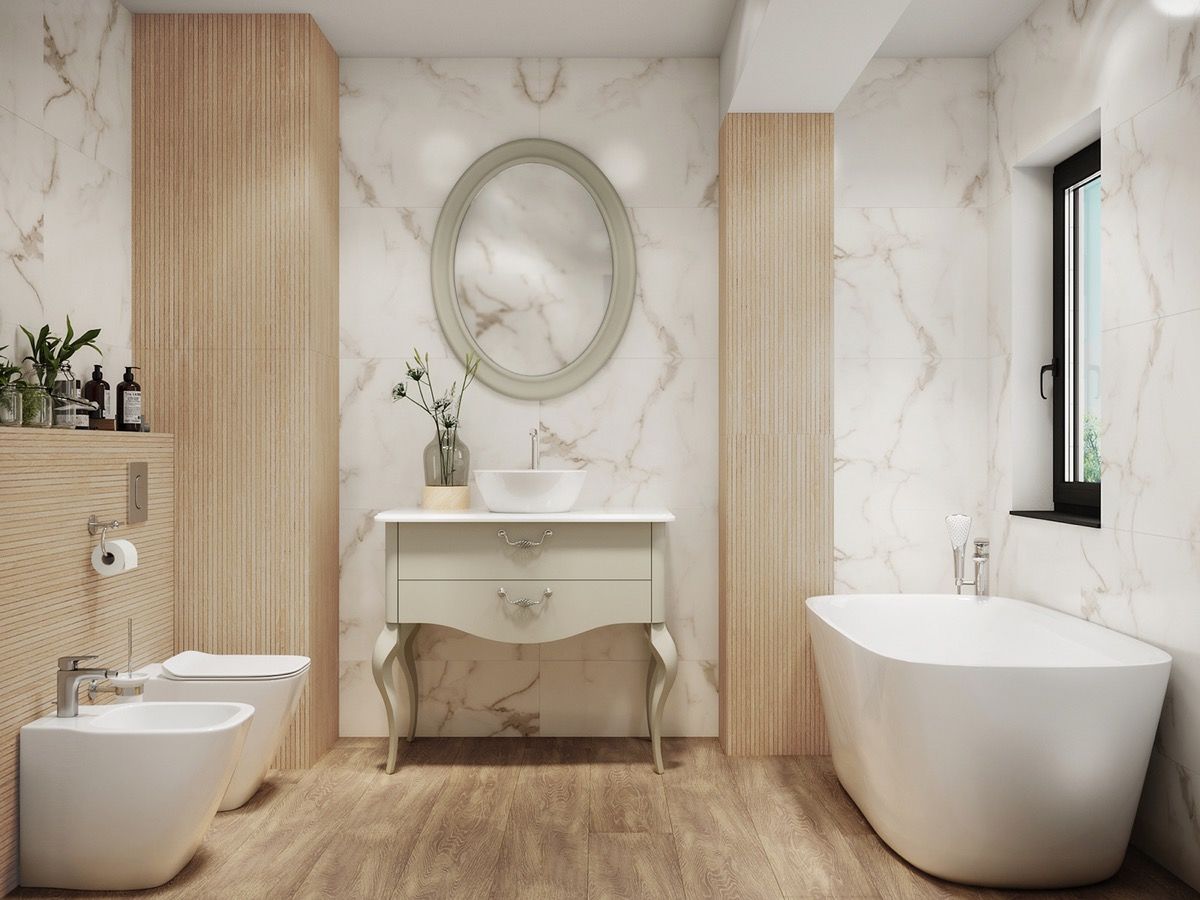 Bamboo-zle them with natural style. Natural bamboo wall covering gives this bathroom a serene ambience. The nature theme is assisted by greenery on top of the cistern boxing and in a glass vase on the vanity.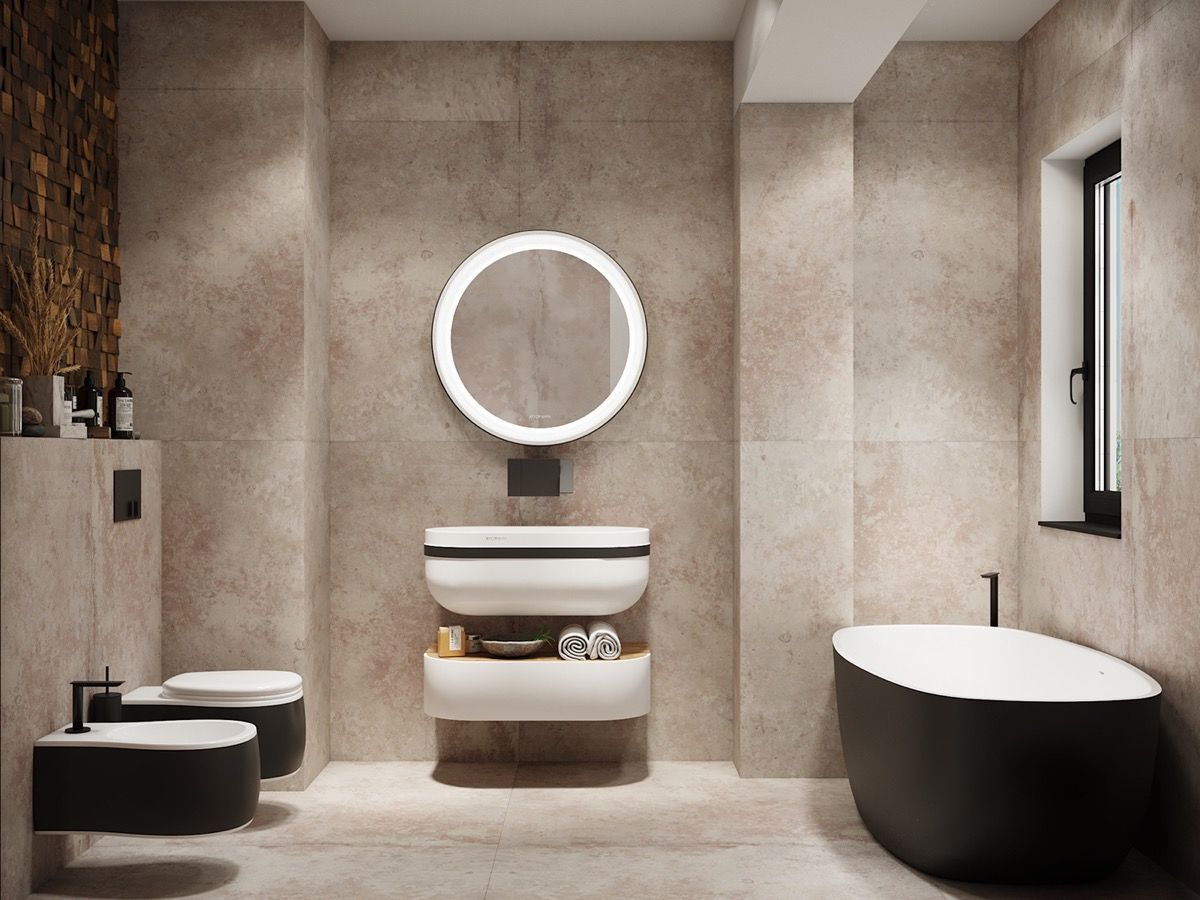 Its all about the sanitaryware–this curvy set looks striking in monochrome. An illuminated vanity mirror tops off the ensemble.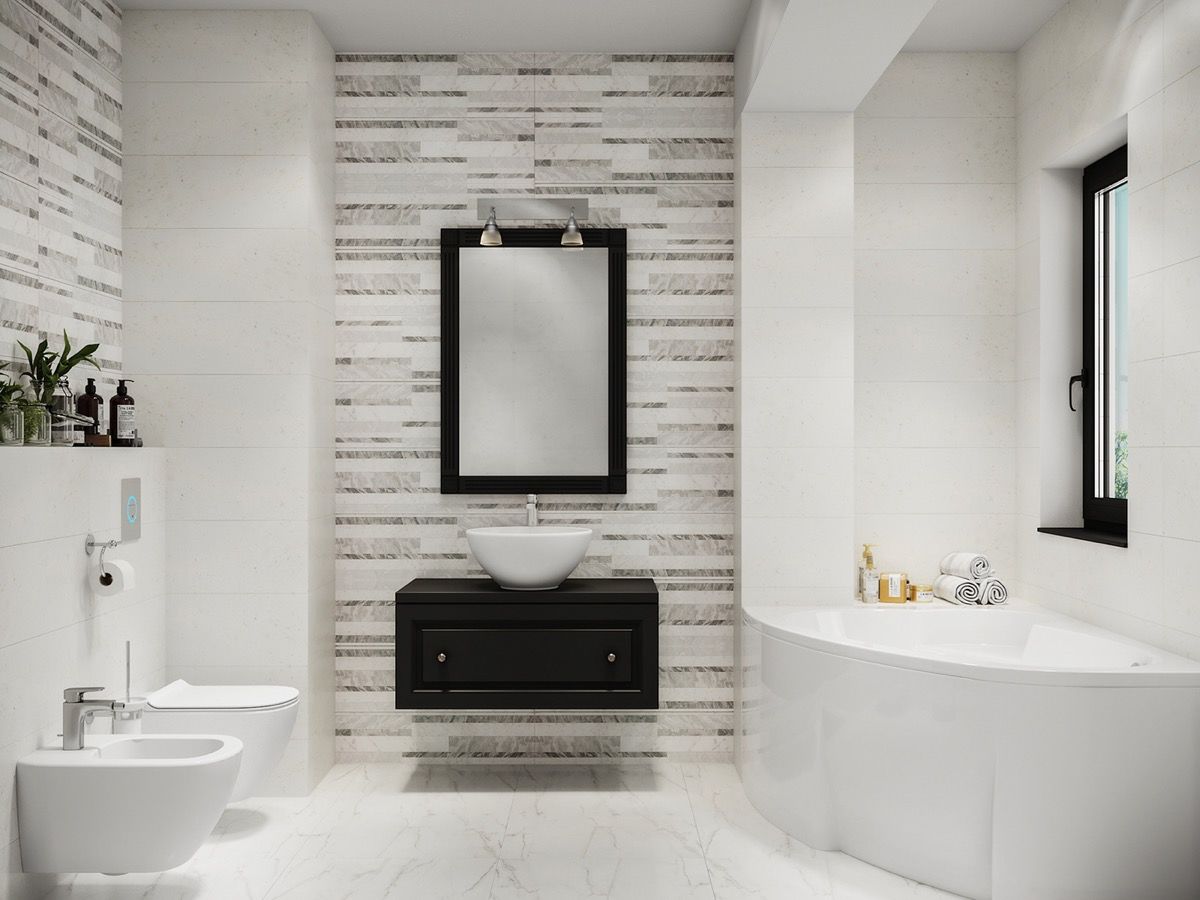 Sometimes its ok to cut corners. A corner bath can offer a space saving solution in tight quarters. A floating vanity unit is great way to increase perceived floor space too, and makes the job of cleaning the bathroom floor a whole lot simpler.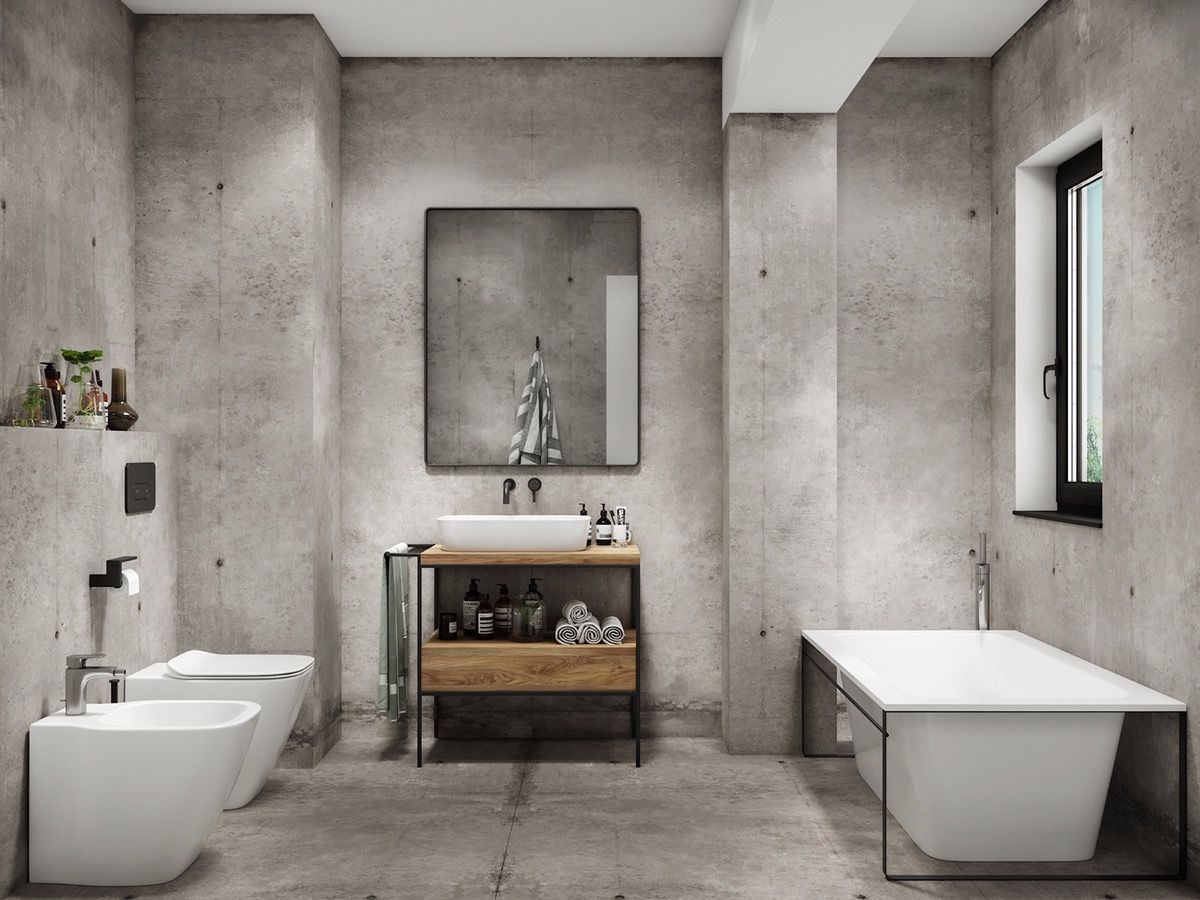 Raw concrete and ravishing furniture. An industrial bathroom is one for the trend setter. We see a return of the extraordinary wireframed bathtub design here, and a complementary wireframed vanity unit. The introduction of wood on the vanity is an important move, as it supplies the only visual warmth in the room.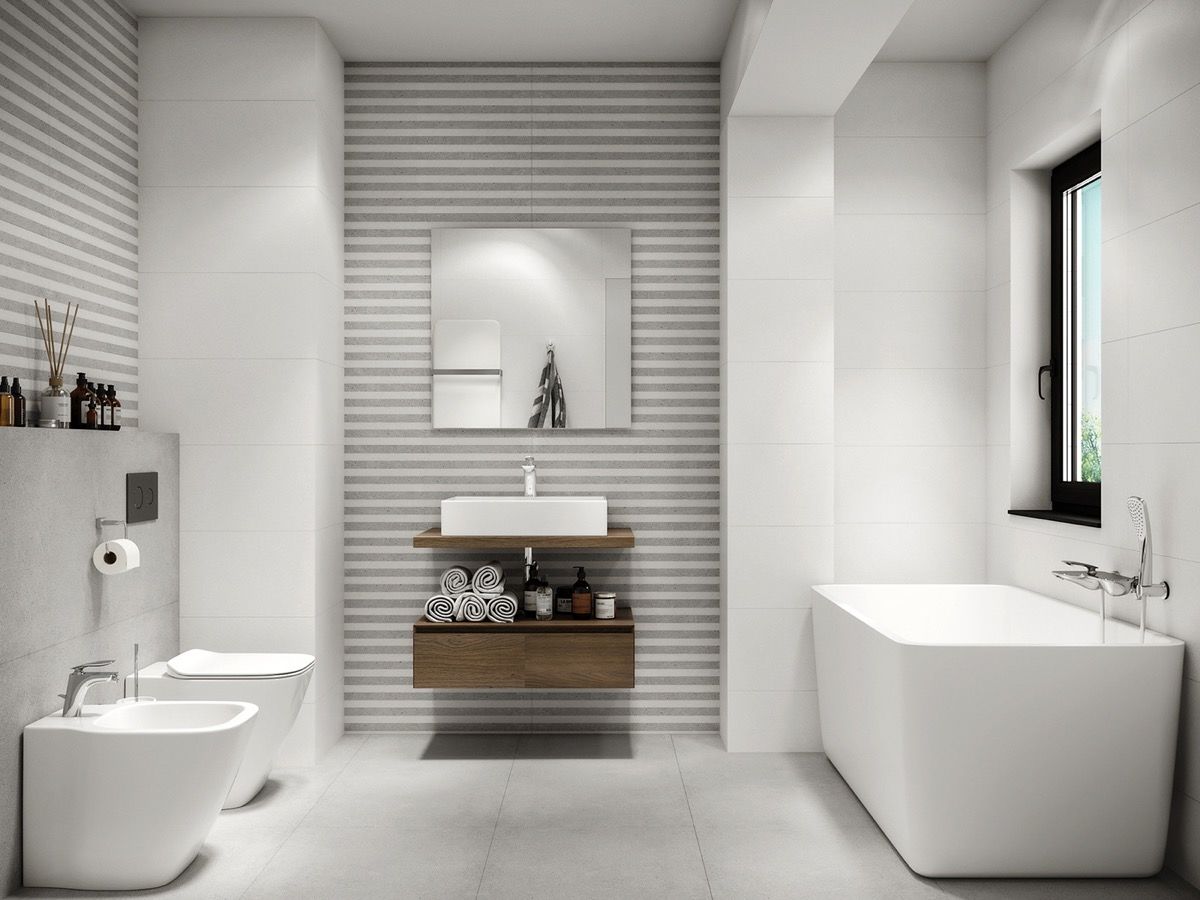 Smart and stripey. Zhuzh up a modern bathroom scheme with grey and white stripes, then warm through with wooden accent pieces.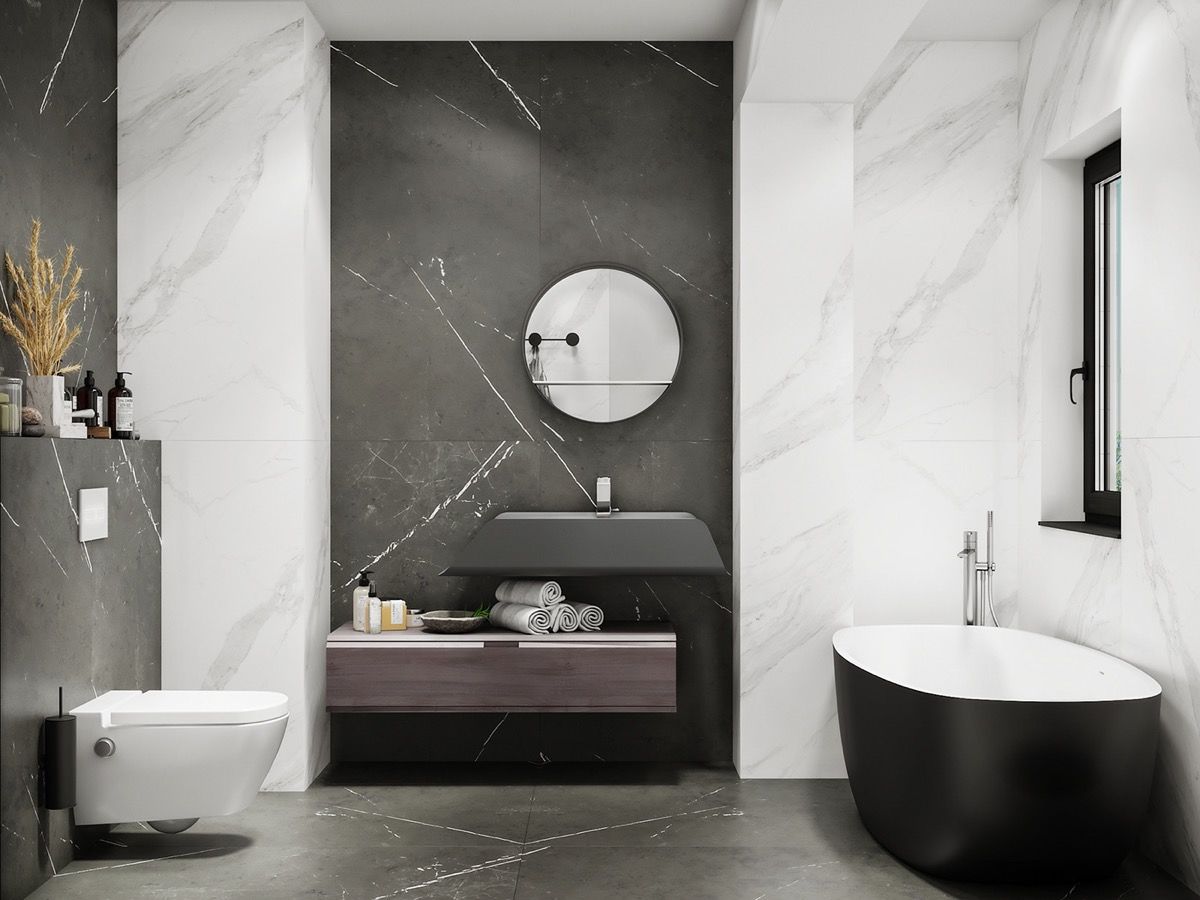 Performing balancing tricks. An asymmetrical, staggered vanity design allows this wall mirror to be centralised to the room, rather than to the recessed wall area available.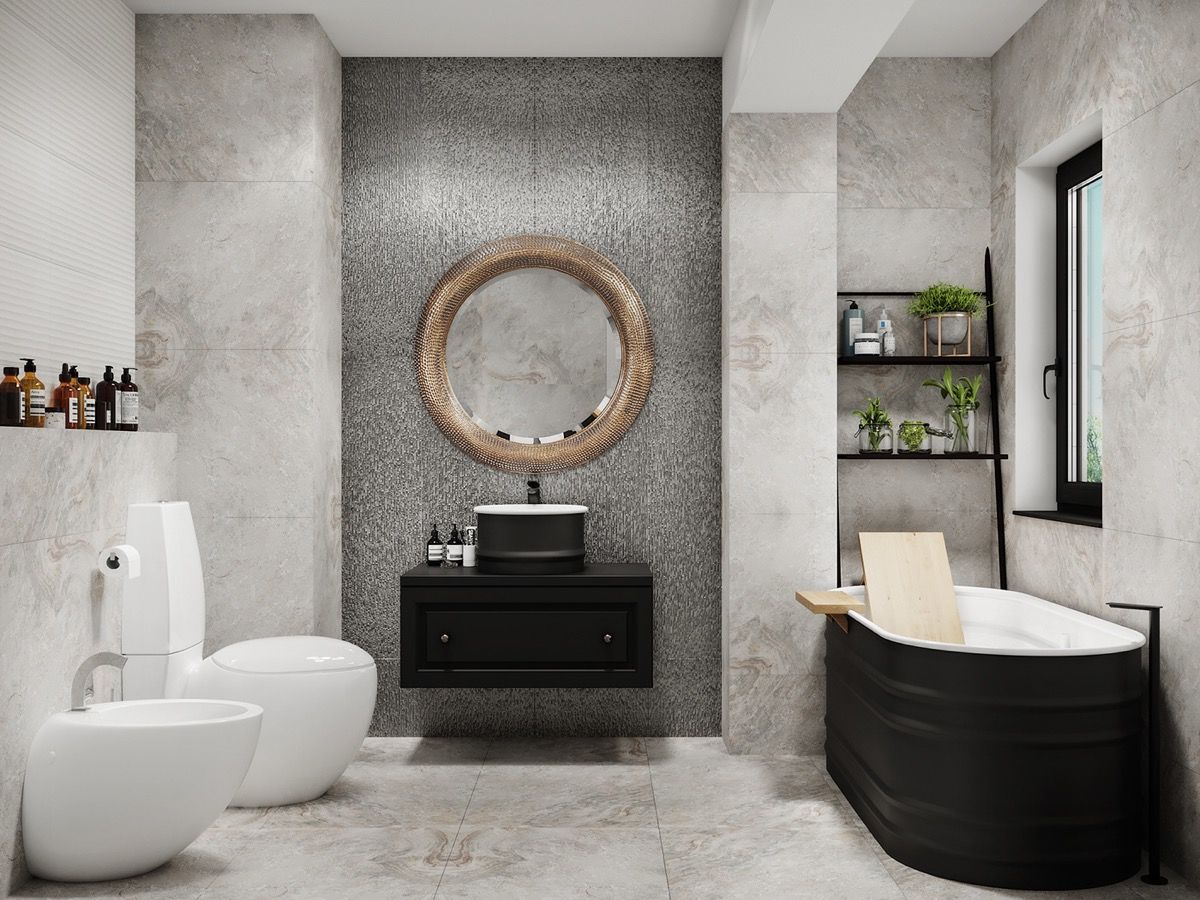 The shape theme. This bulbous toilet silhouette becomes the defining motif for the room. A voluminous bidet and vanity mirror follow suit. The theme is reigned back when it comes to the vanity cabinet, basin and bath though, as you can get too much of a good thing.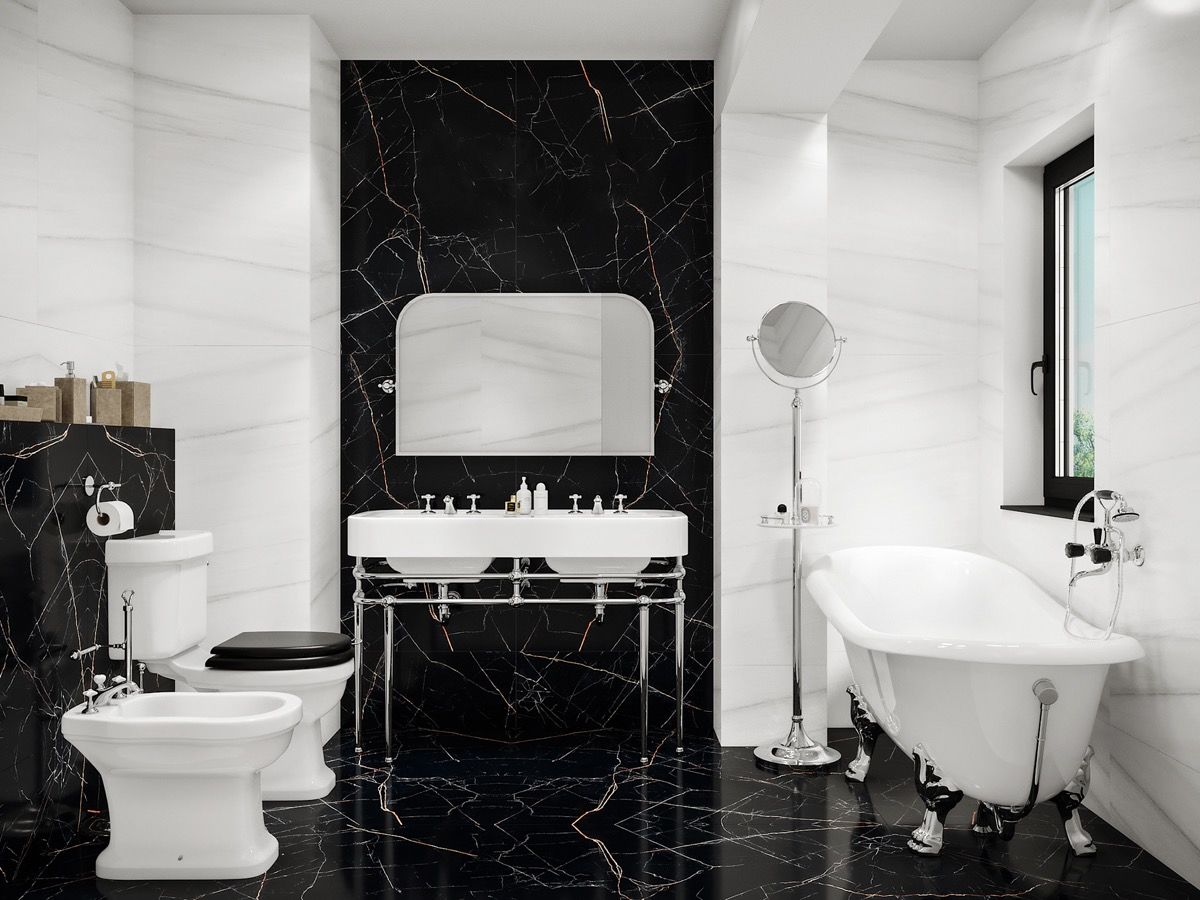 Black marble and chrome. Black marble and traditionally styled sanitaryware shape this luxury bathroom design. A roll-top bath stands on chrome clawed feet, and shining towel rails surround the double sink vanity.