Rishi Sunak has ordered an internal inquiry into how his wife Akshata Murty's "non-dom" status was leaked to a newspaper. He believes he will be able to restore his political career by punishing the messenger who did a great service to the public in exposing how the minister who taxes everybody evade taxes by his wife's trick. No one should cooperate with this inquiry. They should just say nothing. Because who ever did it is a hero who deserves protection not punishment.
Sunak's aides said he had ordered the Cabinet Office and Treasury to carry out a full investigation into the leak, adding that divulging the tax status of a private individual is a criminal offence. But it is not a criminal offense, as the the benefit to the public is so much greater then the "damage" to the individual tax evaders: Sunak and his wife.

Bill Esterson, Labour's shadow business secretary, said the British public would prefer an inquiry into "why he [the chancellor] has put up taxes 15 times for ordinary people while his family was allowed to get away with not paying taxes".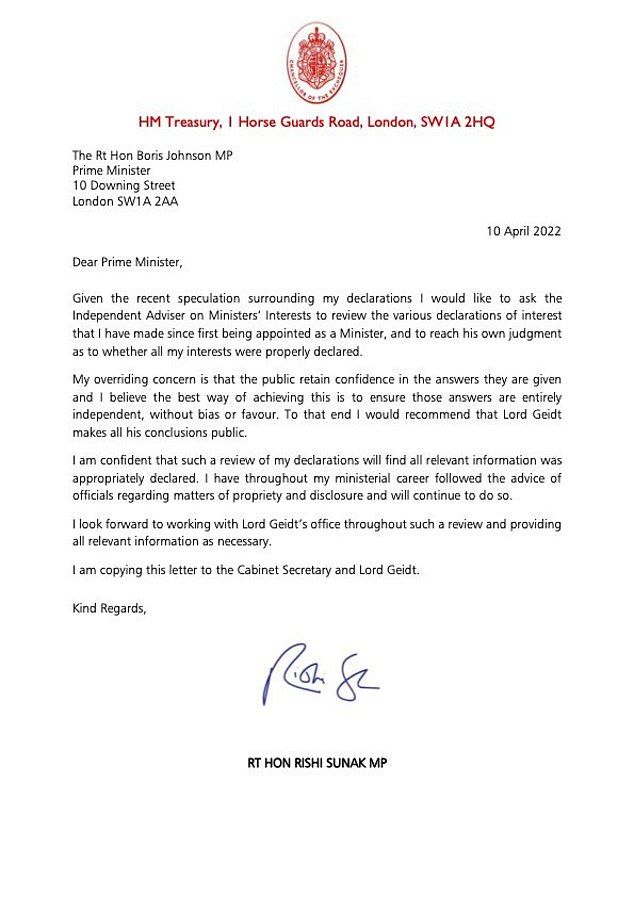 It also came to light that Sunak, who previously studied and worked in the US, and co-owns a £5mn flat with his wife in California, held an American green card until last October.

Labour pointed to the rules set out by the US Citizenship and Immigration services, which say that green card holders should not be "employed by a foreign government" or "vote in foreign elections".

But the chancellor's spokeswoman said that all laws and rules had been followed and full taxes had been paid where required in the duration he held his green card. So the spokeswoman is lying.

"Rishi Sunak had a green card when he lived and worked in the US. Under US law you are not presumed to be a US resident just by dint of holding a green card," she said. She is wrong.

Sunak has this weekend moved his wife and children out of their flat in Downing Street to their family home in west London amid a media furore over their tax scandal.

The 41-year-old chancellor, who made his own fortune as an investment banker and hedge fund manager, was until last week the bookmakers' favourite to replace Boris Johnson as prime minister.

Yet he has been engulfed in a political storm since Wednesday when it was first reported that Murty had enjoyed non-domiciled tax status.

Sunak has defended his wife, branding the criticism of her tax arrangements as "unpleasant smears". Murty has an estimated £700mn of shares in Indian IT company Infosys, which was founded by her father.

On Friday she announced that she would change her tax arrangements and cease her non-dom status because she did not want to be a "distraction" for her husband.

Kit Malthouse, policing minister, told Sky News on Sunday morning that the chancellor's wife had paid UK tax on her UK income. "She accepted there was a sense of disquiet about the situation and she has moved to correct it," he said.

Malthouse said that Murty was a "non-combatant" in British politics and said it had been "unfortunate" that she had been "drawn into the political fray". Sunak's maintenance of the US green card was simply a "hangover" from his time spent in America, he added.

But the Liberal Democrats said they had drawn up draft legislation to force all government ministers to reveal whether they or their spouses claim non-domiciled status or have holdings in overseas tax havens.

Sajid Javid, health secretary, also admitted on Sunday that he had had non-dom status when he was an investment banker — before entering politics — and did not pay tax in the UK for six years from 2000 to 2006.

Javid, who was chancellor before Sunak, said he wanted to be open about his past tax statuses given heightened public interest in the issue. "My career before politics was in international finance. For almost two decades I constantly travelled around the world for work," he said.

Yvette Cooper, the opposition Labour party's shadow home secretary, said it was "unfair" that Murty had had non-dom status. "The ethics matter," she told Sky News. But Cooper refused to say whether Labour would keep its policy from the 2019 election of banning non-domiciled status.

Perhaps "ethics do matter", though not visibly so, on either side of the political divide. But what is clear is that the top-bottom divide remains:
"Laws for us. Loopholes for them."