Her collection of iconic pieces from Hermès, Louis Vuitton, and Dior is appropriately epic.
Kim Kardashian takes accessorizing seriously. The reality star, who turns 41 today, never leaves home without a statement accessory that complements her outfit. Though her expansive wardrobe is filled with memorable shoes, gems, and hats, Kardashian's favorite final touch has always been the handbag. Her collection of designer baubles is valued in the millions. Whether or not you've seen the price tags, the pieces she selects from luxury brands like Hermès, Louis Vuitton, Dior, and Balenciaga are always exceptional.

By now, every celebrity in Hollywood has a Birkin at their disposal, but no one else is going to turn up in a custom Haut à courroies featuring a painting from contemporary art legend George Condo. Likewise, the Louis Vuitton Keepall 45 is an iconic travel duffel that many stars rely on, but few have been as dedicated to the piece as Kardashian, who picks up a new version each season.

As a collector, Kardashian goes the extra mile to select pieces that are wearable art. While she'll pick up the latest it-item, what interests her are insider accessories with lasting power. During the nearly two decades she's spent in the spotlight, she's been able to amass an impressive assortment of designer bags that she plans on passing down to her sons and daughters. As North already has a mini-Birkin all her own, Kardashian's long-term plan seems wise, but in the interim, she's enjoying her many eye-catching designer finds. Below, a look back at the ten most iconic pieces in Kardashian's collection.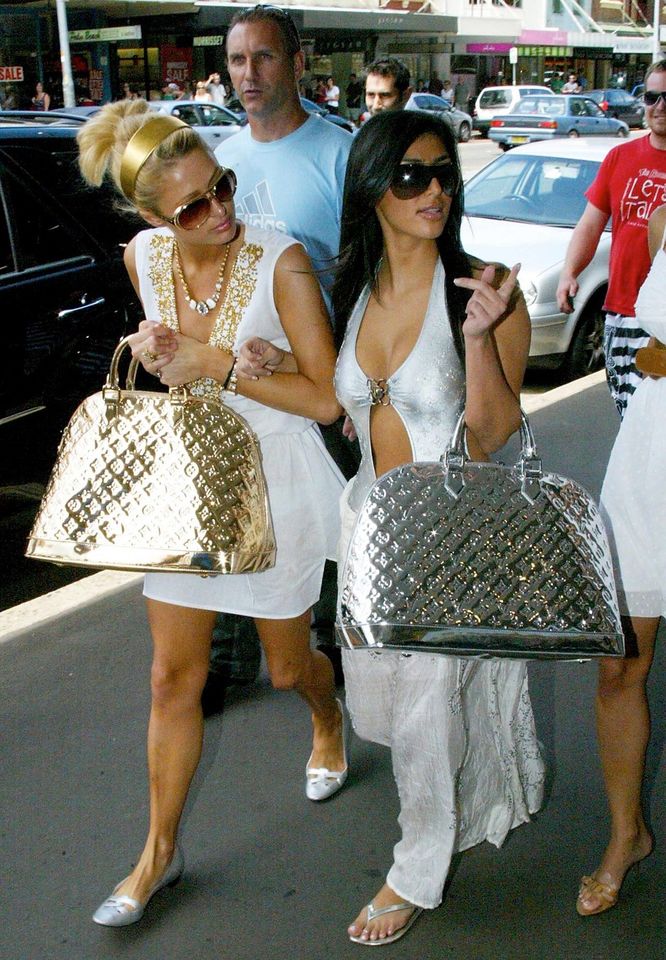 Louis Vuitton Miroir Alma

Kardashian wasn't a household name in 2006, but her good friend Paris Hilton was, and the paparazzi regularly photographed them together. One of the most circulated images of the duo shows them decked out in early-aughts finery at Bondi Beach in Sydney, Australia. Both wore the metallic "Miroir" version of Louis Vuitton's Alma bag from Marc Jacobs' fall 2006 collection for the house. Arguably the most popular bag of that year, it was beloved by fellow paparazzi magnets Rihanna and Janet Jackson. Years later, Hilton and Kardashian would pull out their old school Almas and reunite for a Skims campaign.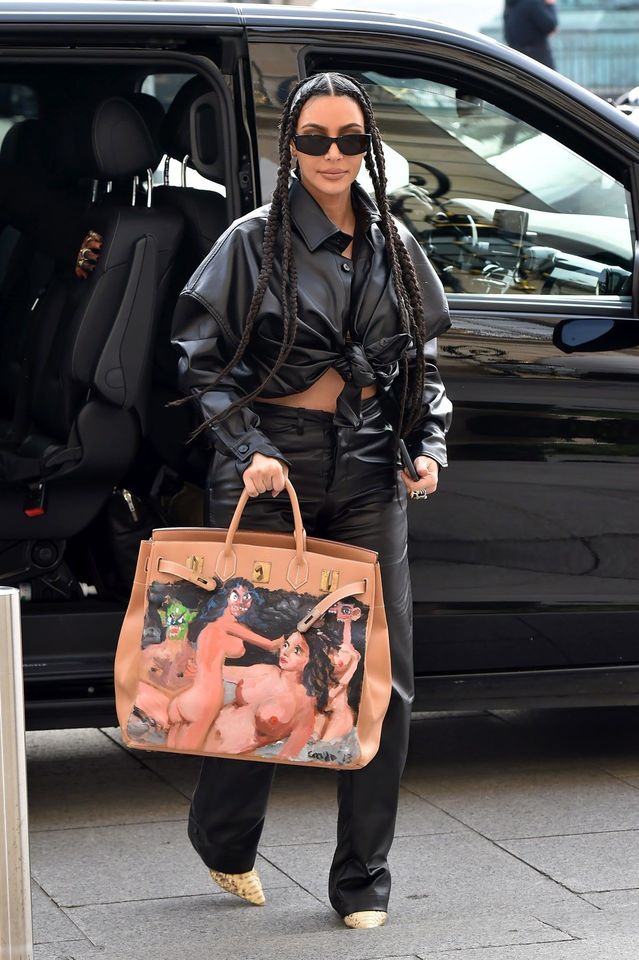 Hermès Haut à Courroies personalized by George Condo

How do you make one of the world's most exclusive handbags even more luxurious? Commission an update from a renowned artist. In 2013, Kardashian's then-husband, Kanye West, gifted her with a tan Hermès Haut à Courroies featuring a painting from George Condo. He also provided the artwork for 2010s My Beautiful Dark Twisted Fantasy.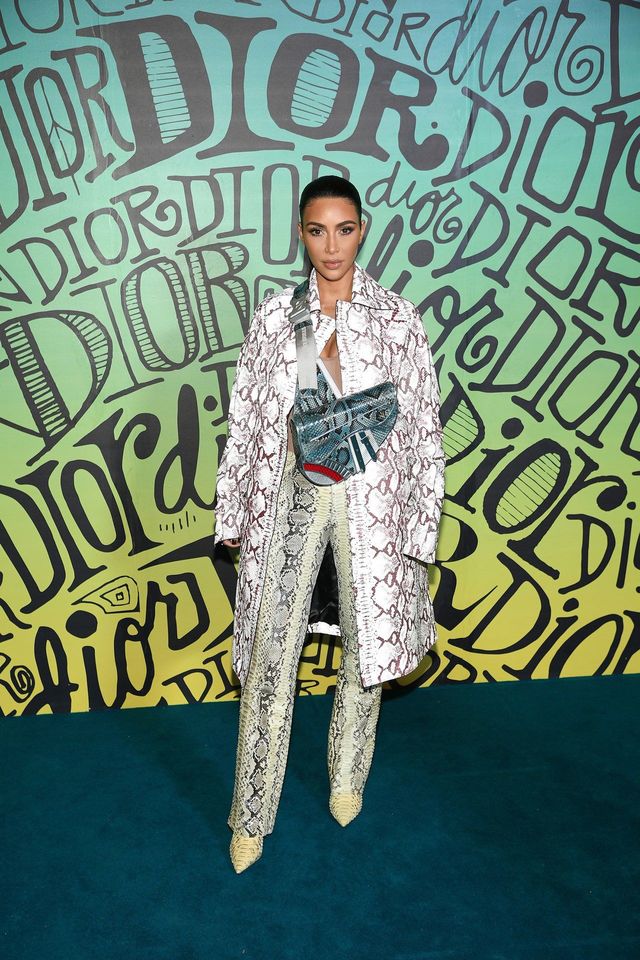 Dior Saddle Bag

Dior's saddle bag has been an essential part of the house's iconography since John Galliano introduced it during his spring 2000 collection. In 2019 Kim Jones, then the designer of Dior Men's, revisited the silhouette on his pre-fall runway, updating it in gilded silver. The all-metal piece cost $35,000 when it went to retail, and naturally, Kardashian was the first celebrity to be spotted wearing it. Equally impressive-and exclusive-the python version of the look Kardashian wore at the designer's Miami after party.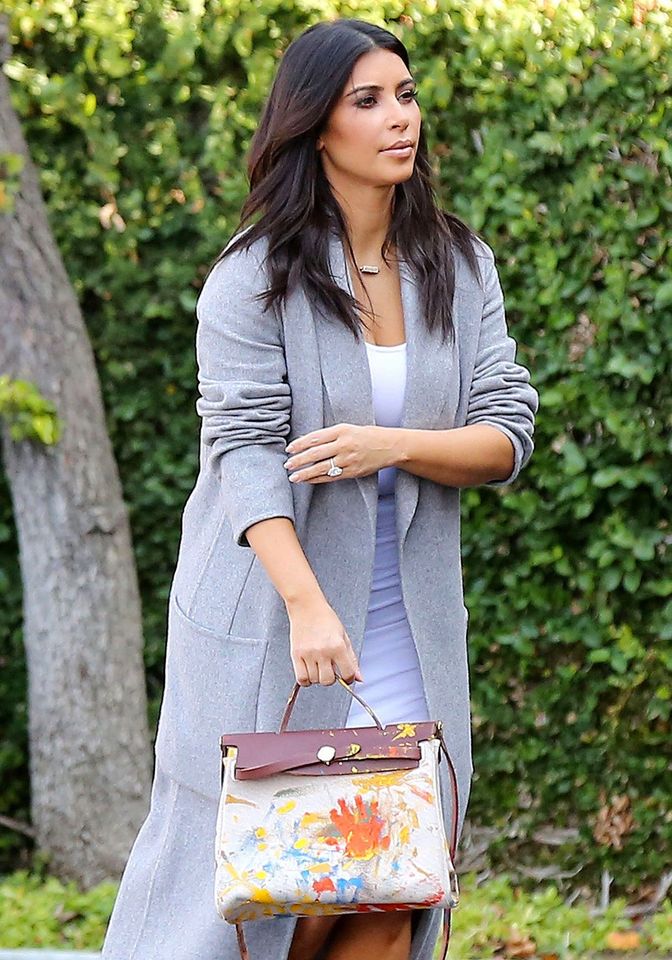 Hermès Herbag personalized by North West.

Every parent loves their child's art, and in 2014, Kardashian showed off a canvas Hermès Herbag covered in doodles from North West, who added flourishes of bright color to the otherwise subdued bag.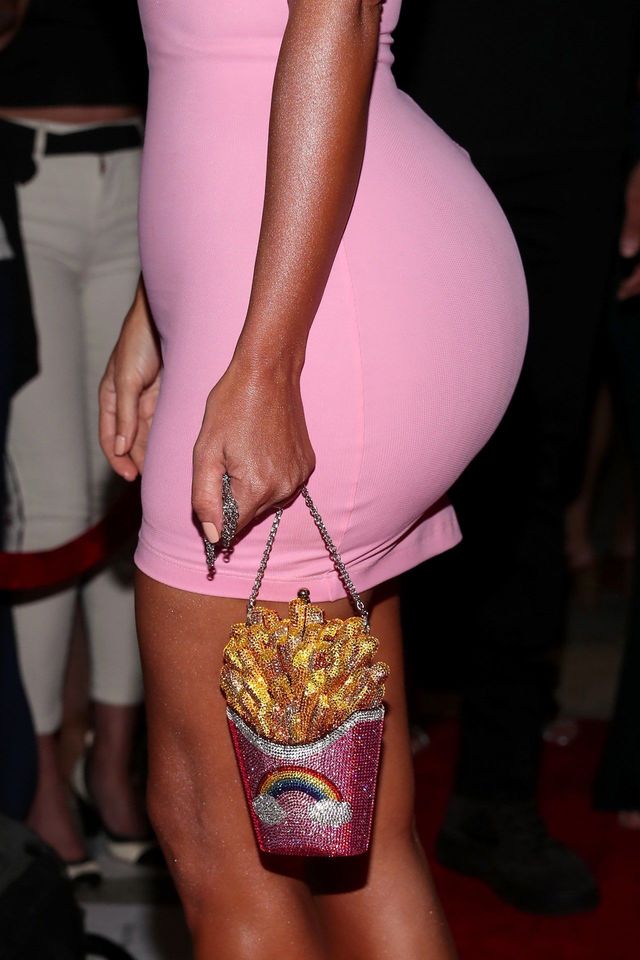 Judith Leiber French Fries Clutch

As the O.G. eveningwear accessories brand, Judith Leiber has been spicing up celebrity outfits since the 1960s. Kardashian and all her siblings are fans of the brand's tongue-in-cheek miniaudierés. She has several within her collection, including purse versions of cupcakes, ice cream cones, and other edibles. Still, the most talked-about piece in Kardashian's repertoire would have to be the bedazzled French fries and ketchup that she wore to 2018's Christie's What Goes Around Comes Around 25th Anniversary Auction Preview. Priced at 5K, the luxurious treat made headlines for its price and innate cuteness.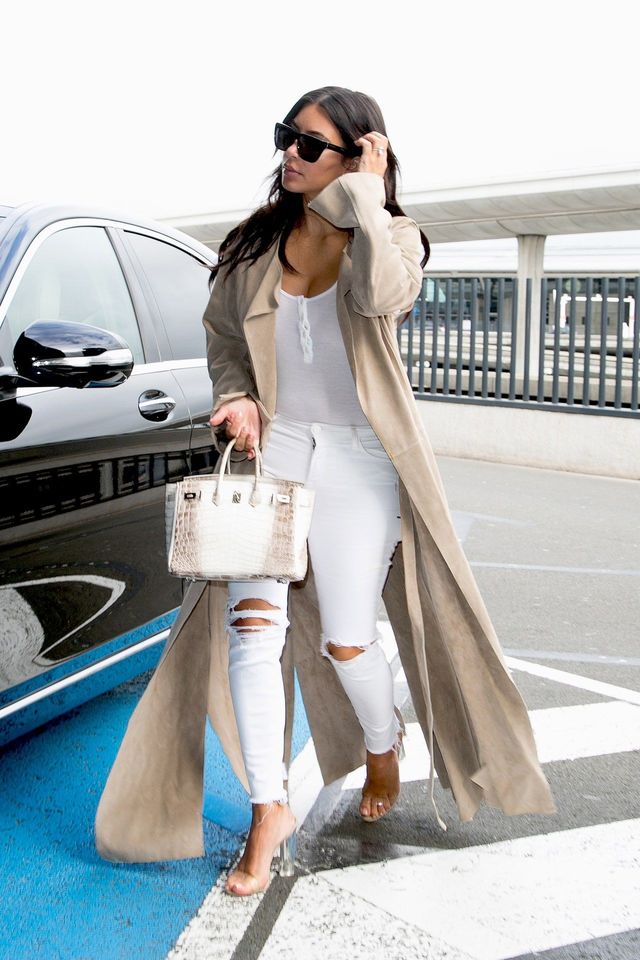 Hermès Himalayan Birkin

Designed to mimic the colors of the Himalayan mountain range and its snowcaps, the Nile crocodile Himalayan Birkin is among the rarest around. The status symbol, adopted by women like Jennifer Lopez and Victoria Beckham, is challenging to attain, even by Hermès standards. Naturally, Kardashian has one while mother Kris and little sister Kylie each have Kelly bags in the same material.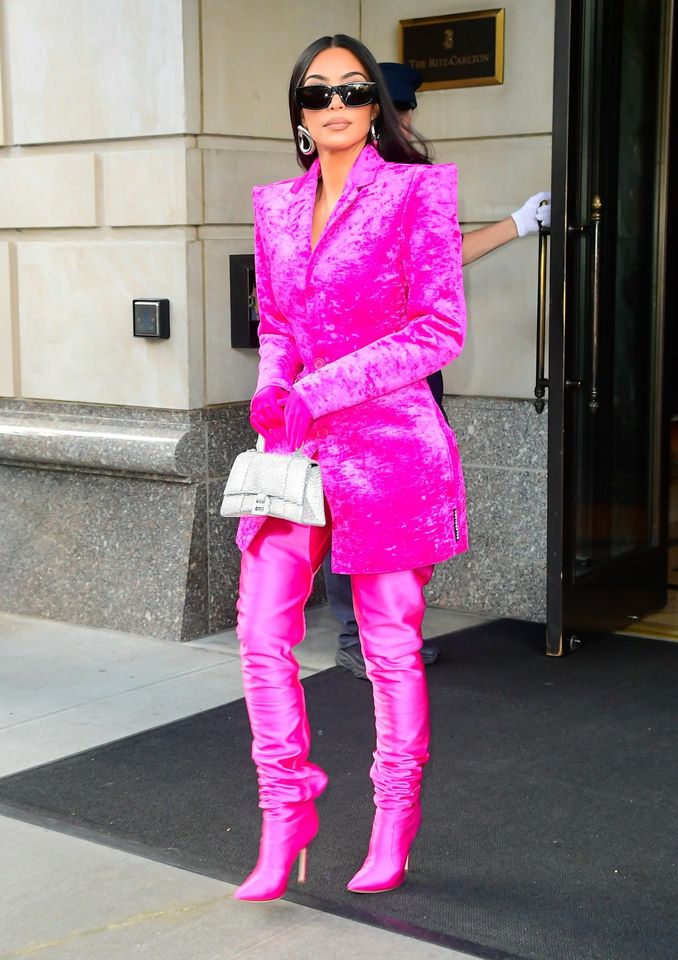 Balenciaga Crystal Hourglass tote

Demna Gvasalia is Kardashian's current go-to designer, so it makes sense that he designed the latest piece in her collection. Balenciaga's Hourglass mini-bag comes in an array of textures and materials, but naturally Kardashian found the most luxurious of the bunch. Her crystal-covered Hourglass is just large enough to work for day, but that's where the practicality ends.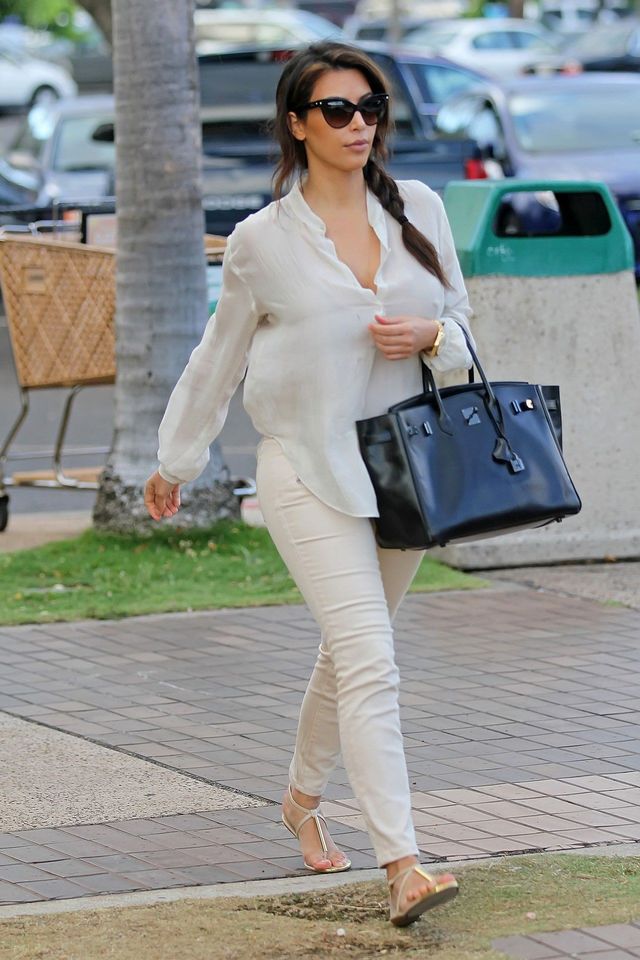 Hermès So Black Birkin

A part of what makes the Hermès Birkin special are the many limited-edition versions the house has developed over the years. In 2010 the brand introduced the "So Black" version of its signature bag, which features matte black hardware instead of the typical gold plated or palladium finishes. Sold in matte box leather or niloticus crocodile, the bag became a phenomenon and remains popular thanks to its minimalist reimagining of the iconic purse.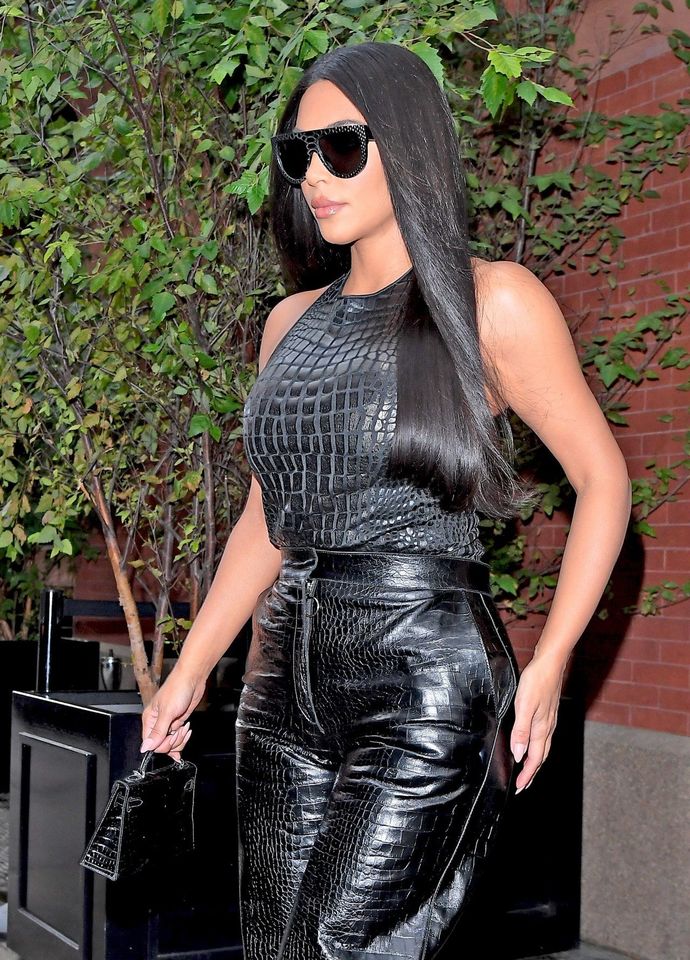 Hermès Kelly

Both the versatile pochette clutch version of the Grace Kelly-inspired top-handle bag and its miniature incarnation are mainstays within Kardashian's collection. Spotted with tan, grey, black, and brown crocodile versions, the star often reaches for the Kelly to accessorize her own outfits and to give as gifts. Back in September, she surprised assistant Stephanie Shepherd with a Kelly for her 32nd birthday.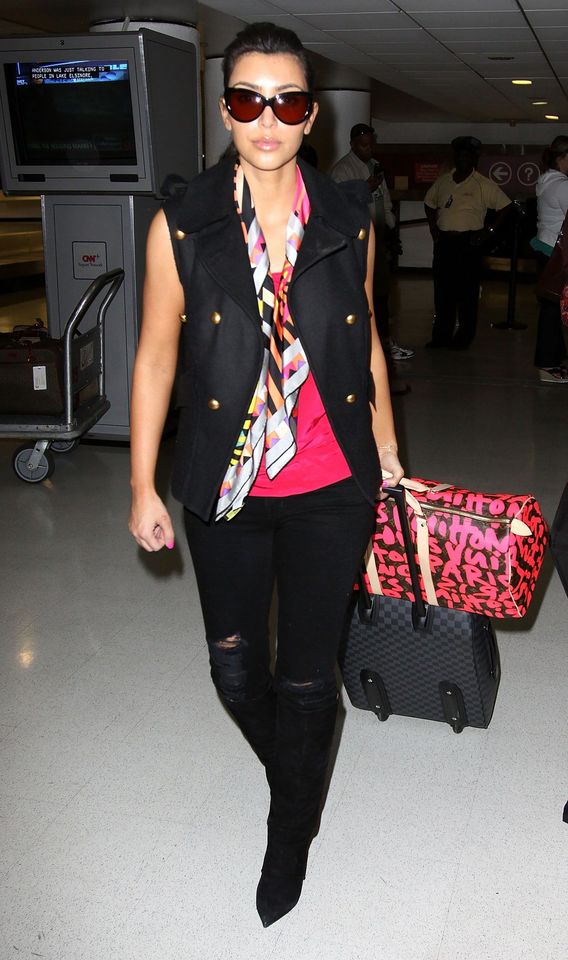 Louis Vuitton Limited-Edition Keepalls

When you constantly travel you can never have too many carry-ons. Vuitton's Keepall is one of Kardashian's mainstays. Over the years, she's picked up numerous versions of the lightweight, resilient duffel from the standard monogram to limited-editions by artists like Takashi Murakami, Marie Kondo, and Stephen Sprouse.