In 1953, millions crowded around their neighbours' television sets to watch the Queen's coronation. Seventy years on, the crowning of King Charles III was a very different kind of spectacle.
Before dawn, at 04:30 BST, a convoy of three coaches set off from Barnsley, South Yorkshire, carrying royal enthusiasts to London. On board was Sandra Hanna, who was born 10 days after King Charles. Although she and the King had experienced somewhat different upbringings, they had a "shared history", she said.

Explaining why she had risen up so early to make the 175-mile (282km) journey, she remarked: "You can't soak up the atmosphere through a TV screen."

Coming so soon after the funeral of Queen Elizabeth II in September 2022 - a moment of high emotion for millions who said goodbye - this coronation was always going to have a very different ambience. The wet May weather threatened to dampen the mood.

But still the crowds came - to central London and also to cities and towns across the UK. People gathered in public spaces where the ceremony was screened live.

Draped in Ukrainian and union flags, David-Jon Davies, 52, watched on a big screen at Liverpool's Eurovision Village. It was a proud moment for the city, he said: "Although I might see another coronation in my lifetime, I definitely won't see one at the same time we're hosting Eurovision."

While some of those who turned out around the UK were ardent monarchists, for others it was the sense of occasion that mattered. "I wouldn't say I'm a royalist but I wouldn't want to have missed this," said Karen Greenfield, 54, from Doncaster, who watched in Hull city centre.

Many more settled indoors to watch.

One of those was Audrey Biggs, from St Hilary, in the Vale of Glamorgan, who celebrated her 100th birthday in a care home. Charles would be the fifth monarch whose reign she would live through. Back in 1953, her family had been one of those who bought a TV to watch the previous coronation.

"He's a rather sensitive sort of a man," she said of the King. "He'll be anxious to make a good job of it, which he will I'm sure."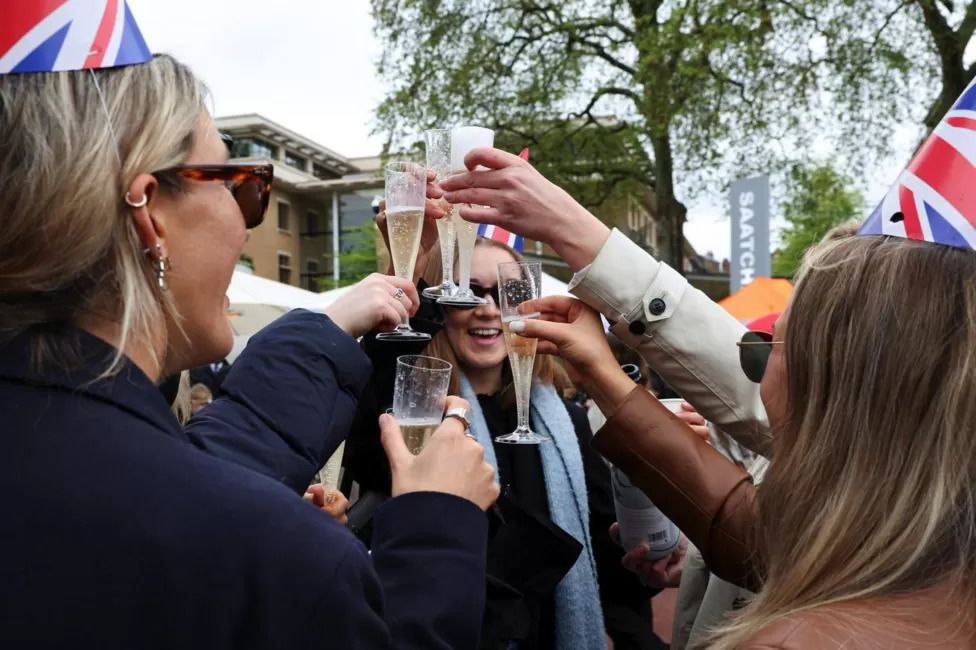 In a digital, multi-channel, multi-device era, the 2023 Coronation was never going to be the same kind of occasion as 1953. Some protested against the occasion itself. Others tried their best to ignore the whole thing.

The street parties and gun salutes were still there, of course. And members of the public found idiosyncratic ways to celebrate the occasion ahead.

In Milton Keynes, a model railway club spent months building a miniature version of the coronation. "Yarn-bombers" around Scotland crafted knitted effigies of King Charles and Queen Camilla and attached them to post boxes. Chocolatier Jennifer Lindsey-Clarke, from Worthing, in West Sussex, sculpted a life-sized bust of the King from more than 17 litres (3.7 gallons) of melted chocolate.

At the same time, plenty of others switched off - either because they simply weren't interested in the spectacle, or because they considered it an affront to democracy.

"We won't be taking any notice of it," Owen Williams, from Barry, told BBC Radio Wales. "Instead of a coronation, I'd prefer an election. Instead of Charles, I'd prefer a choice."

Other non-monarchists concluded their best option was to throw celebrations of their own. The Dog and Partridge pub, in Sheffield, declared itself an "anti-Coronation safe space". The Cube cinema, in Bristol, organised an "anti-street party" for critics of the British empire.

Pro-republic rallies were held in Cardiff and Edinburgh. A crowd of anti-monarchy protesters gathered in London's Trafalgar Square, where the ceremony was relayed over loudspeakers. Whenever Charles's name was mentioned, demonstrators chanted "not my King". There were also regular bursts of "free Graham Smith" - the head of campaign group Republic, who was arrested earlier in the day.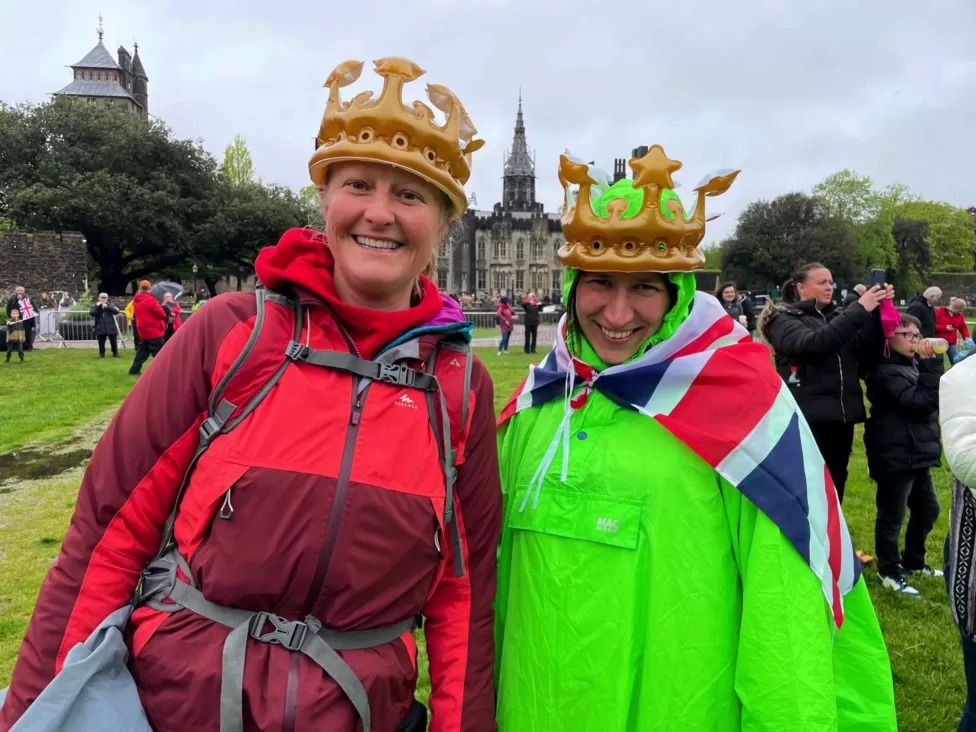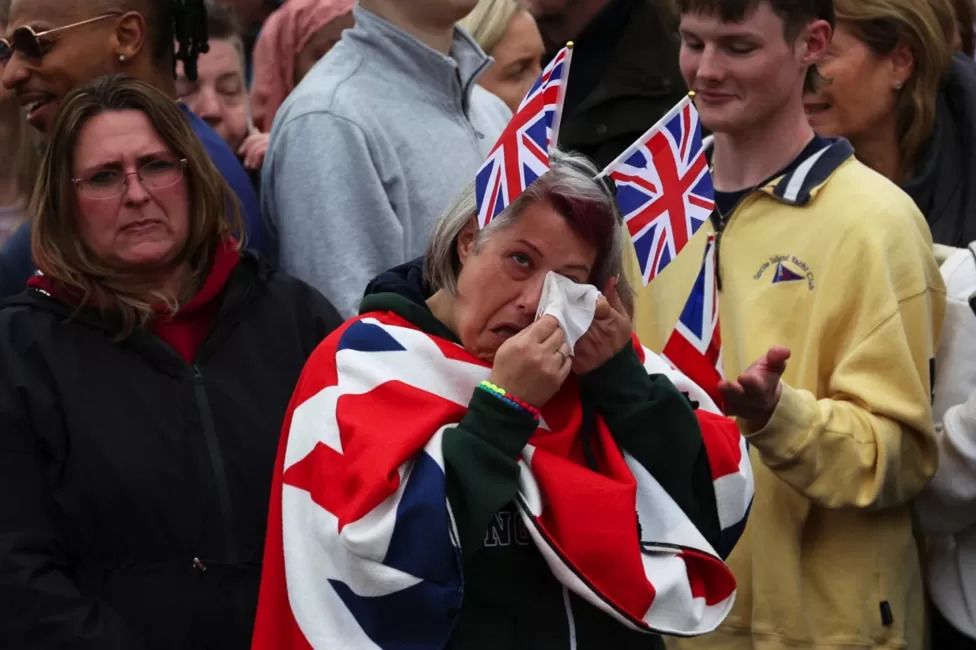 Before the procession started, there was a sense of anticipation in crowds around Buckingham Palace. In her bright red, blue and white wig, Heidi Roberts, from Surrey, said she was looking forward to having something to celebrate: "I think we're all mourning the Queen, and I think it's a bit of a hangover from that."

As the procession began just after 10:20 BST, onlookers along the route erupted in cheers. This was the pageantry they had come for; that and a glimpse of the King and Queen.

The carriage reached Westminster Abbey and the ceremony began - broadcast to the world and piped to the crowds outside.

This time the TV pictures were in colour. And social media would curate it for you. On Twitter, Penny Mordaunt - the Conservative MP and leader of the House of Commons, who brandished the Sword of State as part of its presentation to the King - began trending. So too for a time was the republican slogan #NotMyKing.

In Majorca, British expats and tourists watched on big screens as they sat in the sunshine in novelty crowns. In New York, Iain Anderson, 43, organised a screening at Tea and Sympathy, a British-themed café and shop.

"We haven't had the best history after that little war", he joked, referring to the American Revolution. "But people still like the history. The theatre of it, the pomp and the circumstance."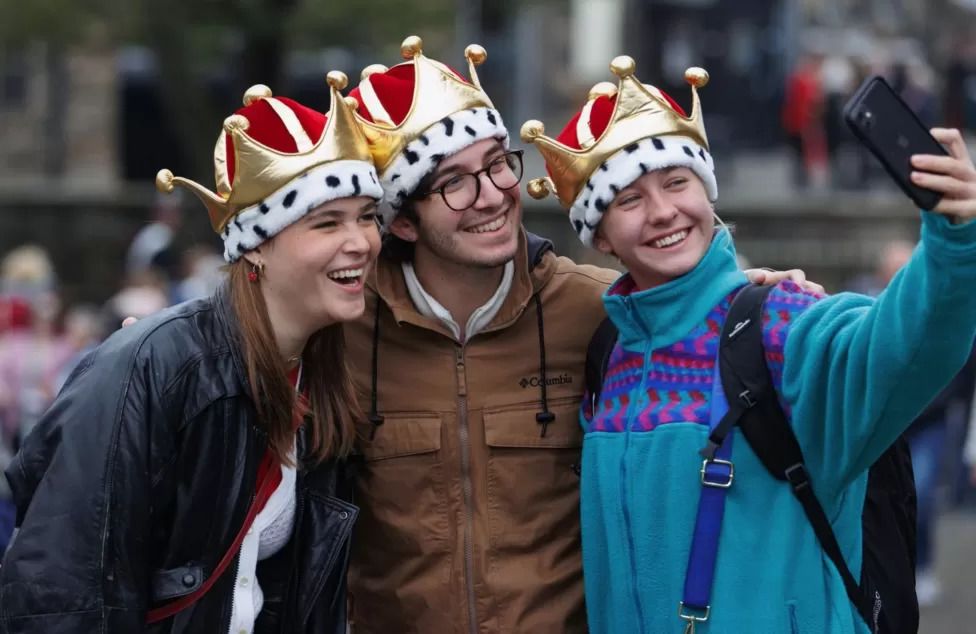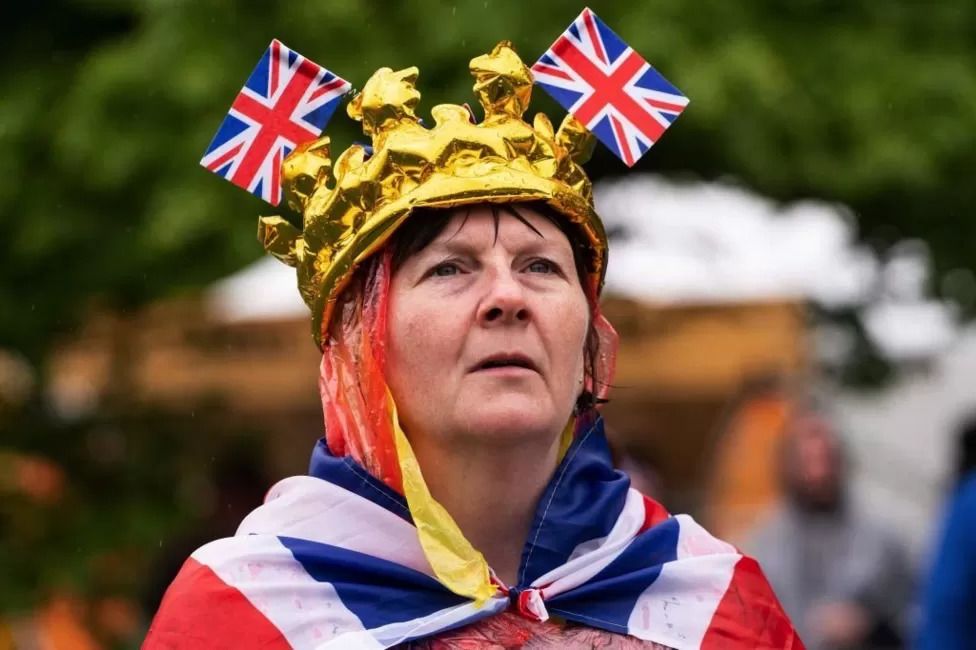 At the moment the Archbishop of Canterbury placed the crown on King Charles's head, the sound of popping corks could be heard along The Mall. Soon afterwards, as the carriage returned to Buckingham Palace, there were shouts of "God Save the King" and "hip hip hooray" from the crowd.

The appearance of the King and Queen on the palace's balcony - albeit with a scaled-back military flypast due to the weather - was imminent. The barriers were lowered. The crowd rushed to the front.

Cheryl Kingbrooks, Joanne Gerrard and her son Ryan were among them. "We never thought we'd get right to the front," Cheryl said afterwards.

"We were right at the back of The Mall, and then as soon as the gates opened, we just ran down and we didn't realise we'd get that far forward. But we did and it was absolutely amazing," Ryan added.

Soon after, the new King and Queen retreated inside. For some it had been a day to immerse themselves in, to be part of, come rain or shine. For others it was something to ignore or even endure. Either way, a new reign had begun.