A surgeon who branded his initials on two patients' livers has had his registration suspended.
Simon Bramhall admitted using an argon beam machine to write his initials on the organs of the anaesthetised patients in 2013 while working at Birmingham's Queen Elizabeth Hospital.

He was fined £10,000 in 2018 after he was convicted of assault by beating.

A tribunal on Friday suspended him for at least five months, saying his fitness to practise had been impaired.

Representing Bramhall at the Medical Practitioners Tribunal, Jon Holl-Allen QC said the surgeon had "ceased employment and relinquished his license to practise" prior to the suspension.

Bramhall, of Tarrington, Herefordshire, admitted two counts of assault by beating at Birmingham Crown Court in December 2017, relating to the brandings.

His 4cm-high initials were discovered on a patient's liver by chance after the donor organ Bramall had transplanted failed about a week after he carried out the life-saving operation.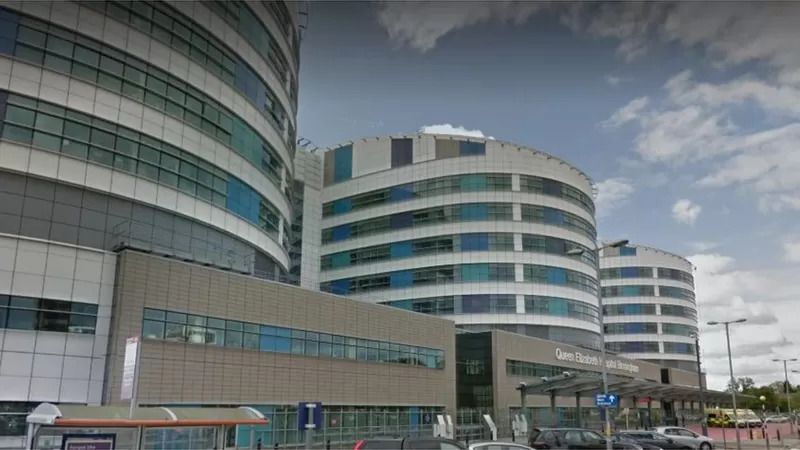 The surgeon left the Queen Elizabeth Hospital shortly after branding the two patients' livers

The 55-year-old resigned from his job at the Queen Elizabeth Hospital in Birmingham in 2014 after marking the liver.

After Bramhall admitted the offences in 2017, as well as the £10,000 fine he was also ordered to a 12-month community order, including an unpaid work requirement.

At the time, the court heard two patients had been left feeling "violated" with one of them suffering ongoing psychological harm.

His suspension will be reviewed in five months the Medical Practitioners Tribunal Service ruled.