Bach Mai grew up in Houston as the son of Vietnamese immigrants. His American dream is to create a couture atelier in New York.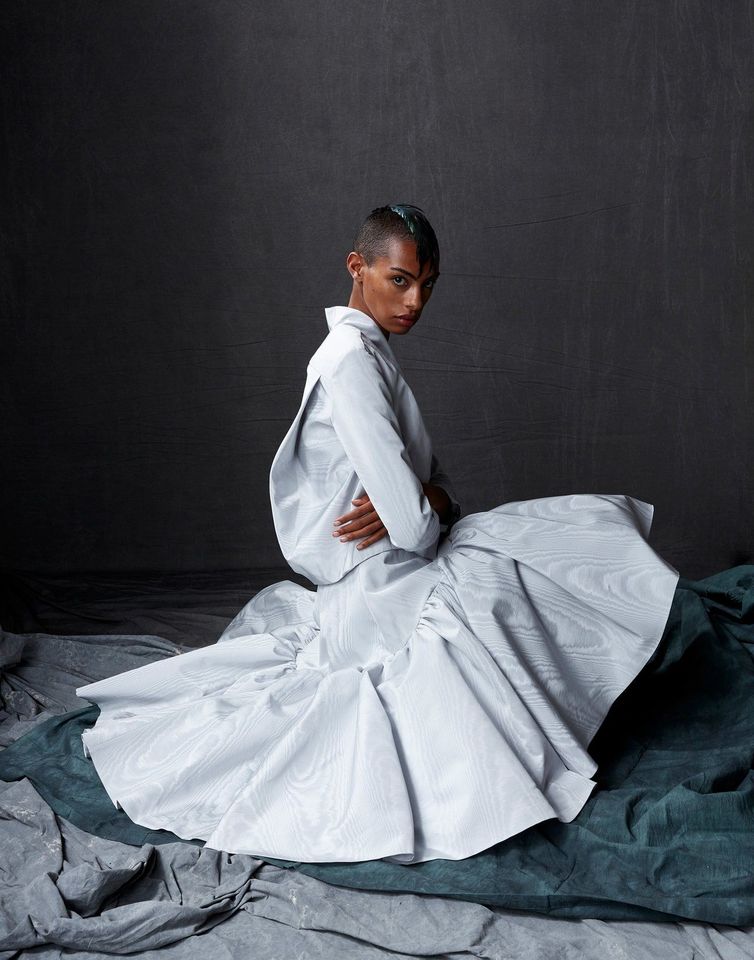 Bach Mai has electric blue hair and Vietnamese immigrants for parents. He is not a couturier of the old school, but he doesn't lack for atelier experience. A graduate of Parsons, he was assisting in the first studio at Oscar de la Renta during the fall 2013 season that John Galliano created a capsule collection for the New York designer. Not long after, with a master's degree from Paris's Institut Français de la Mode, Mai went to work for Galliano as he established himself at Maison Margiela.

"I fell in love with couture at a really young age because of John," Mai says. "And it was always my dream to come back and be an American designer." Mai's debt to Galliano and his years at Margiela is clear in the bias draping of both a silver lurex panné velvet halter dress and a black flocked dot tulle and lace shawl collar godet gown. The curves of Cristobal Balenciaga and the mid-century photography of Irving Penn and Richard Avedon that captured them are obvious influences on the sculptural skirt volumes of his strapless and racer-back party dresses, but equally, he credits the pink frock Carrie Bradshaw famously faints in at Lincoln Center in Sex and the City. "That's something that stuck with me as a kid," he remembers.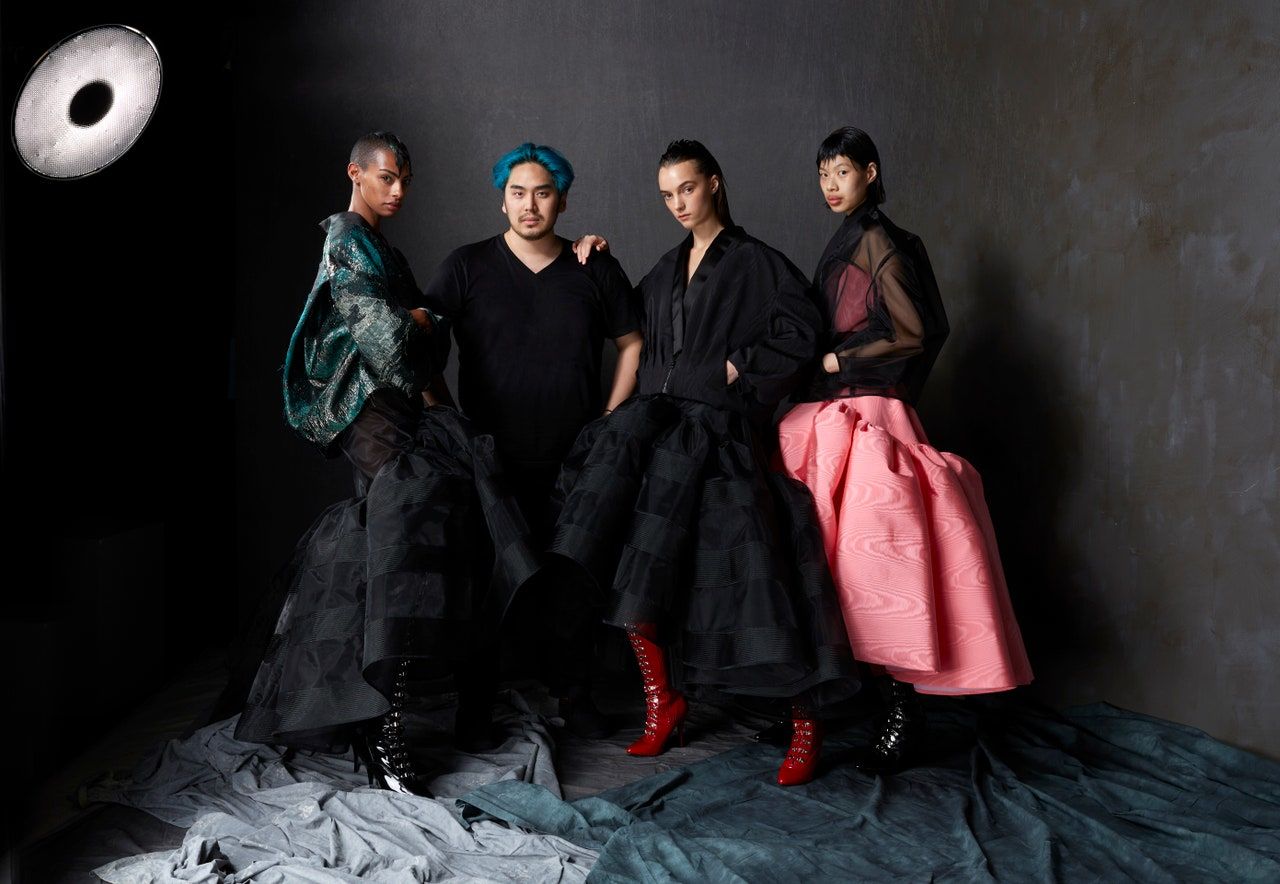 Mai was a teenager in Houston when he began making clothes for his cousin and friends. In Texas in the high season Today, he's 32, and he's building his new label with the backing of Hurel, the imminent French textile supplier, in an arrangement that allows him to use materials "that young designers could only dream of." A corded lace with a silver crystal holofoil treatment whose effect he describes as "intergalactic courtesan" stands out, as do the fil coupé organza jacquards based on the works Triumph of Galatea and the Green Paintings by his favorite artist Cy Twombly.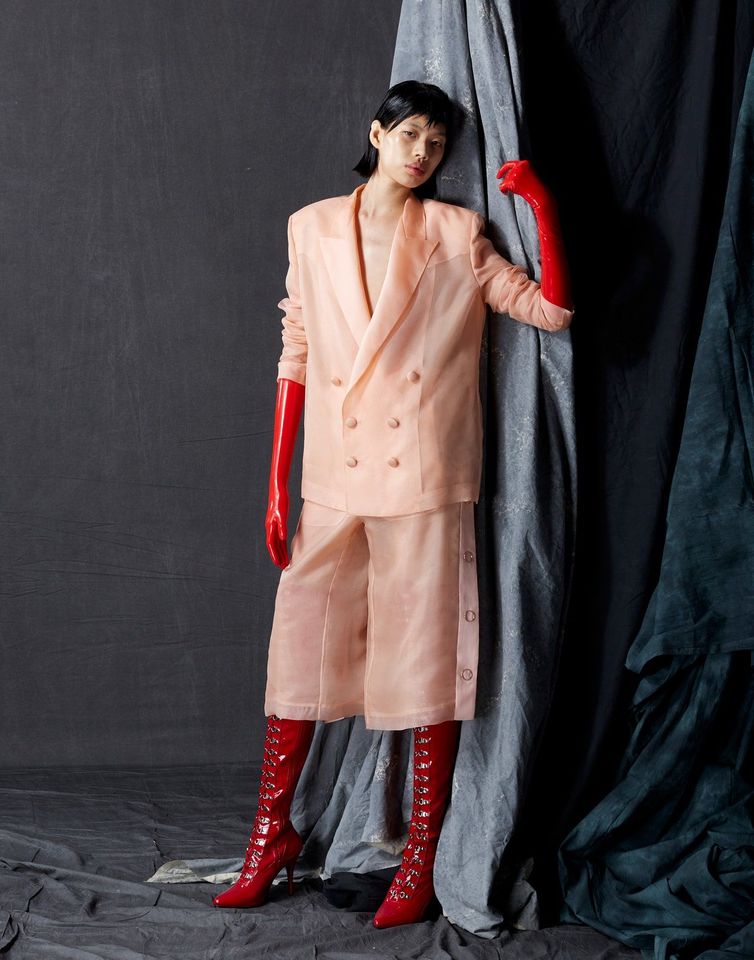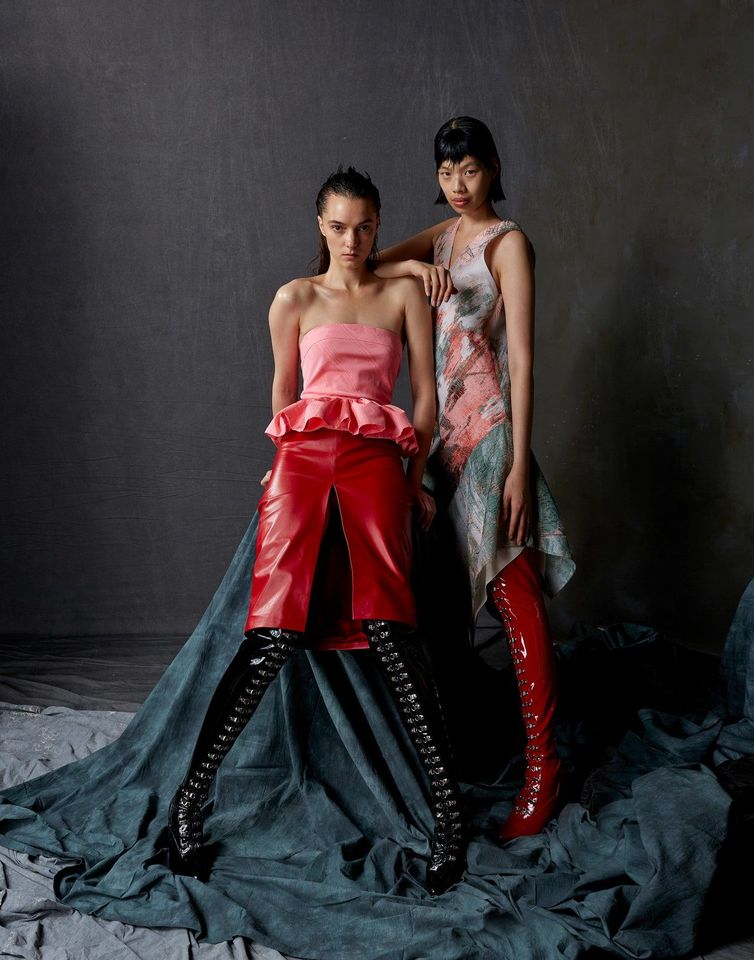 His bride wears another Hurel fil coupé organza, this one in white and matte silver, with Chantilly lace accents. "The most beautiful part of couture is the relationship between client and designer," Mai says. "That's why I want the heart of the collection to be these special made-to-order pieces." Complementing the made-to-measure offerings are a sculpted-back bomber in silk moiré, boxy blazers and tear-away basketball shorts in transparent organza, and little moiré peplum tops and leather pencil skirts, a selection of which are now available by preorder on his website. Though they're off-the-rack, they retain his couture's unabashed femininity and irreverent glamour. The clothes are entirely made in New York.

"We do have the know-how here, the craftsmanship," Mai says. "To help keep that alive and to build that back up is beautiful." From his midtown studio he's putting plans together to take his debut collection on the road. Texas friends are planning "couture Tupperware parties." Back home in Houston, Mai's parents are cheering him on. "My dad's an engineer," he says. "I learned from him how to break apart how things work. That's why I'm so still fascinated by construction and how to put things together." Step-by-step, his plan is to build the next American couture house.