Want to build your own tiny house? Now you can purchase plans for this award-winning design from Minim.
Designed with the belief that "humans can and must live more sustainably, but not without style," the Minim House integrates thoughtful, green design into all of its 264 square feet.

Prospective buyers can visit a prototype of the Minim House in Washington, DC. Production of the home is currently on hold, but interested parties can purchase plans on Minim's website.

Established in 2013 in Washington, DC, the company designs modern tiny homes that can be constructed on wheels for mobility, or on stationary foundations. They developed the award-winning Minim House after realizing that tiny homes under 200 square feet felt a little too tiny-especially when they incorporate features like lofted beds and upper cabinetry.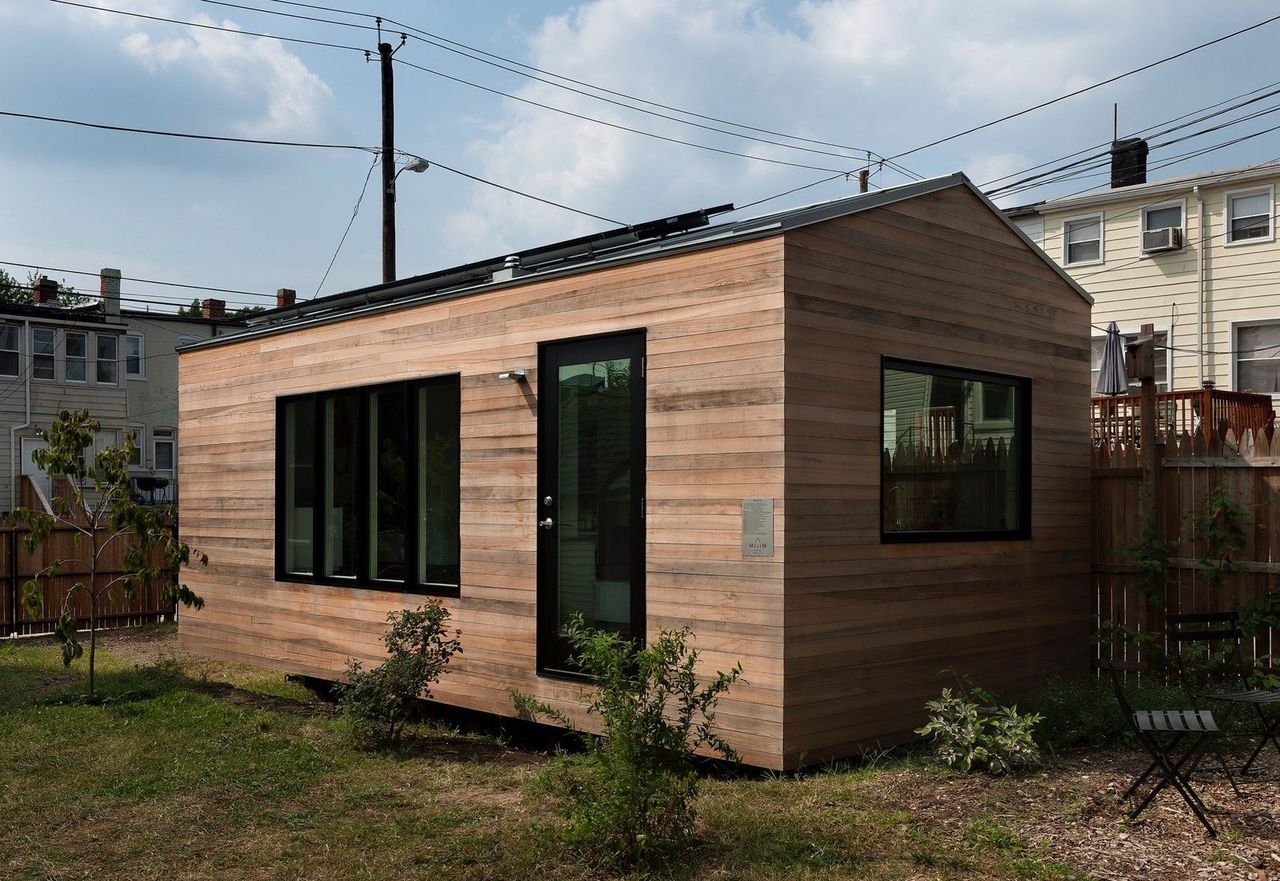 The home has rooftop solar panels, and it's clad with cypress wood that turns a light gray over time.

They noticed that tiny homes based on shrunken-down proportions of traditional homes often result in less light and narrow doors. Instead, they went back to the drawing board and came up with an innovative plan for a spacious, light-filled home.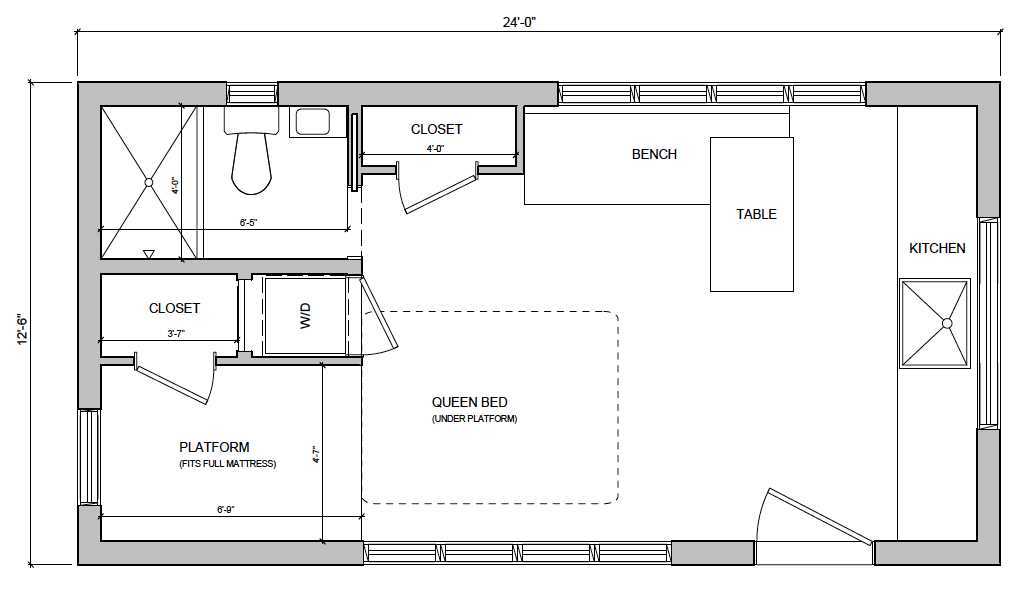 The home doesn't have a lofted space; instead, the bed pulls out from under a platform.

Tiny home gurus may be quick to point out that the home's 11' x 22' dimensions make it a wide load-and thus more difficult to transport. While this is true, Minim believes that most homeowners spend the vast majority of their time in a single location and not on the road, so they prioritized designing higher-quality spaces. The home is still built on a trailer, and it can be moved by any truck with a 14,000-pound towing capacity.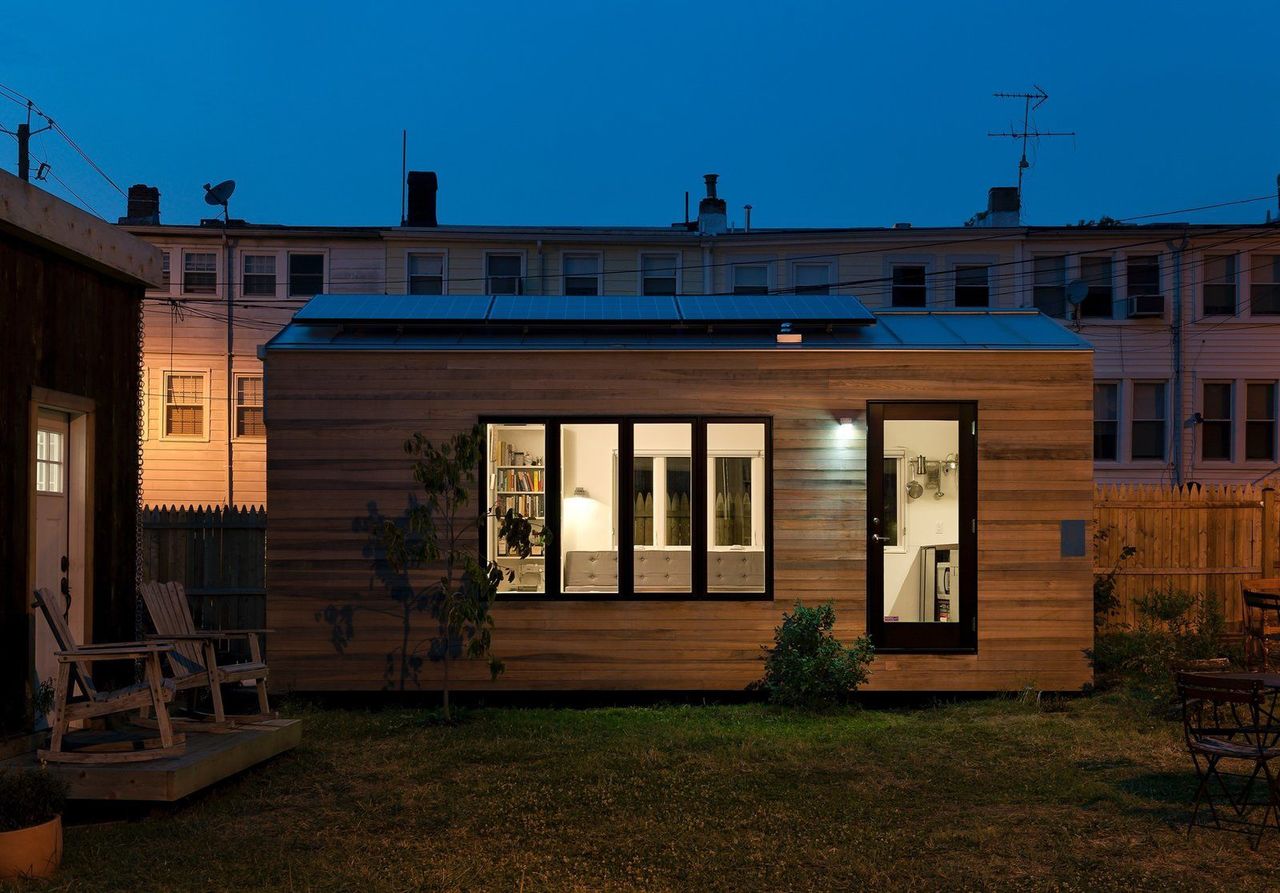 Energy-efficient LED lighting and a rainwater collection system round out the home's sustainable features.

The home is made of structural insulated panels (SIPs) clad with shiplapped cypress. Its insulation R-values range from 26 for the walls to 40 for the roof, and 30 for the floor. SIPs are pre-built construction blocks made like a sandwich, with OSB plywood on the outside and insulation on the inside. They allow for insulated shells to be constructed simply and quickly.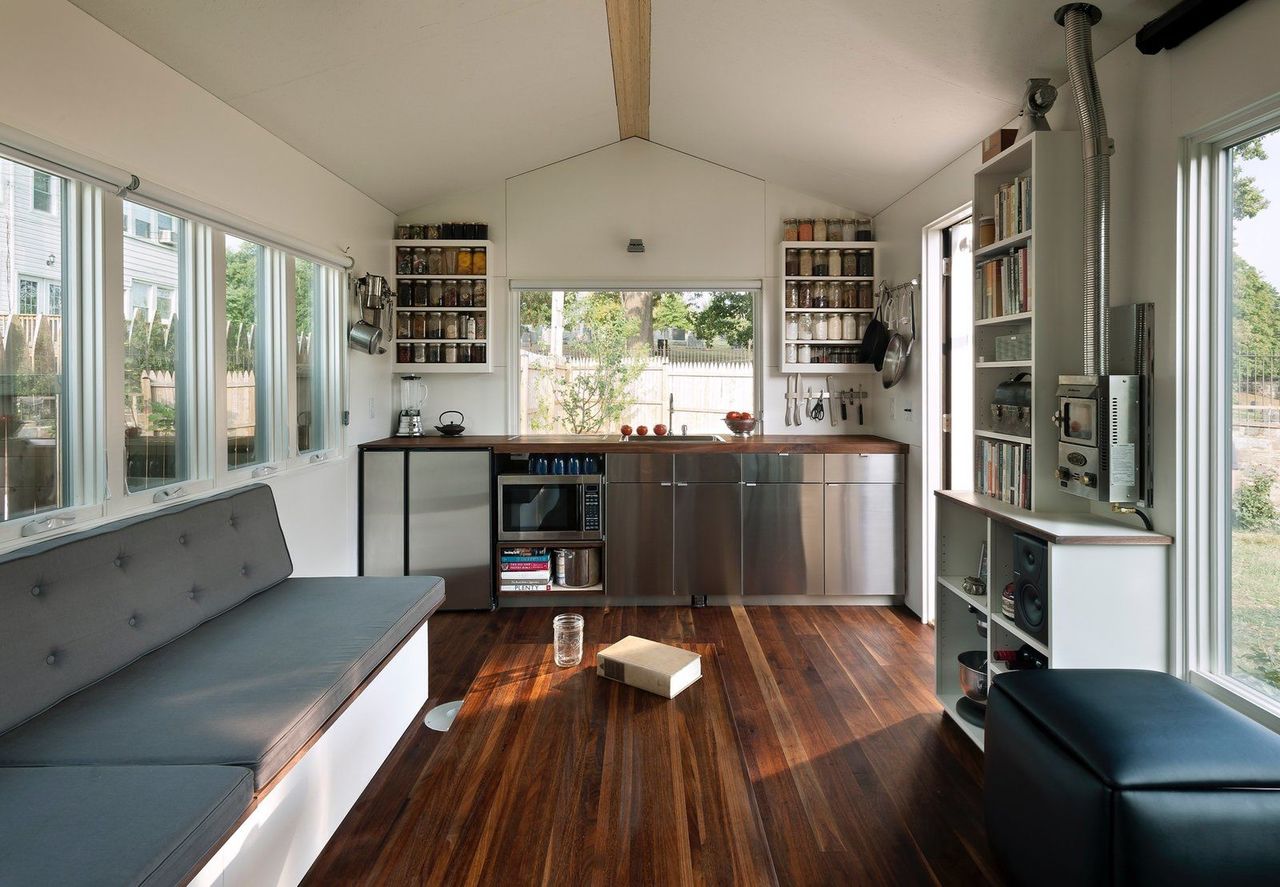 The 10-foot-long galley kitchen has no upper cabinets, which makes the space feel bright and airy. Open shelving provides additional wall storage.

The cypress exterior has a natural preservative, so no future wood treatments are necessary, and the wood naturally ages to a light-gray tone. A 960-watt solar array provides nearly all the electricity needed to run the home's systems, with the exception of the incinerating toilet, air conditioning at night, and a few other minor appliances.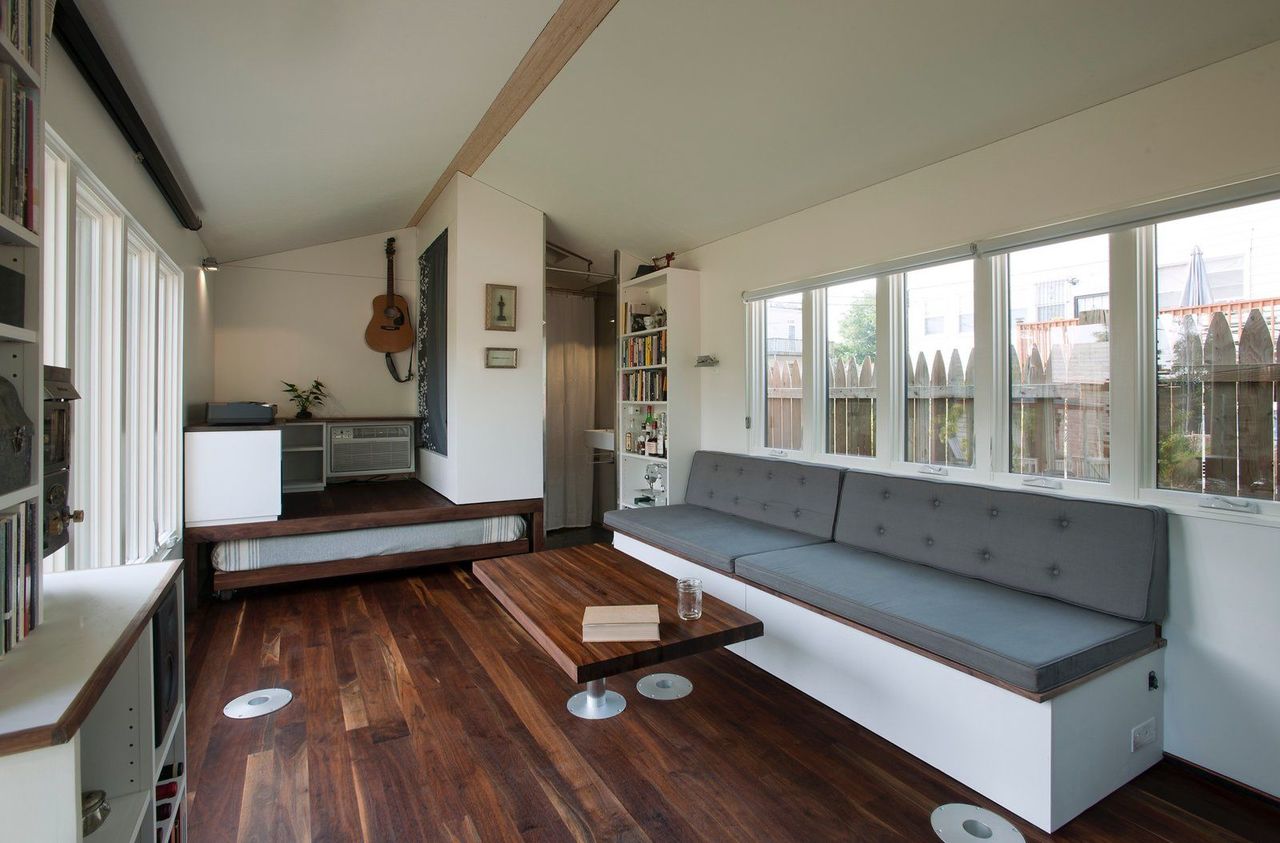 The home's floor, transforming table, office platform, and kitchen counters are all made out of solid, locally milled walnut.

The interior of the Minim Home features hardwood floors, a desk, a table, and counters made of solid walnut from a local planing mill finished with a zero-VOC food-grade oil finish. The walls are finished with a zero-VOC paint. The modern and elegant stainless steel galley kitchen has a two-burner Dickinson range that fits under a custom cutting board. It lacks upper cabinets, but there's plenty of storage.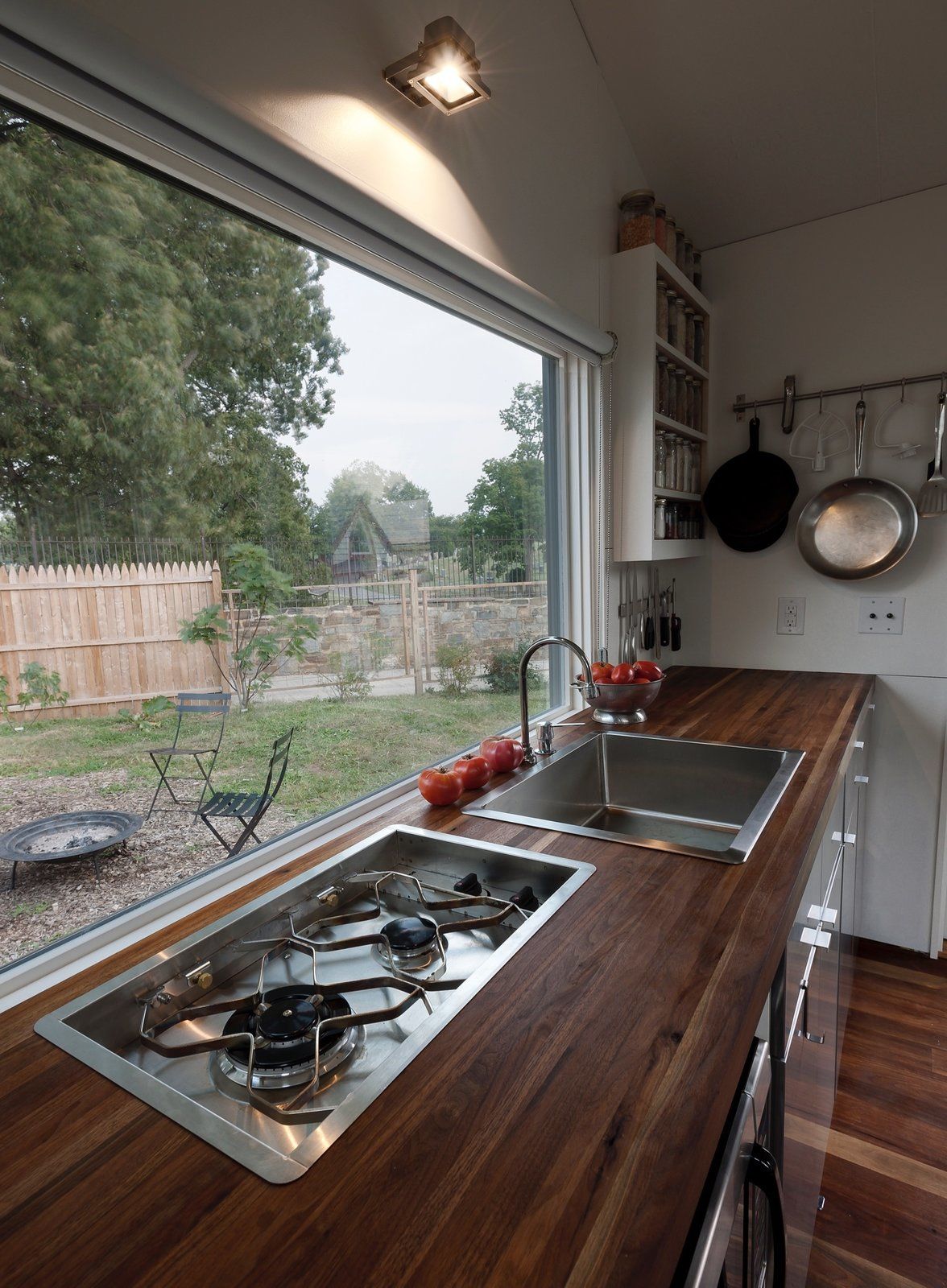 The kitchen looks out through a large window that fills the interior with natural light. The double burner can be covered with a custom wood cutting board to increase counter space.

A transforming table made of marine hardware can move to four different metal sockets in the floor, and it can serve as a dining table for six, a coffee table, a bar, or a desk. The sofa provides seating for five and can double as an eight-foot-long guest bed. A water tank is located below it, and a shade conveniently draws down over the window it faces to serve as a projection screen. A small LED projector is designed to sit on the sofa, and speakers are located on either side of the window!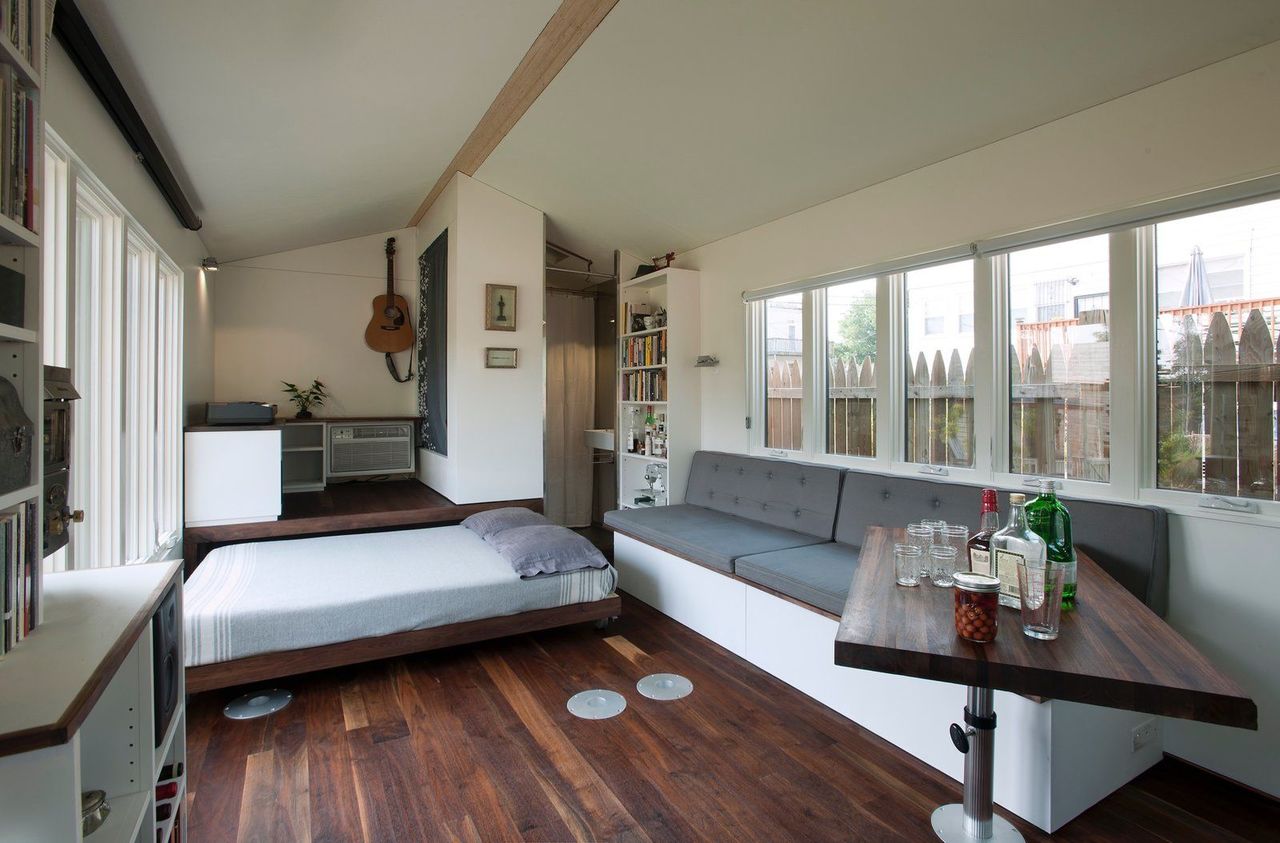 The walnut table can function as a bar for the kitchen, a low coffee table for the sofa, or a kitchen table that seats up to six people.

Minim House has a roll-out full- or queen-sized bed that is easily stored: it rolls out, locks into place, and then rolls back. A 5' x 7' office/storage area sits atop the bed platform, providing a workspace distinct from the kitchen table. A five-foot-long desk with a wraparound countertop completes this area.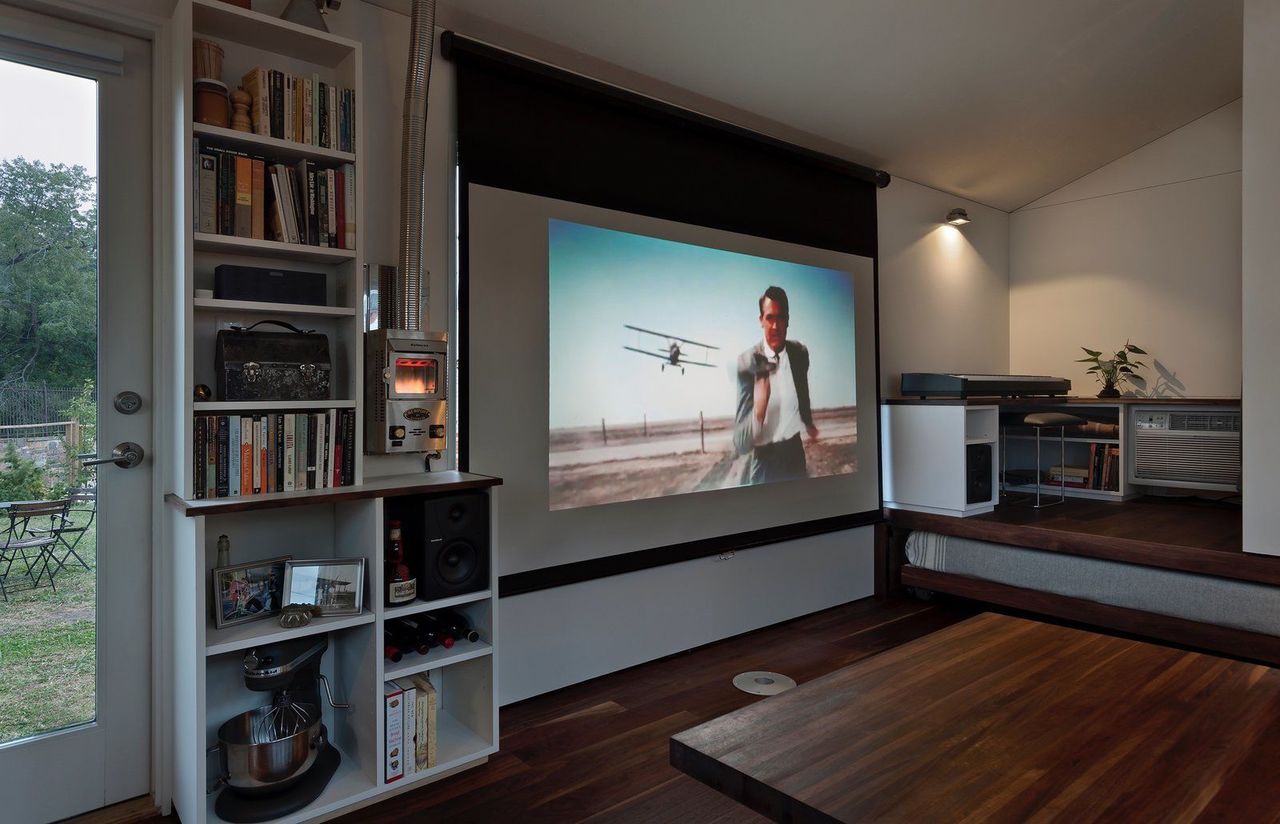 Minim designed the main window directly across from the sofa with proportions that mimic a television or movie screen. When a shade is lowered, a projector can play shows or films.

The bathroom is a custom stainless steel enclosure that echoes the stainless steel cabinets in the kitchen. It has a wet bath arrangement, with the showerhead over the sink area. The current design features an incinerator toilet that can be screened off with a shower curtain, although owners can also swap it out for a composting or standard toilet.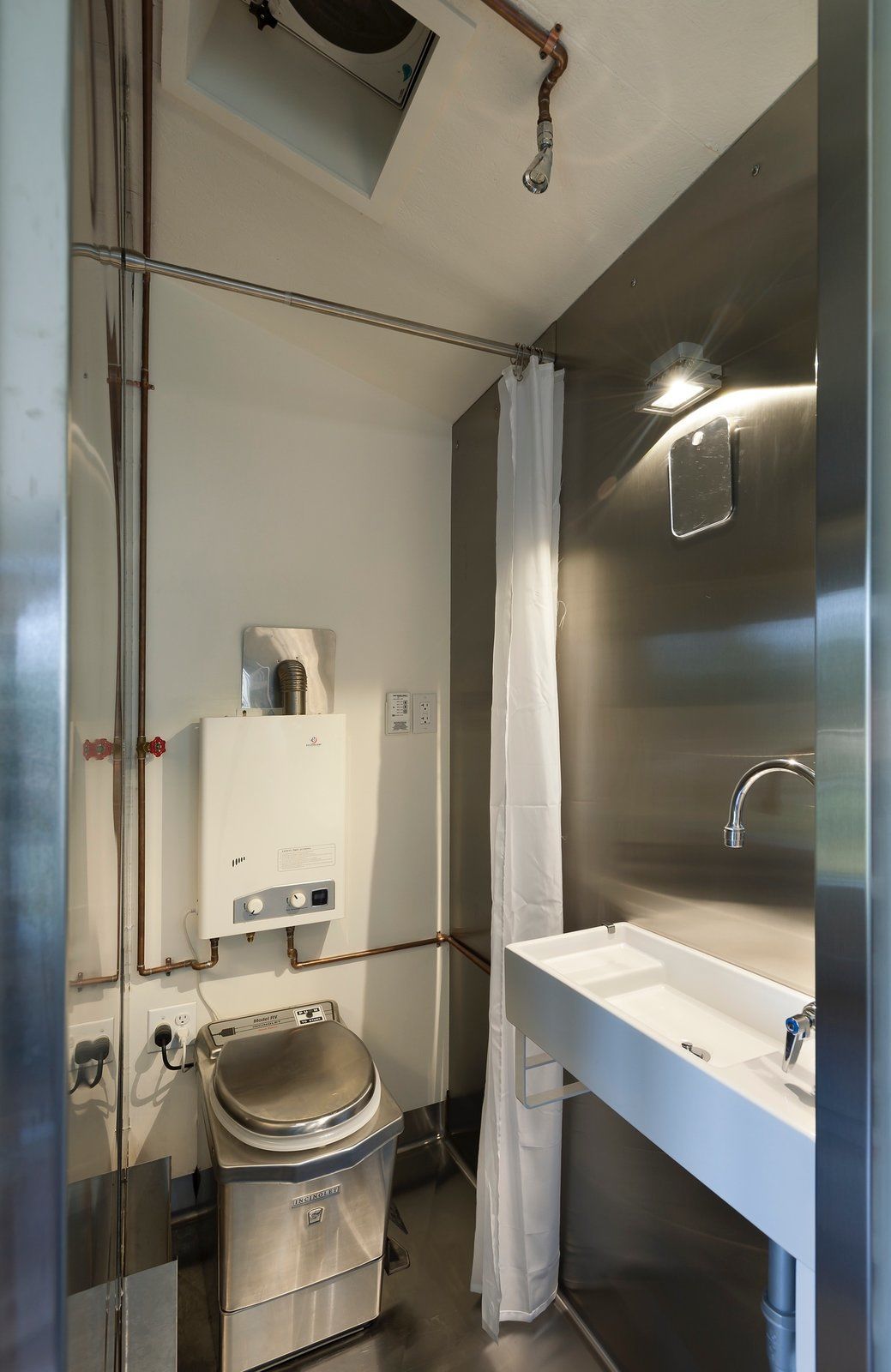 The bathroom has an efficient and easy-to-clean wet bath arrangement.

Minim produced the home for several years before pausing production—however fans and interested parties can still build their own. Detailed floor plans are available on their website for $495, and Minim estimates that building your own tiny home following their design would cost about $35,000 to $40,000, depending on a variety of factors including location and labor.