US mobile networks AT&T and Verizon have agreed to postpone the rollout of their new 5G service at some airports.
The C-band service, which offers faster speeds and broader coverage, was due to be turned on tomorrow.

But airlines in the US have pushed to delay the start, warning that the signals could interfere with aeroplane navigation systems.

The telecoms firms expressed frustration as they bowed to pressure to limit their rollout.

AT&T said it was "temporarily" deferring the rollout at a "limited number of towers around certain airport runways". Regulators had had "two years" to plan for the start of 5G service, it added.

"We are frustrated by the Federal Aviation Administration's inability to do what nearly 40 countries have done, which is to safely deploy 5G technology without disrupting aviation services, and we urge it do so in a timely manner," AT&T said in a statement.

"We are launching our advanced 5G services everywhere else as planned with the temporary exception of this limited number of towers."

Verizon also said it had "voluntarily decided to limit our 5G network around airports".

This third postponement came as the White House and aviation authorities rushed to work out a solution to an issue that airlines have warned could cause major disruption, forcing them to ground some of their fleets and cancel flights.

In a statement, President Joe Biden thanked Verizon and AT&T for agreeing the delay, which he said would affect only about 10% of wireless tower locations.

"This agreement protects flight safety and allows aviation operations to continue without significant disruption and will bring more high-speed internet options to millions of Americans," he said, adding that officials would continue talks to find a "permanent, workable solution around these key airports".

Phone companies have spent tens of billions of dollars to upgrade their networks to deploy the 5G technology, which brings much faster internet services and greater connectivity.

But airlines fear C-band 5G signals will disrupt planes' navigation systems, particularly those used in bad weather. Two major planemakers, Airbus and Boeing, have also voiced concerns.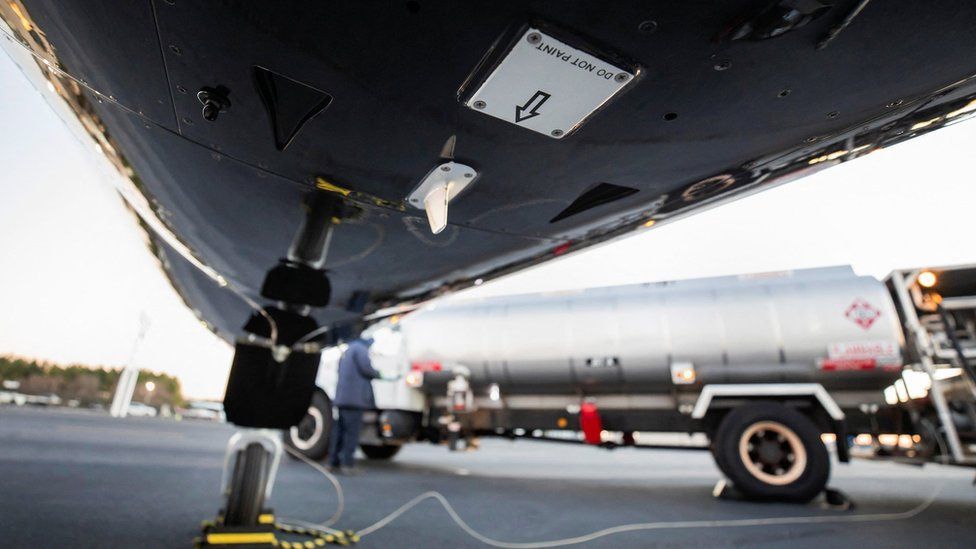 In a recent letter to regulators, the 10 biggest US airlines said they wanted 5G signals to be excluded from "the approximate two miles of airport runways at affected airports as defined by the FAA on 19 January 2022".

"This will allow 5G to be deployed while avoiding harmful impacts on the aviation industry, travelling public, supply chain, vaccine distribution, our workforce and broader economy.

"We further ask that the FAA immediately identify those base stations closest to key airport runways that need to be addressed to ensure safety and avoid disruption," they added.

There have been several delays already because of the aviation concerns, with launch dates in December and earlier this month both being pushed back. Wireless industry groups say airlines are distorting the risks.

Despite Tuesday's deal, some airlines including Air India and Japan's biggest airline, ANA Holdings said they had cancelled some U.S.-bound flights because of possible 5G interference.


The much-hyped expansion of 5G networks in the US has been chaotic, to say the least.

The rollout has been delayed twice - and now AT&T and Verizon have bowed to intense pressure, agreeing to defer opening some parts of the network near airports.

This happened because of concerns about the safety of aircraft. To mitigate those concerns, airlines would have had to operate under restrictions they clearly found intolerable.

But those safety issues have been well publicised for more than a year. There was clearly time to come up with a mitigation plan - and other countries have been able to do just that.

The question is, why were US regulators, telecoms operators, airlines and airports apparently unable to come up with a workable solution?

In other countries, telecoms companies have been required to reduce 5G signals around airports by taking steps such as pointing antennae away from control towers.

But US firms were not expecting those types of limits to be imposed when they spent billions on 5G infrastructure, said Diana Furchtgott-Roth, a professor of transportation economics at George Washington University and a former deputy assistant secretary at the US Department of Transportation.

"They want to get the most out of their investment," she said. "What they should have been told beforehand is that they would not have free rein to use it because it could interfere with the planes but they were not given that information in advance."

In an update on Sunday, the FAA, which oversees aviation safety across the US, said it had cleared "an estimated 45% of the US commercial fleet to perform low-visibility landings at many of the airports where 5G C-band will be deployed".

The FAA added that it had approved "two radio altimeter models that are installed in a wide variety of Boeing and Airbus planes".

"Even with these new approvals, flights at some airports may still be affected," the regulator said.

"The FAA also continues to work with manufacturers to understand how radar altimeter data is used in other flight control systems. Passengers should check with their airlines if weather is forecast at a destination where 5G interference is possible."