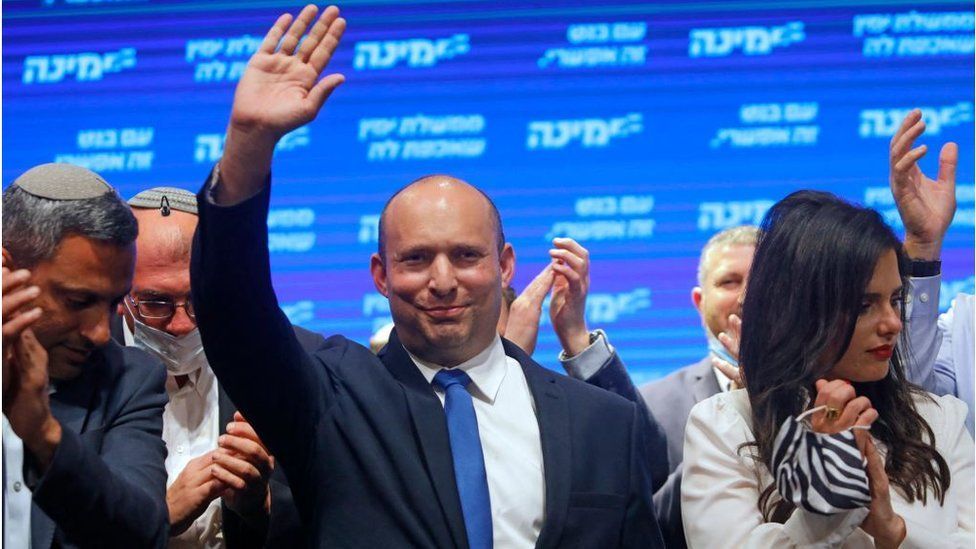 Naftali Bennett sworn in as Israel's New Prime Minister, ending 12 years of Benjamin Netanyahu's leadership
In a historic move, Israel compromised its democracy by forming a coalition made up of the parties that lost the election, appointing Mr. Bennett, who got only 3% of the votes, as the Prime Minister of a coalition with a vision of unity between Jews, Arabs, the Right- and Left-wings, the hope is that this compromise will work better for all the region, and that it will last long enough to make the change that this miserable region has been waiting for for over 70 years...
For the first time in more than a decade, Israel has welcomed a new Prime Minister. Naftali Bennett was sworn in on Sunday after a new coalition unseated longtime Israeli leader Benjamin Netanyahu.

The newly appointed prime minister, who got only 3% of the votes, was appointed by the Knesset, Israel's parliament, in a coalition that managed to scrape in by a 60-59 vote, with one minister abstaining, sending the party which actually won the election to become the opposition.

Shortly after the votes were tallied, the now former-Prime Minister Netanyahu approached his opponent and the two shook hands. Not long after that, Netanyahu took to Twitter, instructing his supporters to hold their heads high and keep the faith; vowing to return.

"I ask you: do not let your spirit fall," he said. "We'll be back - and faster than you think."

Mr. Naftali Bennett , the new Prime Minister of Israel is a lightly-religious man, young, rich, with experience in the Israeli army special forces, and the founder of a successful technology company.

Mr. Bennett has all the qualities required to lead Israel to peace with its enemies, while still preserving its strategic relations with the United States (whose efforts to generate peace between Israel and its enemies are contrary to its interests in the region).

But Bennett's new government is very fragile, because it hangs on a majority of only one vote. Bennett's rule is also a temporary one - for only two years - after which Mr. Yair Lapid will be appointed Prime Minister. The two-year-by-two-year sharing deal was agreed by those who lost the election, so they could unite and together engineer a coalition that would have a marginal majority over Netanyahu's party - the one that actually won the election.

Whereas Israel's next Prime Minister, Mr. Yair Lapid, supports and is strongly committed to President Biden's administration, Mr. Bennett is considered a much more independent Prime Minister than Lapid and Netanyahu combined.

But the chances of this government bringing dramatic changes to Israel's foreign policy are almost zero, because the majority it secured as a coalition is not built on a common ideology, but a majority built on gathering together those with a disparate set of self-serving interests. The coalition was formed by the losers purely for the purpose of seizing power from those who won the election. It's a coalition that has very little as a common ideological denominator, if anything at all.

At the same time, this government has a great opportunity to strengthen the State of Israel and protect it from the most dangerous existential threat - actually the only threat - that it currently faces: that is, Israel's divided society; the deep rifts within it; and the mutual hatred of each faction against all the others.

This unlikely union is a surreal cooperation with multiple built-in contradictions. A government that is both right- and left-wing; a coalition that is both Jewish and Arab; with some right-wing Jews who are pushing to expand Israel into Palestinian territories; with some Israeli-Arabs who believe that Israel has no right to exist in the Palestinian territories where it is located today; a coalition that is both religious and anti-religious; a governmental with a military orientation on one hand and a civilian orientation on the other; with ultra-liberal members sitting alongside very conservative members. And, as a final contradiction, a government comprised on the one hand of lawmakers supporting the non-elected bureaucrats who have absolute power to control Israel above its so called democracy, and on the other hand featuring a few dominant players who want Israel to become a real democracy, in which for a change the people and their values are in control of the bureaucracy.

Benjamin Netanyahu's 12 years' rule as Prime Minister has ended. Under his leadership, Israel has become a super power - militarily, technologically and economically.

Netanyahu led Israel to the top of the world, despite being persecuted every day, but was eventually dethroned by the officials who control the bureaucracy who successfully engineered his removal with a controversial and questionable so-called "corruption" case.

Ironically, Netanyahu ended up as the victim of his continued failure to confront this relentless bureaucracy. In the end they managed to defeat him, thanks to the absolute power they hold over and against the democracy that Israel aspires to be.

Netanyahu's next successor is much less experienced than him, and certainly no less talented. But he also definitely has much more courage and determination to change and fix the internal problems that are crumbling the entire Israeli society from within.

As long as Israel has external enemies, what unites Israel will always be stronger than what endangers its existence. But on the day when it no longer has external enemies, Israel's existence as a Jewish state will be, for the third time in history, in real existential danger. And it will be for exactly the same reasons: endless internal conflicts, self-serving power games, and mutual hatred between factions that always lead down the path to self-destruction. The main task of any Israeli government is to address these internal issues and to fix them.

Therefore, despite all the criticisms that people have levelled against this government, we believe that its chances of doing good for Israel and its neighbors are far greater than it failing by its weaknesses!