A day after Finland joined NATO, the country announced that it plans to buy the David's Sling system from Israel.
Finland, NATO's newest member, now plans to be the first military to obtain an advanced Israeli air-defense system.

The Finnish Defense Ministry said it approved the purchase of the David's Sling system in a statement on Wednesday. The ministry said it had sought a system that could reach a minimum altitude of 9 miles. David's Sling is designed to intercept missiles at ranges between 25 miles and 185 miles.

The system will "significantly" extend the range of Finland's ground-based air defenses, the statement said.

Israeli defense company Rafael Advanced Defense Systems will deliver the system, which was procured in a deal valued at nearly $345 million, according to the statement. The US will need to approve the sale, though it was not immediately clear when it will do so.

"This acquisition will create a new capability for the Finnish Defence Forces to intercept targets at high altitude. At the same time we are continuing the ambitious and long-term development of Finland's defence capability in a new security environment," Finnish Defense Minister Antti Kaikkonen said in the statement.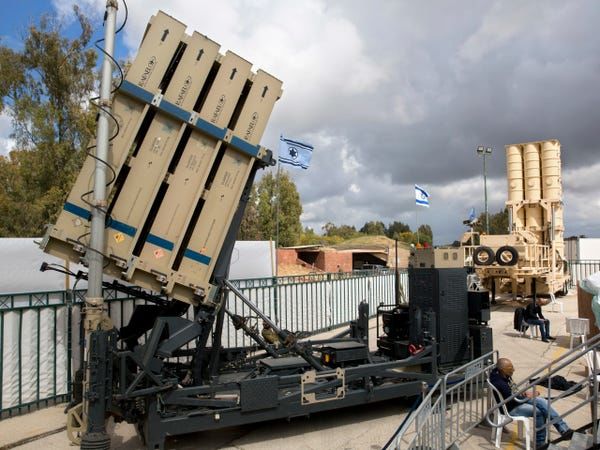 Israel's Defense Ministry confirmed Finland's purchase on Thursday. "The system is designed to intercept advanced aerial threats: ballistic missiles, aircrafts, UAVs & cruise missiles," the ministry said in a statement on Telegram.

It will be the first export of the David's Sling system, according to a translation of the ministry's statement.

David's Sling is an advanced air-defense system built by Rafael and the US firm Raytheon and has been operational since 2017. Also known as the Magic Wand, it can intercept medium- to long-range rockets and missiles. It fires an interceptor called the Stunner, which doesn't have a warhead and defeats targets by striking them.

David's Sling is one layer of Israel's complex air-defense network and works alongside the Iron Dome, which can intercept short-range artillery and rockets, and the Arrow system, which protects against ballistic missiles.

Finland's announcement came one day after it officially became NATO's 31st member, capping off an application process that began in May and was sparked by Russia's attack on Ukraine in February last year.
The Nordic country, which has historically been militarily non-aligned, brings a significant firepower boost to the military alliance — adding mountains of tanks, jets, and other lethal hardware.

"Each country maximizes its own security. So does Finland," Finnish President Sauli Niinistö said in a statement on Tuesday after the country officially joined the trans-Atlantic alliance. "At the same time, NATO membership strengthens our international position and room for manoeuvre."

"As a partner, we have long actively participated in NATO activities. In the future, Finland will make a contribution to NATO's collective deterrence and defence," Niinistö added.
AI Disclaimer
: An advanced artificial intelligence (AI) system generated the content of this page on its own. This innovative technology conducts extensive research from a variety of reliable sources, performs rigorous fact-checking and verification, cleans up and balances biased or manipulated content, and presents a minimal factual summary that is just enough yet essential for you to function as an informed and educated citizen. Please keep in mind, however, that this system is an evolving technology, and as a result, the article may contain accidental inaccuracies or errors. We urge you to help us improve our site by reporting any inaccuracies you find using the "
Contact Us
" link at the bottom of this page. Your helpful feedback helps us improve our system and deliver more precise content. When you find an article of interest here, please look for the full and extensive coverage of this topic in traditional news sources, as they are written by professional journalists that we try to support, not replace. We appreciate your understanding and assistance.