Prince Harry risked deepening his rift with his father on Monday after describing Camilla as "the villain" and "dangerous" in his latest TV interview.

The duke made a series of claims about the Queen Consort on the CBS show 60 Minutes. It had previously been claimed that criticism of Camilla was seen by Charles as a "red line" — raising fears that Harry's relationship with his father could be irrecoverably damaged.

He told US interviewer Anderson Cooper: "She was the villain, she was a third person in the marriage, she needed to rehabilitate her image."

He added: "The need for her to rehabilitate her image... that made her dangerous because of the connections that she was forging within the British press. And there was open willingness on both sides to trade information and with a family built on hierarchy, and with her on the way to being Queen Consort, there was going to be people or bodies left in the street because of that."

The duke writes in his memoir Spare how he and William begged the King not to marry Camilla, and he told Mr Cooper: "We didn't think it was necessary. We thought it would do more harm than good."

In the interview Harry also hinted that he and wife Meghan will never give up their royal titles, asking "what difference would that make?"
Harry spoke about the royal family's mistrust of his wife Meghan Markle in the interview with Anderson Cooper
The claims about his stepmother are among several bombshell statements made by Harry on Sunday night including:
- He was not invited on the royal plane taking family members to Balmoral on the day the Queen died.
- He watched videos of his mother to try to make himself cry.
- He believes taking psychedelic drugs can help people dealing with loss and grief.
- He admitted he had not spoken to his brother or father "in a while".
Harry was challenged on his view of the Queen Consort during his ITV interview on Sunday night with Tom Bradby, who accused him of being "scathing" towards her in the book but he insisted he was simply being "very clear" about what happened and in Spare described how Camilla "began to play the long game".
He wrote she clearly had a plan that included "a campaign aimed at marriage, and eventually the Crown, with Pa's blessing we presumed".
In a different interview in the US with ABC's Good Morning America broadcast on Monday the Duke of Sussex claimed the Queen Consort "sacrificed me on her personal PR altar" but also sympathised with her, saying that she is not an "evil stepmother".
He said: "I have a huge amount of compassion for her, you know. Being the third person within my parents' marriage and she had a reputation, or an image, to rehabilitate.
"Whatever conversations happened, whatever deals or trading was made right at the beginning, she was led to believe that that would be the best way of doing it."
Harry's pointed reference to his stepmother as the "third person in the marriage" is being seen as a deliberate reminder of how she has rebuilt her public reputation following her affair with Charles. The now King confessed to adultery in 1994 in a TV interview but said it only happened after his marriage had "irretrievably broken down".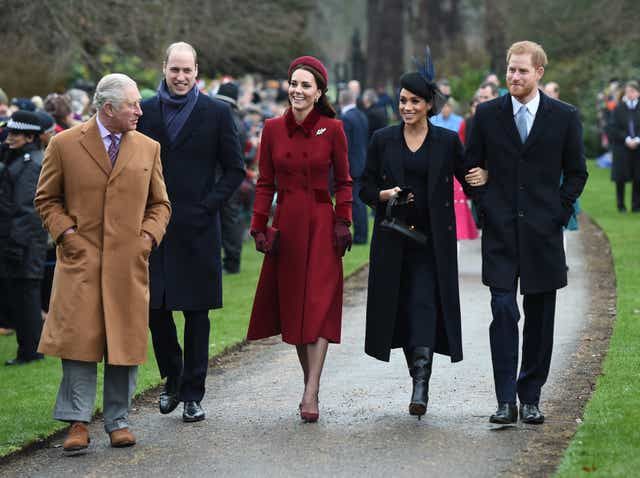 Harry and wife Meghan and William, Kate and Charles at a Christmas Day morning church service at Sandringham 
The following year Diana famously told the BBC Panorama documentary "Well, there were three of us in this marriage, so it was a bit crowded," a reference to Camilla.

After Charles and Camilla both divorced their respective partners — and Diana died in a Paris crash in 1997 — the duchess's emergence as the prince's long-term partner was part of a carefully-planned PR campaign. Camilla, who married Charles in 2005 and has spent more than 17 years as a member of the royal family, was endorsed by the late Queen to be Queen Consort on the eve of her Platinum Jubilee in February 2022.

The claims are the latest in a series made by Harry in advance of Tuesday's publication of his book.

These have included details of drug use, his service in Afghanistan, losing his virginity behind a country pub and how a row over his wife ended in an alleged violent argument, with his brother knocking him to the ground at his London home.

Harry, who is said to have been paid $20 million for the book, appeared to backtrack on claims made during his interview with Oprah Winfrey that a member of the royal family made a racist comment about his son Archie, instead claiming it was "the British press" that made the allegation.

Harry also blamed journalists for the state of his relationship with his brother, telling Mr Cooper that the pair would be "a hell of a lot closer" if it wasn't for press interference.

He said: "I don't know where William and I would be on a relationship level if the British press weren't involved, but we would certainly be a hell of a lot closer than we are now. (William's) life is very much chosen for him. Perhaps my life wasn't chosen for me.

"But equally I felt like I needed to make something of my life so that I didn't end up as a spare spare."

Asked about how Diana would feel about the relationship between the brothers, he replied: "I think she'll be sad that it is where it is now. I believe that she would want reconciliation, and I hope that is what's achievable."

Asked if he could see a day when he would return as a full-time member of the royal family, Harry said: "I can't see that happening".

Questioned by Mr Cooper if the "rupture" with his family could ever be healed, he said: "Yes, the ball is very much in their court".

Both Buckingham Palace and Kensington Palace have refused to comment on Harry's interviews and the excerpts from the book, though sources close to the King have made it clear he will not read the book or watch the interviews.

On Monday author Omid Scobie, who is close to Harry and Meghan, said the duke is clearly "very confident in the story that he's telling" and that it has taken him a long time to get to this point.

He was asked on BBC Radio 4's Today programme if he gets the feeling from the couple's team that this is how they intend to continue, "that there will be more salvos of this kind, that this is what their brand is going to be".

Mr Scobie said he thinks the couple "have to be quite careful right now", adding there has been a lot of focus on their private life and the brand has been "very much about drama" that has been played out very publicly.